Northstar & Blackwing: A Brief History Of DOHC V8 Cadillac Engines
We are currently looking for experienced automotive journalists and editors to join our team. Make $60k-$80k per year doing what you love. We are also looking for an experienced web developer.
See details here
.
29
The 2019 Cadillac CT6-V, originally introduced as the CT6 V-Sport, ushers in notable for all kinds of reasons, the biggest of which is the introduction of the new Blackwing Cadillac engine. But the beastly twin-turbo V8 Blackwing is not Caddy's first Dual OverHead Cam (DOHC) V8 engine. In fact, the Northstar V8 was the first DOHC-style engine for both Cadillac and GM.
Let's take a brief look at the origins of each engine family.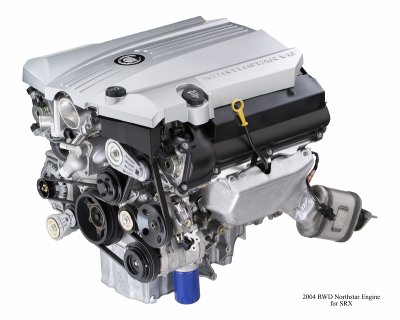 The Northstar
Developed to combat an onslaught of German and Asian rivals with DOHC V8 engines, GM developed the Northstar engine family for Cadillac. It was a first for GM and for Cadillac as a brand; until that point, the automaker exclusively used engines of the OverHead Valve design. The Northstar range was defined by a V8 layout with DOHC layout within an aluminum block, and four valves per cylinder.
Though the Northstar designation is typically associated with Cadillac, the motor was technically developed by the R&D team at Oldsmobile, which later got a six-cylinder variant of the Northstar called Shortstar.
The first Northstar engine, RPO Code L37, was launched in the 1993 Cadillac Allante roadster and the Cadillac Eldorado. It displaced 4.6 liters and delivered 295 horsepower and 290 pound-feet of torque. Later, the engine was also used in the Buick Lucerne Super. A slightly different version of the L37, dubbed LD8, was released shortly after to provide more torque (300 pound-feet) and slightly less power (275 horses).
The naturally-aspirated 4.6L Northstar V8 LH2 made 320 horsepower and was available in the first-generation Cadillac SRX, Cadillac STS, Cadillac XLR and Chinese-market Cadillac SLS.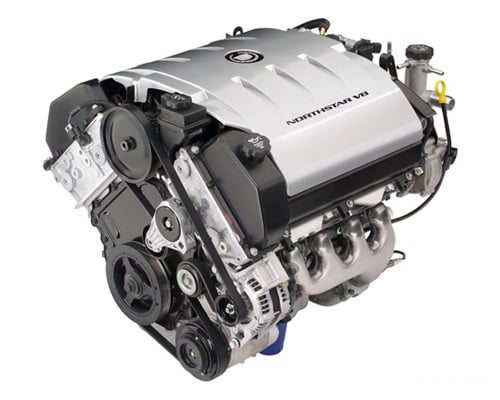 The range-topping variant was the supercharged 4.4L Northstar LC3 used in the Cadillac XLR-V and STS-V. It pushed out 469 horsepower and 439 pound-feet of torque. Despite those incredible figures, the range-topping Northstar was outdone a few short years later by the 6.2L V8 LSA Small Block engine in the second-gen CTS-V, which made an even more potent 556 horsepower and 551 pound-feet of torque via the simpler OHV design, otherwise known as push-rod.
In July 2010, production of the Northstar V8 engine family ceased after a 17-year-long run. The discontinuation left Cadillac without a Dual OverHead Cam engine – something that's not necessary from a technological standpoint given that GM's Small Block engines are just fine from a power standpoint. But a DOHC V8 was necessary for two reasons: refinement and image. Simply put, the feel delivered by a DOHC-style engine is necessary, and such an image is all but expected from an image standpoint in the luxury space.
The Blackwing
Nine years after discontinuing the Northstar V8, GM revealed a spiritual successor called Blackwing. Featuring two turbos with a 4.2 liter displacement and a DOHC configuration, the all-new engine carries RPO code LTA. The motor is available in the 2019 Cadillac CT6-V, where it is paired with the new GM 10-speed automatic transmission making 550 horsepower and 627 pound-feet of torque. А lower-displacement version making 500 horses and 553 pound-feet of torque is available in the CT6 Platinum.
Apart from those powerhouse numbers, the Cadillac Blackwing engine is truly a work of art. Every individual unit is assembled by hand by a single crafter at the GM Bowling Green performance build center. As of this writing, only six people are certified to build the engines, and each unit is signed by its crafter.
Our friends at Cadillac Society recently discovered that the Blackwing name was derived from the original Cadillac emblem, which featured a black bird called the merlette. The initial trademark filing for the logo indicated that it would consist of "two stylized wings comprised of six elongated geometric shapes."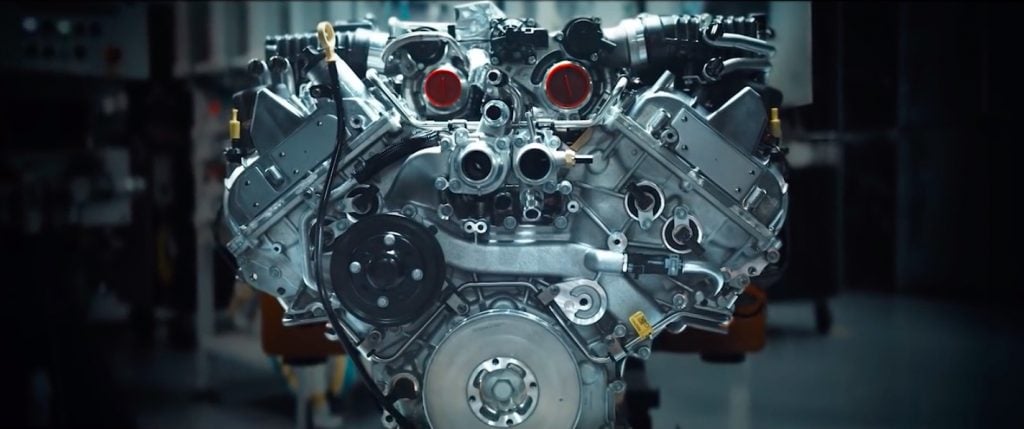 In the future, the Blackwing Cadillac engine is expected to become available across a wider variety of vehicles outside the CT6. But for now, one thing is clear: the Northstar has a successor – and it's the Blackwing.
Stay tuned to GM Authority for more Cadillac news. 
Cadillac Blackwing Engine Photos
2019 Cadillac CT6-V Photos
We are currently looking for experienced automotive journalists and editors to join our team. Make $60k-$80k per year doing what you love. We are also looking for an experienced web developer.
See details here
.