As General Motors Charts Risky Course, Analysts Weigh In
25
The automotive industry is changing. Automakers have said it. Analysts have said it. And consumers are driving it—at least in the U.S. The future of the automotive industry remains unknown; however, there are indicators for where it's going. Right now, General Motors is in the midst of transforming its business model. It'll have to survive in an ever-changing marketplace dominated by new technologies, new competitors, and new problems. As GM shifts course, heading for a new port in uncertain seas, the company will make early sacrifices in hopes of making it out from the storm unscathed. 
Those sacrifices have consumed the automotive news cycle. In November, General Motors announced a massive restructuring, hoping to save $6 billion by 2020 by idling five North American factories, discontinuing models like the Chevrolet Volt and Buick LaCrosse, and laying off thousands, including white-collar employees. GM's plan has frustrated employees, riled unions, and angered politicians. But the automaker is maintaining its course as everyone watches. 
20 New Electric Vehicles By 2023
While consumers are driving change at home—growing the popularity of crossovers, SUVs, and trucks—government regulators in China and Europe are driving the change there, enacting new regulations calling for hybrid and electric vehicles. Tyson Jominy, managing director of the data and analytics consulting group at J.D. Power, said in an interview with the Detroit Free Press global electric vehicle sales are expected to hit 18 million by 2030. 
China alone will account for 7.5 million of those, Jominy added, largely through mandates and regulation that steer customers towards electric vehicles. In the United States, EV adoption is expected to be far slower, selling 100,000 electric vehicles a year through 2025. That'd put the market at 700,000 EV sales in the U.S., which would be about five percent of the retail car market.
Considering GM's success in China, an electric vehicle agenda stands to benefit the company in that market significantly.
General Motors has gone on record that it plans to release 20 new electric vehicles by 2023, which will ride on an all-new scalable architecture, should things go according to plan. An all-new Cadillac crossover will be the on of the first vehicles to lead the company's electrified assault. Missing from that plan is an electric pickup truck, something Ford is currently developing. 
We're told the future is electric, and General Motors CEO Mary Barra champions that. She's hinted at an electric pickup truck that could be an EV Chevrolet Silverado. However, rumors have swirled suggesting GM is interested in investing in Rivian, a Michigan-based EV start-up that revealed the R1T truck last year. With 400 miles of range and 11,000 pounds of towing capacity, the Rivian would be a polite ambassador from GM to truck enthusiasts.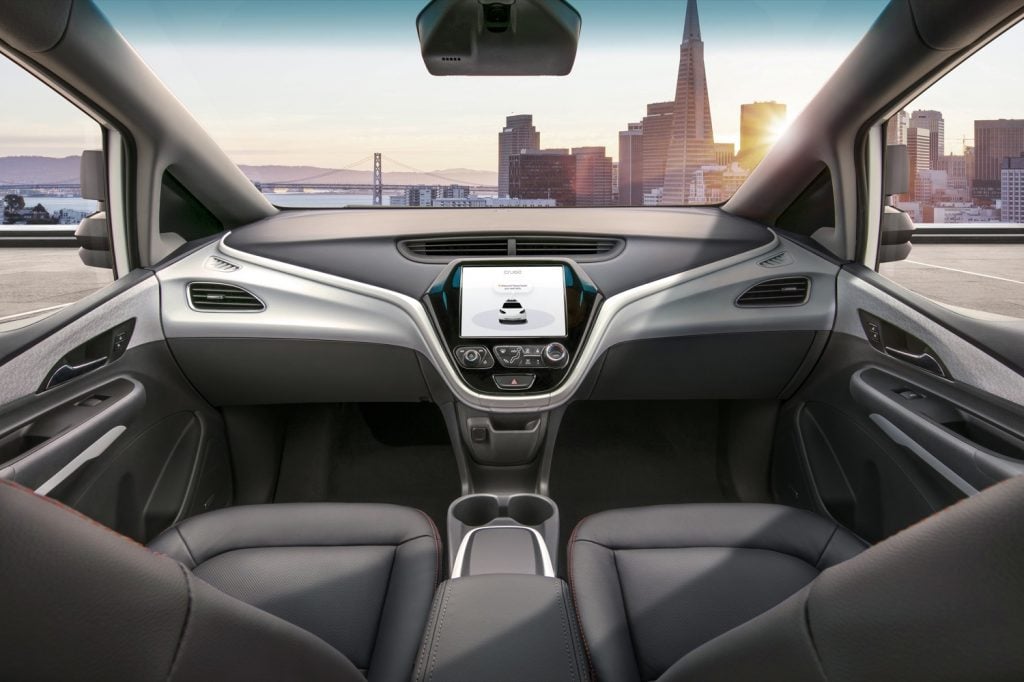 No Pedals, No Steering Wheel
Electric vehicles aren't the only new technology on the horizon. Self-driving vehicles, in one capacity or another, will soon buzz through city streets taking passengers across town without a human at the wheel. Full adoption of self-driving cars is decades away as companies fine-tune the necessary technologies. This is another emerging slice of the future automotive profit pie—and GM, a leader in AV development, plans to capitalize on the growing market. 
According to Jominy, there will be four million self-driving cars on the road—in ride-sharing fleets—by 2030. Jominy added personal ownership of self-driving cars would start around 2030 as well.
We'll have to see how that actually plays out. No doubt, tech hubs like San Fransisco and the Bay Area will welcome these vehicles. But autonomous vehicles face every headwind from consumer preference, to resistance from taxi companies, to legal framework.
In 2016, General Motors bought a small start-up with just 40 employees called Cruise and renamed it GM Cruise. The self-driving GM subsidiary has grown substantially since, employee 1,100 people in 2018. The company has a valuation of $14.6 billion and plans to roll out a ride-sharing service later this year based on its Cruise AV cars. The automaker has about 180 electric Cruise AVs tooling around, mostly in San Francisco, where the ride-sharing service will likely deploy first. 
Securing "The Future"
There's little joy in the layoffs, plant closures, and discontinuation of iconic models. Times are tough for those affected, but the strong economy should help most land on their feet. GM's restructuring is cutting costs so it can invest in its future. The last thing the automaker wants is another bankruptcy brought about by naiveté, ignorance, or some deadly combination of the two. 
Investing in companies like Cruise and (if GM does so) Rivian can give the automaker an edge. Spreading investments into several different companies gives GM a better chance of seeing a profitable return. If GM can weather the storm and successfully chart a new course for itself, the payoff could be huge, according to LMC Automotive's Jeff Schuster, who also spoke with the Free Press.
The automotive world appears to be broadening, and GM is trying to prepare for success. 
Sweepstakes Of The Month: Win a Corvette Z06 and 2024 Silverado. Details here.
We are currently looking for experienced automotive journalists and editors to join our team. Make $60k-$80k per year doing what you love. We are also looking for an experienced web developer.
See details here
.