Lingenfelter Performance 1000 HP Camaro ZL1 Hits The Track
0
Lingenfelter Performance Engineering (LPE) just released a video showcasing its 2018 1000 HP Camaro ZL1 at the track. With over 45 years of experience, Lingenfelter does not disappoint with its high-power builds and ability to take performance cars to impressive new levels.
In the summer of 2018, Lingenfelter released a 1000 HP Street Package for the LT4 engine, which runs on 93 Octane gas. The company's ultimate goal was to offer trackable performance upgrades that remain reliable and street-mannered all the same. In an effort to push the 2018 Camaro ZL1 beyond its limits, the Lingenfelter "Eliminator Series" came about. This series summarizes the goals of Lingenfelter all while showing off its newest generation of performance parts and packages. Although the Chevrolet Camaro ZL1 was the development vehicle for this package, it is not limited to just Camaros.
It's important to note that this is, in fact, the second 1000 HP Camaro to come from Lingenfelter. The previous was a fifth-generation Camaro that received some aftermarket goodies that helped it reach a whopping 1,066 rwhp and 881 pound-feet of torque with nitrous, of course.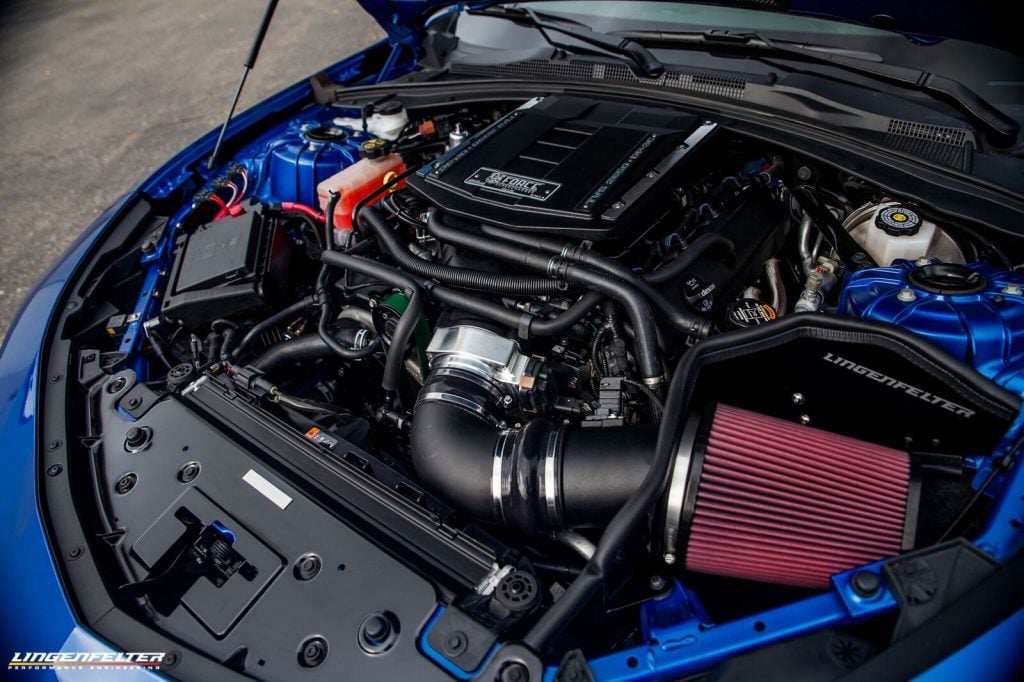 So how much power can we expect from this Camaro ZL1 beast? Well, for starters, the Lingenfelter ZL1 delivers 1,000 horsepower and 866 pound-feet of torque at the flywheel. The combination turned out a Dodge Demon-beating 9.707-second quarter mile with a top speed of 144.5 mph. This may be a 9-second car, but it promises as much comfort on the road as it does excitement on the racetrack.
LT4 1000 Horsepower Package Includes:
Engine removal, cylinder head & camshaft removal
Lingenfelter CNC ported & polished LT4 cylinder heads
OE solid stem titanium 2.13-inch intake valves, sodium filled steel 1.59-inch diameter exhaust valves
Three angle valve job, hand blending of valve seats
CC chambers, surface, set spring heights and assembly
Lingenfelter dual valve springs, titanium retainers, 10-degree locks
Lingenfelter GT31 LT4 hydraulic roller camshaft
LT4 Head gaskets & GM head bolts
Ported & polished 103mm throttle body
Edelbrock TVS2650 Supercharger
Kooks long tube headers & high flow catalysts
Properly sized injectors and E85 compatible fuel system upgrades
Lingenfelter Logo Koolsox spark plug wire thermal heat protectors
Handheld diagnostic and programming tool
Professional assembly & engine installation
Custom engine control module reprogramming
Chassis dyno testing before & after installation
Lingenfelter chrome fender badges & personalized stainless engine badge
Lingenfelter certificate of authenticity
Four wheel alignment, cleaning & detailing, full tank of 93 Octane fuel before delivery
Stay tuned to GM Authority for more Camaro news. 
GM Authority is looking for professional automotive journalists with at least three years of experience to join our rapidly-growing team. We pay between $60,000 and $80,000 per year. More details
here
.