How To Safely Travel With Pets: A Guide
We are currently looking for experienced automotive journalists and editors to join our team. Make $60k-$80k per year doing what you love. We are also looking for an experienced web developer.
See details here
.
5
Back in August of last year, Chevrolet's Thailand division released a handy guide to safely travel with pets. The guide is quite useful, so we thought we'd present it to you here.
Before You Leave
As is the case with most things in life, preparation is vital to safely travel with pets. Here's what Chevrolet recommends you do before leaving on your trip:
Make sure your buddies are current on vaccinations and, depending on where you're headed, get additional vaccinations to protect against new threats such as canine Lyme disease.
Find and program the number of a 24-hour emergency vet clinic.
In case you become separated from your pet (let's hope you don't), carry a current photo. A dog collar with your cell number is also a good idea. Never allow your dog to leave the vehicle without the collar, ID tag and leash.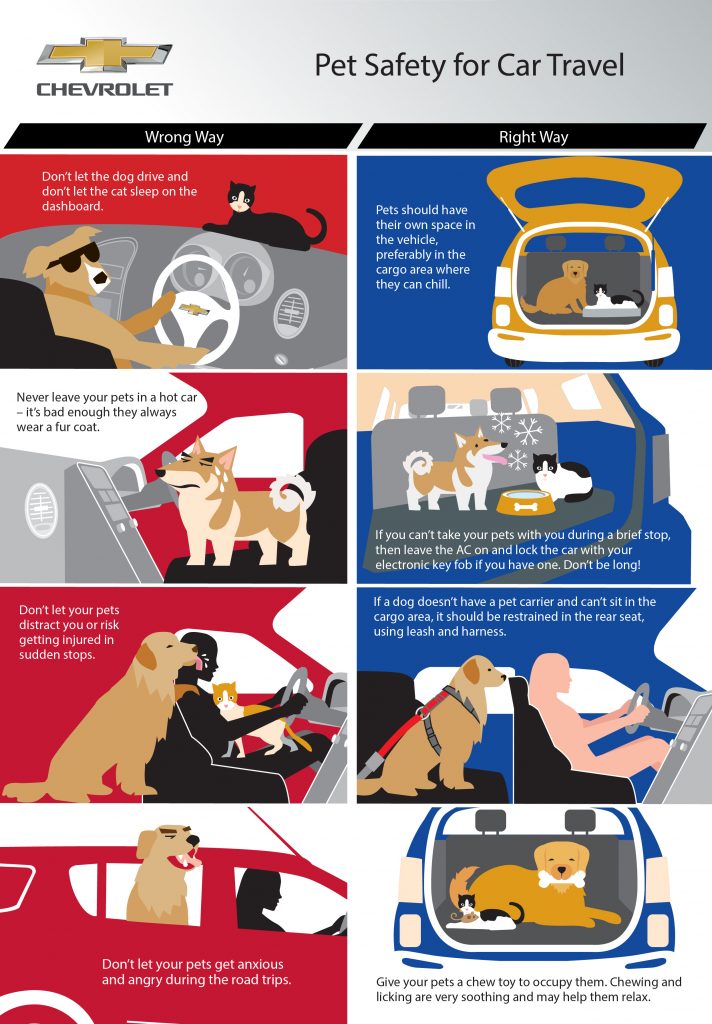 Tips For Traveling With Dogs
Chevy notes that not every canine companion is equipped to handle road trips, so it's best to take a few practice runs before a major journey. During the ride, the Bow Tie brand recommends drivers take the following precautions:
Restrain dogs during car trips for their safety and yours. Options include restraints, pet carriers and cargo barriers.
Never let pets ride in the front because they could be seriously injured or killed if an air bag deploys. If the dog(s) is big, the best place for it is in the cargo area. Consider getting the optional cargo tray to protect the carpeting.
As with children, never leave your fury friends alone in the car. On a warm, sunny day, even with the windows open, a parked vehicle can become dangerously hot in no time, and heatstroke can take place. Furthermore, unattended pets can be stolen. If you see a pet in distress in the back of a closed car, be a good citizen and alert the authorities or animal control if the vehicle owner cannot be located.
If your best pal has anxiety issues or barks a lot, try a chew toy or treat to keep him/her occupied. Chewing and licking are very soothing to dogs, and may help yours relax.
Identify dog-friendly restaurants, hotels and dog parks on your travel route so you guys can enjoy the trip together.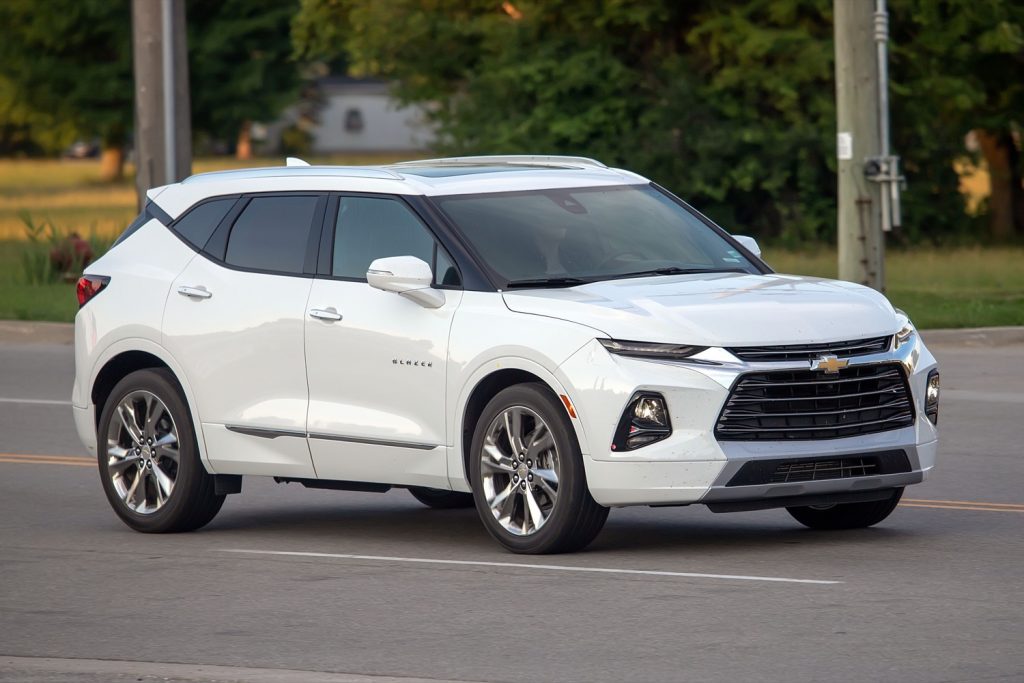 Tips For Traveling With Cats
Here's what Chevy recommend for those who wish to safely travel with their feline friends:
Use a pet carrier or cargo barrier; unrestrained cats can be injured in a crash or pose a risk of injury to other vehicle occupants.
Allow your kitty to cheek rub and spread its scent on your car. Or, try placing a familiar pet bed, blanket or a towel inside the car.
Consider packing a portable litter box, collapsible food and water bowls and feline first aid kits. An old scratching post you won't mind discarding at the end of the trip can also help keep cats calm.
To help prevent dehydration, especially on summer trips, try freezing a bowl of water that cats can lick to keep cool. It can be a less messy option for traveling with water.
Chevy also notes that SUVs offer spacious cargo areas that can accommodate a good-size pet carrier and consumers can find specialized pet restraints for use in rear seats. Consider it a plug for the 2019 Chevrolet SUV lineup, which includes the Trax, Equinox, all-new 2019 Blazer, Traverse, Tahoe, and Suburban. We may be biased, but we'd say that's quite the selection for car buyers who travel with pets. We should also note that In Thailand, Chevrolet also offers the body-on-frame TrailBlazer, which would be a very welcome addition to Chevy's U.S. lineup.
In addition to promoting safety, Chevrolet also wanted to raise awareness of the tremendous health benefits that can come from owning a pet. According to researchers, these health benefits include decreased feelings of loneliness, and increased opportunities for exercise and socialization.
Do you have any feline or canine companions? Yours truly has two dogs, Link and Milo, and two cats, Leo and Lola… and the pups are always eager to go for a ride. Tell us about your fury friends in the comments section below.
Sweepstakes Of The Month: Win a 2022 Corvette C8.R IMSA GTLM Championship Edition. Details here.
We are currently looking for experienced automotive journalists and editors to join our team. Make $60k-$80k per year doing what you love. We are also looking for an experienced web developer.
See details here
.