2019 Chevrolet Colorado ZR2 Bison: First Drive
0
Get out, get out while you can.
The federal deficit has reached all time highs. America is 21 trillion dollars plus in debt. Natural disasters are affecting major cities, and causing food shortages. Polio and measles are in the schools. China is going to take over. And Mexico. And the EU, too. Soon enough, it's cats marrying dogs on Facebook Live, available via subscription fee payable through your dermal microchip insertion that's also going to track you via The Cloud. You can escape, you can get away. But only as far as your equipment can take you. Best to be prepared when that time comes.
For those that want to be ready, the 2019 Chevrolet Colorado ZR2 Bison has preparedness emitting from every fiver of its being. Developed in secret over the course of several years with American Expedition Vehicles, the Colorado ZR2 Bison is more than just a gussied up Colorado with a bunch of add-ons that one might find in an off-road truck catalog. AEV and General Motors worked in unison to create the first Chevrolet truck of this extreme nature. For those unfamiliar, AEV, a Montana/Michigan-based company, is the tip of the spear when it comes to off-road up-fitters. The catch has been, however, that the company only delved in Jeep vehicles and other FCA products like the Ram 2500 HD.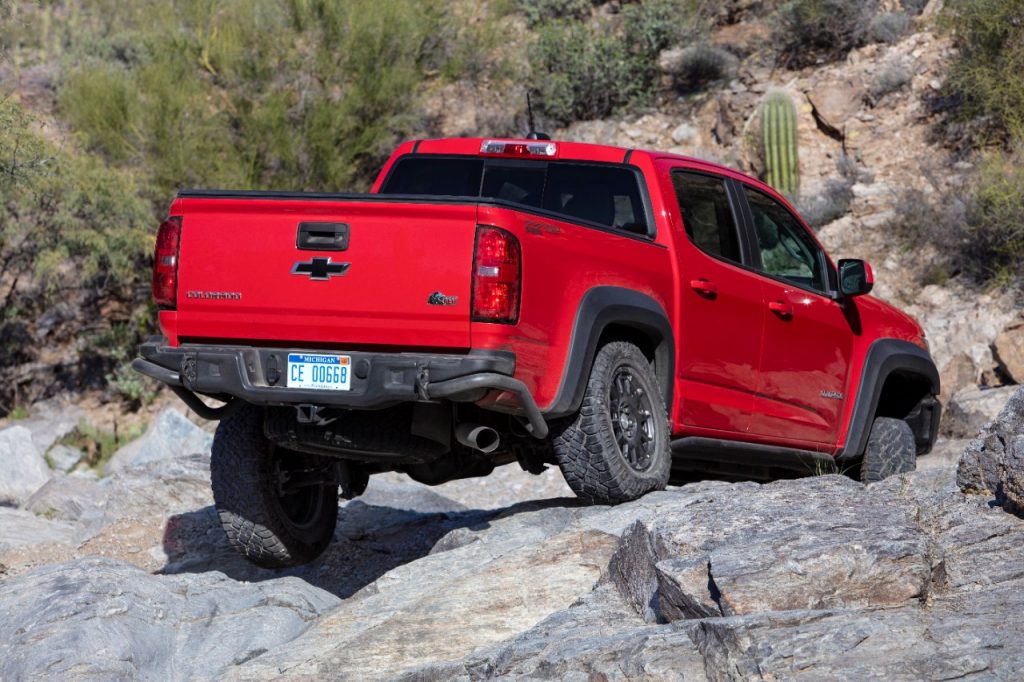 AEV was founded in 1997, and remained specialized in that fold, until branching off the 2019 Chevrolet Colorado ZR2 Bison. AEV will first up-fit the standard Colorado ZR2 in its Wixom, Michigan facility before sending them off to select dealerships, where customers can purchase this turn-key solution to their concerns of disaster for at least $48,045 for an extended cab version with a V6. And $54,145 for a Bison with a 2.8L Duramax Diesel. For a full list of what AEV adds to the Colorado, check out our ZR2 Bison features list. The new GM-AEV relationship hasn't hurt any feelings on the Mopar side, so we're told. Of course, the obvious rival to a truck this extreme is the new JL Wrangler-based Jeep Gladiator pickup, but today, the ZR2 Bison stands alone in its capabilities.
There's already immense ability to enjoy from the standard Chevrolet Colorado ZR2. We were able to put it through its paces outside of Grand Junction, CO last year through off-road trails that would have been otherwise insurmountable to any less of a truck. The fact that there's now a level beyond this Super Sayan of a pickup with the Bison package can only be described as profound. This is because that even though the standard ZR2 can drive through incredible obstacles bone stock from the factory, it did have a few vulnerabilities. The biggest issue that the Colorado ZR2 Bison addresses is the lack of protection.
Underneath the ZR2 Bison, there five skid plates made of Boron steel to cover engine oil pan, fuel tank, transfer case as well as the front and rear locking differentials for the toughest terrains. AEV also added steel bumpers surrounding the entire truck to protect the body from stubborn objects like rocks. Because nobody wants to scuff up their $50,000 all-terrain getaway policy.
The front bumper also contains winch provisions and fog lights, while the rear bumper includes built-in recovery points.A "Chevrolet" logo high-flow grille and 31-inch Goodyear Wrangler Duratrac off-road tires surrounding unique 17 x 8-inch aluminum wheels complete the exterior visual distinctions. AEV was smart enough to leave the Multimatic DSSV dampers alone, as they're fantastic components for both on-road and off.
Testing the 2019 Chevrolet Colorado ZR2 Bison in its element went as expected. Essentially effortless, and intoxicatingly fun. At one point, we had both rear tires off the ground, and yet the truck was still able to push through, thanks to its front-locking differential that tugged the rest of the truck forward. The necessity of a steel bumper surround and boron steel skid shields became quickly understood, after the alarming sound of rock on metal pierced our eardrums. But it was okay. That's just the bumper and the skid plates doing their job.
The interior doesn't have the macho flair that the exterior emulates, let alone the reverently styled cabin of the JL Wrangler or Jeep Gladiator. Instead, the 2019 Chevrolet Colorado ZR2 Bison delivers on a no-BS tactical interior that lets the off road hardware do the talking. It doesn't have all of the fancy "off-road" apps besides a minimal digital gyroscope display that indicates pitch/tilt and roll angles, and a front-view trail camera would have come in handy if we didn't have a spotter.
As fear and uncertainty continue to magnify onto the American psyché, and just the general human need and desire to unplug from the pseudo information overload and go out into the big unknown, the off-road truck and overland segment has never been healthier, and the product offerings never better. Chevrolet and AEV have struck as the iron is hot, and the 2019 Colorado ZR2 Bison is as complete a package as can be found. Hopefully we can afford one before it's too late to escape the chaos.
2019 Chevrolet Colorado ZR2 Bison Photo Gallery
Sweepstakes Of The Month: Win a Corvette Z06 and 2024 Silverado. Details here.
We are currently looking for experienced automotive journalists and editors to join our team. Make $60k-$80k per year doing what you love. We are also looking for an experienced web developer.
See details here
.