2019 Silverado 1500 2.7L Turbo: First Drive
We are currently looking for experienced automotive journalists and editors to join our team. Make $60k-$80k per year doing what you love. We are also looking for an experienced web developer.
See details here
.
13
Let's get the elephant in the room out of the way. The 2019 Ford F-150 2.7L EcoBoost offers more horsepower, more torque, more cylinders, and just about the same fuel economy – for just $3,000 more than the base price of the four-cylinder Silverado. Significantly higher MPGs were expected out of the 2019 Silverado 1500 2.7L Turbo from the likes of industry forecasters to GM engineers themselves. It's been explained to us before that the fuel economy plateau had much to do with the seismic front fascia of the all-new truck, despite the massive weight drop. At most, we're told by GM's truck engineering leaders that the 2019 Silverado 1500 2.7L Turbo is capable of better real world economy numbers than what's been rated as the official EPA estimates. To that end, we averaged around 19 miles per gallon with demanding driving technique through elevated mountain roads in central Arizona, where Chevrolet hosted the drive. That's bound to improve significantly on flat pavement found in, say, Michigan.
Beyond the stat sheet, the 2019 Silverado 1500 2.7L Turbo behaves like a truck that packs another set or two of combustion chambers, and not the minimal four-count. Its stout 348 lb-ft of torque can be fully tapped as low as 1,500 RPM, impressively hitting 60 miles per hour from a standstill in just under seven seconds. The eight-speed automatic transmission also keeps the little turbo four from working too hard – keeping the motor churning below 2,000 RPM at highway speeds. Logic only assumes that 10-speed integration for the turbo-four is somewhere down the road, though we're fine with two less gears as it stands. The exhaust note (and the kick) can leave people guessing how many cylinders are packing under the hood, as the sounds do seem to ape Ford's 2.7L EcoBoost six. As for gasoline, don't worry about paying for premium at the pump – the all-new 2.7L L3B turbo running a 10:1 compression and 22 lbs of boost is just fine with plane jane 87 octane. And it's built in Spring Hill, 'Merica.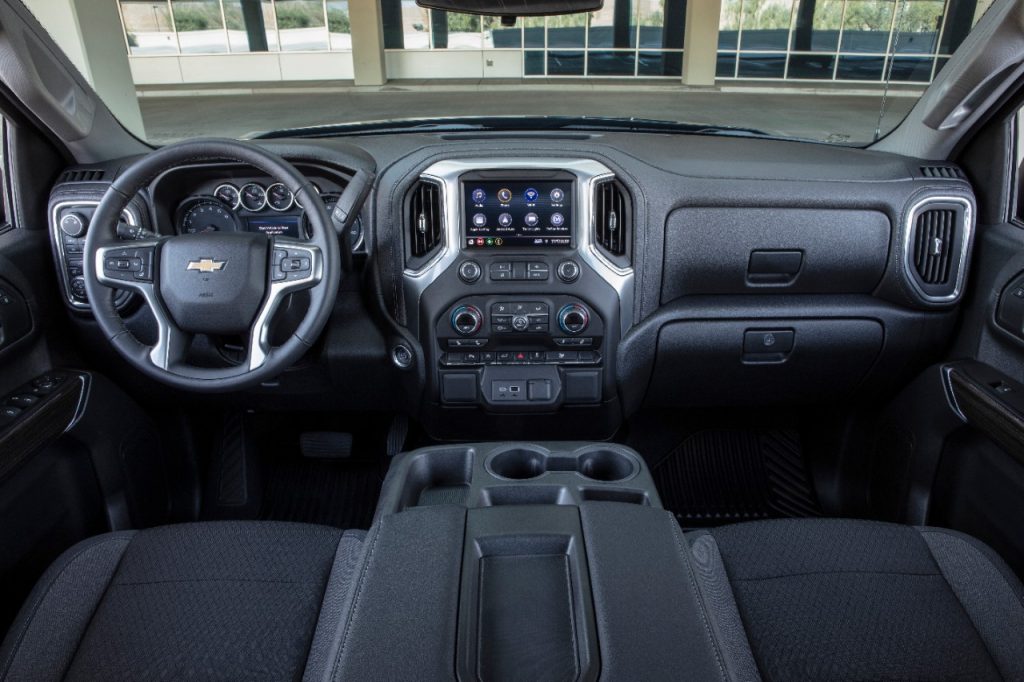 Road manners can quickly spoil drivers. The massive proportions of the 2019 Silverado 1500 2.7L Turbo – similar to that of the outgoing Silverado HD – would imply that it would lumber along the road like an overfed brown bear drowsy from a long hibernation. Not so. The truck is actually 380 lbs lighter than an outgoing K2 Silverado with a 4.3L V6, and the reduced nose weight returns as nimble of a steering feel as we can remember in a full-size Chevrolet truck. 50-70 mph Passing maneuvers demonstrated that all 310 horsepower of the 2019 Silverado 2.7L Turbo is present and accounted for. The interior is otherwise about the same as other variants we've tested earlier in the year – which comes in feeling no newer than the outgoing layout, and leaves us wanting for more.
2019 Chevrolet Silverado 1500 Work Truck and 2019 Silverado Custom buyers will be denied the 2.7L turbo, given its mid-range placement in the lineup. They'll make do with the 4.3L V6 for the foreseeable future, with a 5.3L V8 with Active Fuel Management as the upgrade. The L3B turbo will be available solely on the 2019 Silverado 1500 LT, starting at $38,395, or the 2019 Silverado 1500 RST, starting at $40,295. A 355 horsepower 5.3L V8 with Dynamic Fuel Management is offered for both.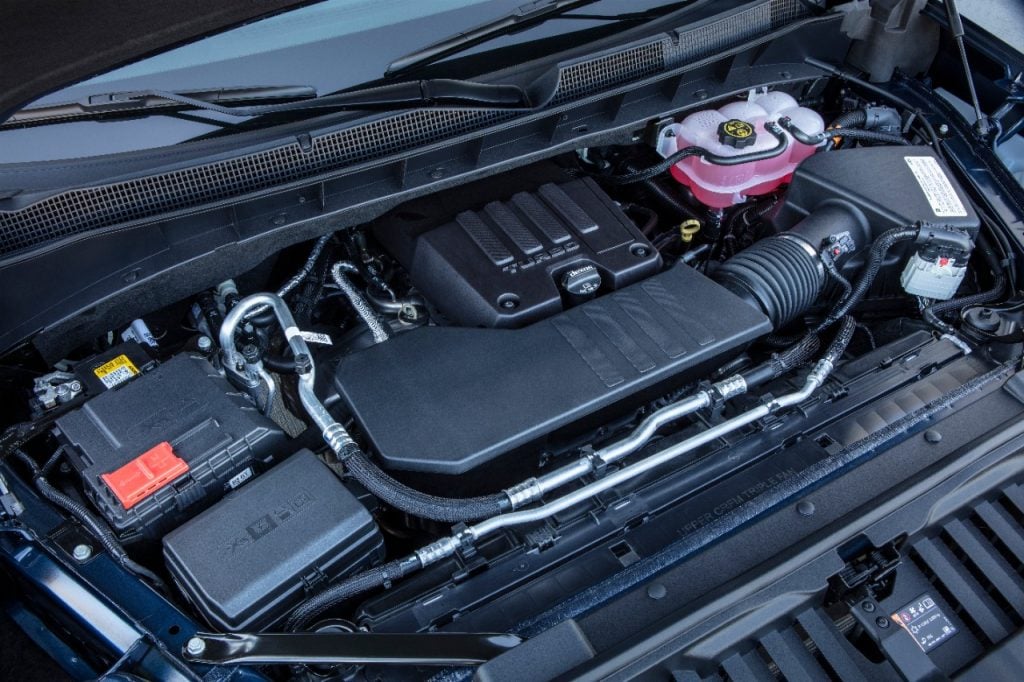 For those looking to max out the capabilities of their 2019 Silverado as intended, the 2.7L comes below even that of the entry 4.3L V6 in terms of payload (2,280 lbs vs 2,500 lbs) and towing (7,200 lbs vs 8,000 lbs). Ideally, the target customer for this four-cylinder turbo engine in the 2019 Silverado 1500 is one that is going to use it as a commuter truck 99.9 percent of the time, with the insurance of being able to fill the truck bed with 4'x8′ plywood for a DIY project on Labor Day Weekend. This is the current core market of full size truck buyers.
They probably don't need a truck as big as the Silverado (nor does the Silverado really need an engine as small as a turbo four), but that's their prerogative, and the market will decide if this volume-oriented pickup can demand near $40-grand for four pistons. Hey, a similar gamble seemed to work for Ford, after all. What Chevy is doing different is just reducing the cylinder count. Is this departure from the V8 really based customer preference? Or are American truckmakers seeing how far they can take advantage of unrelenting brand loyalty? The answer doesn't really matter, because at the end of the day, both technically represent what the market wants.
2019 Chevrolet Silverado Photo Gallery
We are currently looking for experienced automotive journalists and editors to join our team. Make $60k-$80k per year doing what you love. We are also looking for an experienced web developer.
See details here
.