Cadillac Super Cruise: Review
17
Cadillac Super Cruise may have been conceived by a couple of GM engineers who were sick and tired of the Sunday drives on I-75 South from northern Michigan heading back to their Metro Detroit homes. It's a grueling trek, and you're bound to see the worst out of already bad driving habits, because everybody has to get home. And, guaranteed, somebody's hung over stepdad spilled the contents of their trailer all over the interstate somewhere between Bay City and Flint, causing a backup all the way to Standish. Guaranteed that there are construction barrels festooning the main artery to and from the Upper Peninsula, because the trip is not to  be without some road work on our abysmal pavement. It all makes the drive up to enjoy the more scenic locations of Pure Michigan almost seem not worth it. But, this time was different, because I was piloting a 2018 Cadillac CT6 3.0TT with Super Cruise technology.
The chore of this Sunday drive home began at Oscoda – a small town on the coast of Lake Huron off highway U.S. 23. I was sleep deprived and sun burnt from a weekend of autocross in a highly prepped STS-class 1988 Honda Civic, and without a warm shower in days. I couldn't have cared to drive any less, but that didn't matter. Like the rest of the herd, I too, had to get home. I willed myself back on the road, a trunk packed full of camping gear, a Yeti tumbler full of coffee, and headed south.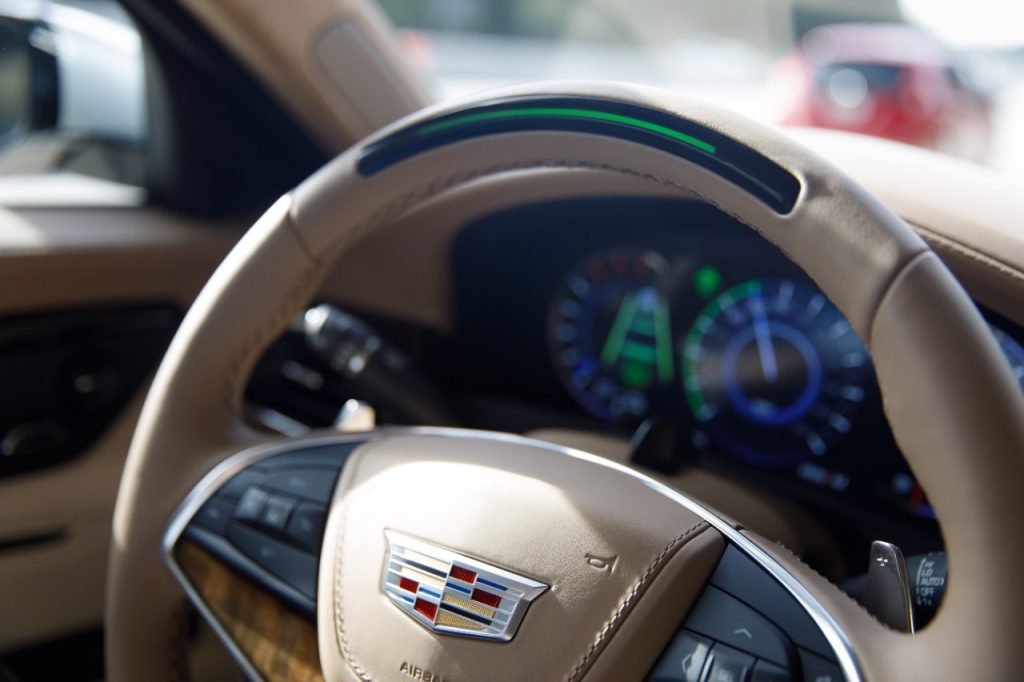 The U.S. 23 stretch from Oscoda back to I-75 isn't a divided multilane highway, nor has it been geofenced. Cadillac Super Cruise only works on freeways with opposing directional lanes clearly divided, so it was around an hour of manual-induced driving before reaching the congested interstate sanctuary. Once on I-75, I first conventionally activated adaptive cruise control in the 2018 CT6. From there comes the option to activate Cadillac Super Cruise. A press of another button engages a blue indicator light at the top of the steering wheel, and a prompt asking me to "center" the vehicle into the lane. When the CT6 was centered to the wishes of the system, the indicator light changed from blue to green, and it was time to take the hands off the wheel. The system works from a full stop to 85 miles per hour, can brake on its own, and will keep the car planted in whatever lane its for as long as desired.
That doesn't mean I could take a nap, or look at my phone while driving. The lawyers at GM insist that Cadillac Super Cruise pays as much attention to you as it does the road with cabin-facing monitoring systems. Because in case of something, the driver has to be attentive enough to take the wheel in the blink of an eye. It's perfectly fine reasoning, if you ask us, and demonstrates a layer of effort put into developing this system safely and thoroughly, rather than aggressively. If the system senses that the driver is not paying attention, the steering wheel light will flicker as a warning. If the driver continues to ignore the system will disengage, forcing the driver to pay attention.
It never came to this, but failure to obey the vehicle's demands enough times will trigger a voice command from the car, which tells the driver to take control of the vehicle immediately. A Driver Information Center message from the instrument panel will then indicate that Super Cruise is locked out until the next ignition cycle – meaning the car will have to be stopped, and turned on again. Beyond this – failure to take over steering will cause the vehicle to slow in the lane and eventually brake to a stop, and an OnStar advisor will be called. The brake lights and hazard warning flashers will come on as the car sits in the middle of the freeway. This sounds like a failsafe for a medical emergency, as it's hard to imagine somebody deliberately upsetting a vehicle up to this point.
Nevertheless, letting go of the steering wheel also took its fair share of getting used to, as Super Cruise has its own tactics when it comes to driving. Bends in the road, as you can imagine, trigger some marginal anxiety. One quirk about the system is, despite using LiDar mapping data that's accurate down to 5 centimeters, the 2018 Cadillac CT6 never seemed to move with a sense of anticipation that there was about to be a bend in the road. Super Cruise seemed to perform very reactionary in these instances, and could be smoother. Road construction zones can also be a little abrupt for system, but we never experienced any sort of failure. Lane changing also requires human steering input, and Super Cruise will reactivate once the driver re-centers the vehicle in the new lane.
After some time, it became easier to recognize the road manners of Cadillac Super Cruise, and that's when things really began to settle in. Drivers can take in the scenery a bit more, and put more thought into conversations they're having with passengers, or bluetooth phone calls – something that workaholics are bound to capitalize on. And where the system really shines is in these congested situations exactly like these I-75 South Sunday Shleps, or any rush hour commute, when driving might as well be the most tedious thing on the planet. Cadillac Super Cruise doesn't really hijack the driving experience as much as it removes the mundane trudges of freeway traffic and congestion while you decompress in the comforts of the CT6. And by 2020, expect more Cadillac products to receive this segment-exclusive system. We also expect some minor improvements and updates along the way, as well
Centering the 2018 Cadillac CT6 was the one aspect we never could one hundred percent figure out. Instead of true center, Super Cruise wanted the car shaded just offset to the right, like how a teenager learns in what Americans consider to be driver's education class. The quirk about this style is that it never seemed to account for drivers in the adjacent lane to the right that might be shaded a few touches to the left. At times, it can make for an uncomfortable proximity, and that goes double for these scenarios around a sweeping interstate freeway turn. This is when I figured things were best left to my own driving technique, which simply means I get to be in control of a very well behaved large sedan.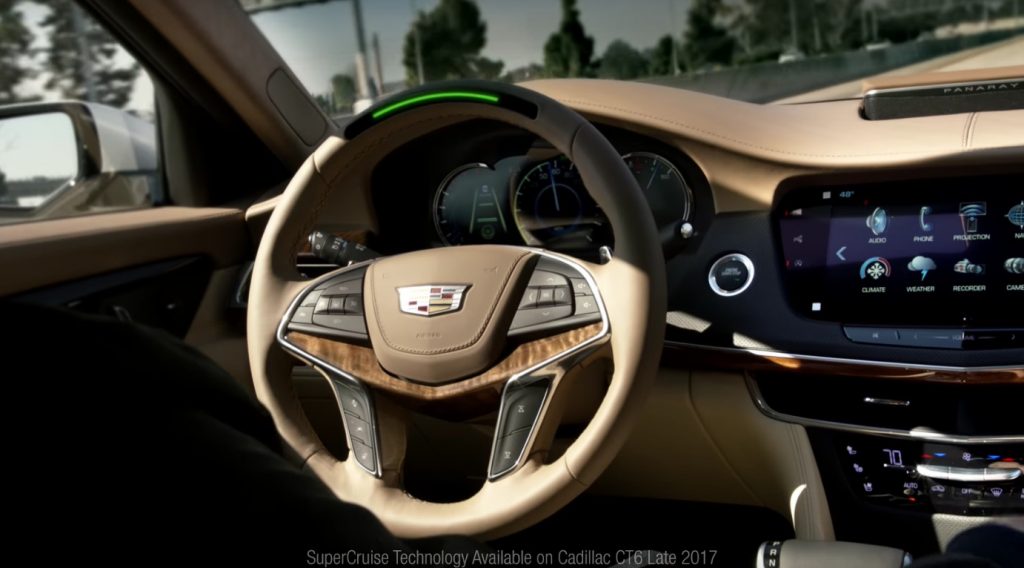 The ride and handling of the 2018 Cadillac CT6 is rather astounding, as vehicles with these dimensions hardly ever drive with such a spring in their step. At nearly 1,000 pounds lighter than the Mercedes-Benz S-Class, and lighter still than the smaller Cadillac CTS, the Cadillac CT6 comes out ahead as a champion in the ride and handling department for full size vehicles, while still delivering a ride that could be nearly mistaken for a hovercraft. The vehicle's bespoke Omega platform is an exercise of what's possible for full size vehicle dynamics, but at the same time, feels misplaced. It's misplaced because this is a segment where high speed cornering abilities are not considered to be a high priority from its target market. The Cadillac CT6 had a lot of investment in what customers can not immediately see, nor touch, and instead has a cabin with (some) GM parts-bin components, and black plastic buttons and knobs where they would otherwise be metal or bespoke in other esteemed marques. Yet the trump card for the CT6 is Cadillac Super Cruise, because there is no greater joy to be found for a luxury vehicle owner than to have a standout feature that the other guy doesn't.
Cadillac CT6 Photo Gallery
Sweepstakes Of The Month: Win a Corvette Z06 and 2024 Silverado. Details here.
We are currently looking for experienced automotive journalists and editors to join our team. Make $60k-$80k per year doing what you love. We are also looking for an experienced web developer.
See details here
.