5 Reasons To Buy A 2019 Chevrolet Volt, And 5 Reasons To Pass
9
Those that have been paying attention to this space may have noticed that we have a soft spot for the Chevrolet Volt. Ultimately, there's no reason outlined here that can eclipse the perks of living with one, but we still feel obligated to address a few minor shortcomings we perceive the Volt to have. We nevertheless consider it a strong buy, and consider it to be one of the strongest products in the Chevrolet portfolio, if not the entire General Motors portfolio.
We'll start by outlining our top five reasons why to buy a 2019 Chevrolet Volt:
1. An Ideal Combination Of Efficiency, Technology, And Utility
The second-generation 2019 Chevrolet Volt is the take-home pick of multiple GMA staff members for a reason. We almost never have to use gasoline, and charging it is cheaper than filling up. The interior keeps things essential but nicely accented with technology like an 8-inch touch screen, several pages of information that breaks down everything from total fuel economy to driving habits, and a configurable digital instrument panel. No other Chevrolet passenger cars can do this, besides the Bolt EV. The liftback design also provides 33 cubic feet with the second row folded nice and flat. The storage space is good enough for camping gear, boxed Ikea furniture, or even a full set of autocross tires.
2. Crisp, Modern Styling
The 2019 Chevrolet Volt did well not to have any visual changes, because the design is as clean and confident now as when it launched in 2016. Sure, it might not appear as alien as the first-generation Chevy Volt, and the front fascia looks far too close to the more conventional Chevrolet Cruze, but these are not essentially bad things. At least, we don't think so.
3. A Highly Refined PHEV Drivetrain
Other makes are just getting into the plug-in hybrid electric vehicle scene, and it shows. The integration and synchronicity between the gasoline generator engine and the electric batteries in some of these products are pretty unrefined. By that we mean that the engine drone is more than just an offset to the serenity of electric driving, they can be downright aggravating (when they have to turn on). Not so in the 2019 Chevrolet Volt. It's as polished as it gets.
4. Plenty Of Electrified Punch
With 294 lb-ft of torque, the 2019 Chevrolet Volt is a bit of a sleeper, and has spritely city driving dynamics. Though the power from the batteries and the engine are easily scrubbed into dust as the low-rolling Michelin tires struggle to find any semblance of grip off the line. It's easy to figure out how to drive around the lack of traction, however. Rather than mashing the throttle, it's better to be gradually fed until around 15 miles per hour or so. Then put it to the floor.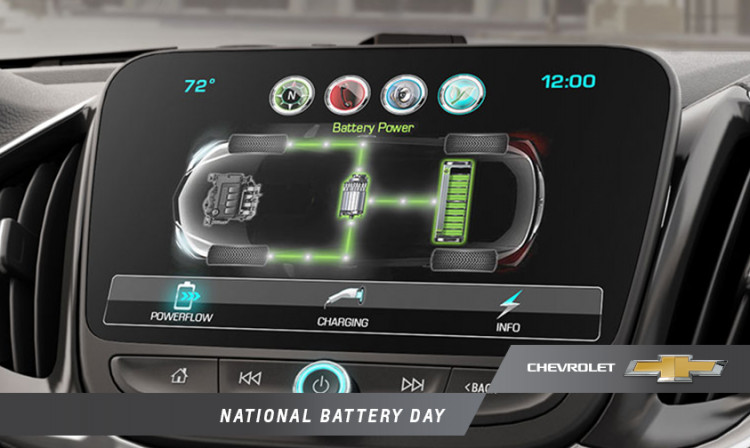 5. It's Made In America – For Now
The 2019 Chevrolet Volt is built within sight of GM's global headquarters at the Detroit-Hamtramck Assembly plant, along with the Buick LaCrosse, Cadillac CT6 and Chevrolet Impala. The D-Ham plant has received over a billion dollars in tooling investments and upgrades since 2009, and built the first-generation Chevrolet Volt, as well. If American made is your thing, the Chevy Volt is one of the few plug-in hyrbid vehicles that fit in this bracket. But with GM's uneasy emphasis on the Chinese market as of late, who knows what will happen in the future.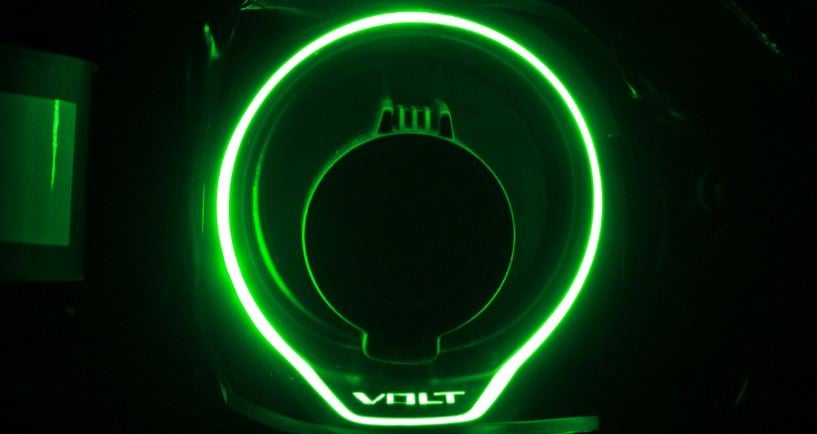 5 Reasons Not To Buy:
1. Rear Window Visibility Needs Improvement
While the standard backup camera negates most of the rear visibility concerns, there's almost no use for the rearview mirror in the 2019 Chevrolet Volt. That's because the rear window returns just a smidgen of visibility from the viewpoint of the driver's seat. The first-generation Chevy Volt alleviated this by having a small pane of glass, separate from the main rear window, positioned just at the base of the hatch. This is just one of the things we miss from the first-generation Volt that strangely didn't make to gen two.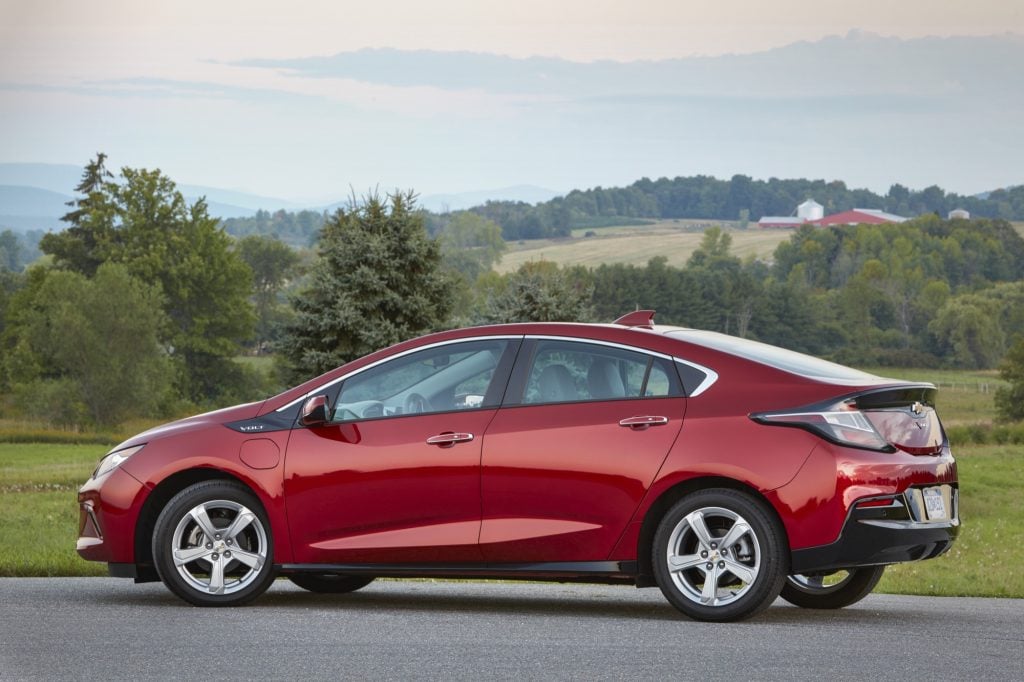 2. No More Pedestrian Alert Horn
*chirp*chirp*chirp*chirp*. It was fun pushing the little pedestrian warning alert button at the end of the wiper control stalk in the first-generation Chevrolet Volt. It doubled as a nice greeting sound when pulling up to or leaving grandma's house, rather than committing to the full volume of a standard car horn. This charming feature was replaced by an aural sound effect in the second-generation Chevrolet Volt. The intention is to notify blind pedestrians of the car's presence at low speed, or a full stop. It's a neat feature, but lacks the soul of the original solution.
3. Poor Rear Seat Headroom
The tapered roofline of the 2019 Chevrolet Volt may be highly aerodynamic, but sets up rear occupants for uncomfortably low amounts of headroom, even for those who aren't even six feet tall. Additionally, rear leg room is just alright, unless you're the poor soul strapped in the middle seat, straddling the battery pack housing. We'll take this time to remind that the first-generation Volt didn't even have a middle seat, and the current setup is primarily intended for child seats – not adults.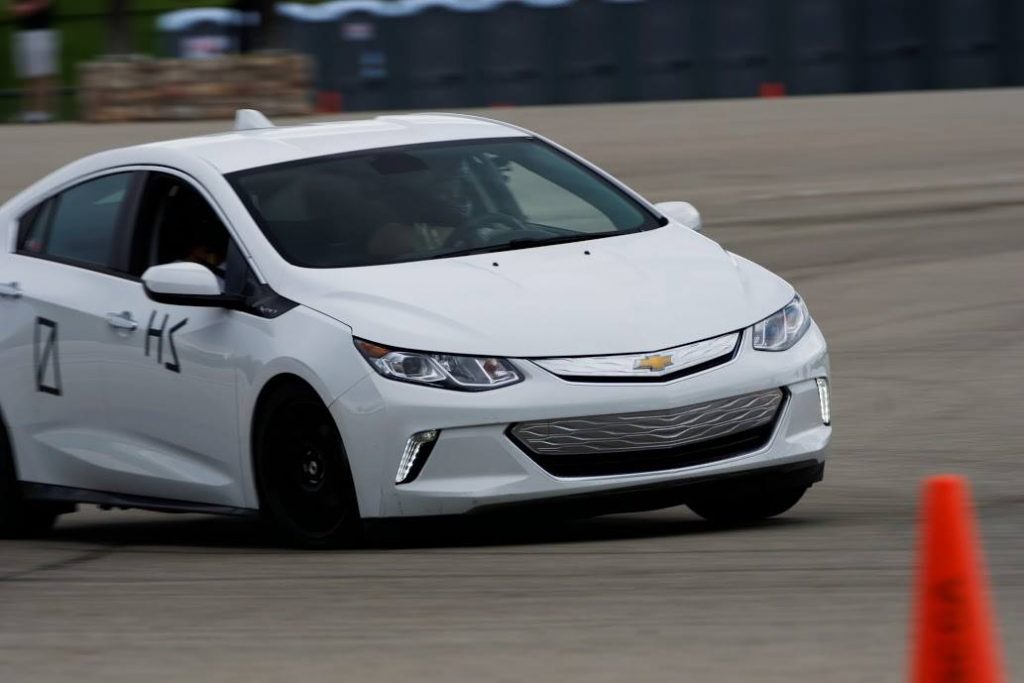 4. Wants To Be A Hot Hatch, Isn't
It's frustrating that that a car with nearly 300 lb-ft of torque has far too little hardware that seem to support that power. From a lack of a limited slip differential, to the bird boned half-shafts, to the sub-par braking, and to the low-friction rubber… it all saps away from what could have been a hot hatch driving experience if GM considered the performance potential for the 2019 Chevrolet Volt. But we won't get too far into it here. For more, read our learnings from autocrossing the Chevy Volt for a few seasons.
5. You'd Rather Go Full EV
Hey, we get it, you'd rather live a more compromised life, where your only method of increasing the range on a vehicle is waiting up to several hours for it to charge. And then only after to maintain a strict driving radius. Some people would rather not have the convenience of the 2019 Chevrolet Volt, which can utilize both the gas station infrastructure and the electrical grid seamlessly. As we've learned from a road trip with the Chevrolet Bolt EV, going full plug-in is a commitment full of newfound obstacles. But some people would rather be challenged this way, and we're not here to judge.
Did we miss something? Do you agree? Sound off in the comments.
Sweepstakes Of The Month: Win a Corvette Z06 and 2024 Silverado. Details here.
We are currently looking for experienced automotive journalists and editors to join our team. Make $60k-$80k per year doing what you love. We are also looking for an experienced web developer.
See details here
.