Yes, Cadillac Just Renamed The CT6 V-Sport To CT6-V
35
If you haven't yet heard, the highly-anticipated 2019 Cadillac CT6 V-Sport is dead. Instead, Cadillac has decided to rename the high-performing sedan to CT6-V. The name change is non insignificant. Let's explore it in hopes of getting a better understanding of what's taking place.
GM's (Unclear) Reasoning
First and foremost, we should note that Cadillac hasn't officially announced nor in any other way communicated the change from CT6 V-Sport to CT6-V to the public. That is to say that there might be more, much more to the story than what we currently know. The way we've come to find out about it is through second-hand reports following the luxury brand's national dealer meeting this past week.
As such, we currently do not have a good grasp on the reasons behind the decision. What we do have is a rather vague quote from GM's Mark Reuss:
"As a result of the overwhelming response the CT6 V-Sport received when revealed in early 2018, we've decided to formally make it a V-Series, signaling the expansion of V-Series."
That line of thinking doesn't really make sense to us. In fact, it's analogous to revealing a product called "Good" that garners a lot of positive feedback and generates notable interest and attention… and six months later – before even shipping said product – coming back and saying, "Because you liked our Good product so much, we decided to change its name to "Very Good", while keeping the product the same.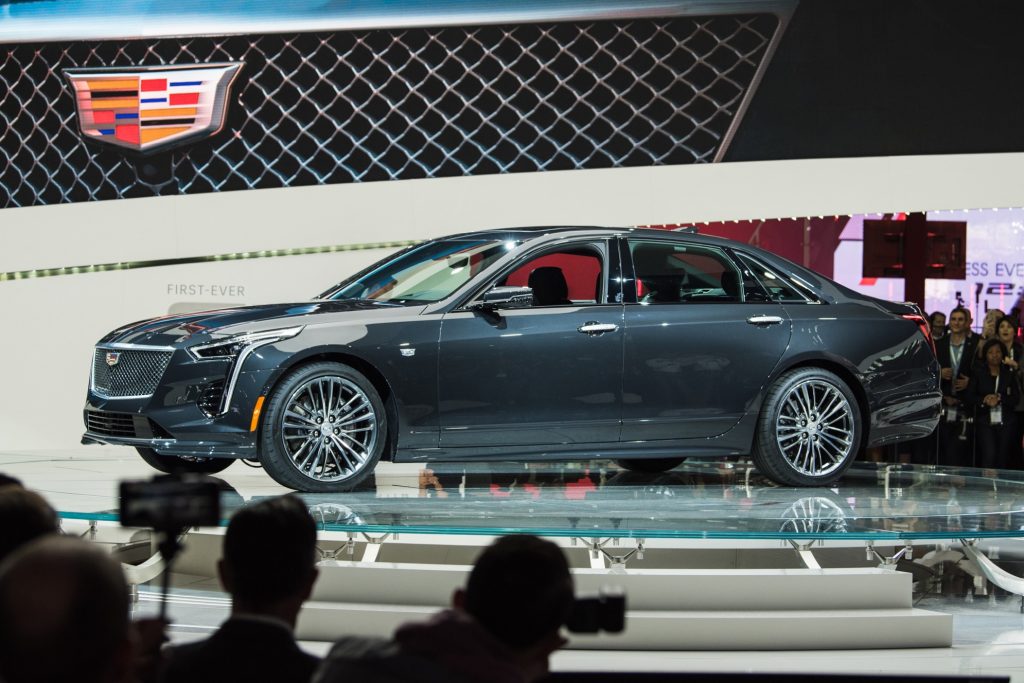 Reuss currently holds the title of GM President of Global Product Group and Cadillac. In other words, he is in charge of GM's global product development group, which includes design, engineering, and sourcing. And since the departure of previous Cadillac President Johan de Nysschen, he now oversees Cadillac, slotting above Cadillac's new President Steve Carlisle as a Cadillac Chairman of sorts. Reuss inherited the Cadillac bit from GM President Dan Ammann, who is instead focusing on overseeing GM's autonomous vehicle efforts.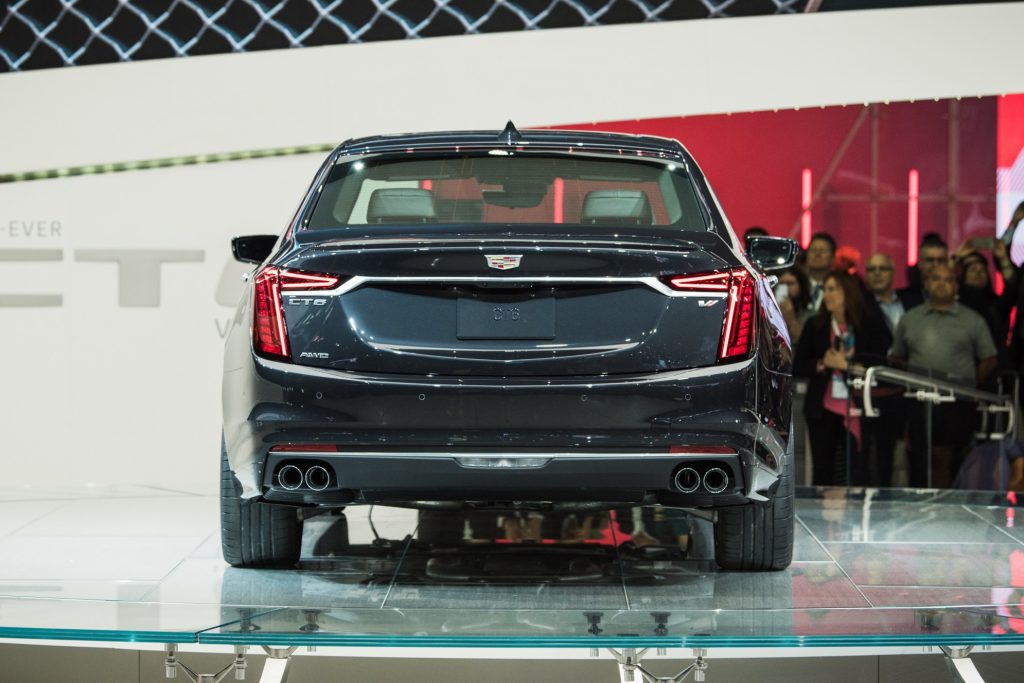 An engineer by trade and a certified industry pool driver at the Nurburgring, Reuss is a car guys' car guy. He is known to have fought for product quality internally at GM, infamously grappling with other leaders to equip the Cadillac CT6 with a set of high-end door handles during the model's planning and development process. He ultimately lose that battle. The CT6 and CT6 V-Sport were both developed under Reuss' oversight, as were the vehicles underlying platform, engines and technologies. But none of that actually explains why the decision was made to change the name to CT6-V.
Really Now, Why The Change?
When Cadillac's prior president, Johan de Nysschen, introduced the refreshed CT6, the high-performance model was the CT6 V-Sport. It's not a far stretch to conclude, then, that the decision to change from CT6 V-Sport  to a full-on CT6-V was made after his departure.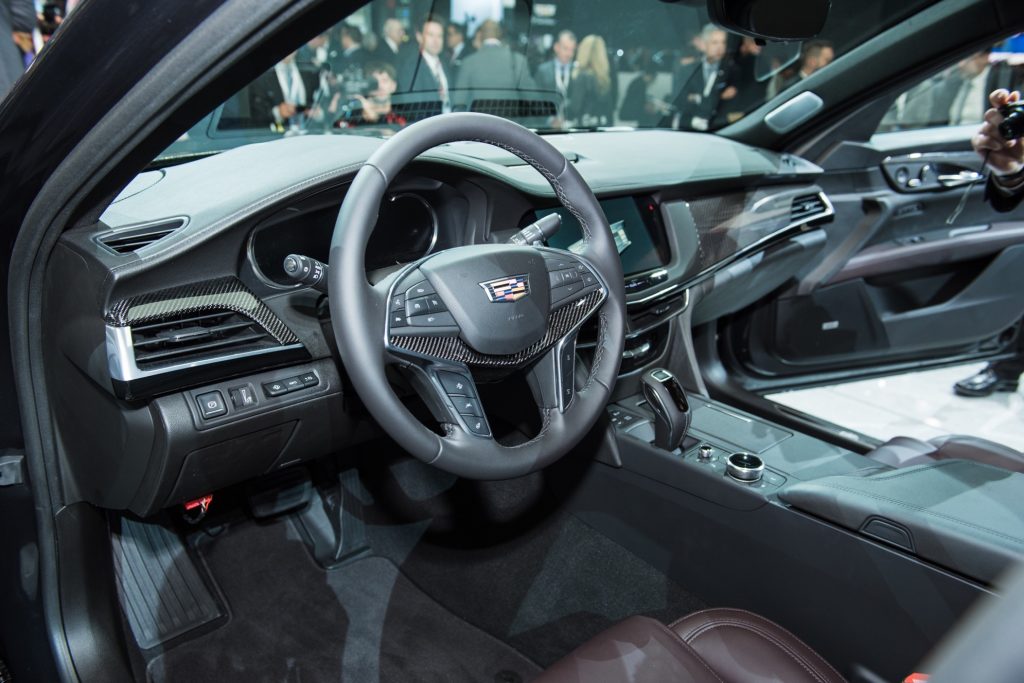 The way the move was allegedly communicated to dealers during the presentation was under the premise of expanding the Cadillac V-Series range, a move that will start by discontinuing the ATS-V and CTS-V.
"Three generations [after its introduction], V-Series is recognized and coveted by many as a symbol of Cadillac Performance engineering," said the new Cadillac president, Steve Carlisle. "In fact, our V-Series models outperform and often outsell their competitors. As we accelerate Cadillac's growth around the world, our V-Series will continue to expand the brand, enhance its image and attract new buyers to our showroom."
Alas, that statement doesn't provide a clear-cut explanation for the naming change. But it does tell us that GM's semi-autonomous luxury car division is focused on expanding the V-Series line. We're all for that strategy, as it's a common-sense way to sell more cars, increase profitability, and improve the image of Cadillac as a brand. But all those things will only take place with products that live up to the kind of product substance built up by authentic V-Series models. In other words, the product must do the badge justice.
Giving a lukewarm Cadillac model the V-badge for the sake of expanding the lineup without much product substance that sets a Cadillac V car apart from other Cadillac models and apart from the competition will deliver detrimental results.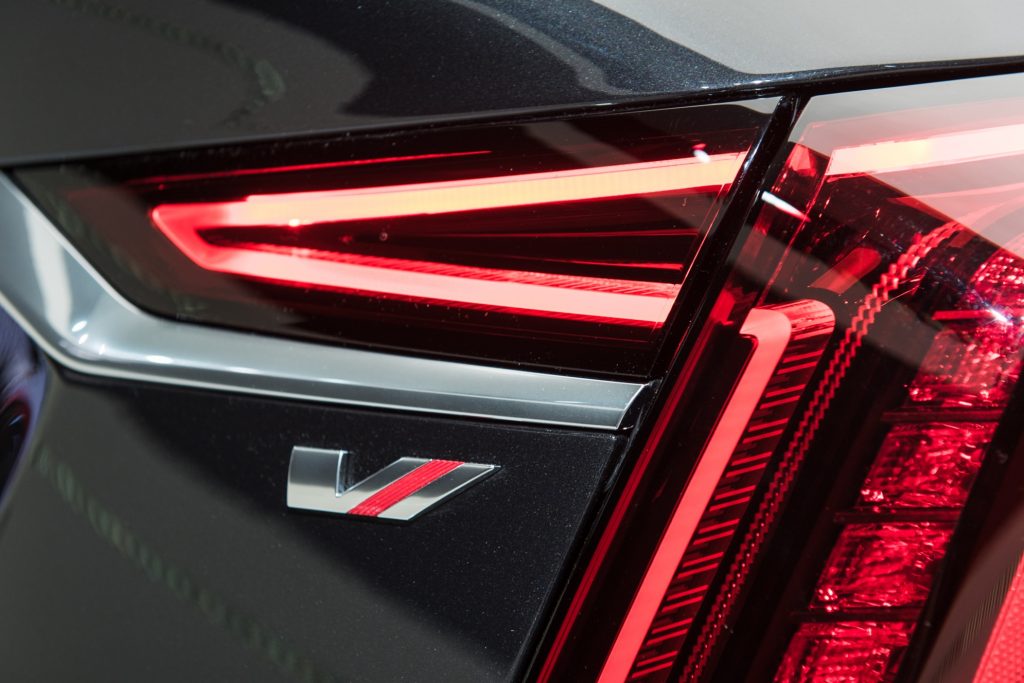 Upending The Hierarchy
Another rather noteworthy byproduct of Cadillac rechristening the CT6 V-Sport to CT6-V is that the move completely upends the hierarchy the luxury automotive brand has established for its sporty and performance models. From what we know and understand, the brand isn't planning to make a CT6 V-Sport to slot under the newly-named CT6-V. Put another way, Cadillac is promoting the CT6 V-Sport to CT6-V, but isn't planning on a CT6 V-Sport model to slot beneath it.
In that regard, it is defying the established "good-better-best" hierarchy established by all the successful auto luxury brands such as Mercedes-Benz, BMW, Audi, and Lexus… contenders that are infinitely more successful that Cadillac in the luxury game. Heck, that structure is also present on almost every consumer good outside of autos.
Instead, it would seem that Cadillac is planning to offer the CT6 as the "good" model, immediately followed by the CT6-V as the "best" offering, with nothing in between. We feel obligated to note that this kind of approach had hurt the commercial success of the second-generation CTS, which offered a "regular" CTS and the all-out CTS-V, while other rivals offered an in-between model, such as the Mercedes-Benz E500, BMW 545i/550i, and Audi S6).
Today, the automaker doing the good-better-best approach better than anyone is Mercedes-Benz, which offers at least three versions of a model: the regular one (E300), a higher-performance "AMG Lite" model (E43 AMG) and ultra-high-performance model (E63 AMG). Each model delivers a significant amount of value and gradually increasing levels of performance, at an appropriate price. The German automaker has applied that pecking order to nearly all models within its range to extremely great success, and currently is often regarded as the automaker to beat.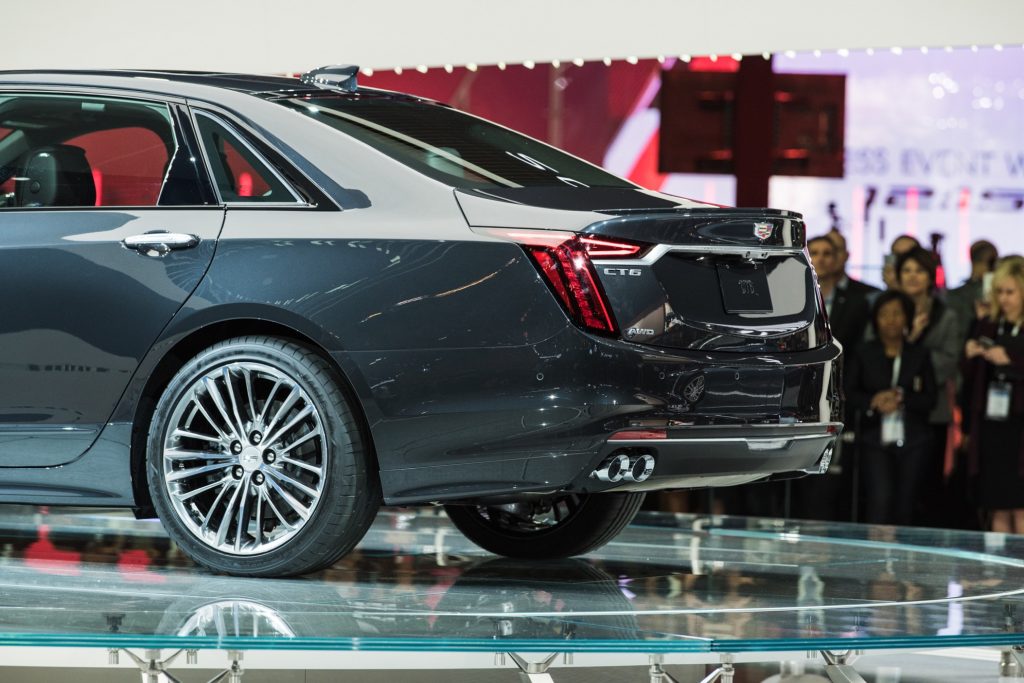 Meanwhile, Cadillac seems to have not gotten the memo that it stands to benefit from offering progressive stair-step variations for its products. Or perhaps it simply forgot about its own third-generation CTS, which is offered in CTS, CTS V-Sport, and CTS-V flavors.
Cause And Effect
The limited information we have is the equivalent of reading tea leaves… and there could very well be much more to the CT6-V decision than we currently are aware of, and than we currently understand.
In the meantime, all we can do is wait for GM and Cadillac to fill in the details while reading the latest Cadillac news here at GM Authority.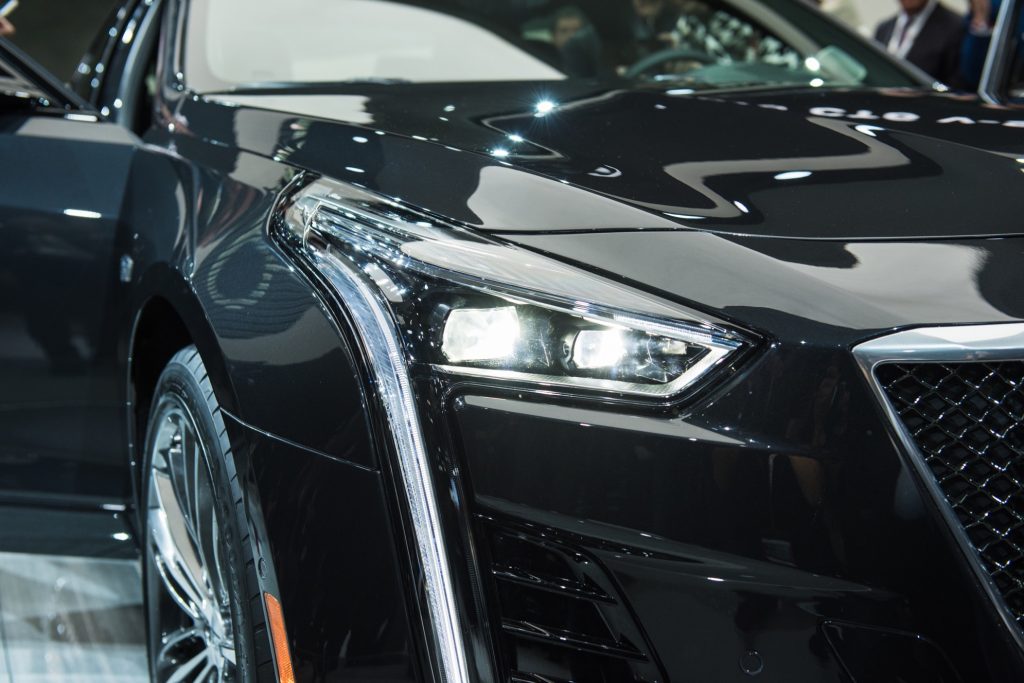 About The Cadillac CT6 V-Sport CT6-V
Initially announced in March 2018, the 2019 Cadillac CT6 V-Sport, now called CT6-V is a high(er)-performance version of the full-size Cadillac CT6 sedan. The vehicle introduces the 4.2-liter twin-turbo V8 LTA engine. Codenamed Blackwing, the motor is the result of an all-new, clean-sheet design that represents Cadillac's first dual-overhead-cam V8 motor since the Northstar.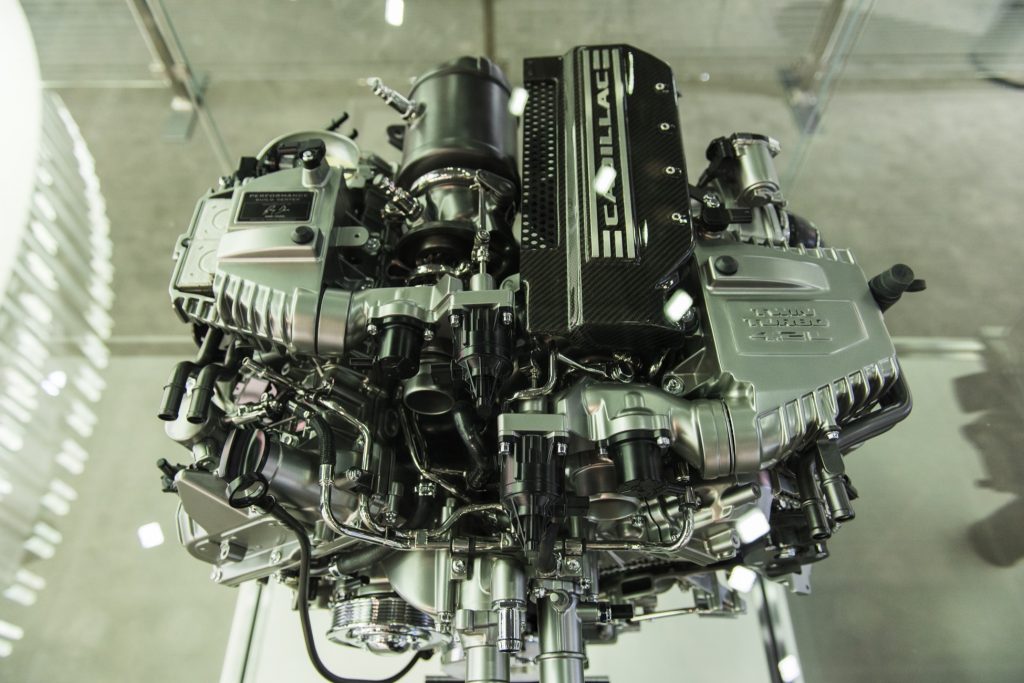 Back in March, Cadillac announced two outputs for the engine:
500 horsepower and 553 pound-feet of torque for the CT6 Platinum model, and
550 horsepower and 627 pound-feet of torque for the V-Sport model (now CT6-V)
Notably, Cadillac's 4.2L Twin-Turbo V8 Blackwing engine features a "hot-vee setup", a configuration where the turbochargers are mounted atop the engine for quicker spooling thanks to less plumbing between the exhaust ports and turbines and smaller packaging.
The CT6-V will be available exclusively in AWD. Shifting duty will come from the new GM 10-speed automatic transmission mated to a with a limited-slip rear differential and summer tires developed specially for the model.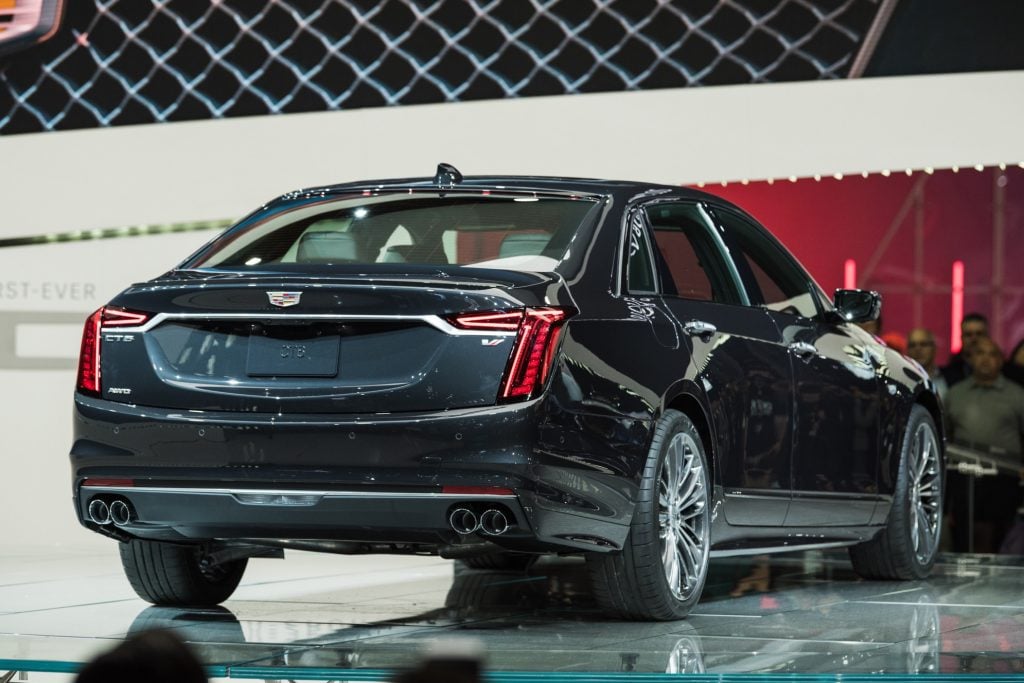 Modified tuning is applied to the steering system, with a special calibration in store for the Magnetic Ride Control dampers. Specific suspension tuning for improved roll control, cornering capability and steering response will also be in order.  The vehicle rides on 20-inch wheels and features a new 19-inch Brembo monoblock, fixed-opposed, four-piston brake system developed specifically for the high-performance application of the CT6.
Special aerodynamics are also in order, consisting of performance linings and air deflectors that direct air to cool the brakes during sporty, aggressive driving. Also included is a a specially-tuned exhaust system with active valves offering reduced back pressure, more sound character and a performance exhaust note specially tuned for the high-performance model model.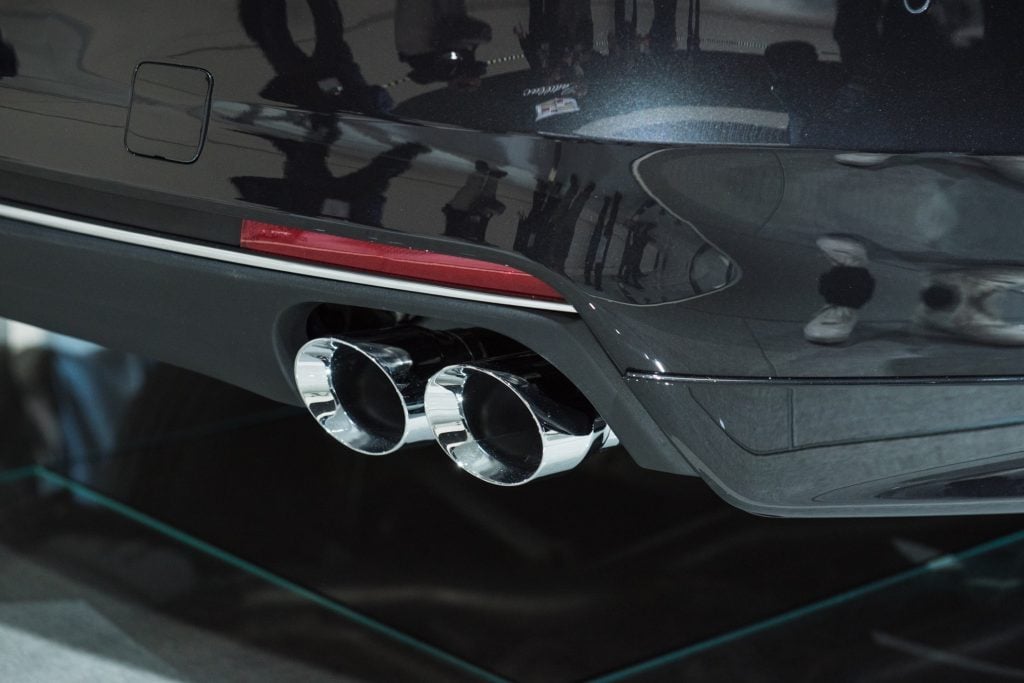 Currently unclear is when the rechristened CT6-V will go on sale. As of this writing, it has been six months since the CT6 V-Sport has been announced.
2019 Cadillac CT6 Photo Gallery
Sweepstakes Of The Month: Win a Corvette Z06 and 2024 Silverado. Details here.
We are currently looking for experienced automotive journalists and editors to join our team. Make $60k-$80k per year doing what you love. We are also looking for an experienced web developer.
See details here
.