GM Should Absolutely Make A Midsize Buick SUV
16
Whether we like it or not, there is no denying that the crossover space is a profit-making machine with ongoing growth potential. With the exception of Cadillac, which is sorely missing a complete CUV lineup, GM was lucky enough to have its crossover lineup relatively well-established for the big crossover boom.
The automaker's most recent introduction is the 2019 Blazer, equipping Chevrolet with a complete crossover range, from subcompact to compact and from midsize to full-size. Meanwhile, Buick – a brand that's already fielding a relatively thin lineup that is likely to get even thinner in the next few years as it loses sedans – is strangely missing a full deck of utilities.
So it would seem that a midsize Buick SUV is just what the doctor ordered.
For the sake of simplicity, we will use the terms CUV and SUV interchangeably in this article, though we are entirely aware that the terms represent different kinds of vehicles.
The Lineup
Currently, Buick doesn't field an entry into the midsize crossover space, as the brand's current line-up includes three models.
Buick Crossover Lineup as of September 2018

| Subcompact | Compact | Midsize | Full-Size |
| --- | --- | --- | --- |
| Encore | Envision | None | Enclave |
Meanwhile, the midsize crossover space is quite healthy: sales up 2 percent in the first half of 2018 and analysts project sales to grow between 7 and 15 percent by 2020.
Sales Numbers - Midsize Mainstream Crossovers - Q2 2018 - United States
| MODEL | Q2 18 / Q2 17 | Q2 18 | Q2 17 | YTD 18 / YTD 17 | YTD 18 | YTD 17 |
| --- | --- | --- | --- | --- | --- | --- |
| HIGHLANDER | +15.07% | 61,372 | 53,333 | +14.28% | 114,254 | 99,975 |
| GRAND CHEROKEE | -6.55% | 55,865 | 59,779 | -6.07% | 109,313 | 116,379 |
| EDGE | -9.96% | 35,394 | 39,310 | -4.50% | 68,048 | 71,257 |
| SORENTO | +6.42% | 31,374 | 29,481 | +4.98% | 52,760 | 50,256 |
| SANTA FE | -4.00% | 30,633 | 31,910 | -1.38% | 59,185 | 60,012 |
| ACADIA | -25.20% | 20,108 | 26,883 | -10.69% | 50,008 | 55,995 |
| MURANO | +3.62% | 18,078 | 17,447 | +11.83% | 38,800 | 34,696 |
| OUTLANDER | +23.72% | 10,407 | 8,412 | +30.59% | 23,506 | 18,000 |
| TOTAL | -1.25% | 263,231 | 266,555 | +1.84% | 515,874 | 506,570 |
A large and growing segment is a good place to be in any business, and it would be a nice place to be for midsize Buick crossy as well.
A Dim Outlook For The Envision
Making the case for a new mid-size Buick SUV is bolstered even more by a very bleak outlook for the compact Envision. Sales took a 48 percent hit in the second quarter of 2018 and are down 25 percent in the first half of the year. But it gets worse: the crossover is currently threatened by tariffs against China.
Since the Envision is produced in China and imported to the US, a tariff would drive up the price to a point that it would be nearly impossible to sell the vehicle in the United States. So unless GM begins producing the crossover in North America, an idea to which the automaker seems highly resistant, it will almost certainly have to pull the plug, leaving an even larger hole in the automaker's crossover lineup.
GM has been lobbying the U.S. government to get an import tariff exemption for the Envision, but that effort seems to be rather bleak.
Lapping The Overlap
A hypothetical midsize Buick crossover would fit in rather nicely between the Envision and Enclave, featuring Buick's signature soft and elegant styling setting it apart from the pack. The theoretical model would most certainly ride on the regular-wheelbase variant of the C1 platform shared with the GMC Acadia and 2019 Blazer, as well as the Cadillac XT5.
But therein lies a potential issue: in the majority of cases, Buick and GMC vehicles are sold in the same dealer, thereby creating a potential overlap with the Acadia. That, however, is only an issue in theoretical terms that doesn't seem to carry over into the real world.
Take, for instance, the GMC Terrain and Buick Envision. Both vehicles share a common platform and size characteristics, and both are sold at Buick-GMC dealerships. Meanwhile, GMC is rumored to be working on a subcompact crossover (believed to be named GMC Granite) that will be roughly the same size as the Buick Encore.
GM can easily circumvent the overlap problem by properly differentiating same-segment vehicles, and there is no reason to believe the same would not be the case for our theoretical midsize Buick SUV.
If nothing else, the crossover-heavy marketplace that exists today and that isn't expected to let up in the future has enough CUV demand to support GMC's Acadia and the Buick midsizer simultaneously.
Will It Enspire?
Lending a clue that a midsize Buick CUV is on its are two key data points.
First, GM has been actively pursuing trademark rights for the word Enspire since as early as 2012. The word perfectly fits the Buick crossover nomenclature, which starts with the "En" prefix – Encore, Envision, Enclave. The shoe fits for Enspire just as well.
Coincidentally, 2012 is the year that GM started working on midsize crossovers that we have come to know today as the Acadia, Blazer, and XT5. It's not totally out of the question, then, that a fourth model will come to share in the fun, the sales and the associated profits.
And then there is the topic of the Buick Enspire concept. The brand revealed the show car in China in April as an electric crossover of sorts. The notion that the Enspire concept is a well-veiled preview of a midsize CUV with potential electric capability is not totally out of the question just.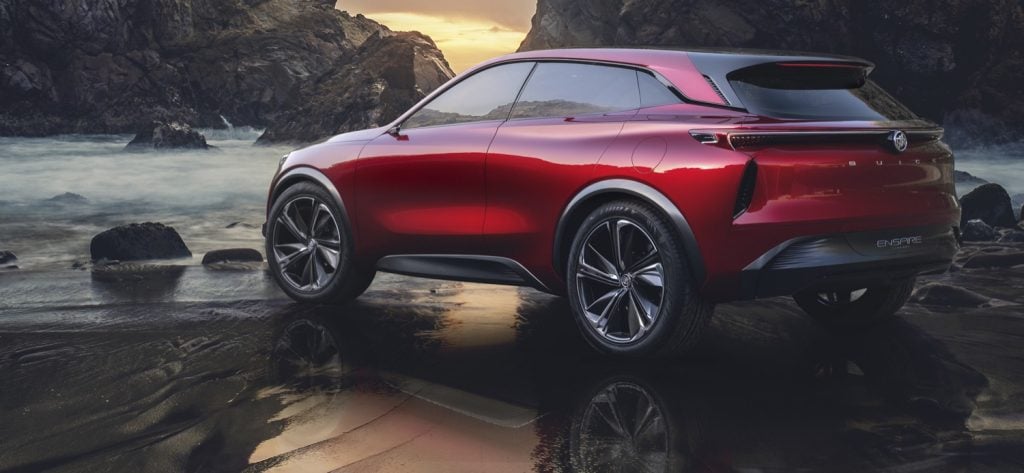 The GM Authority Take
As it currently stands, Buick is at a rather peculiar historic crossroads: with sedan sales on the decline, the brand could soon find itself with no passenger cars in its lineup. Meanwhile, heated competition on all fronts of the crossover space prevents the marque from standing still and doing nothing in the CUV race. But that doesn't mean that Buick can't compete and win: in fact, it's already winning big time with the second-gen Enclave, and there's no reason to suggest that it can't do the same with a high-riding midsizer.
And though Buick execs say it is perfectly happy with three crossovers in its range (which could very soon dwindle to two), it would seem that the most logical thing to do is to fill out its crossover lineup with a new CUV. Sure, Buick electric cars may also be part of the plan (though maybe not), we all know that a crossover will bring in the money today, rather than in a decade or two, as is the case for an electric offering.
So it's really a mystery why we haven't already seen a midsize Buick SUV grace the lens of a spy photographer or an auto show floor.
In Summary
Here's why a midsize Buick crossover to fit between the Enspire and Enclave makes perfect sense:
A large and growing segment is a good place to be in any business, and it would be a nice place to be for midsize Buick crossy as well.
A dim future for Envision due to potential tariffs
Little overlap with Acadia via substantial product differentiation in styling and product values
Sufficient evidence for a Buick Enspire via trademarks and a concept
A crossover represents sales and profits today, not tomorrow – as is the case for EVs
Buick Crossover Photo Gallery
Sweepstakes Of The Month: Win a Corvette Z06 and 2024 Silverado. Details here.
We are currently looking for experienced automotive journalists and editors to join our team. Make $60k-$80k per year doing what you love. We are also looking for an experienced web developer.
See details here
.