2019 Silverado Features Electronic Push-Button Parking Brake: Feature Spotlight
We are currently looking for experienced automotive journalists and editors to join our team. Make $60k-$80k per year doing what you love. We are also looking for an experienced web developer.
See details here
.
8
Riding on an all-new T1 platform, Chevy's 2019 Silverado introduces many new features for the nameplate, one of which is an electronic, push-button parking brake. This makes the all-new model the first Silverado ever to feature an electronic parking brake, which provides several advantages over conventional, manually-operated parking brake.
How It Works
Previous generations of the Silverado featured a traditional parking brake operated via an outer pedal placed near the driver-side door. This traditional parking brake has a mechanical attachment to the rear calipers via two brake cables.
By comparison, an electronic parking brake utilizes a switch that operates motors on the rear calipers. In the new 2019 Silverado, the button for the electronic parking brake is located just below the driver-side A/C vent and control panel.
Pressing the button sends a signal to the motors, causing the caliper piston to push the brake pads against the rotor. Releasing the parking brake is accomplished by pushing the switch further one more time.
Benefits & Advantages
There are several advantages to an electronic push-button parking brake over a traditional unit:
No adjusting parking brake cables: an electronic push-button parking brake eliminates the need to adjust parking brake cables, which can stretch over time, eliminating the need to check this item off the maintenance list as the vehicle gets older.
More room: a benefit that most consumers should easily appreciate is the additional interior space gained by replacing a traditional parking brake with an electronic unit, since the bulky third pedal is eliminated from the footwell area.
Safer: there have been reports that push-pedal mechanical brakes, as seen on prior Silverado generations, hurt the driver's lower extremity/foot area during crashes. A push-button brake removes this possibility.
Convenience: a button is ultimately a better human-machine interface (HMI) for operating a parking brake than a traditional foot-activated brake. It's simply more convenient to push a button on the dash than to find a pedal and depress it with the foot, while having the pedal's spring detent provide some resistance (as if you're doing "light version" of a leg press). This convenience is even more applicable when it's time to release the foot-activated parking brake. Doing so requires one to depress the spring-detent pedal even further, an action some may find difficult or even somewhat confusing. A button also eliminates the possibility of a user's foot slipping off the pedal, which may cause the pedal spring to break.
Integration with assistance features: perhaps the most impressive benefit of an electronic parking brake is that it enables a deep integration with the other subsystems and features in a vehicle. In the case of the 2019 Silverado, a new towing-focused feature called auto parking brake assist applies the parking brake after a driver lines up the Silverado with the trailer and shifts into park. That's two extra steps (setting the parking brake and then releasing it) eliminated compared to a traditional brake.
Potential Drawbacks
An electronic parking brake is not without its potential downsides.
The first one that comes to mind is the inability to apply the parking brake when the vehicle's battery has been completely depleted. Another potential drawback is that servicing a vehicle with an electronic parking brake may require the use of a specialized tech tool, making things more difficult for those who choose to maintain their own vehicles. Additionally, one can not use an electronic parking brake to bring the vehicle to a complete stop in the case that the vehicle's primary brakes fail (as pointed out by scott3).
Ultimately, we think the conveniences of an electronic, push-button parking brake system outweigh any potential disadvantages.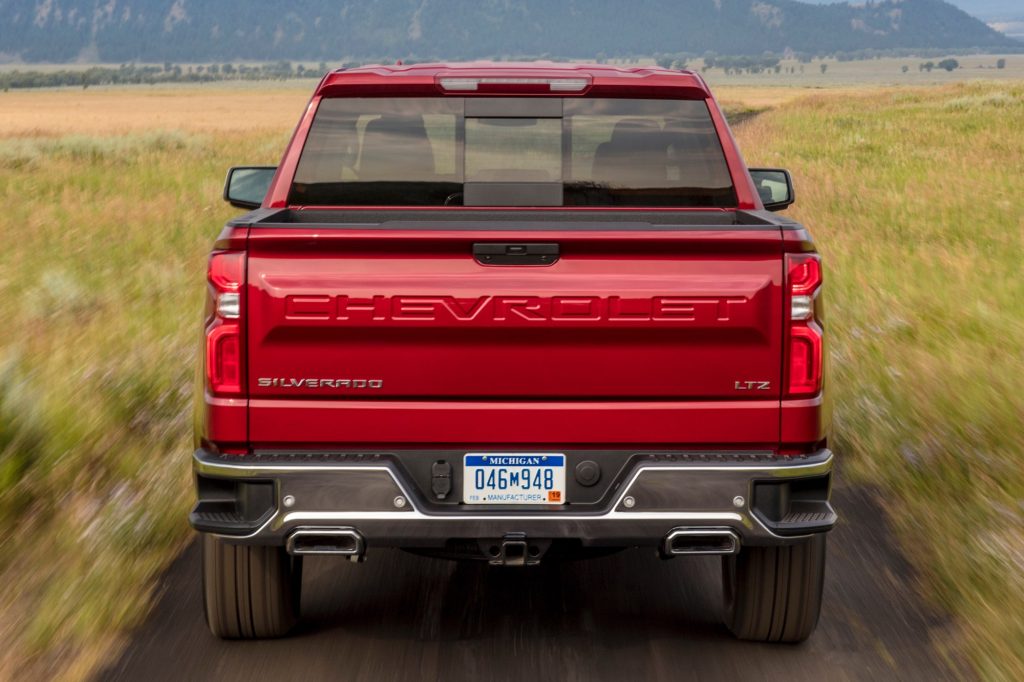 Availability
The push-button electronic parking brake is standard on every 2019 Silverado model, trim level, and equipment group. It can't be removed or replaced with any other feature or parking brake during the configuration and ordering process.
Other Notable 2019 Silverado Features
The 2019 Silverado introduces a host of new features, including several tailgate options, an enhanced 8-speed automatic transmission, as well as two new engine choices – the 2.7L Turbo L3B four-banger and the upcoming 3.0L Duramax I6. The new GM 10-speed automatic transmission will be mated exclusively to the range-topping 6.2L V8 L87 and the Duramax six.
What's more, RST, Custom TrailBoss and LT TrailBoss are three new models that expand the portfolio, while the Silverado High Country remains the range-topping model and features all the bells and whistles that the 2019 Silverado has to offer.
2019 Chevrolet Silverado Photo Gallery
Chevrolet Silverado Resources & Information
We are currently looking for experienced automotive journalists and editors to join our team. Make $60k-$80k per year doing what you love. We are also looking for an experienced web developer.
See details here
.