Autocrossing A Chevrolet Volt: The Need For An Electrified Entry Level Performance Car
7
With April comes the start of the Detroit Region SCCA Solo season. There aren't a lot of catchy terms that the nerds managing the SCCA come up with, but 'solo' is at least one of them. Even though none of us nerds participating in solo driving address it by as much. Too much sexual innuendo, probably. So we call it Autocross.
To the surprise of nobody, the Chevrolet Volt is classified in the competition's slowest vehicle class, which is HS. AKA H-Street. AKA, Hella Slow. It's best to dismiss the teasing quickly, as autocrossing in HS is also one of the best gateway classes into this motorsport, which itself is a gateway drug to all other (more expensive) motorsports. HS is the class where virtually any modest FWD sedan or hatchback can compete against other, equally pedestrian vehicles. More importantly, it means that everyday people can show up with their everyday car and, overtime, learn some very tangible vehicle control skills that make them better (safer) drivers on public roads. Autocross can make a better, safer, driver out of anybody. Not to mention, with each event featuring a different course layout, there's always a new challenge to learn from. But while the educational principles are in place for anybody participating – the larger draw is the opportunity to blow some competitive steam. Bragging rights are on the line, always.
Have a Chevy Sonic or a Cruze? It's in HS. Have a Nissan Maxima? HS. Or perhaps a Toyota Corolla? HS. The Honda Accord, too. For the most part, these are the types of vehicles that make up the class. Then there are small predators like the Honda Civic Si, the Mini Cooper, and the Ford Fiesta ST that sit atop of the HS foodchain. Then there are oddballs like my Chevy Volt.
My main opponent right now is the sprightly Ford Fiesta ST, which tend to make up most of the class on any given turnout. There's also the occasional Cooper, and Civic Si, and the desperately underpowered Chevy Sonic RS thrown in the mix, as well. The Minis and the FiSTs have been the vehicles that have won championships at the SCCA Solo Nationals championship in Nebraska the past five years or so. Yet it was only 2017 that the Ford was able to clinch the title. A Volt will probably never have a trophy to its name. It doesn't have the pace, the brakes, the suspension, or the lightness that the winning cars do. Because for as long as its been around, the primary focus of the Volt has been efficiency and practicality. Performance has been an afterthought, but a happy accident at the same time.
In short, it's an uphill battle every time the Volt competes. And you might be wondering why don't I just *fix* all of that with aftermarket parts. From what I've so far learned, there are two reasons. The first is that, simply, nobody makes aftermarket performance parts for the Chevrolet Volt. Because, just how many flummoxed singletons would be so self-abusive as to autocross a Volt? There really is no business case yet for a third party to make them, and so far Chevrolet has been shy of committing to any performance accessory support for the Volt, even in SEMA concept form. The second reason is that these necessary modifications would throw the vehicle into a exponentially faster category, where it's likely to be even more at a competitive disadvantage. But it's still the quickest hatchback Chevrolet sells around the cone course, which honestly isn't saying much, but maybe that can change.
Detroit Region SCCA membership is largely made up of engineers representing just about every automaker and supplier in Southeast Michigan. A large portion works for GM. In fact, GM shows up with an entire autocross team of Camaros, Corvettes, and vehicle dynamics engineers that tend to show others how much more there is still to learn when it comes to driving. It didn't take long for word to go around Milford and Warren that there's some sleep-deprived Greekish guy ham-fisting a Chevy Volt around some cones for seemingly aimless reasons on Sunday mornings. Even Mark Reuss knows about it, while other GM engineers and designers have openly asked me if there's a case for an electrified performance vehicle. The answer is always going to be "yes." These relationships came in handy in the future. As over the season, I received support from several engineers who helped me troubleshoot some issues that one can only discover when autocrossing a Volt. This deserves a bit of backstory.
After finishing a full autocross season with my first-generation 2013 Volt, and, with the second-generation model available with the rollout of the 2017 Volt, it was time to upgrade. The first-gen was fairly competitive in its own right. And with the new one being more powerful and lighter, it seemed like a total sleeper for H Street… on paper.
Such is with life, Voltron's maiden autocross yielded some frustrations. The second-generation Volt simply isn't as tight feeling as its predecessor, despite being lighter. It makes for a more supple ride, which is what normal people want, but doesn't pay dividends here. Secondly, the steering, even with a set of BF Goodrich Rival S tires strapped to the wheels, felt more numb than the last-generation model (which also had a set of similar Bridgestone Potenza RE71R tires reserved for autocross). So between the softer ride and the cold-shouldered steering feel, all of my inputs required more anticipated timing than before. Lastly, there's the fail-safes surrounding the stability control system. And they're incurable.
The first-generation Volt seemed to have a more playful framework for its stability system. "Off" meant it, and holding that skid-marking sedan icon for a few seconds meant that the traction and stability control systems were indeed off. During a solo, the first-gen Volt obediently delivered the power out of a dig when I demanded it with my right foot. Through my channels, I learned that the 2009-2016 Chevrolet Volt had its stability control system calibration done by TRW, which is based in The America. And they don't wonder what the circumstances are when delivering power with the traction control off. At the time of trading my old Volt in for a new one, I couldn't fathom the notion of a stability control system behaving any other way.
As for the 2017 Volt, the stability control system was calibrated by Germany's Bosch. Which means that they found no reason whatsoever why somebody would need the traction control fully off. In the same way that Germany's Airbus sees no reason why their fly-by-wire planes need to roll any more than calibrated (whereas Boeing sees the pilot as the ultimate decision maker). Or how Germans find it literally impossible for one to simply drive a vehicle without a license. As a result, the gen-2 Volt reduces the torque delivery in sudden events of hard braking into a slow corner, turning, and hard acceleration out. There would be power delays for at least a full second out of those dig sections, as Bosch engineers saw no reason why anybody would need torque after heavy braking, and it would usually cost the car a win or a top 3 finish. Because of this factor, and the other factors listed above, autocrossing the 2017 Chevrolet Volt is just as much of a negotiation as it is a competition. There's handicapped adversity in nearly every aspect of competition with this car, as it stands.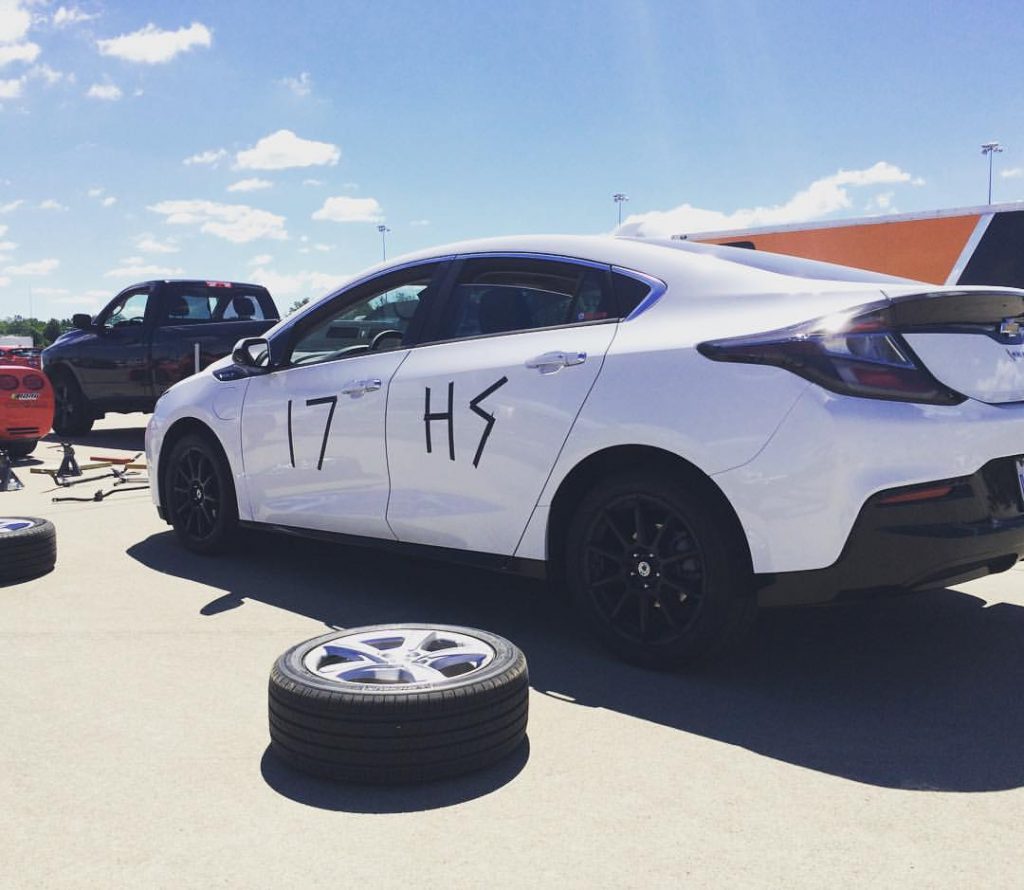 I told some of the engineers on the GM autocross team about what I was experiencing. To corroborate my story, some of the drivers to Black Lake at the mighty Milford Proving Grounds with Volts of theirs to monitor the behavior of the traction control system. The diagnosis was as expected. And not only was the Bosch system indeed cutting torque, it was also remediless. There wasn't a single fuse I could pull or a sensor I could disable for it to go away. The calibration was buried deep into the very core of the vehicle. Depending on who I asked, I heard that it was because the vehicle was trying to save its components – such as the half-shafts and differential – to simply that performance driving was never the intention of the vehicle in the first place, and therefore "full-off" never needed to happen, even though other GM people insist that PHEV vehicles are "fun to drive."
That will continue to be a damn shame, as the Volt is, arguably, the best passenger car GM makes right now, even if the sales don't reflect that, and even if it's going to be replaced by a crossover. I could be biased – but I've also driven them all, plus many more passenger cars outside of the GM fold, and decided to live with this one car. It looks great, features hatchback utility, is packed with the most modern technologies, and provides copious torque via futuristic powertrain. Alas, none of those features amount to much of a performance vehicle. Even as GM and other automakers' ministries of propaganda impotently attempt to convince us that plug-in cars are "fun to drive" – the fact of the matter is they aren't as fun as comparative performance hatchbacks for equal or less money. To put it another way, they're not as fun as they could be. The Volt doesn't have much hardware to handle the instantaneous torque that its batteries put out. Not the taffy-compound eco-tires, not the spongy brake feel, not the pedestrian suspension, not the under-built half shafts, and the lack of a limited slip differential plays into this as well. Nothing seems to have been really built to handle the power effectively. Plus it's heavier than the zippy hatchbacks in H Street, despite a lowered center of gravity.
Perhaps the question of why I even bother autocrossing such a pedestrian vehicle is echoing even louder. Honestly – because it's my daily driver, I don't have the space or budget for a more dedicated machine, and I want to have some fun with my transportation vessel of choice, and autocross shows that it's still entirely possible to do that. I stick by my choice, even if I know there's potential for it to be better, because I want to both be a better driver, and compete with the rest of the autocross goons. Goons who would rather stand around flat pavement for eight hours on a Sunday and use a porto-john, over far more sensible activities. But hey, it beats racing sims.
Even though the class wins are rare, the Volt has at least solidified itself as a formidable opponent, beating out most of the Fiesta ST mix that regularly shows up, as evident from the video below. The Volt also tends to surprise anybody who's seen it run for the first time, and at the very least shows people that one doesn't always need a more performance-oriented car to participate in motorsport. Here's to the 2018 season.
Sweepstakes Of The Month: Win a Corvette Z06 and 2024 Silverado. Details here.
We are currently looking for experienced automotive journalists and editors to join our team. Make $60k-$80k per year doing what you love. We are also looking for an experienced web developer.
See details here
.