2019 Silverado 1500, 2019 Sierra 1500: Did We Get Our Wishes Granted?
20
As we sampled the K2xx Chevrolet Silverado 1500 and GMC Sierra 1500, which started from 2014 and will continue to be built alongside GM's new T1xx Silverado and Sierra for fleet purposes this year, we got a good feel for their strengths and weaknesses. For the most part, they got a lot of things right. They're quiet, good looking, packed with decent road-trip tech, boasted great fuel economy for their size, and at the end of the day could still tow and haul most of the things. However, that never stopped us from coming up with a couple of wish lists of features we would like to see on the Chevrolet Silverado and GMC Sierra. Straight from the wish lists, we now go through and see what was granted.
1. A Tailgate With Integrated Tie-Downs: Sort Of.
The 2019 Chevrolet Silverado 1500 and 2019 GMC Sierra 1500 will feature three tie-down points in each corner of the truck bed, for a total of twelve, which is enough to make any Shibari practitioner knotted up with excitement. However, there are no tie-down points located on the tailgate. It's still an improvement from before, but there's still room for more tie-down points.
2. A Cargo Surveillance System: Expected.
Towards the latter half of their life cycles, the K2XX Chevrolet Silverado 1500 and GMC Sierra 1500 were upfitted with a dealer-installed camera system that monitored whatever the trucks were either towing or hauling. The cameras are mounted to the outboard mirrors, and the third brake light above the rear cabin window. A similar system is expected on the T1 Chevrolet Silverado and GMC Sierra pickups.
3. A Hands-Free Opening/Closing Tailgate: Sort Of.
The 2019 Chevrolet Silverado 1500 and 2019 GMC Sierra 1500 introduce an automatic opening and closing tailgate with the touch of a button on the key fob. The action can also be done manually, as before. Yet there's no foot-motion controls for opening and closing the tailgate, and we're sure that anybody with two armfuls of mulch bags will be questioning why when they have to fumble for their key fob, or set their parcels down to open the gate manually. In effect, it would be the same amount of work to open the tailgate as before.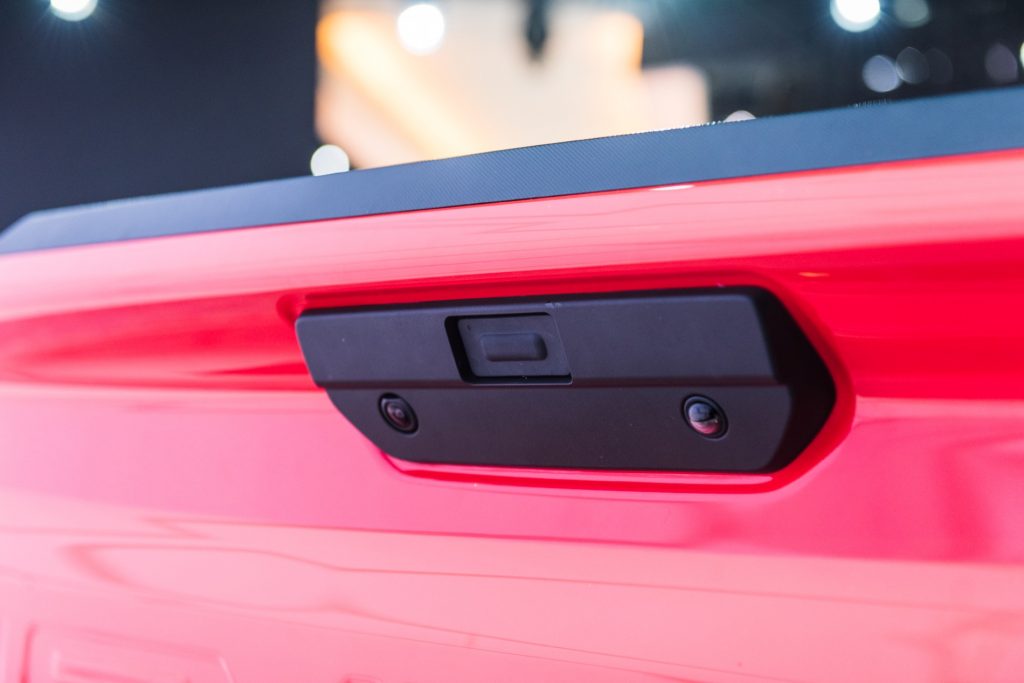 4. A Side-Step: Not Yet.
While nothing quite beats the vintage stepside aesthetic, Ford and Ram offer foot-controlled kick-out assist steps located just aft of the cabin and before the rear fenders to make it easier for workers to access the truck bed from its side. And while it's very early into its lifecycle, the next-generation Silverado and Sierra pickups are missing this feature, and remain coy as to whether or not step assists will debut on the new trucks. We'll keep wishing for a stepside configuration, while we're at it.
5. Vertically And Horizontally Adjustable Bed Tie-Downs: Not Yet.
Rather than over-complicate the truck bed with rails that would allow the tie-down points to slide about to a desired position, GM simply increased the number of tie-down points, but none are located in the middle section of the bed. The accessories department could change that.
6. A Deeper Bed: Yes.
By nature of its larger design, the 2019 Chevrolet Silverado and 2019 GMC Sierra now have class-leading box depth and cargo space, at 63 cubic feet. Which is great for anybody doing anything with a truck, basically.
7. 360-Degree Camera: Expected.
Navigating the biggest half-ton pickup trucks GM has ever built will definitely need the visual aid of a surround view camera. Not all of the safety and tech announcements have landed from either Chevrolet or GMC, but we fully expect a camera system such as this to make the cut.
8. Exterior Power Outlets: Yes.
Along with the added space and more tie-downs, the 2019 Chevrolet Silverado 1500 and 2019 GMC Sierra 1500 will incorporate an exterior 110-volt outlet to optimize any work or play day. Think about running a miter saw, or plugging in a portable slow-cooker pot, or charging a laptop. All of it underneath the clear sky.
9. Integrated ladder racks and roof racks: No.
We expect any form of rack mounting system to come in the form of an accessory.
10. Power-folding tow mirrors: Expected.
Power-folding tow mirrors made it to the outgoing Chevrolet Silverado High Country HD and Sierra Denali HD, and we expect the technology and learnings from that program to trickle down into the upcoming T1 GM trucks.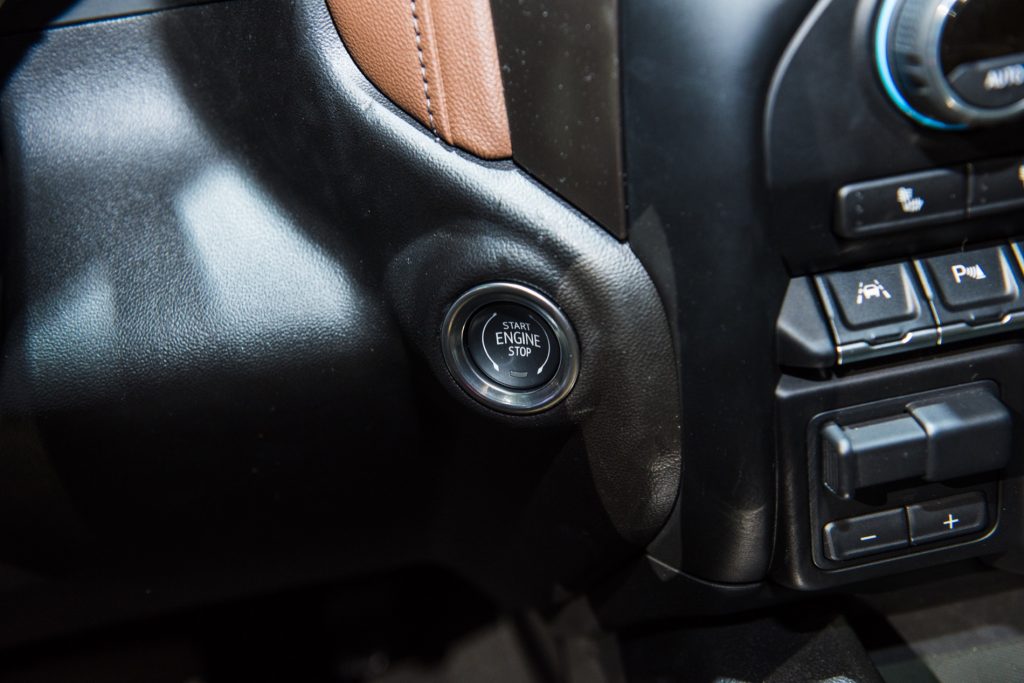 11. Push-Button Start & Keyless Entry: Yes.
Welcome to 2018, where General Motors has finally integrated a push-button start system into its full-size trucks. Hopefully they've done something to soften the annoying horn alerts when the driver leaves the keys in the vehicle when its off, or exits the vehicle with the keys while the vehicle is on.
12. Optional Console-Mounted Shifter: Not Expected.
Where Ford has a console-mounted gear select, and Ram has a minimalist rotary dial, the 2019 Chevrolet Silverado 1500 and 2019 GMC Sierra – even the 2019 Sierra Denali – are sticking with the space-saving column mounted shifter configuration. It's basically tradition at this point.
13. Dual Exhaust Option: Yes.
Every trim level of either the 2019 Silverado 1500 or the 2019 Sierra 1500 that have so far been revealed publicly feature bumper-integrated exhaust ports. Don't confuse them with the larger bumper assist steps.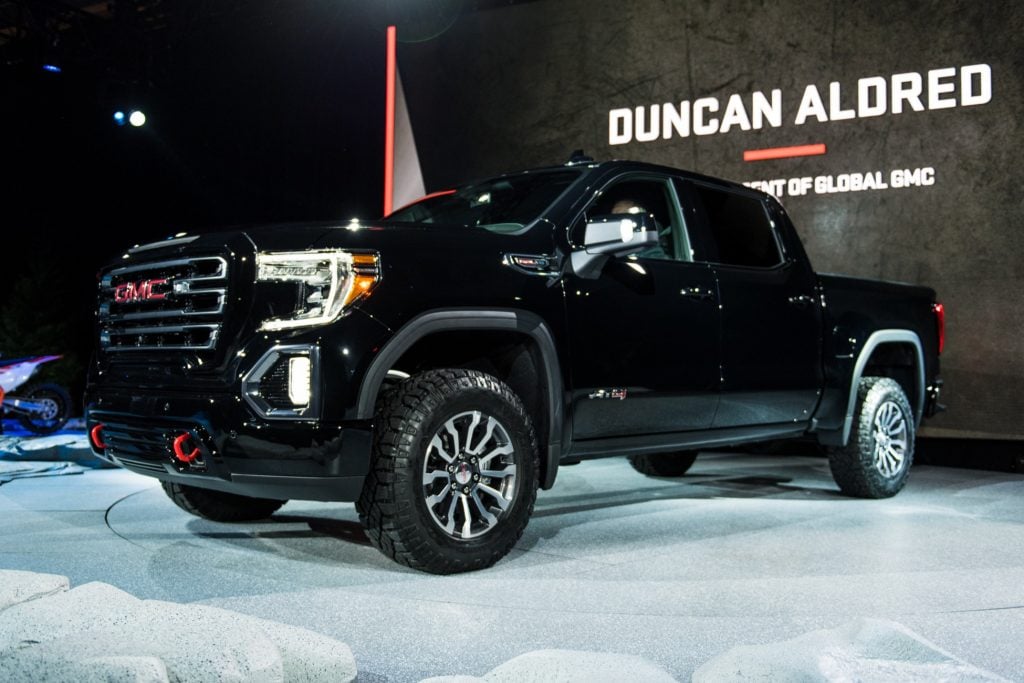 14. Uncompromising Off-Road Variant: Expected.
The 2019 Chevrolet Silverado 1500 Trailboss and 2019 GMC Sierra 1500 AT4 show promise to elevate the off-road wherewithal of GM's half ton trucks. However, a rival to the F-150 Raptor remains to be seen, but it's far from unexpected.
15. Second-Row AC Vents: Yes.
This one was a big one for anybody seeking even basic second-row comforts. Especially as full-size trucks have embraced the role as the important family carryall, just as much as trucks are used for work. Along with the second-row AC vents, heated seats are available in upper Silverado and Sierra trim levels, as well.
16. Smarter Bed Solutions: Yes.
Oh, yes. Look no further than the CarbonPro bed of the 2019 GMC Sierra Denali that's allegedly designed to be apocalypse proof. Additionally, the trick MultiPro tailgate offers something that the rest of the industry has yet to conceive.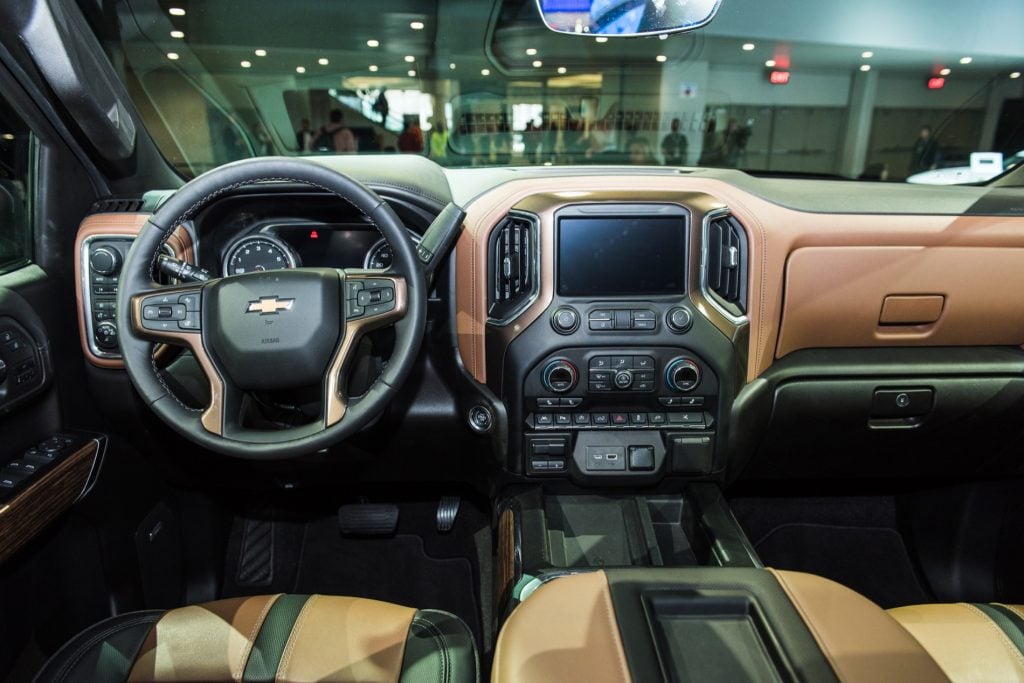 17. Updated Center Console And Dash Design: Sort of.
The interior of both the 2019 Silverado 1500 and 2019 Sierra 1500 are indeed all-new. Even the steering wheel is on center(!), but the layout remains very familiar to anybody that's found themselves in the outgoing Sierra or Silverado. That familiarity can either be a strong asset, or a weakness depending on one's point of view.
18. Higher-End Silverado Trim Level: Unsure.
The current range-topper for the 2019 Chevrolet Silverado is expected to be the High Country variant, while the 2019 GMC Sierra Denali escalates further upmarket with its cutting-edge bed solutions. It's possible that eventually Chevrolet will enjoy a CFRP truck bed or configurable tailgate, but that doesn't necessarily guarantee a higher trim level. That said, the 2019 Silverado Trailboss off-road-oriented variant is a new entry into the lineup.
19. Half-Ton Diesel: Yes.
Both the 2019 Chevrolet Silverado 1500 and 2019 GMC Sierra 1500 are expected to offer a Duramax-branded 3.0L inline-six turbodiesel engine to compete with the Ram 1500 EcoDiesel and F-150 V6 Power Stroke. Horsepower, torque and fuel economy remain a mystery.
20. Less Weight: Yes.
The 2019 Chevrolet Silverado 1500 is said to be as much as 450 pounds lighter than before. This could pay dividends in the fuel economy department. However, fuel economy numbers aren't official just yet.
About Chevrolet Silverado
The Chevrolet Silverado is a lineup of full-size pickup trucks sold primarily in North America but also the Middle East and in certain markets in South America. Slotting above the mid-size Chevrolet Colorado, it is Chevrolet's largest pickup truck and consists of the 1500 light duty model and two Heavy Duty models – the 2500HD and 3500HD. The family will soon expand with the addition of the Conventional Class 4 and Class 5 Medium Duty trucks – the Silverado 4500 and Silverado 5500. The vehicles will be significantly larger than the Silverado 1500, 2500 and 3500 variants and ride on a completely different chassis co-developed with Navistar.
The 2018 Chevy Silverado represents the fifth model year of the third-generation Silverado. It is based on the GM K2 platform shared with other full-size pickup trucks and SUVs from GM. Though the line continues to sell relatively well, it is becoming less competitive in the marketplace when compared to its primary rivals such as the Ford F-Series as it lacks cutting-edge features such as turbocharged engines, a rugged off-road variant such as the Ford F-150 Raptor, a diesel engine option in the light duty (1500) model, and also various modern features and equipment.
Luckily, an all-new Silverado is on the way that is expected to address the issues of the K2 model. Chevrolet showed off the all-new Silverado 1500 in a surprise reveal at the Chevy Truck Centennial celebration in Texas on December 16th. The brand says that the all-new truck is the result of over 7,000 customer interviews – the most intensive research in its history. In addition, Chevy announced that the pickup will use "higher grade alloy steel" in the bed floor as well as various mixed materials that will result in a reduction in weight and improved performance. The truck will also offer an expanded amount of models for a total of eight, including the new 2019 Silverado Trailboss, with more engine/transmission combinations and more technology and convenience features. The new truck will launch for the 2019 model year and is believed to ride on GM's new T1 platform shared with other future GM full-size trucks and SUVs.
Chevy then revealed the all-new Silverado at an invite-only media event on January 13th, 2018 ahead of the 2018 North American International Auto Show. However, the brand did not share all the details about its all-new half ton truck, but did state that the model is significantly lighter (by roughly 450 pounds over the K2 model). It also showed off the eight trim levels of the 2019 Silverado 1500, and also stated that it will be available with six powertrain combinations, including 5.3L and 6.2L gasoline V-8 engines as well as an all-new inline-six 3.0L Duramax Diesel engine. The other three powertrain options have yet to be announced, something we expect to take place once GM unveils its all-new 2019 Sierra on March 1.
The Chevrolet Silverado is built across the following GM plants:
About GMC Sierra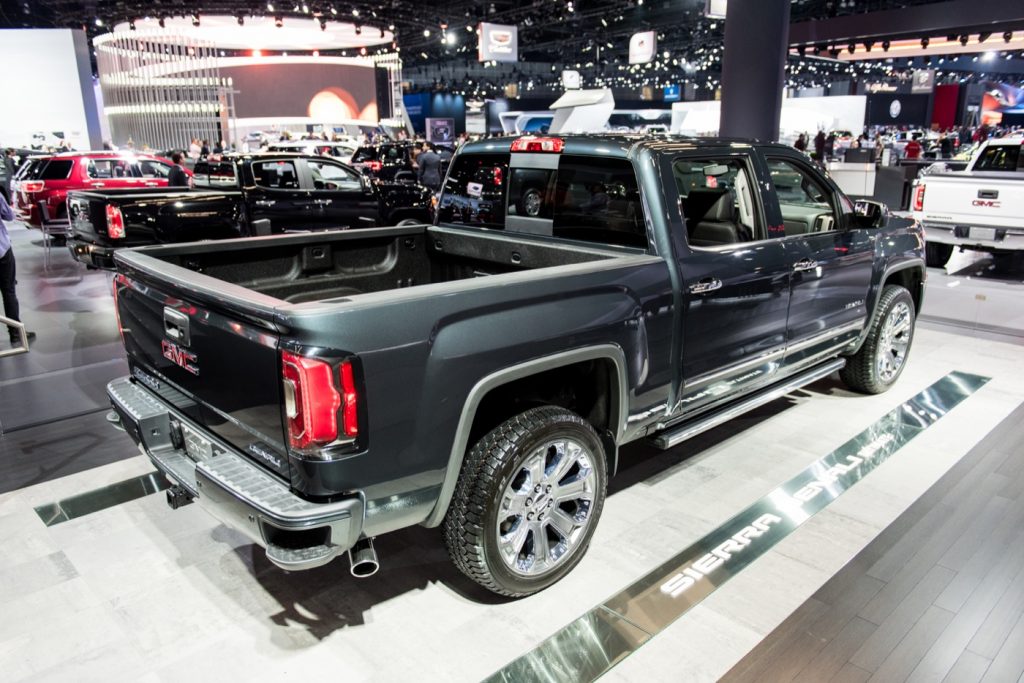 Based on the GM K2 platform, the 2018 GMC Sierra represents the fifth model year of the third-generation Sierra. Though the vehicle continues to sell relatively well, it is becoming less competitive in the marketplace when compared to its primary rivals such as the Ford F-Series, as it lacks features such as turbocharged engines, a rugged off-road variant such as the Ford F-150 Raptor, a diesel engine option in the light duty (1500) model, and also various modern features and equipment.
Luckily, an all-new Sierra is on the way, which will hopefully mend the issues with the current model. Expected for the 2019 model year, the new Sierra is rumored to be based on the new T1 platform and is expected to become lighter than the current model. See more on the future Sierra.

Sweepstakes Of The Month: Win a Corvette Z06 and 2024 Silverado. Details here.
We are currently looking for experienced automotive journalists and editors to join our team. Make $60k-$80k per year doing what you love. We are also looking for an experienced web developer.
See details here
.