2018 Buick Regal GS: First Drive
11
We made it to the top of Brasstown Bald, the highest peak in Georgia. It's said that you can see Tennessee from here, if the horizon is clear enough. My driving partner and I opened the doors and wearily spilled out of them, having just assaulted the serpentine pavement up the mountain with unexpected aggression. Our equilibriums needed to stabilize. The exhaust was cooling down as evident by the metallic tinging sounds. The Brembo brakes were so hot they made the air around the car nearly intolerable from their stench.
The 2018 Buick Regal GS is the automotive equivalent of one of those quiet, well-dressed professional types that competed in D1 collegiate sports. Most of the time you wouldn't know about their athleticism, because they don't make a fuss about it, but they still train in their spare time to keep loose. And yet, the new Buick still hears plenty of people talk about granddad, in this case the Regal GNX, and how great they were back in the day. Even though grandpa played a completely different sport.
The Regal GNX is the past and in no way are its 'Merican muscle car qualities found in the Regal GS. Unlike gramps, the new Regal GS studied abroad, and picked up a few skills from its German sport sedan classmates that it couldn't learn back home. The result is something that delivers brisk maneuverability, a well-measured interior, and a sleek exterior design. A look that's just enough of a difference from the standard Buick Regal that car spotters will know it's more than just another genericore sedan.
The 2018 Buick Regal GS also knows the same party trick as the standard Regal Sportback. The sedan bodystyle cleverly disguises a massive liftback that can swallow anything from a mountain bike to Ikea furniture. This in turn yields superb practicality while maintaining a traditional profile. Exclusive to the 2018 Buick Regal GS is a unique interior trim, festooned by GS lettering (maybe one too many times), and highlighted by fantastic seats that are Aktion Gesunder Rücken certified. In Queen's English, that translates to "Campaign for Healthier Backs." There are currently no other GM vehicles sold in North America with seats that hold this certification. Or Europe, for that matter, since Opel now belongs to the French.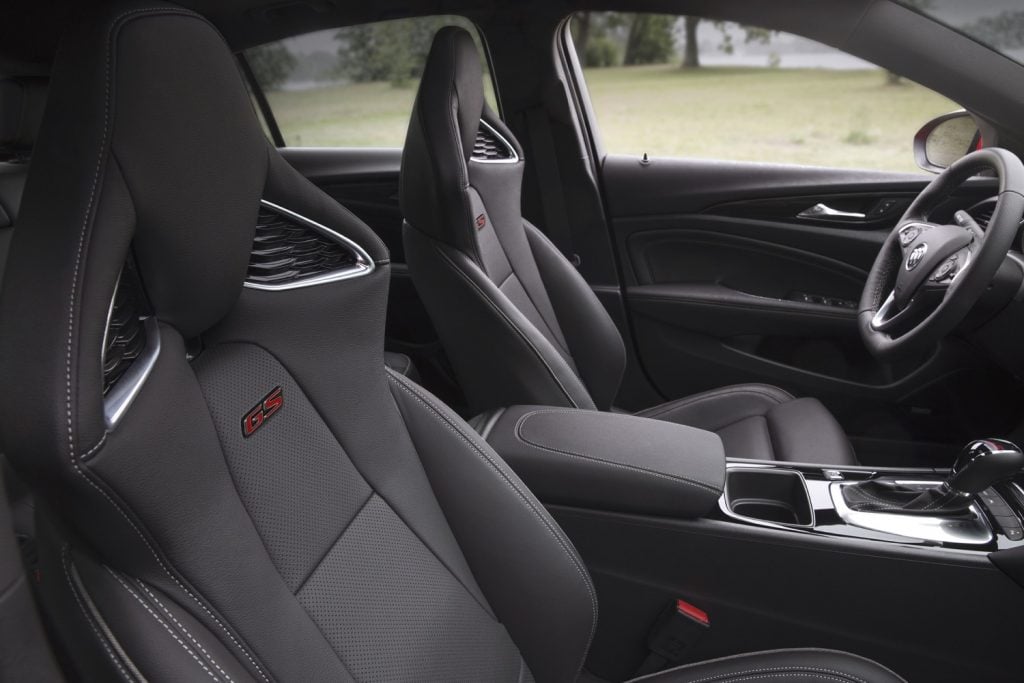 Even though GM's German division has been exchanged for a mere $2.6 billion USD, much of the content and packaging was made at the behest of Opel, which explains ze über German interior decor. But… there are no paddle shifters. This is marketed as a sports sedan. No paddle shifters. The 3-row Buick Enclave has paddle shifters. But not the Regal. One more time: the Buick Regal GS is missing paddle shifters. Yes, the gear selector still allows for manual shifting, but it's simply not the same. Assaulting the road up to Brasstown Bald was where we really wanted both hands on the wheel and gear selection at our finger tips. Dancing the selector between gears 2 and 3 just didn't feel as natural. The automatic transmission would otherwise shift up, even in GS mode.
Despite this, Opel uniquely gives the 2018 Regal GS a 310 hp, 282 lb-ft V6. The Buick's twin, the Opel Insignia GSi, is absent of a V6. But the Holden ZB Commodore, the triplet, offers the same LGX V6. All three vehicles are built in the same plant in Rüsselsheim, Germany. And don't forget about the Chinese market appeal when it comes to Buick. In short, this General Motors vehicle program is incredibly globalized, spans three brands, and saw inputs from just about every corner of the world. With Europe out of the picture going forward, it might be a while before we see this scale of collaboration again. This makes the story of the Regal GS incredibly unique. Just like its position in the market.
Lack of paddles aside, the 9-speed transmission is practically flawless. The shifts are quick and deliberate both up and down, it holds gears when appropriate, isn't confused by stop-go city driving, and the shorter ratios help maximize all 310 ponies of the Regal GS. Its just enough power to make things interesting, but limited enough to (mostly) stay out of trouble. The red Brembo brake calipers up front help ensure that this lively five-door keeps things shiny side up, and out of the impound, as well.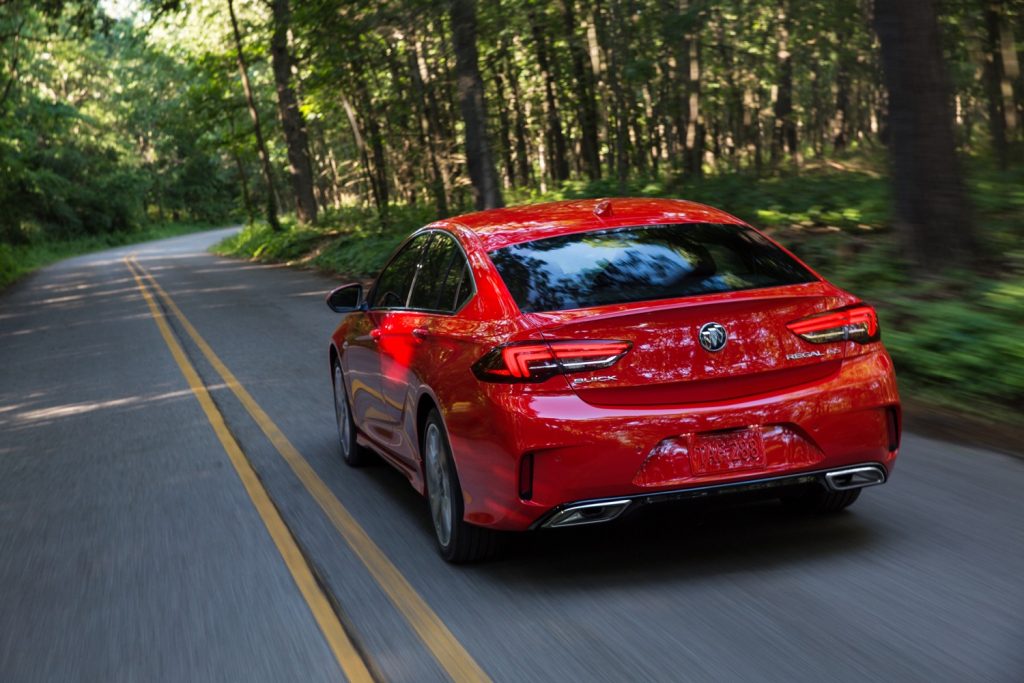 Vehicle dynamics continues to be a core competency for GM performance cars, and the Buick Regal GS is no different. The GKN-sourced all-wheel-drive system, MacPherson struts up front, and a five-link independent rear suspension setup all help keep this near-3,800-lb liftback surprisingly balanced under both cornering and braking at the limit. For a FWD-based midsize sedan with a transverse engine, this might be one of the best behaved. The only thing we'd change would be the steering. It's numb feedback and elastic effort wasn't as engaging as what the rest of the car was doing. And even though the 245/40R19 Continental Pro Contact TX  no season all season tires are an upgrade for the base model, we'd like to see Buick offer a summer tire package for the Regal GS. Throw in an exhaust package while you're at it. Even if it's against the car's conservative customs.
As for what the Regal GS best compares to, it's hard to say. Because there's nothing on the market quite like it. For around $40,000 starting, over $2,000 more than before, the Regal GS provides more utility than the Acura TLX SH-AWD, more size than an Audi A4, and has a different drivetrain layout than the Kia Stinger, though less power. As previously mentioned, the Regal GS seems to blaze its own trail. And not that it's likely, but should Buick ever find it to fit that transverse mounted V6 with a turbocharger or two, and we'd have a real giant slayer on our hands. A subtle, well dressed, giant slayer.
Sweepstakes Of The Month: Win a Corvette Z06 and 2024 Silverado. Details here.
We are currently looking for experienced automotive journalists and editors to join our team. Make $60k-$80k per year doing what you love. We are also looking for an experienced web developer.
See details here
.