2019 Silverado 1500 To Use 2.7L Opposed-Piston Engine, Get 37 MPG?
We are currently looking for experienced automotive journalists and editors to join our team. Make $60k-$80k per year doing what you love. We are also looking for an experienced web developer.
See details here
.
40
It's currently not known what engines will power the all-new 2019 Silverado 1500, but one industry analyst has hinted that a new 2.7L opposed-piston engine might find its way into Chevy's new truck.
In a recent tweet, Auto Industry Analyst and Forbes Contributor Dave Sullivan asks, "Is GM getting ready to release a 37 mpg Silverado?" The tweet then links to a press release from Achates Power, Inc., and it's here where things get really interesting.
Is GM getting ready to release a 37 mpg Silverado? https://t.co/QRzwp7O8Kn

— Dave Sullivan (@dfsullivan) December 19, 2017
Digging into Achates Power unveils some intriguing details. Founded in 2004 and headquartered in San Diego, Achates designs exists to create "Fundamentally Better Engines". In January 2017, the firm announced the development of an opposed-piston engine for a Light-Duty Truck that "will surpass CAFE 2025 regulations". The motor "will be 30-50 percent more efficient than comparable engines, reduce emissions and cost less than alternative technologies under development for meeting CAFE", reads a press release from the company.
What's more, Achates says that the OP engine will 270 horsepower and 650Nm (450 pound-feet) of torque, enabling the test truck that powered by the demonstration engine to achieve 37 MPG. Notably, that is above the 33 MPG fully phased-in CAFE 2025 requirement for a full-size, light-duty pick-up truck (65-70 square feet). For the sake of reference, the best fuel economy delivered by the K2 platform Silverado is 16 MPG city and 23 MPG highway (with the 5.3L V-8 L83 engine) or 18 MPG city and 24 MPG highway (with the base 4.3L V-6 LV3 engine).
In that year-old press release, Achates stated that its demonstration engine will be integrated into a drivable prototype in 2018 and that "development engines will also be available for automakers."
"There is no technical solution to respond to the proposed 2025 CAFE regulation that is as cost effective, compatible with our existing vehicles and fuels, ready for production and adaptable to future renewable fuels as our Opposed-Piston Engines", says David Johnson, president and CEO, Achates Power. This is where things get even more interesting.
Johnson has been at the helm of Achates since 2008. Before joining Achates, he was in charge of military and export markets at Navistar and before that,
he worked for General Motors – where he was program manager and chief engineer for multiple clean-diesel engine programs for Opel, Saab and Renault passenger vehicles. Johnson also worked at Ford, where he led the development and launch of the SuperDuty, equipped with an all-new diesel engine.
Achates' technical documents state that its opposed-piston engine uses significantly fewer parts than a traditional internal combustion engine. For instance, it eliminates the cylinder head(s), valvetrain and related components, while also decreasing the size and cost of the aftertreatment system. A comparison between the 2.7L OP Engine and a comparable V6 engine with supercharger shows a parts reduction of over 60 percent, enabling an approximate 10 percent cost reduction.
>
Reducing cost is one of Achates' goals. Using two documents – the EPA's 2016 Technical Assessment Report (which forecast cost increases to integrate fuel saving technology) and a related National Academy of Sciences report, Achates determined that including the Opposed-Piston Engine in the roadmap to achieve CAFE will be at least $1000 less expensive.
Even more absorbing: Achates' OP engines apparently "fits into all vehicle platforms".
The GM Authority Take
This is all very intriguing as it relates to the 2019 Silverado for three primary reasons.
First, the timeline for the introduction of the all-new Silverado (late 2018) correlates with the introduction of a development prototype of Achates' OP engine.
Second, the OP engine presents a very interesting opportunity for the Silverado from the perspective of fuel economy and meeting 2025 CAFE regulations. The challenge for automakers like General Motors and Chevrolet, however, isn't in simply meeting the regulations, as much as it is meeting them in a cost-effective way. In that regard, the Achates OP engine appears to be a big help in delivering an engine that can balance both stipulations.
Not only is the engine more efficient, but it's also said to be significantly lighter than regularly-designed modern internal combustion engines, thereby helping lower a vehicle's overall curb weight.
Third, Chevy needs a more competitive mid-range engine for the new Silverado 1500 to compete against Ford's 2.7L EcoBoost V-6, which not only outclasses the Silverado's 5.3L L83 V-8 in terms of torque but also in terms of fuel economy… at least on paper.
We will know whether the new 2019 Silverado 1500 will actually use Achates' OP engine in short time, as Chevy is due to release complete details about the new truck at a special event on January 13th.
About 2019 Chevrolet Silverado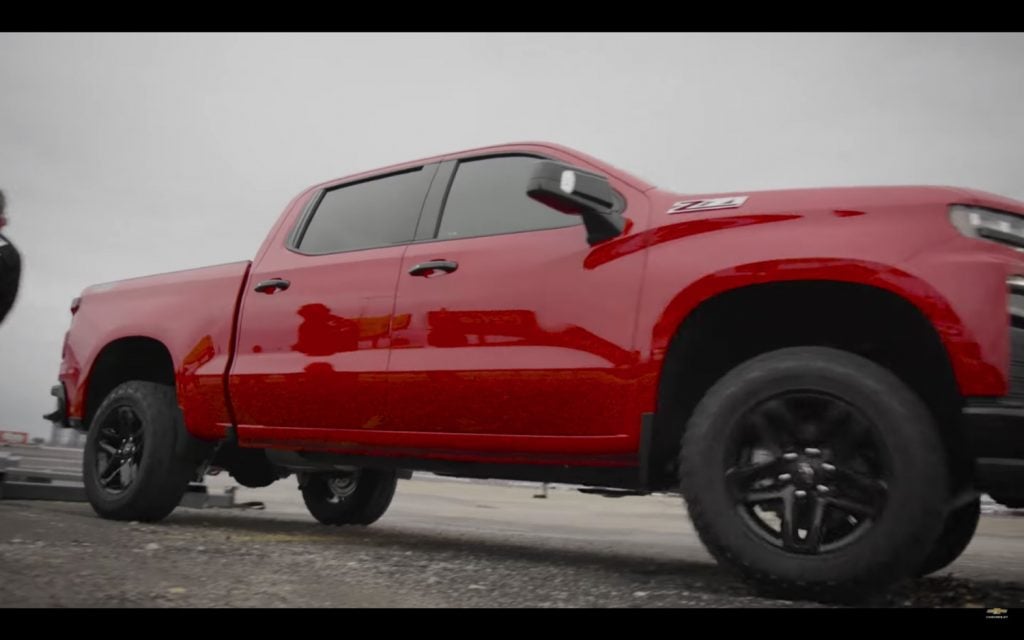 Chevrolet has gone on record in saying that the 2019 Silverado 1500 is the result of over 7,000 customer interviews – the most intensive research in its history. The new truck has been confirmed to use "higher grade alloy steel" in the bed floor as well as various mixed materials that will result in a reduction in weight and improved performance. Moreover, the 2019 Silverado will also offer an expanded amount of (eight) models (including the new 2019 Silverado Trailboss variant) with more engine/transmission combinations and more technology and convenience features.
We'll know full details about the new Silverado at Chevy's upcoming media event scheduled for January 13th, 2018 ahead of the 2018 North American International Auto Show. In the meantime, be sure to follow our Chevy Silverado news coverage.
More Information & Resources
We are currently looking for experienced automotive journalists and editors to join our team. Make $60k-$80k per year doing what you love. We are also looking for an experienced web developer.
See details here
.