2017 Chevrolet Bolt EV Review: Are You Ready For The Electric Lifestyle?
32
So, you think that you're ready for the Electric Vehicle lifestyle. In that case, we recommend asking yourself the following:
Do you have access to a Level 2 or Level 3 charger on a daily basis?
Are you familiar with the availability/accessibility of charging stations in your area?
Do you have a back-up vehicle?
Are you comfortable staying within the confines of the vehicle's driving radius?
Do you love waiting for extended periods of time for your EV to charge?
If you answered "no" to any of these questions, you might not be ready for an EV just yet. Or rather, the EV landscape might not be ready for you. We'll try to explain our reasoning in this 2017 Chevrolet Bolt EV review.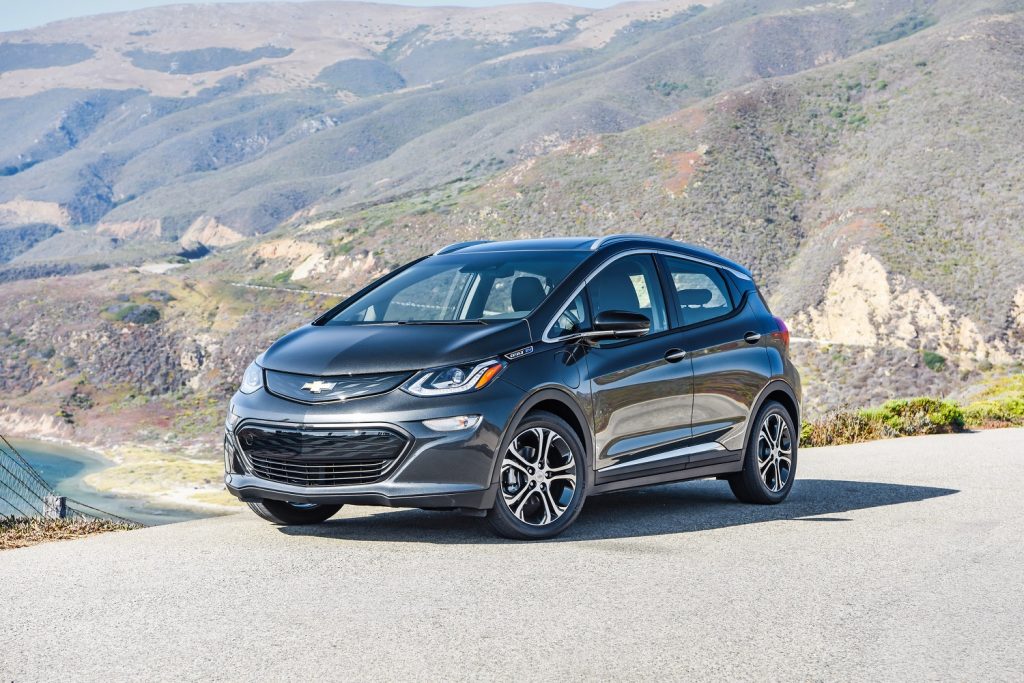 The 2017 Chevrolet Bolt EV has done wonders in providing the world with a not-too-expensive electric car with a range that's far from upsetting. The Bolt EV has also proven to be more fun than it looks, as we've experienced in an autocross event. The Bolt EV also launched to market with nary a delay, being delivered to customers across the country on-time, and on-schedule. Tesla can't say the same with the Model 3, which is just now trickling into the hands of customers, slowly. To cap off those accomplishments, the Bolt EV has set a new sales record for each of the last nine months, with the most recent being 3,227 units delivered in December 2017.
Yet even in this market space of one percent, there appears to be room for compartmentalized offerings.
This is where Tesla has made strides for its owners. Instead of waiting for somebody else to do it, Tesla went on to build a cross-country charging network infrastructure. At the present, a Tesla Model 3 can drive coast-to-coast in as little as 50 hours, as we've seen proven by seasoned Cannonball veteran Alex Roy. This is impossible with a Chevrolet Bolt EV.
That's because the Tesla Superchargers are completely proprietary units, meaning that they do not follow any SAE standard for charging. For those that need a refresher, the Society of Automotive Engineers is an independent, non-government consortium of engineers from various global automakers and suppliers. Besides housing archives containing years of published engineering research and technical papers for the world to read, the SAE has provided just about every rating and measuring standard for your vehicle, from how much horsepower your engine officially makes, to how much trucks should be able to tow. And even charging standards – otherwise known as "J1772."
Tesla, in a very Silicon Valley fashion, decided to hell with J1772. Because even though Silicon Valley firm has yet to turn a profit or deliver any product on time in its 14 years in business, it assumes to know what's best. Especially more so than a bunch of conventional, old-fashioned automakers from a snowed-in, rusty city. Or so the rhetoric goes, at least.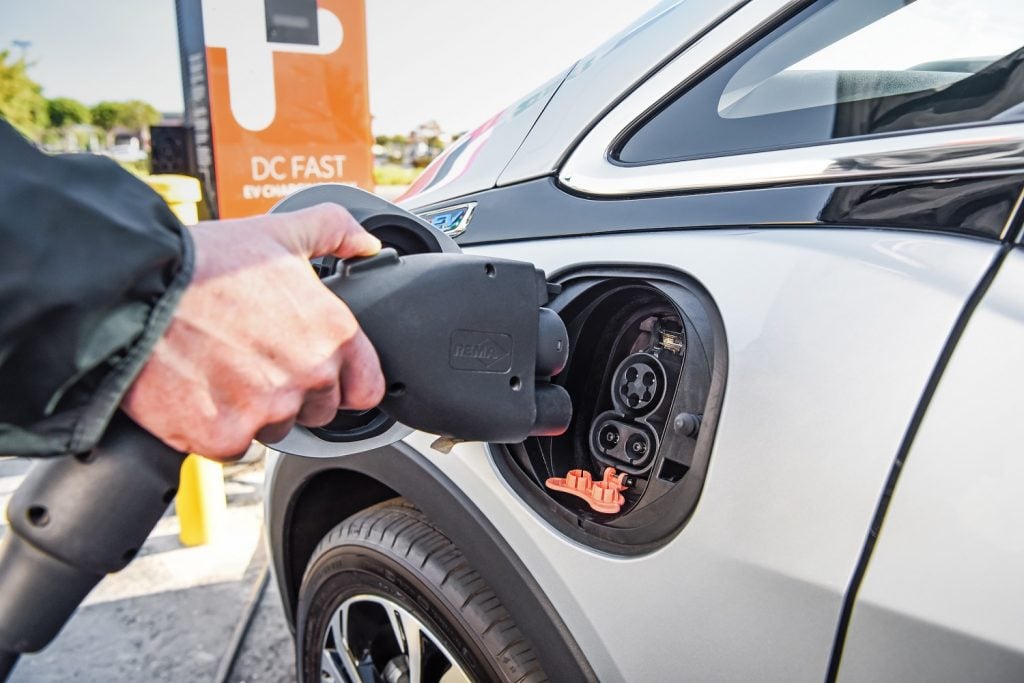 In doing so, Tesla's charging nozzles and ports are different, and use a different current flow than SAE standardized charge units from providers such as Chargepoint, or Blink. This means that vehicles like the Bolt EV and Nissan Leaf can't use Tesla's charging network. But this also means that Tesla vehicles can't in turn use the myriad of SAE standardized charging stations randomly peppered across the country, without some sort of adapter. It's like bringing a European electronics device and expecting its different prong design to fit somewhere here in the United States, and vise versa. Nobody really wins, everybody looks silly, and customers are left doing extra homework. Any fellow plug-in driver will readily observe this.
All of that is to say that a roadtrip from Detroit to Columbus, Ohio and back took fourteen hours. In a gas-powered car, the trip would have taken an estimated 8-9 hours. If I took my 2017 Chevrolet Volt – which of course has a gasoline generator engine to propel the vehicle after its batteries run out of energy – I could have made that estimate. But sometimes the hard way needs to be done, because nobody is going to test the true potential of electric cars by driving in a bubble.
The way down and the way back up consisted of two stops at level 3 chargers. With the Bolt EV's 238-mile EPA range, it is possible to have done one charging session each way, but that would also have meant putting complete trust in a sparse network. I opted for the safer, more conservative strategy. For example, the first planned charging stop was the only level 3 charging station in northern Ohio, at the University of Toledo. It's a Greenlots charging station just outside of a parking garage, which, like other charging networks like Chargepoint and Blink, requires a registration for usage. In other words, your personal information.
But when I got there, the station was flashing an error message on the screen, preventing any power flow or usage. The oasis in the desert didn't have any water.
Eventually I found a number to call, and thankfully there was somebody on the other end to receive that call. A rather courteous Greenlots representative was able to remotely reboot the charging station, and I was able to utilize the SAE-approved Combo Charging System (CCS). It takes 30 minutes to put 80 miles of range in a Chevrolet Bolt EV in a Level 3 CCS charger, and that's about as good as it gets right now. Of course a simple 80 miles isn't enough to make it to the next stop, so I sat in an empty parking lot for an hour, waiting for the Bolt EV to replenish itself. Thankfully, the OnStar 4G LTE with Wi-Fi was activated and I was at least able to pass the time to make notes for this 2017 Chevrolet Bolt EV review on my laptop, and by browsing internet memes.
From there, Toledo was another 130 miles to the next charging station, another level 3 CCS charger in a Walmart parking lot in Dublin, Ohio. The setup was actually quite impressive, since it had CCS, CHAdeMO, and IEC type 2 chargers that were vacant, and open for business. It was also on that day that I realized Walmart sold kombucha.
Another hour goes by of charging before I'm comfortable with unplugging the Bolt EV. Afterwards, a stop for dinner, and then it was time to turn go back. But just the distance driving from Dublin to Columbus and back required a second stop at the Walmart on the return trip. Remember, this was a conservative charging strategy.
Driving the Chevrolet Bolt EV on US 23 was fairly uneventful, but my lead-foot driving habits wouldn't have gotten me very far with the car's unimpressive aerodynamics and fragile range estimates. This meant keeping a speed of around 60-65 mph of right lane driving, taking care to not inconvenience the semi trucks on the road. Always fresh in mind, my 2017 Chevrolet Volt feels more stable and quieter in comparison to the more bulbous and upright Bolt EV. The shorter wheelbase and taller stance of GM's latest electric darling felt more in line for urban driving than anything. And maybe that's why the Chevrolet Bolt EV is the platform of choice for GM's self-driving car initiatives, over the longer range Volt.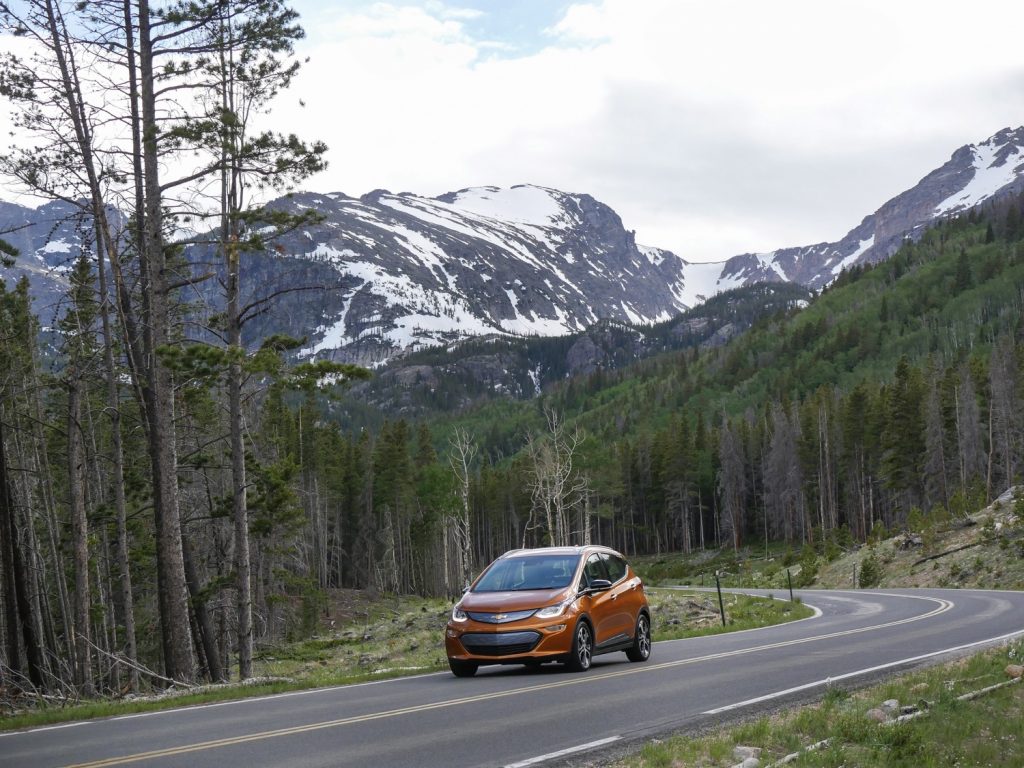 For what it's worth, we clearly took the Bolt EV well outside of its natural element in terms of both distance and driving styles, but for the most part, it behaved like any other B-segment hatchback. Thanks to its impressive well of torque, however, the surge in power makes the Bolt EV the quickest hatchback from 0-60 that Chevrolet sells, at 6.5 seconds, despite not being as well-rounded as something like a Sonic RS, which has a solid setup but is otherwise underpowered. There's real hot-hatch potential in these electric vehicles, but without the proper suspension, brakes, tires, lower stance, limited slip differential or sharper steering rack, the complete package is left on the table.
Of course all of that performance hardware would inevitably command a higher price point, which would go against the mission of the Chevrolet Bolt EV. The primary objective, first and foremost, was always to sell the most range-capable electric car for the money. GM achieved that with flying colors, and beat Tesla to market, which seems to be a major conversation point for Wall Street. Of course, along with the lack of sporty hardware, some compromises had to made. The spartan interior decorated with a massive 10.2-inch touchscreen and digital instrument panel are the only luxuries to be found here. Then again, anybody who has sat in a Tesla will soon realize that those products aren't exactly dripping with opulence themselves, despite the brand mystique. And also like a Tesla, the magic and the money is put in places where average consumers will rarely see, let alone fully understand how it works.
The batteries found in the Chevrolet Bolt EV is where the majority of costs go in producing the vehicle, demonstrating what's possible for the price, right now, at scale. In much of the same way that the first-generation Volt PHEV demonstrated the forefront of electrified engineering, the Chevrolet Bolt EV relays the torch for General Motors. It's also been the vehicle chosen for all of GM's current and near-future autonomous vehicle ventures. Whether they will be a success or not is left to the future, as is whether or not EVs like the Bolt will be profitable for GM or not. CEO Mary Barra insists by 2021, but even then, will demand from consumers and sales volume follow?
Back to the drive. It was the middle of the night by now. About 1:00 AM. It was raining. There was a traffic backup from an accident. All I want to do is go home, and go to bed. All I want to do is give my Chevy Volt a big hug for having a range extender. I pulled back up to the University of Toledo's CCS Greenlots charger, which needed rebooting again because somebody (not me) left the lockbox open for the charging nozzle. That's how fragile some of these charging systems are. All it takes is for somebody to leave something open, or off the look, or out of the proper position, and it goes to hell. If somebody just left a gas pump out of the slot – all that would need to happen is for it to be re-inserted into position. No phone calls. No waiting times. And no need to register for a mailing list. And yet I had to make another phone call, had to wait for somebody to answer, and had to wait for them to reactivate the terminal. All to just to wait even more for some battery juice to percolate into this four-wheeled smartphone, to just drive another two hours home.
Maybe if gas stations would do it over again, they would implement the same practices as today's modern EV charging facilities. But it's hard to see the consumer benefits of this in retrospect, as consumers rarely get any money in return for exchanging their data. I suppose this is a clash of worlds here. The perceived old vs new. Or maybe it's just Silicon Valley's relentless self-evangelism creating that perception, boosted by Hollywood.
After another hour of filling up on electrons, it was the final leg of a 440-mile journey that tested the mettle of a regional EV infrastructure as much as it did the Bolt EV itself, enabling us to write this 2017 Chevrolet Bolt review. Of course, none of the inconveniences were inherently the fault of the Chevy Bolt EV. Which, in its own right, is an engineering marvel, and electric vehicles are only bound to improve from here. But currently, especially outside the Silicon Valley Bubble, the world still needs to figure out how to make the EV lifestyle more seamless. There is opportunity here for GM to step up to the plate and oversee the installation of J1772 charging stations. To put it another way, there's opportunity for GM to incentivize EV ownership by installing chargers and making those stations free for GM product owners, but perhaps charge a usage fee for those that use competitive makes.
Overall, however, electric vehicles remain a small part of the Chevrolet story. It remains a full-spectrum brand that few competitors have been able to duplicate. Its "three-truck strategy" will soon be a four-truck strategy with the reveal and launch of its Silverado 4500HD and 5500HD conventional medium duty trucks, not counting current ventures with Isuzu for medium duty Low Cab Forward trucks. At the same time, no other brand offers such a wide bandwidth of rear-drive performance cars, all of them available with manual transmissions. That's to say nothing otherwise of the bounty of sedans, hatchbacks, crossovers and SUVs.
As for plug-in cars, my take-home favorite remains to be the Chevrolet Volt – a happy medium between futuristic engineering, everyday practicality, sleek styling, and superior ride and handling qualities to that of the full-on-electric, far-too-closely-named Bolt. Yet somehow it's the Volt that is rumored to be not long for this world, as GM accelerates an unprecedented strategy to introduce a plethora of future electric cars that the world may not be ready for just yet. If the Chevrolet Bolt EV is just a sample serving of that future, General Motors needs to look at offering more than just a product.
2017-2018 Chevrolet Bolt EV Specifications
Overview
| | |
| --- | --- |
| Model: | Chevrolet Bolt EV |
| Platform: | GM BEV2 platform (a derivative of G2SC platform) |
| Body style / driveline: | front-wheel-drive, five-passenger, five-door all-electric CUV |
| Construction: | Steel and Aluminum |
| EPA vehicle class: | Small Wagon (EPA does not have a cross-over category) |
| Key competitors: | Nissan Leaf, BMW i3, Ford Focus Electric, Kia Soul EV, VW eGolf, Mercedes-Benz B-Class Electric |
| Manufacturing location: | GM Lake Orion Assembly |
| Battery manufacturing location: | Incheon, South Korea |
| Motor and drive unit manufacturing location: | Incheon, South Korea |
2017/2018 Chevrolet Bolt EV Battery System
| | |
| --- | --- |
| Type: | rechargeable energy storage system comprising multiple linked modules |
| Volume/case: | 285L |
| Mass (lb / kg): | 960 / 435 |
| Battery chemistry: | lithium-ion |
| Thermal system: | liquid active thermal control |
| Cells: | 288 |
| Energy: | 60 kWh |
| Warranty: | 8 years / 100,000 miles |
| Electric driving range: | EPA-estimated 238 miles (255 city / 217 highway) |
2017/2018 Chevrolet Bolt EV Electric Drive
| | |
| --- | --- |
| Type: | Single motor and gearset |
| Motor: | permanent magnetic drive motor |
| Power: | 200 hp/150 kW |
| Torque: (lb-ft / Nm): | 266 lb.ft./360 Nm |
| Final drive ratio (:1): | 7.05:1 |
2017/2018 Chevrolet Bolt EV Charging Times
| | |
| --- | --- |
| 120 V: | 4 miles / 6.4 km of range per hour (available with standard cord) |
| 240 V: | 50 miles of range in less than 2 hours, full charge in 9.3 hours |
| SAE Combo DC Fast Charge: | up to 90 miles in 30 minutes |
2017/2018 Chevrolet Bolt EV Performance
| | |
| --- | --- |
| Top speed (mph / kph): | 91 / 145 |
| 0-30 mph: | 2.9s (75% SoC) * |
| 0-60 mph: | Under 7 seconds |
2017/2018 Chevrolet Bolt EV Chassis & Suspension
Front:
Independent MacPherson strut-type front suspension with side load compensating and finely tuned springs, direct-acting solid stabilizer bar system and ride & handling oriented LCA bushings.
Rear:
Compound crank (torsion beam) type rear suspension with the closed section V-shaped profile axle; specifically tuned coil springs, performance balanced shock absorber,  angled A-bushing supporting understeer tendency on cornering maneuver and kinematically optimized torsion beam providing stable and best ride & handling performance.
Chassis control:
Four-channel ABS; Traction control system; StabiliTrak; Drag control
Steering type:
column-mounted electric power steering
Steering wheel turns, lock-to-lock:
2.91 revolutions
Steering ratio:
16.8 :1
2017/2018 Chevrolet Bolt EV Brakes
| | |
| --- | --- |
| Type: | power four-wheel disc with ABS; electro-hydraulic; partially regenerative; dynamic rear brake proportioning |
| Brake rotor diameter front  (mm / in): | 276 / 11 |
| Brake rotor diameter rear (mm / in): | 264 / 10 |
| Total swept area (front) (cu cm): | 1398.9 |
| Total swept area (rear) (cu cm): | 1131.4 |
2017/2018 Chevrolet Bolt EV Wheels & Tires
Wheel material:
cast aluminum
Tires:
Michelin Energy Saver A/S 215/50R17 all-season
2017/2018 Chevrolet Bolt EV Exterior Dimensions
| | |
| --- | --- |
| Wheelbase (in / mm): | 102.4 / 2600 |
| Overall length (in / mm): | 164.0 / 4166 |
| Overall width (in / mm): | 69.5 / 1765 |
| Track width front (in / mm): | 59 / 1501 |
| Track width rear (in / mm): | 59.1 / 1501 |
| Height (in / mm): | 62.8 / 1594 |
| Front overhang (in / mm): | 32.9 / 836 |
| Rear overhang (in / mm): | 28.7 / 730 |
2017/2018 Chevrolet Bolt EV Interior Dimensions
| | |
| --- | --- |
| Seating capacity (front / rear): | 2 / 3 |
| Headroom (first row) (in. / mm): | 39.7 / 1009 |
| Headroom (second row) (in. / mm): | 37.9 / 962 |
| Shoulder room (first row) (in / mm): | 54.6 / 1387 |
| Shoulder room (second row) (in / mm): | 52.8 / 1340 |
| Hip room (first row) (in / mm): | 51.6 / 1310 |
| Hip room (second row) (in / mm): | 50.8 / 290 |
| Legroom (first row) (in / mm): | 41.6 / 1056 |
| Legroom (second row) (in / mm): | 36.5 / 927 |
2017/2018 Chevrolet Bolt EV Capacities
| | |
| --- | --- |
| Curb weight (lb / kg); | 3580 / 1624 |
| EPA passenger volume (cu ft / L): | 94.4 / 2673 |
| Passenger volume (first row) (cu ft / L): | 52.2 / 1478 |
| Passenger volume (second row) (cu ft / L): | 42.2 / 1195 |
| Max cargo volume (cu ft / L): | 56.6 / 1603 |
| Cargo volume behind rear seat: | 16.9 / 478 |
| Heating cooling (qt / L): | Heating loop 1.8L |
| Battery pack cooling (qt / L): | 6.9L (RESS cooling loop total coolant volume) |
| Power electronics cooling (qt / L): | 3.9L (PE & DU cooling loop total coolant volume) |
| Drive unit fluid (qt / L): | 2.9L |
More Information & Resources
Sweepstakes Of The Month: Win a Corvette Z06 and 2024 Silverado. Details here.
We are currently looking for experienced automotive journalists and editors to join our team. Make $60k-$80k per year doing what you love. We are also looking for an experienced web developer.
See details here
.