Analysis: What Is General Motors Planning For The 'Anthem' Name?
We are currently looking for experienced automotive journalists and editors to join our team. Make $60k-$80k per year doing what you love. We are also looking for an experienced web developer.
See details here
.
13
General Motors has been pursuing a trademark for the word Anthem for nearly a decade, telling us that it has serious plans for the name. Here's an in-depth look at the situation, and what The General might have planned for Anthem.
The Trademark
GM first filed to register Anthem as a (character) trademark with the United States Patent and Trademark Office (USPTO) on June 11th, 2009. That filing never made it to registration, since GM failed to file a Statement of Use (SOU) – a required and indispensable document that's part of the trademark registration process which demonstrates to the USPTO that a company has a real-world product or service by the name. So, the original filing (serial number 77756972) was abandoned in July 2013.
Three years later, GM once again filed an application for the Anthem name. This second application was filed on December 20th, 2016 in the goods and services category of "Motor land vehicles, namely, automobiles, sport utility vehicles, trucks and vans".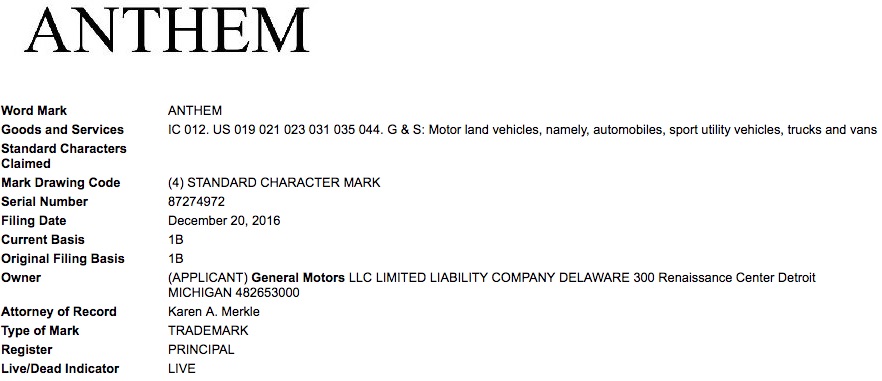 Currently, this second application is well on its way to being registered. As of September 15th, 2017, the USPTO shows a status of 680 – Approved for Publication, which means that the mark will soon be published in the official USPTO gazette, informing other stakeholders of GM's intention to register the name in the aforementioned goods and services category. From there, the application will move on to several other steps – including the crucial step of submitting the Statement of Use document that held up the first application.
The takeaway here is this: GM is serious about securing trademark rights to the Anthem name. It has been at it two separate times spanning eight years. Clearly, the automaker is planning a product with the name.
But enough with the legalese… let's discuss the much more exciting topic of what the name will be used for.
The Predictions
In the past, GM had a vehicle carrying the Anthem name: the Oldsmobile Anthem concept car. Revealed in 1992, the concept sedan became the harbinger for Oldsmobile styling direction. But that's way in the past.
Before we go forth in our predictions, we should say this: crossovers, crossovers, crossovers. Consumers' drive towards CUVs is changing the name of the automotive game, and the face of the industry. Not only are crossovers now selling in higher-than-ever quantities at the expense of sedans, but they're more profitable for automakers, as consumers are willing to pay a premium for the vehicles. So let's keep that in mind.
Now, the way we see it, GM currently has a few gaps in its portfolio. Identifying these gaps should help us predict how the automaker will use the Anthem name.
Right off the bat, we'll eliminate the Cadillac brand, since Anthem doesn't fit with Cadillac's CT#/XT# naming convention. So, on to Chevy, Buick and GMC.
As it stands, the Chevrolet lineup is pretty fleshed out, with the exception of a midsize crossover between the compact Equinox and full-size Traverse. That void, however, will soon be filled wit the future Chevy Blazer. So, it doesn't look like there is any space in the Chevy lineup for a new vehicle. On to Buick.
Like Chevrolet, Buick is currently missing a midsize crossover to slot between the compact Envision and full-size Enclave. Now, Buick can continue touting that it's perfectly happy with three crossovers in its lineup until it's blue in the face, but we believe that there is room for one more Buick CUV that would be analogous to the GMC Acadia and upcoming Chevy Blazer in size, but with the Buick design language and product values/characteristics. Given Buick's desire to name all crossovers using the "En" prefix (Encore, Envision, Enclave), we believe that a midsize Buick crossover – if it ever materializes – will be named Enspire, a name GM has previously moved to trademark.
Outside of the midsize crossover space, Buick could also expand its lineup to include a compact sedan/hatch (Verano) or smaller. But given market trend toward crossovers, we do not see such models coming to fruition. On to GMC.
This is where things get interesting. GMC has not one, but two gaps in its portfolio: the first is a subcompact (B segment) crossover along the lines of the Chevrolet Trax and Buick Encore. The second is a full-size crossover, such as the first-gen Acadia. We posit that the Anthem name is being prepared for use with one of these vehicles
But let's take that even further: years ago, GMC showed a subcompact concept crossover called the Granite. The vehicle was even shown as a pickup bed called the Granite UPC. So when GMC finally gets around to putting a GMC entry into the fastest-growing crossover space, then the vehicle will likely be called GMC Granite. That leaves the Anthem name for a full-size, three-row crossover to take the space left by the first-generation GMC Acadia of those who find the Buick Enclave too soft, and for those who want more than what is offered by the Chevrolet Traverse.
To hedge our bets, we'll throw in an odd-ball prediction that GM will use Anthem for a trim level name for Chevrolet, Buick, or GMC. For instance, there could be a Chevrolet Malibu Anthem, GMC Terrain Anthem or Buick Regal Anthem. But we just don't see that becoming reality. Our bets are on the Anthem being a full-size GM crossover… an Acadia XL of sorts.
GMC Anthem. We like the sound of that.
Stay tuned to GM Authority as we follow this story, as well as for GMC news and GM news.
More Information & Reporting
We are currently looking for experienced automotive journalists and editors to join our team. Make $60k-$80k per year doing what you love. We are also looking for an experienced web developer.
See details here
.