Two Years Later, Looking Back On The Closure Of GM's Bekasi Plant In Indonesia
11
The year was 2013, and General Motors had grandiose plans for Indonesia. After letting its Bekasi factory outside of Jakarta sit idle for roughly a decade, the automaker reopened the plant to produce an all-new model — the Chevrolet Spin MPV. During the plant's opening ceremony, GM made headlines by making another impressive announcement: it was planning to add a second shift at the facility within a year by growing further in the market. The Spin was a vital part of that growth. Two years later, GM closed down the factory, fired all 500 workers, and transitioned into a national sales company with no local manufacturing presence.
How and why did it all go so wrong?
Historically speaking, GM had a lot going for it in Indonesia: it was the first automaker to produce cars in the country, starting in 1927. At that time, GM was all about expansion and growth in the pursuit of becoming the world's largest automaker. After all, it was General Motors. Suffice to say that producing cars locally in Indonesia gave GM a first-mover advantage in the market, a lead that lasted roughly two decades until Japanese automakers started entering the market, doing so with planned yet strategic aggression. What was once a nascent auto market with only a handful of brands and few models has become a battleground for global automakers that is now dominated by the Japanese.
To wit: GM sold less than 11,000 Chevrolets in Indonesia in 2014, giving it a market share of less than 1 percent. Toyota and its Daihatsu cohort sold over 578,000 vehicles during the same timeframe. Combined, Japanese automakers account for over 90 percent of the Indonesian auto market.
The floundering of GM in Indonesia is indicative of its performance in other global markets as well. The automaker was caught completely off guard by changing market conditions that demanded small economy cars. GM ignored the trend, continuing to push full steam ahead with gargantuan models with little regard for fuel efficiency or economy. The compact cars that GM did eventually introduce, seemingly begrudgingly, were much less competitive than their Japanese competition that fulfilled the demand for small cars to the T.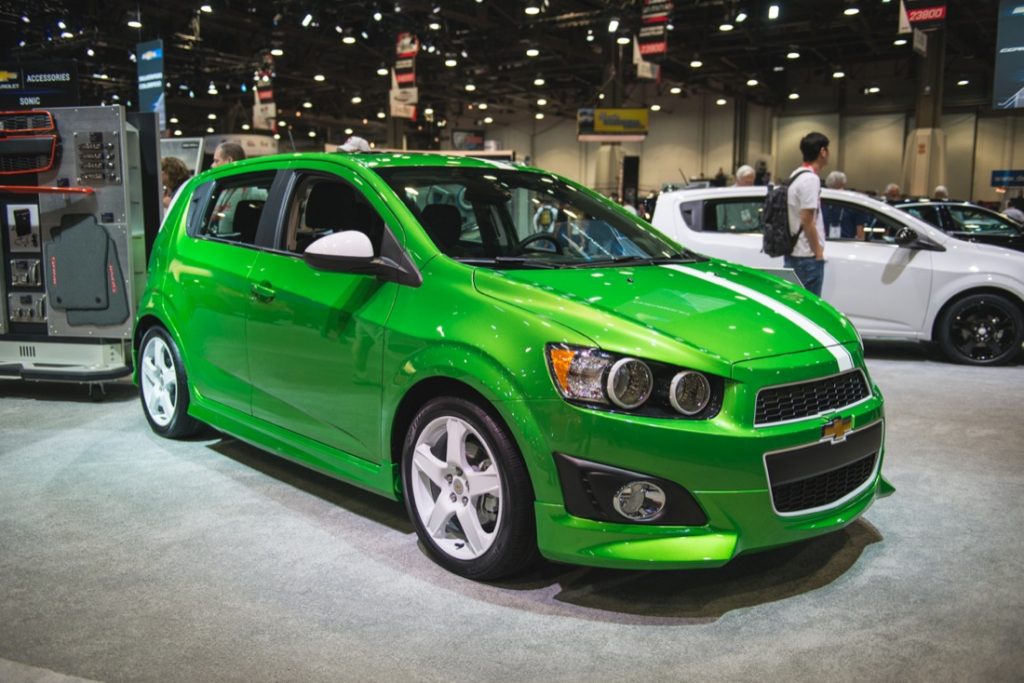 Fast forward to 2013: after the massive levels of commercial success experienced by Japanese small cars in the Americas as well as in other Asian markets (like Indonesia), GM was finally ready to take small cars seriously. It released a range of new small cars like the Spark, Sonic and Cruze that were finally competitive with other compacts around the world, including those from Japan. So GM decides to try its luck in Indonesia.
Now, Indonesia is no ordinary market: its population is roughly 240 million people, but fewer than four people in every 100 own a car. Even then, the market is good for some 600,000 new vehicle sales a year. To start its Indonesian invasion, GM retooled the Bekasi plant, a facility that it initially opened in 1995 but suspended for about a roughly a decade. Bekasi began making the Chevy Spin — a new model in the form of a small people mover that has proven popular in various developing markets such as South America. Priced to start around $12,000, the Chevy Spin had Toyota's Avanza directly in its crosshairs.
But sales never took off: of the (less than) 11,000 Chevrolets sold in 2014 in Indonesia, the Spin made up 8,412 units. Another 3,000 were earmarked for export purposes. As if slow sales weren't enough, the Spin was also costly to produce at Bekasi since GM had to import most of the components to build the car, making the plant a financial burden. In 2014, production volume was less than a quarter of the facility's annual capacity of 40,000 vehicles. One shift was overkill; the forecasted second shift was totally unnecessary.
"We could not ramp up Spin production to boost the volume as we had expected… although the product was really good," Stefan Jacoby, GM executive vice president and president of GM International, which includes markets beyond the Americas, Europe and China, told Reuters. "The logistics chain of the Spin was too complex; we had low volume so we could not localize the car accordingly, and from the cost point of view we were just not competitive."
In the same interview, Jacoby admits that GM got it wrong in going head-to-head with the Japanese in a market he dubs their "backyard".
As events unfolded against GM's favor in Indonesia, the industry was in the process of shifting focus on developing self-driving vehicles and associated technologies, as well as on ceasing opportunities in growth markets such as South America, Russia, and India. Needing funds to invest in those opportunities meant that GM had to act quickly and seal the financial leak that the Bekasi plant had rapidly become. Roughly two years after re-opening the plant, GM pulled the plug to stop hemorrhaging cash, shuttering the facility in early 2015.
The move was only part of a bigger overhaul that aimed to turn GM Indonesia "not only into profitability, but into a sustainable business model," according to Jacoby.
But that wasn't the half of it: as if to add insult to injury, GM also announced plans to cease selling Chevrolet cars like the Spark, Sonic/Aveo, and Cruze in the country and to focus on SUVs instead. The move was painted as a "broader repositioning of the Chevrolet brand across Southeast Asia, emphasizing its American heritage for SUVs such as the Captiva and Trailblazer". But what it really was is GM calling it quits on its attempt to wrestle market share from the dominant Japanese rivals.
As of September 2017, the Chevrolet Indonesia lineup consisted of the following models, all imported from outside the country:
And now for the kicker: as GM was retreating in the Indonesian market, SAIC Motor Corp. — GM's primary joint venture partner in China — was going on the offensive, building a new manufacturing facility in the country to produce its no-frills Wuling van models.
But we have to wonder: if GM believed that the image and cachet of the Chevrolet brand weren't good enough to compete for Indonesia's 600,000-large car buyers, how can Wuling — a brand with zero history that nobody has ever heard of — fare any better? Perhaps GM's problem in Indonesia was never about the brand or the product or about people not wanting its cars, but rather its go-to-market strategy and its execution. We'll never know.
Further Information & Reporting
Sweepstakes Of The Month: Win a Corvette Z06 and 2024 Silverado. Details here.
We are currently looking for experienced automotive journalists and editors to join our team. Make $60k-$80k per year doing what you love. We are also looking for an experienced web developer.
See details here
.