GM Korea Faces Uphill Battle As Export Business Declines: Analysis
30
Posting ongoing operating losses as a result of continued reduction in vehicle production for export markets, General Motors South Korea (GM Korea, or GMK) has seen better days. Equipped with a new CEO, the unit has new energy. But is it enough to turn around the struggling division?
How We Got Here
Prior to the turn of the century, General Motors' presence in South Korea can best be described as limited. The automaker's sales volume was rather insignificant, while local manufacturing presence and vehicle development efforts were minuscule.
That all changed in 2001, when The General purchased the bankrupt Daewoo Motors. Nearly overnight, GM's presence in the country grew exponentially. Its limited presence turned into a major manufacturing footprint that the automaker began to use for producing small vehicles for export markets. It also gained a talented product development arm that now plays a vital role within GM's global vehicle development operations.
As a result, local sales grew, thanks to the Korean market embracing Chevrolet as something of a local marque. Export/international sales spiked thanks to models like the Matiz, Aveo and Lacetti being sent all over the world under the Chevrolet badge. That, however, also came at the expense of Chevrolet's image in key markets such as Europe: Chevy's brand image in the region suffered since the Chevrolet-badged and Daewoo-sourced vehicles were significantly uncompetitive.
Nevertheless, all was humming along quite nicely until GM started making big changes to its business elsewhere.
Production Woes
GM Korea makes its bread by exporting vehicles to global markets: for every Chevrolet or Cadillac it sells locally, it exports five to seven others – whether as complete vehicles or kits ready for re-assembly elsewhere (CKDs). Despite at one point being a strength, GMK's reliance on exports has become the unit's biggest liability.
The first shoe dropped in 2013, when GM announced plans to pull Chevrolet out of Europe's mainstream vehicle segments – a decision supposedly made to cease competing with Opel, GM's primary mainstream brand in the market. Since nearly all Chevrolet models sold in Europe were produced in Korea, the move significantly decreased GM Korea's export volume. The second shoe came roughly a year later with GM pulled Chevrolet (and Opel) out of the mainstream vehicle segments in Russia. The two moves sent export volumes of Chevrolet vehicles from GMK into a free fall.
Some good news came about a year later, when GM tasked the unit with producing (nearly all) crossovers on the Gamma platform – the Chevrolet Trax, Buick Encore, as well as the Opel Mokka/Vauxhall Mokka. The Trax and Encore are exported to North America while the Mokka/Mokka X get shipped to Europe. Though that represented a significant opportunity for GM Korea, it didn't make up for the volume lost from pulling Chevrolet from Europe.
Five years later, sales of the Trax Encore, and Mokka (now called Mokka X) are growing by leaps and bounds thanks to changes in consumer buying dynamics wherein car buyers are favoring crossover utility vehicles (CUVs) over other vehicle types like crossovers. And while Trax and Encore sales are here to stay, GM has sold off Opel and Vauxhall to France's PSA Groupe – a move that, in GM's world, is the equivalent of slaying a sacred cow. It is believed that GM Korea already lost production volume of the Mokka X to the GM-Opel Zaragoza factory in Spain, though this has yet to be confirmed. If GMK still produces the Mokka for Opel-Vauxhall, that volume will disappear in the near future as PSA transfers the vehicles to its own vehicle platforms and plants.
Another Gamma platformed vehicle, the Chevrolet Spark city car, is also exported from Korea to markets all around the world. Unfortunately, the Spark is a car in a what is becoming a crossover world, and Spark sales in North America are falling. Korea exports the same vehicle to Europe as the Opel Karl and Vauxhall Viva. GMK will see volumes cut even more once PSA redesigns the Karl and Viva on its own platform, leaving the business unit with exporting the Chevy Spark to the Americas along with the Holden Spark (Holden-badged Chevrolet Spark equivalent), Holden Barina (Chevrolet Aveo/Sonic) and Holden Cruze (Chevrolet Cruze) – which has recently been renamed to Holden Astra sedan – to Australia.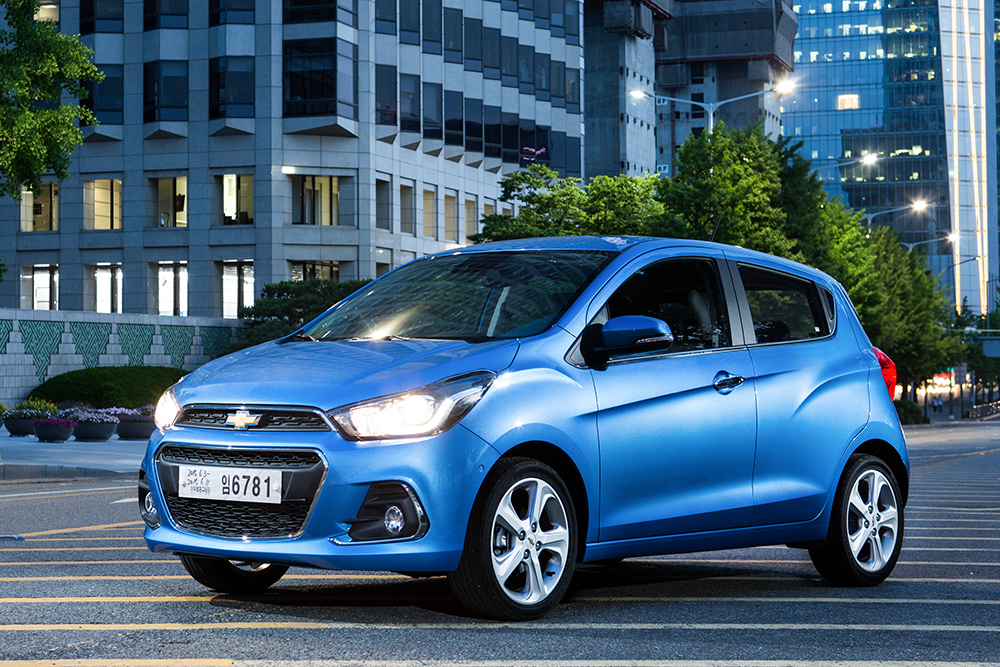 Perhaps the numbers tell the same story with more clarity: GM Korea's export volume has been declining every year over the last five years. The company exported 416,890 cars in 2016, down roughly 10 percent from 463,468 in 2015.
Meanwhile, exports of complete knock down (CKD) vehicles for shipping and easy re-assembly elsewhere have also been on a steady decrease, falling from 1,021,858 units in 2014 to 791,231 in 2015 and 662,674 in 2016.
GM Korea Export Vehicle Production

| Export Type / Year | 2016 | 2015 | 2014 |
| --- | --- | --- | --- |
| Completely Assembled Model | 416,890 | 463,468 | TBD |
| Complete Knocked Down Kit (CKD) | 662,674 | 791,231 | 1,021,858 |
In March of this year, the automaker cut engine production at its GM Bupyeong plant by 24 percent or 137,000 units as a result of GM no longer necessitating as many V-6 engines produced and exported by the unit.
Operating Losses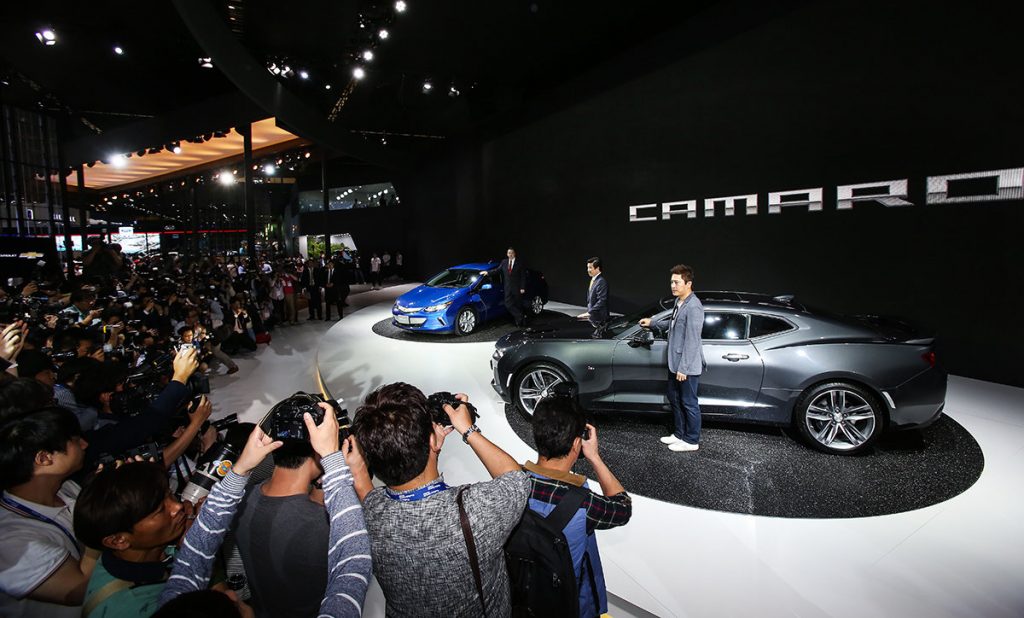 All those production cuts aren't doing GMK any favors on the balance sheet. The unit has posted net losses three years in a row totaling a cumulative 1.97 trillion won ($1.8 billion USD).
Of those, 300 billion to 400 billion won ($265.49 million to 353.98 million USD) were posted in 2016.
The writing is on the wall: if GM Korea does not secure new outlets (markets) for its export business, it will need to restructure by reducing capacity.
Withdrawal Rumors Denied
The continuous sales drops and poor financial performance prompted rumors that GM would simply withdraw from the Korean market, as it has done in all other markets such as Europe and India – where it has not been able to turn a profit. But not so fast.
To withdraw, GM would have to purchase the 17.02 percent of GM Korea shares owned by the Korea Development Bank (KDB). The KDB has been  forbidden from selling its stake until the end of this year as part of an arrangement when GM purchased Daewoo.
But the unit's recently-appointed boss, Kaher Kazem, has denied the pullout rumors – stating that GM has no plans to leave South Korea. Kazem held a press conference during his first week on the job to address the rumors head on, while demonstrating to reporters the importance of Korea in the global General Motors organization.
According to reports circulating in the Korean media, Kazem also told employees and the workers' union leadership that a turnaround in the company's financial performance is absolutely vital to the unit's future.
Striking Times
But the challenges don't end with declining sales volumes and red ink on the income statement. GMK is also having trouble with its labor force. The union and management have been deadlocked in wage negotiations since July 24th.
Kazem met with the union as a first order of business when he took over GM Korea on September 1st.
Operative Solutions
The way we see it, GM Korea's options are few and far between, and boil down to two general options:
Restructure GM Korea to have less production capacity, thereby closing down factories, consolidating production, and laying off workers, or
Find new export markets for GM Korea's excess capacity
The first option is rather easy: shutting down plants reduces substantial overhead that is incurred with an underutilized plant. The unit would, however, have to contend with Korea's strong labor unions. The second option is much more intriguing. Overall, GM Korea has several opportunities in finding new export markets for its products.
Returning Chevrolet to Europe: GM's recent sale of Opel means that the automaker is no longer present in Europe's mainstream vehicle segments (it still sells high-priced, low-volume vehicles like the Camaro and Corvette in the region). The initial withdrawal of Chevrolet from Europe was done at the insistence of Opel executives to decrease supposed internal competition. As such, the move presents an opportunity for The General to return to Europe with Chevrolet, while using GM Korea as the production base.
Returning Chevrolet to Russia: GM's decision to withdraw Chevrolet from Russia came at a time when that country's economy was struggling as a result of sanctions imposed (mostly) by the U.S. The move empowered Korean automakers such as Hyundai and Kia with an opportunity, which they seized. And though the sanctions have yet to be lifted, the Russian economy has stabilized and is showing signs of growth. As such, Russia continues being a major opportunity for Chevrolet, using a balance of Korean and Russian for production base.
Making GM Korea the primary manufacturing base for Holden vehicles: another potential market for GM Korea's export duties is Australia, where GM has infamously wound down local production, turning its Holden subsidiary into a national sales company (with a little bit of local vehicle development operations).
GM Korea already makes some Holden vehicles, but there is potential to take that even further. Currently, the GM-Opel Rüsselsheim factory in Germany produces the new second-generation Opel/Vauxhall Insignia and new ZB Holden Commodore. However, following PSA Groupe's purchase of Opel, the French automaker now controls the plant. And though it is believed that GM secured the current generation product through the end of its lifecycle, it would make sense for GM to move production of the NG Commodore to a plant it actually owns and controls… such as the Bupyeong plant that produces various vehicles including the Chevrolet Malibu, which happens to share the same E2 platform as the ZB Commodore.
Exporting to Southeast Asia: other markets that are opportunity for GM to grow its presence include various Southeast Asian nations such as Indonesia, Thailand and the Philippines, with GM Korea potentially supplying Chevrolet cars and crossovers to those markets.
Building the next Sonic for North America: another option for GM Korea is to benefit from the ongoing crossover craze in America. The trend has put a significant damper on sales of the Chevrolet Sonic sedan and hatch, which are produced alongside the Chevrolet Bolt EV at the GM Lake Orion factory in Michigan. As such, the decrease in Sonic sales volume might make it more financially attractive for GM to consolidate next generation Sonic production at one plant in Korea and export it to North America, while expanding Bolt EV capacity at Lake Orion.
Building crossovers for Eur-Asia: given the world's seemingly insatiable hunger for crossover utility vehicles (CUVs), it would not be far-fetched to see GM produce its compact and midsize crossovers in Korea for export to any European or Asian market outside China. Currently, the unit produces the three-row Captiva, a "tweener" CUV that straddles the compact and midsize spaces. The vehicle will likely be phased out over the next year and be replaced by the third-generation, new Chevy Equinox in the compact space and future Chevrolet Blazer in the midsize segment.
It will be interesting to see how GM proceeds in Korea, especially after the automaker's executive leadership team has shown that now cows are sacred. Stay tuned as we follow this one closely.
The Lay Of The Land
General Motors Korea currently operates the following facilities:
Sweepstakes Of The Month: Win a Corvette Z06 and 2024 Silverado. Details here.
We are currently looking for experienced automotive journalists and editors to join our team. Make $60k-$80k per year doing what you love. We are also looking for an experienced web developer.
See details here
.