2017 Chevrolet Silverado HD: Maximum Towing Drive
We are currently looking for experienced automotive journalists and editors to join our team. Make $60k-$80k per year doing what you love. We are also looking for an experienced web developer.
See details here
.
1
Around 30+ years ago, when the GM Truck and Bus Group was still around, engineers were looking for a fitting powertrain to use for a future Chevrolet Kodiak that was in development at the time. The team took a look at the construction industry to see what sort of diesel engines were used to deal with the demands of hard mechanical labor. With a sense of curiosity, a couple of John Deere diesel engines found their way into some Chevrolet Kodiak mules.
The John Deere engines never made it to the finished product, but it still goes to show that Chevrolet and Deere have complimented each other for decades.
It makes sense. John Deere, known for its massive green farming equipment as well as more approachable riding mowers, also has a construction and forestry division. Everything from wheeled feller bunchers, to tracked dozers, to articulated dump trucks. You may not know what any of that means, but to sum it up, they're all important and expensive. They're all downright massive, and incredible, and require no formal training to purchase. While Chevrolet (General Motors by extension) makes optimal vehicles to move crews, equipment, parts and materials from one job site to another in both speed and comfort. Many times with Deere equipment in tow.
We sampled both the 2017 Chevrolet Silverado 2500 HD and 3500 HD Dually with John Deere road construction equipment mounted onto massive Big Tex trailers. Our route was a simple one: follow the freeways from the John Deere assembly plant in Davenport to the famous Iowa 80 Truck Stop (the world's biggest truck stop!) just to the northwest, and back.
The trucks were more or less maxed out with their towing capacities. The 2017 Silverado 2500 HD we drove that morning was towing a total of 11,485 lbs, divided between a 8,745-lb John Deere Track Loader skidsteer and a 2,740-lb Big Tex gooseneck trailer. The skidsteer alone is nearly 2,000 lbs heavier than the heaviest Silverado HD on the market. If the weight of that compact hunk of metal comes as a surprise to you, the feeling is mutual. Because when it comes to the wide world of construction equipment, we're completely uninitiated.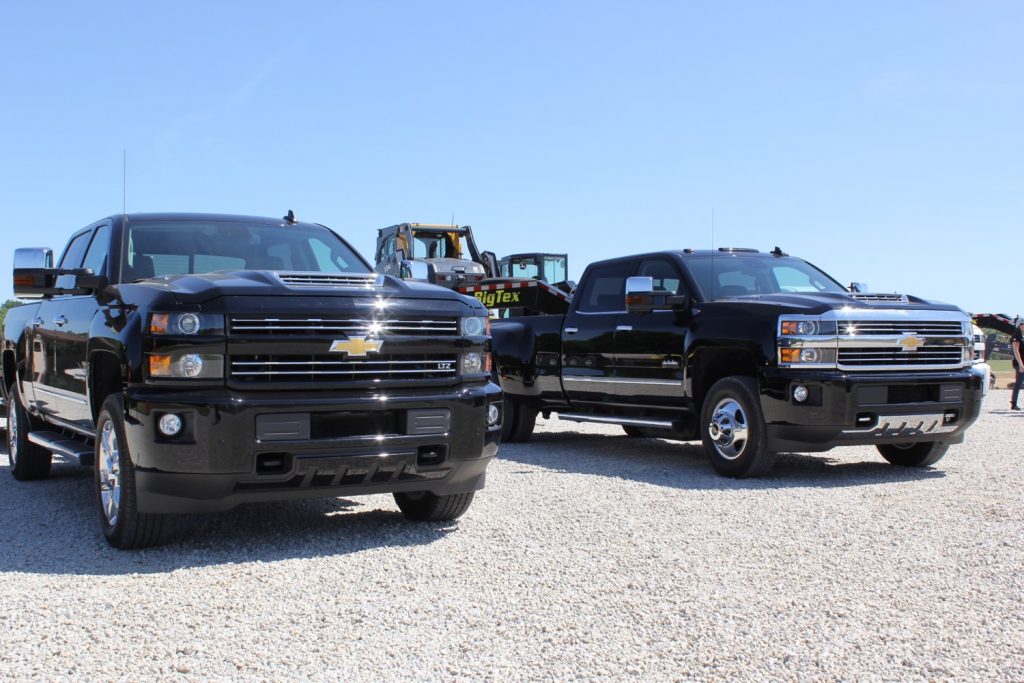 Towing, on the other hand, we have a better feel for. And the 2017 Silverado 2500 HD feels good under duress. Though Interstate 80 was doing nobody any favors with its uneven pavement, there are a few takeaways. Like its brother, the GMC Sierra HD, the Silverado HD remains to be the most compliant, quiet and comfortable pickup trucks we have driven. While true, the towing and payload numbers have fallen behind both Ford and Ram, the drive experience we had served as a reminder that the numbers aren't everything. It's about the smoothness, the quiet, the ergonomics, and the refinement of the ride. The little nuances that don't boil up unless the journey is long and the roads are imperfect.
Here's what we mean by all that. The 445 hp and 910 lb-ft L5P 6.6L Duramax is supremely quiet at idle, and even with 11,485 lbs in tow, it doesn't make all that much of a racket. Over time, the constant clack and clang from a louder diesel will begin to take an audible toll on the driver. The same goes for the integrated exhaust brake system, which is barely noticeable, especially compared to a Ram Heavy Duty system. The diesel exhaust brake, activated first by engaging tow/haul mode via the column shifter, and then a toggle on the bottom row of the center console, is also easier on the Silverado HD, allowing it to decelerate via the engine, and not the brake calipers and rotors, which are bound to heat up and wear out exponentially faster with all of that weight in tow. Some people may like louder "more truck like" diesel noises. But they likely never got into long distance hauling or trailering. Those same people may also find a Lotus Exige fun to drive, but never bothered to take one on a road trip.
Upon arrival of the Iowa 80 Truck Stop, we swapped into a 2017 Silverado 3500 HD dually, towing approximately 21,969 lbs. This was divided between a 7,300 lb Big Tex gooseneck trailer, and a whopping 14,669 lb John Deere 310 backhoe loader. Which, if you can believe it, is the smallest and lightest backhoe John Deere makes. And it also goes to show just how large the trailer has to be in an effort to effectively manage all of that weight. This also required us to ride passenger, embarrassingly, as all of that weight legally requires a commercial driving license. At the same time, it also let us observe the vehicle's behavior from a different perspective, without having to focus on driving. We observed more of the same, though with even more exaggerated, drawn out motions from the Silverado 3500 HD, as it managed the incredible mass behind it. This is normal.
Many people have pointed out the lack of blind spot alert systems on the GM HD trucks, but there is a solution. As we also observed when driving the 2017 GMC Sierra HD up in the Rocky Mountains, there is a multi-view camera system that's installed as a dealer accessory. With it, drivers can see angles from every side, including one pointing into the truck bed, so as to make sure whatever's back there is staying put. All of which is displayed onto the optional 8-inch touchscreen on the center stack.
Say you're in the market for a new HD truck that can pull a dozer. Well, get that no-limit credit card ready, as a loaded 2017 Silverado 3500 HD High Country Duramax dually can creep into the $70,000+ range with a couple options. That MSRP might jump out from the page, and those numbers are only bound go up with time, as trucks continued to see added complexities, improvements and technology. Though compared to a six-figure excavator, the price of an HD truck is far from the most expensive piece of equipment in the construction yard. Despite not being the biggest line item for the road paving company that bought it, it's by far and away the most comfortable.
It might be a while before John Deere backhoes, excavators and skid steers come with wifi and leather seats, but at least they're getting close. As for the Silverado HD, the 2017 model-year powertrain updates will likely be the last major enhancement to the truck in its current form, and there really isn't much to complain about. Moreover, this towing experience lays into perspective as to just how much size and weight these GM HD trucks are capable of moving, and it's largely beyond what most people will use 3/4-ton and full-ton trucks for. The never-ending Towing Wars between Ford, GM and FCA will continue for the ages to come, but with capabilities so high for every truck, you might as well go for one that's most comfortable to drive.
Sweepstakes Of The Month: Win a 2023 Corvette Z06 Convertible. Details here.
We are currently looking for experienced automotive journalists and editors to join our team. Make $60k-$80k per year doing what you love. We are also looking for an experienced web developer.
See details here
.