2018 Chevrolet Traverse: First Drive
17
Many of you out there have been writing us for the past month or so about more info on the 2018 Chevrolet Traverse. Wait no longer. With the opportunity to drive one last week, we've come away confident that Chevrolet has itself yet another family hauling champion. And if you liked the old one (many buyers maintain a fierce loyalty to the Traverse), you'll love the new one – so long as you can afford it.
Let's start by outlining the dimensional improvements. The wheelbase grew an impressive two inches, while maintaining a 204-inch overall length – a full size vehicle by any measure. The width is nearly identical, while the height grows almost an inch over the outgoing Chevrolet Traverse. In total, the overall interior space increases by 7 percent for second row occupants, 11 percent in the third row, and 17 percent in the precious storage area. It can still tow 5,000 lbs, jumps 3 mpg in combined fuel economy, is an average of 362 lbs lighter than before, and boasts an impressive 39-foot turning circle. The legroom is better, the seats are nicer, and the technology is copious and abundant.
For our drive, we were given a mix of either the 2018 Traverse Premier and/or the even more opulent 2018 Traverse High Country; which starts at $52,995 with destination. This pricing is on a level of opulence beyond what Honda offers with the Pilot, but there are some exclusions we can't help but address. There is no useful heads up display, no automatic power-up windows (aside from the driver's window), no adjustable pedals, and no power folding third row seats like in the Tahoe or Suburban (power folding seats are only offered on Traverse High Country). In what can be a $55,000+ crossover.
How were these features forgotten in what Chevrolet describes as a "status megaphone?" From where we stand, the deal just doesn't seem sweet enough on the high end – as if buyers are meant to bypass the Traverse High Country and go right for the Tahoe. Chevy does plan to sell mostly a make up of LT-trim level 2018 Traverse crossovers, which starts just over $39,000 with cloth and over $44,000 with leather. That is more agreeable, and aggressively priced to comparative Honda Pilot trim levels.
Making up for these omissions on the high end were no shortage of other qualities, though. Along with the highlights outlined in the opening stanza, GM seems to be constantly improving vehicle ergonomics every year, and one doesn't need to go for a Premier or High Country trim to enjoy these in the 2018 Traverse. Placement of buttons, levers, knobs, switches… it all feels optimized. And the driver's position is also nothing to complain about, and feels road trip ready at the drop of a hat, adjustable pedals or not.
And should the journey call for minimal, if any roads, the GKN Twinster all-wheel-drive system comes standard on the Traverse High Country. This twin-clutch AWD unit helps deliver power from the 310-hp LFY 3.6L V6 engine to the wheel(s) that need(s) it most.
Perhaps some of you caught that LFY code. Those who have been keeping score at home should recall that the latest GM V6 engine family has an "LG" designation, such as LGX (CT6, XT5, Acadia, Camaro) and LGW (CT6). The LFY is actually based on the last-generation engine architecture from the last-generation Chevrolet Traverse, with some significant changes. This includes stop/start, made possible by a stronger starter motor that can endure the harshness of the fuel-saving technology. There's also improved airflow for improved power, which keeps 90 percent of the 266 lb-ft of torque between 1,800 RPM and 6,800 RPM. And there's no turbocharger making this possible, which is more than just a little impressive. This power flow helps give the 4,362 lb crossover a very truck-like feel to it, with accessible power both low and high. The nine-speed automatic transmission performed nearly invisibly, with nay a jolt or a hunt, which is what it ought to do in this segment. That said, we would have liked to have put the trucky 2018 Traverse through harsher paces beyond the steady traffic of I-94, for safe measure.
Not so truck-like is the EPA estimated 27 mpg highway and 18 mpg city in FWD guise, and the 2018 Traverse AWD models eking out 25 mpg highway and 17 mpg city. There are (much smaller) two-row crossovers, let alone the previous model, that can't touch the numbers that this 17-footer is hitting (*looks at Jeep*). Direct rival Honda Pilot is rated at 19 city and 27 highway, for reference, but notably with 30 less horsepower. We would trade one mile per gallon for 30 horsepower any day of the week. The engineering team was mum on a possible hybrid or diesel engine for the new Chevy Traverse, and continued to focus on the fuel economy achievements of what's been announced. And later this fall, the 2018 Chevrolet Traverse RS will launch, with an exclusive 2.0L turbo engine.
Our drive from Detroit up I-94 into the very edges of Macomb County and back in the 2018 Chevrolet Traverse proved to be one that was hushed, and serene, while returning a strong sense of safety and of a sufficient powertrain. In short, driving the 2018 Traverse is completely inoffensive. The suspension and long wheelbase keeps things floating along, even when the vehicle is unladen with whatever a family of six or seven needs. The steering feedback buffs out most sensations, to the point of feeling like a racing sim video game. Which, again, is fine here, and the utter lack of effort could at the very least help stave off driver fatigue during those family road trips to Florida. Or up north, whichever.
As a passenger, things were gentle. We were able to ride along in the second row for a stint, which was not at all a penalization. The leg room for the second row is downright luxurious, as the twin bucket seats aped the front row ahead. A 60/40 folding bench seat is available for those that need it. The only downer about the second row seat that sticks to memory is the rear seat ingress/egress lever.  It's awkwardly low to grab, and makes re-positioning the seat while sitting in it a struggle. Pro-tip: if the seat needs to move fore or aft, do it before getting in. Developers noted that this had to do with packaging of the seats themselves, in order to accommodate a collapsible sliding function into the back row. Accessing that third row, even as an adult, is as easy as pulling on the handle located on the right side of the second row passenger seatback. The action pulls the seat forward as it simultaneously collapses, exposing a passage to the furthermost seats. This can only be done on the right side, AKA, the curb side. AKA, the safe side.
In-car apps are becoming evermore popular, and Chevrolet, along with other GM brands, are leading the charge. There are integrated in-car apps such as Pandora and The Weather Channel. This is different than in-phone apps emulating off of Apple CarPlay or Android Auto, which is also there. This is bona fide integration into the vehicle's operating system. That said, we were left wanting more. Even though Pandora is now integrated, it's not controlled via voice commands. Which means if somebody wants to change a station, they need to manually toggle and scroll along the touch screen. Which, realistically, means taking the eyes off the road. Which, realistically, is no better than using a phone while driving. People may think it's trendy to have a tablet for a center console, the fact remains that it is still a distraction. And maybe that's why collision avoidance alert is present in the 2018 Traverse, which activates with a force of .3G. That's the same as a Chevrolet Bolt EV in "L" mode. That rate isn't exactly a brake-standing maneuver. In short, if you're expecting and hoping for active collision systems to bail your inattentive ass out of an inevitable accident, don't. Pay attention. Drive. Also for the absent minded is the standard Rear Seat Reminder alert, so as to avoid leaving pets or children baking in a hot car.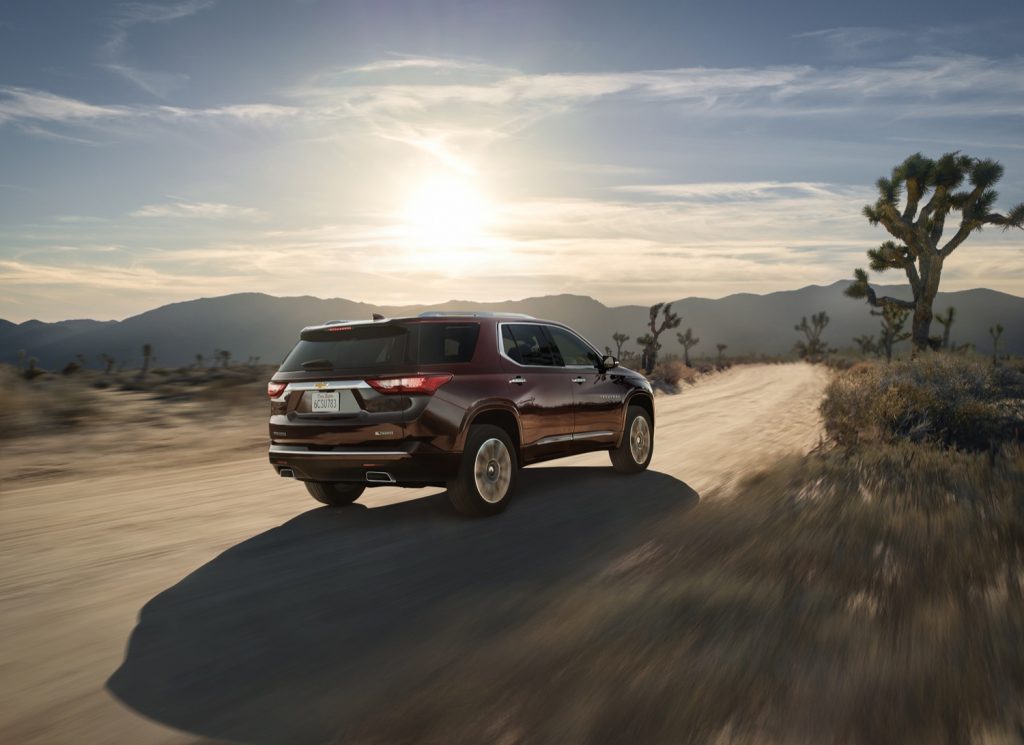 Enough saltiness. Going back to the beginning, we brought up the Traverse's larger kin, and there's been no shortage of hot takes out there as to whether or not the Traverse can swim in these newfound deep waters, where the sharks have bigger checkbooks and stronger preferences. Where the Tahoe and Suburban have routinely dominated. It won't just come down to wants and needs, but also content. And despite my qualms about some premium features missing from a premium trim level, the 2018 Traverse still emerges ahead on content of the Tahoe and Suburban, dollar for dollar. The entry point of a Suburban is over $54,000 (Escalade money roughly 10 years ago), with no options checked, which is even pricier than highest-end Traverse. So really, it's not so much about how the 2018 Traverse compares to other vehicles within the brand as much as it is an engineering quantum leap ahead of the old one in terms of horsepower, fuel economy, towing and space efficiency. So, unless you *need* a V8 or you *need* to tow 8,000 lbs, the 2018 Chevrolet Traverse does command more curb appeal, not just in MSRP, but in the overall interior packaging, supple road manners, and the latest technology. And it's on sale, right now.
Further Reading:
Sweepstakes Of The Month: Win a Corvette Z06 and 2024 Silverado. Details here.
We are currently looking for experienced automotive journalists and editors to join our team. Make $60k-$80k per year doing what you love. We are also looking for an experienced web developer.
See details here
.