2017 Chevrolet Colorado ZR2: First Drive
We are currently looking for experienced automotive journalists and editors to join our team. Make $60k-$80k per year doing what you love. We are also looking for an experienced web developer.
See details here
.
0
100 years ago, there lived a certain oligarch named John D. Rockefeller. One of America's first billionaires, and one of the biggest influences on how the United States of America took shape. The latest and greatest luxuries of the time were within reach of his two-piece rotary dial phone. And very few humans could afford to travel from coast to coast at the time, let alone own properties in both New York and California. But of course, ol' Rocky had such real estate, and could travel on the train to get there. Which took days, and there was no air conditioning. But there was a bar car. For 1917, this was cutting edge. These were privileges afforded to the few.
Then airplanes were commercialized for mass travel. And eventually that travel became faster and more affordable, and faster still. And then nearly everybody eventually could afford a phone. And then a television. And a car. Two cars, even. The standard of living continued to rise. And while Rockefeller and company were still enjoying greater abundance, and next-generation products, items that were once so unobtainable became household and everyday. And then better and better still.
John D. Rockefeller, said to have amassed nearly $400 billion in today's money, never did fly from JFK to LAX in five hours, never used the internet at 36,000 feet, or when he eventually got there, never used a mobile device the size of his whiskey flask to order a ride to pick him up from the airport. Nor was he able to grab freshly made out-of-season Indian food on the way to the air-conditioned hotel. While listening to the international ambient mood Spotify channel through bluetooth headphones. But we can do all of that today, for just a few hundred bucks.
Just the same, a certain spool valve damper technology has found its way from Formula 1 racing cars – the spearhead tip of automotive motorsports – into an unassuming Chevrolet pickup truck. An interpretation of the everyday American, shaped into metal, tires and combustion. A technology once only reserved for the deepest of pockets, no longer. This is the automotive epitome of trickle-down. This is the automotive equivalent of the gradual, ever-rising standard of living.
Without question, the standout core competency of the 2017 Chevrolet Colorado ZR2 are the much-talked about Multimatic DSSV dampers. Which are not over-hyped in the least. Moreover, their genius reveals itself an area you may not expect. Not off the road. But on the road. Chevrolet could have lied to us, and could have said that they fitted the Colorado ZR2 with its silky smooth magnetic ride control technology, instead of the DSSVs. We'd wager that 100 percent of the media in attendance of this drive event would have believed it. The ZR2 behaves that well on the tarmac. Even better than lower-level models without the 2-inch lift and 31-inch Goodyear Duratrac tires that properly bestow the ZR2.
You'd expect that such an impressive piece of kit would cost Rockefeller-income dollars to replace. And you might be right, though Chevrolet remains quiet on how expensive those DSSV dampers really are. To that end, however, the Multimatics come with their own 3-year, 36,000 mile warranty.
Every other off-road-oriented sport truck suffers with some form of compromised on-road ride and handling for the sake of off-road capabilities. From what we experienced, that's just not the case with the 2017 Chevrolet Colorado ZR2. Aside from a dive in fuel economy (removing that lower front fascia for the sake of a better approach angle does indeed hinder aerodynamics, to the surprise of nobody), the Colorado ZR2 makes for a perfectly fine everyday truck. The amenities are all there. Leather, 8-inch infotainment screen, OnStar 4G LTE wifi, CarPlay/Android Auto – check, check, check, check. And it comes in two engine flavors, 3.6L V6 gasoline, or 2.8L Duramax diesel. Also, two cab configurations, and two box configurations. And all of those creature comforts can now go deep off the grid with the ZR2.
In the shadow of the mesas surrounding Gateway, CO is a baja course. Which made for the perfect setting to see how well the ZR2 could jump, slide, drift, brake, and maintain control while doing all of it. In the interest of nothing breaking, we had one of GM's ride and handling engineers riding shotgun, guiding us through the dirt track, and calling out the speeds to hit the jumps. Our fastest jump we were allowed was around 40-45 miles per hour. The results of which provided the featured image of this story. We preferred the finesse and horsepower of the 2017 Colorado ZR2 V6 over the Duramax model in this scenario. And while the Goodyears performed sufficiently around the course, the standout was how well the suspension system stabilized the ZR2 upon landing. Virtually no drama, to the point where the senses are occasionally tricked into falsely anticipating some sort of violent rebound or yaw, which just doesn't come. And as a testament to the durability of the ZR2, the same trucks were romped on for five days straight, roughly five hours each day, without any of them being retired or a part being replaced. Idiot proof? Nothing is, but the ZR2 was surely showing signs.
While be brought our own GoPro camera to capture the action, we strongly believe that the Colorado ZR2 could also benefit from the same Performance Data Recorder system currently seen in the Corvette, and Camaro SS 1LE and above. Both a baja course and a rocky trail would provide the perfect setting for such as system. At any rate, one should still bring their action camera.
Within the breathtaking vistas surrounding the remote location of Grand Junction, CO, there are no shortage of remote trails to get lost in. Muddy trails, dusty trails, rocky trails… some with predatory wildlife and some without. Most of our experience out in the field this time was in the area known as Bangs Canyon (which I endearingly mistook for Tatooine's Beggar's Canyon, but that's somewhere far, far away). Within the canyon itself lays a network of ORV pathways that tested both the ZR2's off-road tactfulness and practicality. There were boulder-festooned trenches that would have halted a larger truck, like a Ford Raptor, dead in its tracks. Beyond that was a set of natural stair formations set by running rivers from millennia ago, that highlighted the usefulness of the standard steel skid plates and electronically-locking rear and front differentials, which the Toyota Tacoma TRD Pro doesn't have. Conveniently, the Colorado ZR2 features an exclusive off-road display that can be toggled through the instrument panel, showcasing the vehicle's drive mode (such as 4L or 2H), whether or not the differentials are locked, and the angular motion of both the truck's pitch and roll – a clever tool to monitor just how steep the ZR2 is leaning or climbing through a rocky course.
By far, the most challenging part of the trails were the stairs. We had a spotter at every step, pointing which way to turn our wheels, and when the next event was imminent, such as trekking over a rock. Without the spotters, we would basically be driving in Braille. Visibility, frankly, was lacking in this scenario. A front-mounted wide-angle camera positioned somewhere around the grille could have done wonders to fix the visibility issues that are inherent with the traditional shape of a pickup truck. GM already has surround-vision hardware on select vehicles, and hopefully, someday, the Chevrolet Colorado ZR2 will eventually benefit from it. Despite this, it's important to mention the amount of control the ZR2 manages to exhibit, especially when descending down the stairs. Some trucks – especially those of the aftermarket variety – tend to jiggle and jostle as the suspension systems attempt to dissipate the impact, as the wheels spill forward from step to step. Once again, not so with the ZR2, which exhibited firm and calculated body control.
Personally, we believe the Colorado ZR2 wasn't even breaking a sweat, even after 3 hours of intermediate rock crawling around Bangs Canyon in 85-degree high-desert heat – which they have been doing all week. Hell, we didn't even air down the tires, as one normally would when off-roading. All of which is testament to how well this truck can handle in its element. For a stronger demonstration on what the truck can really do, check out how it navigated the Rubicon Trail. While this Chevrolet can indeed Find New Roads, it could also make them.
While our V6 extended cab ZR2 was a trooper through the turbulent and treacherous trail, the crew cab Duramax in front of us was scraping its exhaust pipe periodically. It could have been simply based on how its driver was navigating the course, but even the more aloof among us all agreed that the widened pipe, which disperses the extreme heat induced by the DPF system, is prone to scrapes and bumps. Which is ironic, as the superior low-end torque of the 2.8L diesel engine makes for a better rock-crawler than the gasser ZR2, even with the extra 400-ish pounds of extra nose weight. But you wouldn't know it, based on how well the suspension system was re-tuned for the Duramax compared to the V6.
Even lower than the exhaust pipes are the shock mounts. Even if the body of the ZR2 hovers over two feet off the ground, it seems with an eye-ball's guess that those mounts cut the total clearance virtually in half. What good are those wonderful Multimatic dampers if those brackets beneath bust? And how pretty would those unique wheels be if they were rubbed and rashed on the rocks? A point that brings us back to the interior.
The cabin of the ZR2 can be considered luxurious compared to what else is in the segment. But in this case, maybe too luxurious? If used right, all of that standard leather and technology will be constantly covered in crud. Long-term, that could cause concern for the more hard-core adventurers that seek out a domestic 4×4 trail truck. And, unlike the brodozer image of the Ford Raptor, something tells me that people that buy this truck will actually put its intended functions to use. Raptor for show, ZR2 for a pro, as they say. Somewhere. Probably.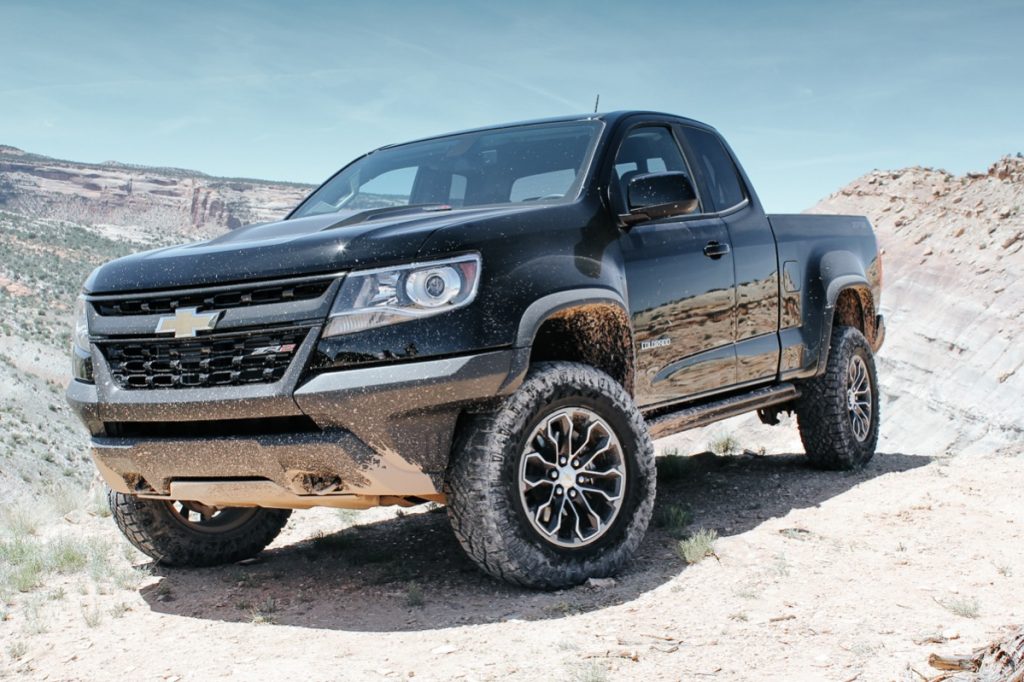 Realistically, however, the $41,000 Colorado ZR2 only draws comparison to the $50,000+ Raptor because it's the only other domestic off-road option right now with a truck bed. But, somebody could make off with two base Colorado ZR2 trucks for the same price of what some Ford dealers are upselling Raptors for these days.
Realistically, the Colorado ZR2 is in the same punching class as the Toyota Tacoma TRD Pro. Which has a weaker engine, has a higher starting MSRP, less interior refinement, and no trick suspension system, or front-locking diff, compared to the Chevrolet. Though, the Tacoma does benefit from a strong network of aftermarket support – which matters – a standard manual transmission (it matters!), and its churlishness likely comes with cheaper replacement part bills. Which also matters. But as such enthusiast segments go, pulling a customer from a Toyota TRD and placing them in a Colorado could be as challenging as getting a Mustang buyer to go Camaro. Chevrolet could have better luck attracting newcomers to the segment and growing the market space, over scrapping with Toyota for the same slice of the pie here. And the fight is just getting started.
Waiting in the wing is Jeep with its anticipated Scrambler pickup. And Ford again with the upcoming Ranger, and rumored Ranger Raptor. With that in mind, the 2017 Chevrolet Colorado ZR2 has the advantage of being first out of the gate in what is sure to be the next truck title bout to come. It's a great time to be an off-roading enthusiast. More importantly, we can forget about Hummer now.
We are currently looking for experienced automotive journalists and editors to join our team. Make $60k-$80k per year doing what you love. We are also looking for an experienced web developer.
See details here
.