2017 GMC Sierra 2500 HD All Terrain X: First Drive
1
The 2017 GMC Sierra 2500 HD All Terrain X looks like something a commanding officer of Blackwater would drive. Equal parts imposing and tactical. Equal parts prepared and capable. It doesn't have to come in all Onyx Black (it comes in Summit White, too), but maybe it should. For the All Terrai X package, the door handles, front and rear bumpers, and bodyside moldings are all monochromatic, while the belt moldings, front bumper skid plate, and B-pillar accents are black as night, even if white is chosen as the primary color. It also adds exclusive wheels, also black, and off-road tires, plus a metal sport rack that mounts accessory LED lights. The off-road-inspired package (which remains absent from the GMC Sierra HD configurator and pricing tools) also sits on top of the GMC truck hierarchy, above the Sierra 1500 All Terrain X, and the even smaller Canyon All Terrain X. Key word: "inspired."
The problems arise when the 2017 Sierra HD All Terrain X is treated like a more legitimate bona fide off-road truck, such as a Ram Power Wagon. While the tires are plenty aggressive from the factory, the suspension setup of the Sierra HD All Terrain X remains far too stiff to properly absorb the imperfections of even mild trail undulations. Thereafter the tactically-themed truck takes to the tarmac, and the tires tumult the muted interior.
I promise there will be no more alliteration today. But seriously. Road noise. Which, hey, is expected in this case. There's only so much getting around the NVH of 275/65R18 Goodyear Duratrac tires, which are MT (Mud Terrain) rated.
There were a couple moments while off-road-testing the Sierra HD All Terrain X that remain in memory. Traction control was off the entire time, because opening up a 910 lb-ft can of whoop ass on the dirt was instinctively the right thing to do. Yes, this thing came with the new 445 hp, 910 lb-ft 6.6L L5P Duramax V8 engine – a $9,550 option. At full chat, the slithering back end, combined with the churning of a massive turbocharger and gargling clacks of the L5P Duramax, is nothing short of intoxicating. Yet sobriety kicked in when the first cluster of bumps passed underneath the tires. At some points my passenger and I were sprung out of our seats, because those HD shock absorbers are designed to withstand thousands of pounds of ballast. Even if they are twin-tube Rancho shocks. Keep them unladen, and they remain imperviously stiff. It became clear that if I didn't want to turbulently trail this truck (I lied about no more alliteration), I would have to keep speeds to a near walking pace. Not that 25 mph was recklessly quick to begin with, but alas. In the unlikely case that this truck does bottom-out, the All Terrain X package features some underbody skid plate protection, including for the DEF tank and transfer case, according to GMC.
Just like its more pedestrian-looking brethren, the 2017 GMC Sierra HD All Terrain X comes equipped with an exhaust brake. Primarily designed for towing, the exhaust brake can alternatively be used for hill descents, as it was perfect for controlled, low-speed downhill maneuvers. This feature, combined with the aggressive tires, helped ensure stability through the high desert of Paradox, Colorado. And of course for the uphill, there's that beautiful L5P Duramax.
Lastly, we negotiated a small trench. Likely carved by prehistoric rains or something. Seemed shallow enough for the dinosaur-sized Sierra. If not for that damn air dam. Twice it scraped, both times crossing through. Put there in the name of aerodynamics, that nefarious piece of plastic can quickly become a buzzkill during the off road party you'll try to have. And it was too bright out to see how well the overhead lights worked.
All that being said, we can see the 2017 GMC Sierra 2500 HD All Terrain X being a godsend on the road during a blizzard. Those MT-rated Goodyears, 4×4 and all of that heft could be the perfect roadside snow rescue vehicle. As we've experienced once before, a base Sierra HD treated us well in white-out conditions. Maybe someday we'll get the chance to see if we're right about the All Terrain X. Snowy Northern Michigan is always tempting. Plus, on the inside, there remains all of the familiar amenities that we know and love from GMC trucks, including some new ones such as Teen Driver, OnStar 4G LTE WiFi, Android Auto and Apple CarPlay. So even if we'd ever get stuck, we'd be stuck in comfort.
The drive back to Telluride, Colorado felt not much different from driving a base 2017 GMC Sierra 2500 HD. Which is to say that it's well mannered, stable and easy – save for the added road noise, as mentioned before. These big things are built for long hauls, and soak up the miles like any other GT car with the kind of admirable grace that an oversized orca possesses, gliding through the water.
If it were up to me, and if I did own a 2017 GMC Sierra HD All Terrain X, I would immediately figure out how to soften (replace?) the suspension system for superior shock absorption, and I would also look into removing the front air dam, as well as fortifying the crucial DEF tank mounted underneath the truck. Then again, it's unfair to treat an appearance package as a purpose-built rock crawler truck.
Nevertheless, I look at the sport rack, the mounted accessory lights, and the black wheels… and just… damn. If only. If only the GMC Sierra HD All Terrain X was more than an appearance pack. If only the Sierra HD All Terrain X performed off road as well as it looked. GM has the hardware, and the checkbook, to make it so. But for those that prioritize aesthetics over everything, the All Terrain X is one of the best styles available from the factory.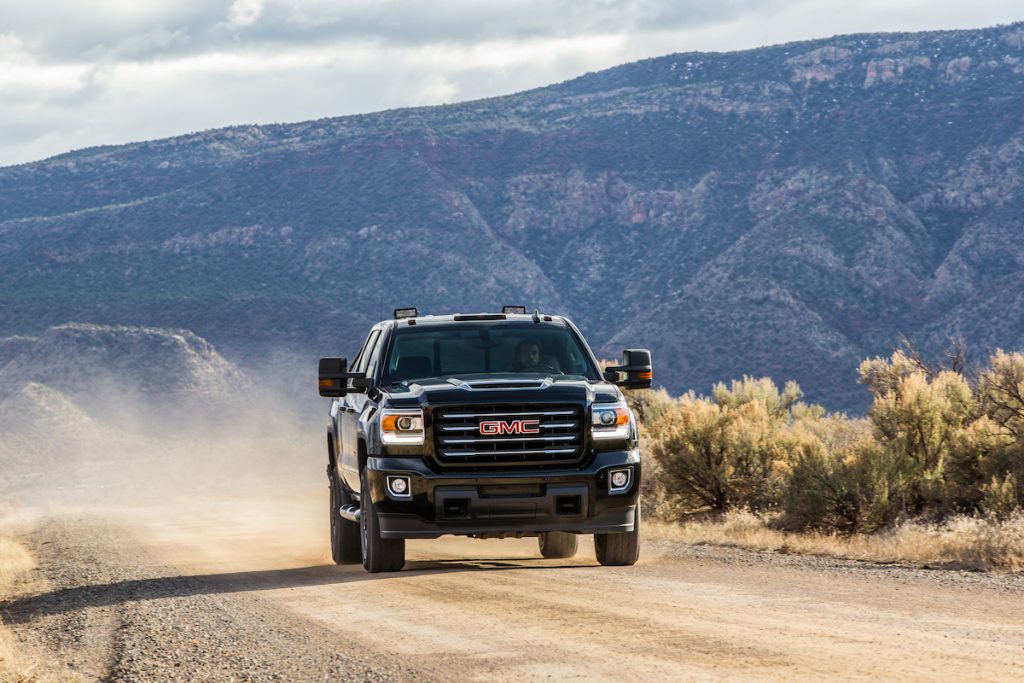 Sweepstakes Of The Month: Win a Corvette Z06 and 2024 Silverado. Details here.
We are currently looking for experienced automotive journalists and editors to join our team. Make $60k-$80k per year doing what you love. We are also looking for an experienced web developer.
See details here
.