2017 Cadillac XT5 V6 AWD: First Drive
We are currently looking for experienced automotive journalists and editors to join our team. Make $60k-$80k per year doing what you love. We are also looking for an experienced web developer.
See details here
.
7
These days, if a luxury brand doesn't have an entry into the the crossover space, it's more than just a missed opportunity. It's downright stupid. Currently, the 2017 Cadillac XT5 represents the only crossover offering from America's premiere luxury brand, as the marquee shifts its future product programs into high gear with crossovers being the primary focus.
Lighter, more maneuverable, more luxurious and with more advanced technology than the Cadillac SRX it replaces, the 2017 Cadillac XT5 is a welcome, modern entry in the the cutthroat foray of luxury crossovers. A vehicle that was going on six years old in a highly competitive midsize crossover segment that takes no prisoners.
By design, the Cadillac XT5 doesn't match up pound-for-pound directly with German competitors like the BMW X5 or Mercedes-Benz GLE. Rather, the XT5 pairs better against more volume-oriented models such as the Lincoln MKX, Lexus RX, Acura RDX and Infiniti QX50. And with a starting MSRP of $39,990, the Cadillac XT5 is more in line with the premium Japanese and American SUV models rather than the more expensive German ones.
We spent a week with a 2017 Cadillac XT5 AWD with the Premium Luxury package, which adds crucial niceties such as a Bose 14-speaker sound system, panoramic moon roof, integrated CUE navigation, gobs of parking and driving active safety sensors, 20-inch wheels, and LED headlights with Intellibeam technology (which is fancy talk for "inappropriately flashes up the brights when it feels like it," but it is defeatable). The going rate for this package is $54,390. Options totaled less than $2,500 and included special exterior paint and wood trim options, each $995, and (oddly) a $350 compact spare tire. In total, the 2017 Cadillac XT5 AWD Premium Luxury was $57,725 as tested. It may sound like a lot, but it's also near the entry level for a Benz of near-equal size. In our opinion, nobody should ever get the entry-level anything.
With a 3,985-pound base curb weight, it's heavier than both the Infiniti QX50 and Acura RDX, though a few inches longer. Meanwhile, the Lexus RX is slightly longer and heavier than the XT5, with the Lincoln MKX squeezing in between them. Proportionally, the XT5 strikes a happy medium from the outside.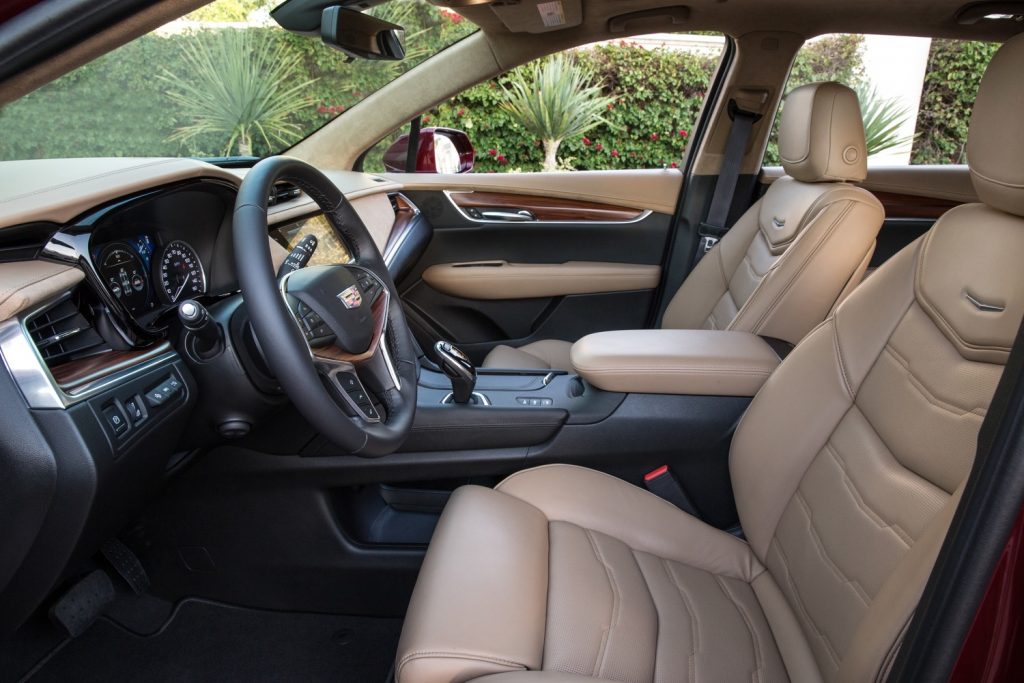 Yet, all of that means nothing, because technical measurement numbers and power-to-weight ratios are not things that move the metal in this class. These are high-selling (and profitable) fancy toasters we're looking at here, so in the honor of being pragmatic, the XT5 deserves to be looked at under that lens, constantly coming back to the question of whether or not if it's a well-executed appliance.
If you're looking for a more enthusiastic SUV from Cadillac, one with a RWD-based platform and drivetrian as the automotive gods intended, you'll have to keep waiting. Moreover, some of you may not like to hear this, but Cadillac needs the kind of vehicle that the XT5 happens to be. And it needs to be successful. Without a strong lineup of crossover SUV models in the brand portfolio – of which the XT5 is currently the sole offering outside of the monolithic Escalade – then we're less and less likely to see more fun things from the New-York-based brand. Expanding the V-Series lineup and launching halo vehicles like a proposed mid-engine supercar does not happen without the funds generated from volume-oriented models. Especially as Cadillac moves towards reporting its own finances outside of General Motors.
Back to the ins and outs of the XT5. Is it better than the SRX it replaces? Oh, yes. Far and away. Benefitting from an all-new, ground up design based on the new GM C1XX platform, the XT5 rides better, is quieter and feels more agile than the discontinued SRX. The interior has some cues that can be found in the opulent and athletic CT6, with a revised CUE infotainment unit placed into the center console. The user experience being less aggravating than the all-buttonless system it replaces. Cadillac still has a way to go before its infotainment systems are entirely driver-friendly, though, if you ask my colleagues and I. Yet progress is progress. And there's always convenient redundancies such as the steering-wheel-mounted buttons for tasks such as volume and preset scanning.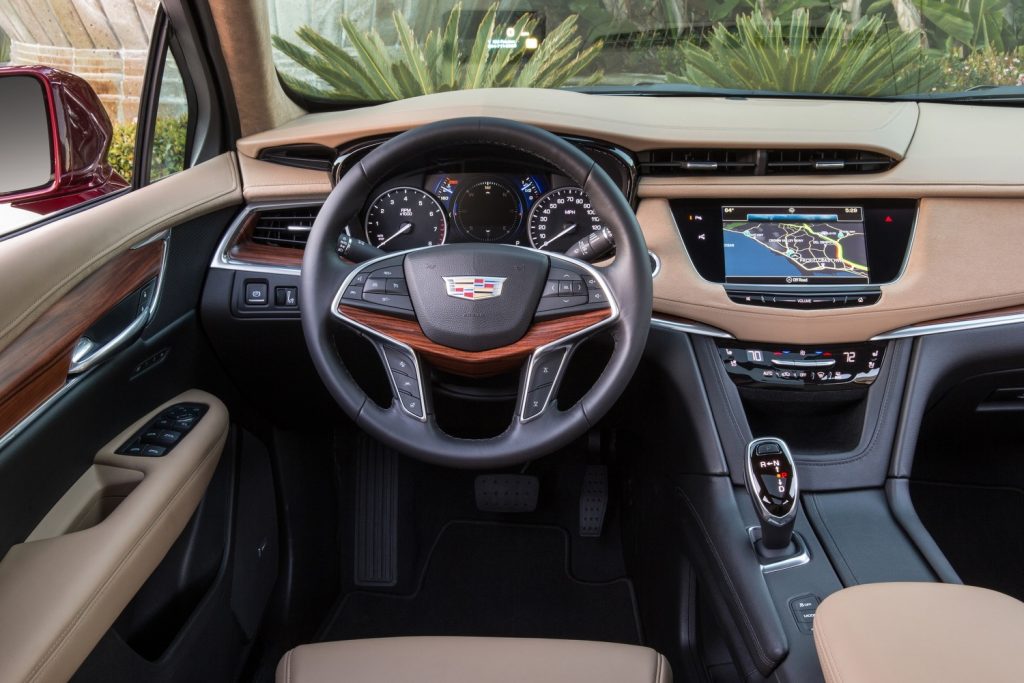 Beyond the CUE system is a (mostly) well-appointed interior. The immediate impression is how minimal and focused the layout is, with no excessive buttons or clutter, and plenty of space for everything to breathe, including the occupants. The steering wheel, shared with the CT6, is wonderfully plush when handled, and the wood trimming is fanciful throughout the cabin. The seats are full of detail and provide plenty of support. The rearview mirror camera system is also a neat segment exclusive that's sure to wow some tech-oriented buyers, as will features like Apple CarPlay and Android Auto. There's also a tailor-made wireless charging phone slot that largely swallows the entire device except maybe the last centimeter or two, just so you remember it's there. Contrasting the positives is a liberal use of plastics. Too much plastic for a Cadillac that was $57,725 as tested, in our opinion. Especially one that supposedly follows the hyped-up slogan of "Dare Greatly." The instrument cluster is also a tall glass of just okay.
Exterior-wise, the XT5 looks rather handsome from most angles, though on others, it reveals that the edgy design language Cadillac has become known for remains a tough translation onto the bulbous profile of a crossover. In the future, Escala-inspired design cues could change that, as we have shown with an Escala crossover rendering. Beyond the overall shape of the XT5, one can find several details around the body, such as bumper-integrated exhaust tips and a meticulous grille that is unmistakably Cadillac, assuring onlookers that the sheetmetal was no half-assed effort.
The driving experience of the 2017 Cadillac XT5 also yields contrast. While we consider the XT5 to be fairly agile and balanced-feeling for a non-performance midsize crossover, the devil is in the details on a mechanical level. The new drive-by-wire system could be more intuitive, specifically when selecting the reverse gear with a counter-intuitive upward and left motion. It's Cadillac's first go at such a design, and indeed, takes some getting used to. The positive trade off is now there's more space around the center console, as gear selector no longer needs the travel space required by a traditional shift lever. Thus making the console highly ergonomic to either rest a hand or place something like a venti latte in the cup holder without it getting in the way.
The electronic shifter controls an 8-speed automatic gearbox mated to GM's new 3.6L LGX V6 engine that puts out 310 horsepower and 270 pound-feet of torque – the sole powertrain offering for the XT5 in the US-market. There's also stop/start technology, which operates as seamlessly as possible, though it cannot be disabled like in the CT6. Between the start/stop, direct injection and active fuel management, the 2017 Cadillac XT5 AWD yields an EPA-estimated 18 mpg city and 26 mpg highway, which is slightly above average for the segment. It's kind of discouraging that the transmission can't match the smoothness of the start/stop tech. In a way, the 8-speed comes off as too computational, and feels like there was very little human calibration involved. Urban driving is not as pleasant as it could be, with awkward and sometimes delayed shifts happening during everyday occurrences like mid-to-low speed coasting followed by mid- to full-throttle acceleration events. Driving with full-stops and full-throttle acceleration, ironically, is when the transmission seems to perform at its best. Thankfully, the LGX V6 sports plenty of power and its rasp doesn't sound half bad. As time goes by, we're curious to see what kind of powertrain improvements or additions await the Cadillac XT5. A 2.0L turbo engine, perhaps? While that's likely, we're also secretly hoping for an XT5 hybrid.
We spent a week with the Cadillac XT5, and that week flowed through like water under the bridge. Because overall, the XT5 is an unoffensive take on the premium crossover that straddles a happy medium of not being too big, too small, too gaudy or too cheap. And like water under the bridge, it's by and large going to pass through the garages of well-off homes anonymously as the latest nice thing of choice until the next nice thing comes around. And Cadillac is gonna sell a bajillion of them. It's the crossover Cadillac needs, right now.
We are currently looking for experienced automotive journalists and editors to join our team. Make $60k-$80k per year doing what you love. We are also looking for an experienced web developer.
See details here
.