2017 Buick Envision: First Drive
26
The Buick Envision may be the most important product in Buick's lineup since it broke barriers a decade ago with the then-all-new Enclave 3-row crossover.
No, it's not the Avista. No, it's not the Avenir. Nor is it the return of the Grand National, or the Skylark. Truth is, these vehicles have a snowball's chance of ever emerging onto the market with the way things are, as much as we would like to see them. Yet, the Buick Envision is an overdue entry into the hottest automotive segment in America right now. Therefore, this C-segment crossover is a necessity for the TriShield's growth.
This may paint a bleak picture for the cynics, who may label the Chinese-built Envision as a rush job. But after sampling the 2017 Envision, both with the base 2.5L and turbocharged 2.0L engines, it's safe to say that the 2017 Buick Envision is just the crossover America needs.
From every Buick vehicle we have ever driven in the past decade, they all execute a trio of core competencies. They are: a comfortable ride, elegant styling, and being near-soundproof quiet. If you're looking for an athletic take on crossovers, look elsewhere. If you want one of those spindle-grilled rides with designs seemingly inspired by alien tech, look elsewhere. To Buick's advantage, many people simply want a spacious, soft means of premium transportation.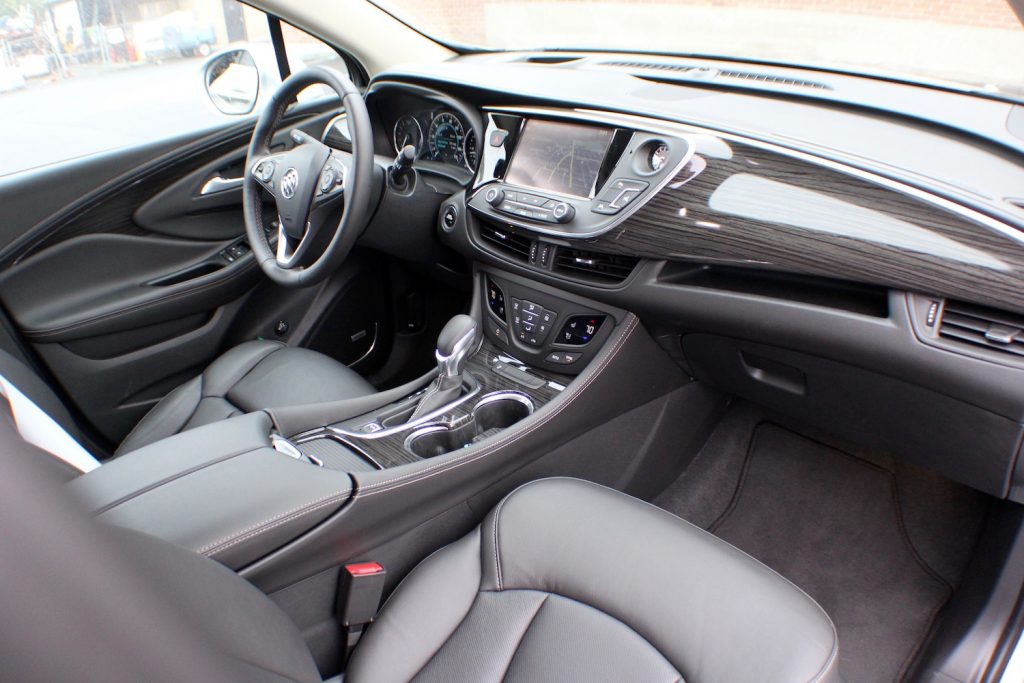 Simply being the passenger in the 2017 Buick Envision is refreshingly relaxing. The front seats are nearly memory-foam-plush, and there was plenty of cabin width as to where I never had to worry about my widened frame rubbing elbows with my co-driver, who was much taller than I. Personal space win!
In the second row, there was also an impressive amount of leg room, even sitting behind somebody who is over six feet tall. However, taller rear occupants may discover a lack of headroom, at 38.5 inches, according to Buick. The tapered roofline is likely aerodynamically influenced, which is the ongoing trend these days. My "average human" height didn't have to worry about it, but anybody over six feet seem to risk rubbing up on the overhead lining. Compensating for this are two USB ports and rear heated seats, which also recline, because this car was meant for second-row comfort by design. Even more impressive, even with all-wheel-drive, the 2017 Buick Envision has a flat floor, meaning that it's absent of a transmission tunnel. Lastly, the trunk space stands at 26.9 cubic-feet with all the seats up, which equals to soooo many grocery bags. Even the cargo gets a personal space win.
The interior is modern in appearance, but we have to dock it for the feel of it all. The main culprit? Too much plastic, in our opinion. Since the conception of this very website, we've always believed that Buick deserves all the attention to detail that other luxury makes bring to the table, including Cadillac. At least on the higher trim levels. Maybe that will change someday, but right now, the MSRP on a loaded Buick Envision makes us want more attention to detail as it stands.
The MSRP of a highly-equipped 2017 Buick Envision with a 2.0L turbo and all-wheel-drive will come to a surprise for many of you – it's nearly $50,000, and can creep into the mid-$50,000 range with just about every option box ticked. It's not alone, however. A loaded Lincoln MKC can also come within the mid-$50,000 bracket. Japanese makes field similarly priced crossovers, and German luxury CUV entries are even more expensive when optioned out. This is the reality for the compact luxury crossover market, and we don't think the pricing is going to affect the pent-up demand for this crossover, which starts at $34,990. Buick may not have the cache of a Mercedes-Benz or a BMW, but then again, with its messaging as an including and approachable brand, the 2017 Envision is not looking for that kind of attention.
The 2017 Buick Envision offers two powertrains, each with start/stop tech: a 197-hp, 192 lb-ft 2.5L four-cylinder base engine, and a 252-hp, 260 lb-ft 2.0L turbocharged four-cylinder for those looking for a little more spunk. They'll do for 99 percent of buyers, and to that end, Buick's Quiet Tuning magic does a great job of hushing the NVH levels of both powerplants, each mated to a six-speed automatic transmission. These days, with some entries sporting dual-clutch units and others with more gears, the six-speed doesn't come off as cutting edge in the American market. Making us forget all of that was our experience of it being a rather smooth operator, and a smart one at that. We always found ourselves in the right gear on every hill we were climbing, as it held revs all the way up and over the undulations on our driving route between Albany, NY and Pittsfield, MA.
On the more advanced side of things is the 2017 Envision's optional twin-clutch all-wheel-drive system on Premium level models, which provides a variable torque split of the engine's available twisting forces – up to 24 percent per wheel – based on where the traction is. Sounds handy for the snow, if you ask us. Also aiding in the ride-and-handling department is a HiPer Strut front suspension system on 2.0T models, which does a damn fine job of minimizing torque steer when putting the pedal to the floor. Stopping the Envision took some adjusting with a spongier brake feel than expected, and the steering weight was a little bit lighter than we wanted it to be. The Buick Envision doesn't pretend to be an athlete of sorts, though, so make of it what you will.
On the tech side of things, the 2017 Buick Envision stands out with available OnStar 4G LTE – now with a signal strength indicator – two USB ports in the front, two aforementioned USB ports in the rear, a 12-volt outlet and a 120-volt plug. The optional sound system is a seven-speaker Bose audio unit, and of course, there's both Android Auto and Apple CarPlay. So not only is it comfortable, but the connectivity aspect will help keep those darned rugrats quiet in that second-row, or something like that. The overall tech is another shining quality of the 2017 Envision, as is the comfort aspect.
With the premium crossover segment being so saturated these days, it makes the sector one of the most perilous corners of the market. With that in mind, the 2017 Buick Envision is armed with its tried-and-true qualities of comfort, styling and quiet tuning to hopefully cut its way through the clutter. It should do fairly well, and we can't wait to see where Buick – a brand that has launched four new or refreshed models in the US market this year – goes from here.
Sweepstakes Of The Month: Win a Corvette Z06 and 2024 Silverado. Details here.
We are currently looking for experienced automotive journalists and editors to join our team. Make $60k-$80k per year doing what you love. We are also looking for an experienced web developer.
See details here
.