First Drive: 2017 Buick LaCrosse
45
"Segment leader" is a term Buick tossed around often during my two days with the 2017 Buick LaCrosse, and those are bold words for a contested class which borderlines on upscale and attainable luxury. It's a tough, yet flourishing market and Buick has managed to sell to 350,000 customers looking for just that.
I had reasonable expectations of the 2017 LaCrosse as I landed in Portland, Oregon. After digesting oodles of information during Buick's briefings on its reworked chassis, its 3.6-liter LGX V6 (which was engineered from the beginning to support stop-start) and interior awash with premium textures and materials, I knew it was going to be a solid car. But segment leader? That's bold, Buick.
I'm trying to convey that Buick, in the highest of ways, feels it has undoubtedly crafted a winning recipe here. So, has it?
A Tale Of Two Buicks
I chose a Quicksilver Metallic LaCrosse to begin my morning with the car, which featured the 20-inch wheel package complete with a five-link rear suspension and Continuously Variable Suspension with HiPer Strut, a front-wheel drive exclusive when paired with said 20-inch wheels and tires.
It's important to note there are two very distinct flavors of LaCrosse this time around. The 20-inch wheels and tires are more of the "enthusiast" pairing, combined to create greater capability in the twisty roads I took out to Astoria, Oregon on the coast. I use the word "enthusiast" lightly because this is no Camaro. But, this also isn't your grandfather's floating-on-clouds sedan, either. The 18-inch wheel and tire combo is a different vehicle entirely. More on that later.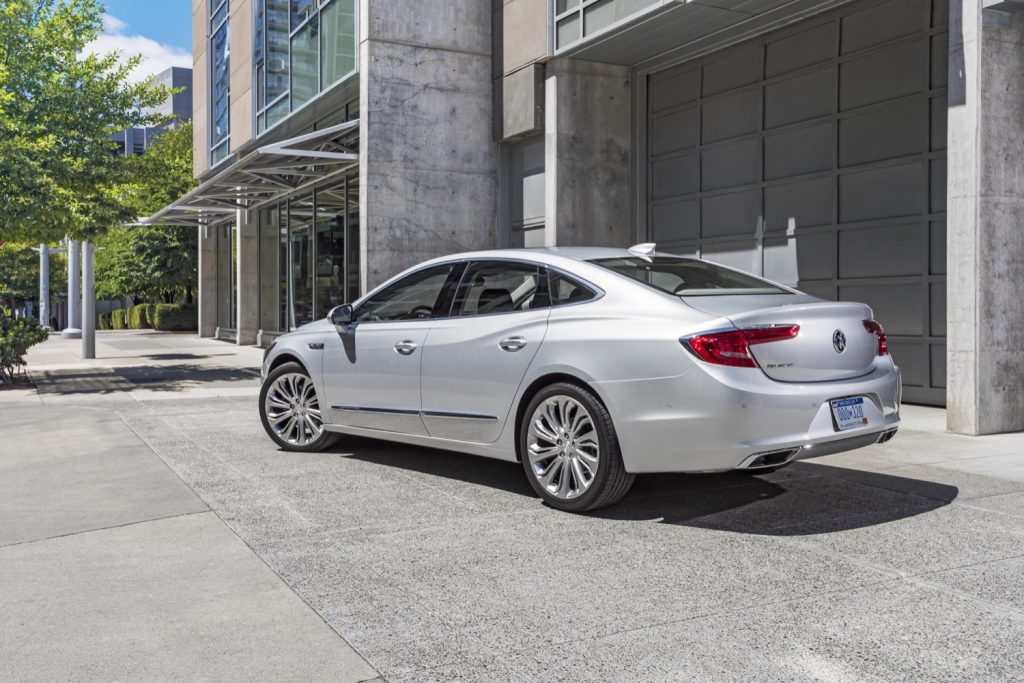 I found the 2017 LaCrosse to be surprisingly capable when pushed harder on some intense corners through Oregon's wilderness; this is also a place where shoulders don't exist. If you have an oopsie, you're in a ditch. Or over a cliff. Nothing positive.
Its big car size felt utterly shrunken from behind the driver's seat, something I very much appreciated. Here, I also tried the LaCrosse's new sport mode, complete with Buick's first application of steering wheel mounted paddle shifters. Surprisingly, the steering weighted itself accordingly. Maybe more so than I would have liked, but it didn't feel unnecessarily heavy either. Sport mode also held the eight-speed automatic's gear selection slightly longer.
Now, before we move into how the eight-speed and 3.6-liter LGX V6 get along, let's touch on the 18-inch equipped car.
After hours with the 20-inch equipped car, I found the 18-inch wheels and tires made for a stark difference in the car's behavior. I chose an Ebony Twilight Metallic LaCrosse, complete with all-wheel drive, which still retains the CDC system and five-link rear suspension.
Immediately, the car made it known it did not like being pushed through the corners as the 20-inch tires and wheels did. So, this car was a fun sucker? Yes. But, that's not the point of this pairing. That's really not the point of this segment, either.
Buick dropped the 19-inch wheel option for this generation and tailored the 18-inch wheels and tires for customers only concerned with getting from point A to B in the smoothest, quietest way possible. And that's fine, because it was whisper quiet, smooth and very comfortable.
Portland's relatively dry surfaces really didn't showcase the latest all-wheel drive system, but I'm sure it helped when I attempting to push the LaCrosse in ways it didn't want with a package engineered for comfort. It still stuck me to the road in a predictable manner every time.
On A Refrigerator-Sized Diet
But, the suspensions can't take all the credit for the LaCrosse's tame driving dynamics. Buick engineers dropped 300 pounds from the car, equivalent to one standard-issue Kenmore refrigerator. What does that do combined with very premium suspension components? Very good things.
Acceleration is quick, with the eight-speed dropping gears in a jiffy upon increased throttle input, and quickly selecting the highest gear once again for fuel economy. Once again, GM shows it knows how to tune its in-house eight-speed. Not once was I bothered by the transmission on the hunt for a gear or anything of the like.
The 3.6-liter V6 offers up 310 hp and 282 lb-ft of torque, which when combined with the car's weight loss, only helps make the nearly 3,600 pound LaCrosse seem even more snappy. And then there's the undefeatable stop-start system. Buick was adamant in noting this will be the best system on the market. From my experience, the brand has told no lie.
It's butter smooth at a stop light, and half the time I forgot the LaCrosse was equipped with such a system. Only the tachometer needle reminded me the engine was off. Start-ups were silky, too, as the V6 came to life each time, and the system never felt intrusive in the slightest. It doesn't need a defeat button. I said it.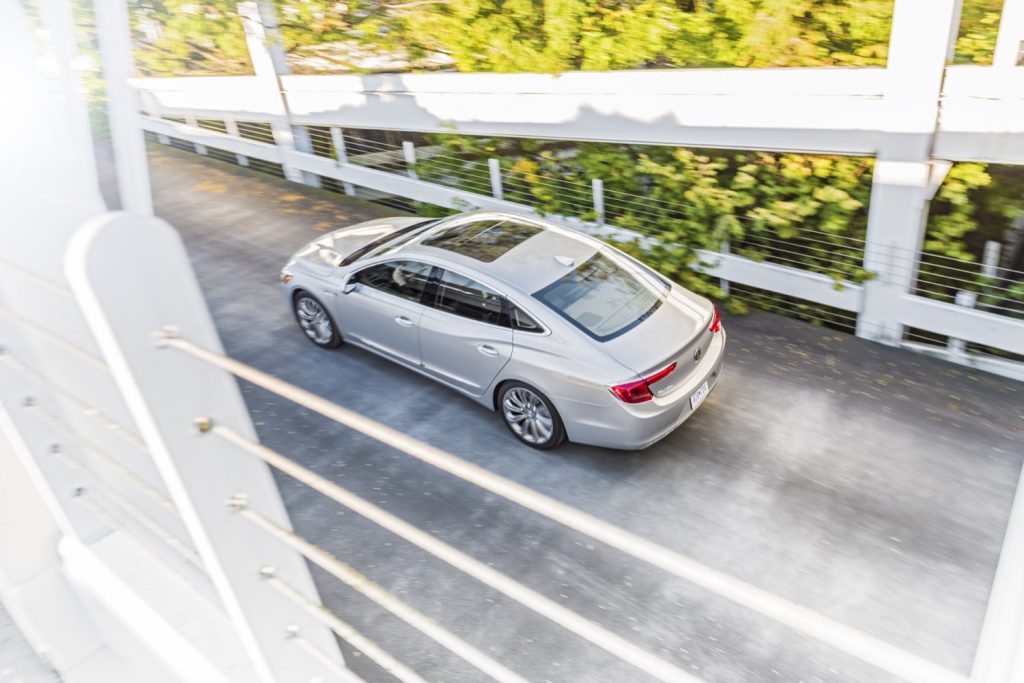 Storage, Style, Ergonomics And Stupid Comfy Seats
So, for all the good found on the engineering side of things, the design and materials must be a weak spot, right? I'm happy to report it isn't.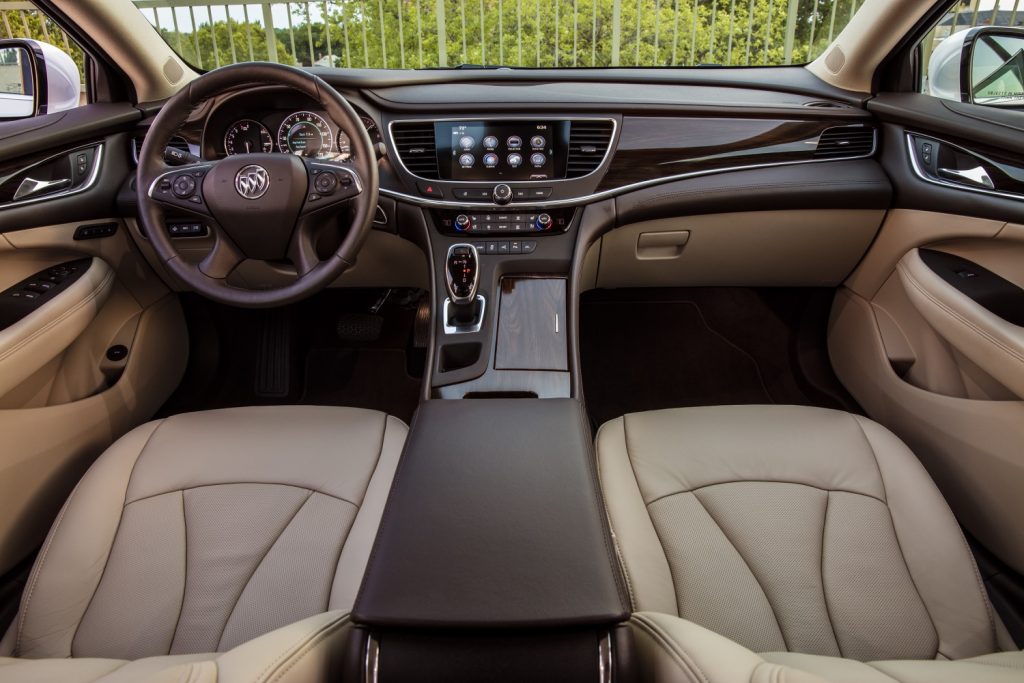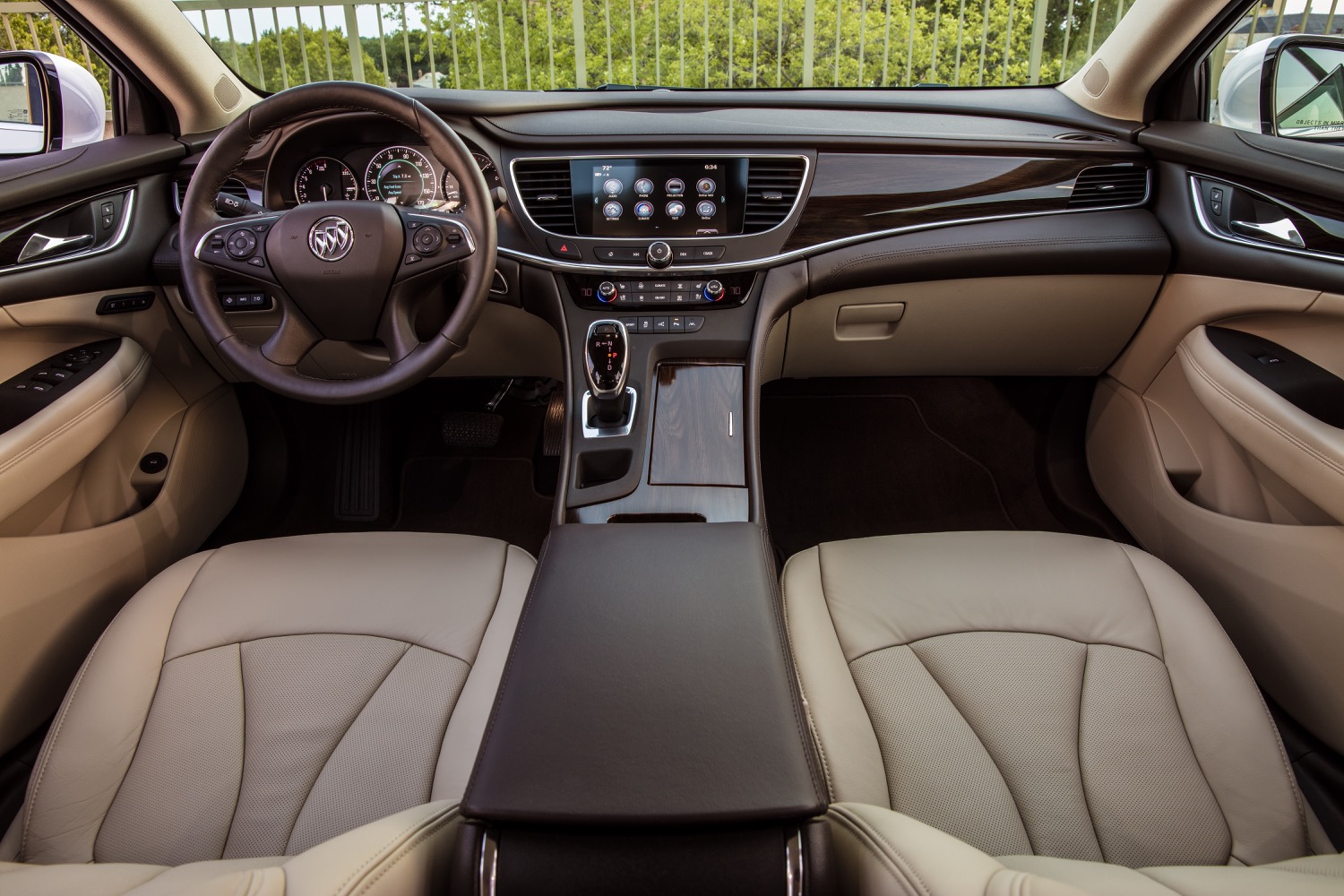 I was pleasantly surprised in both cars how well thought out the interior design was. There are multilayered surfaces everywhere with French stitching to boot. Particularly, my Ebony Black 18-inch-wheel equipped LaCrosse with the Brandy-colored leather was delightful to look at. Visibility is excellent as well. The rear's sloping roofline doesn't obscure the driver's rear outlook, and the B-pillar doesn't give you a stern "no" every time you attempt to check for traffic.
And the seats, oh my, the seats. They're incredibly comfortable.
Imagine your least favorite Buick from the 1990s. Great, now remember those cushy seats? They were unsupportive and looked awful in some ghastly color only the early '90s could birth. The 2017 LaCrosse's seats are those seats, except, they're supportive, look fantastic and can massage the driver and passenger. There's almost an indescribable sensation about how comfortable they were on a long drive; they're cushioned perfectly in all the right places, but never unsupportive.
And The Verdict Is…
Buick wanted to engineer and design a segment leader. What defines a leader? It does everything better than anyone else. It's no small feat, and the segment itself isn't engineered to be an exciting one. But, somehow, Buick has developed a comfortable, yet slightly engaging package that is quiet, utilizes its performance well and wrapped it in an elegant, timeless looking design.
If it isn't a segment leader, I think it's pretty darn close to being one.
Sweepstakes Of The Month: Win a Corvette Z06 and 2024 Silverado. Details here.
We are currently looking for experienced automotive journalists and editors to join our team. Make $60k-$80k per year doing what you love. We are also looking for an experienced web developer.
See details here
.