The Best Cadillac Concept Cars In 15 Years, Ranked (W/ Poll)
36
Over a heated, and still ongoing, email thread, there were casualties. The honor and dignity of grown men, soiled forever. All for a very noble cause, however. With last week's reveal of the Cadillac Escala Concept at Pebble Beach, we needed to figure out how it placed among other great examples of the Art and Science design language. Concept cars like the Cien, and the Elmiraj. The Sixteen and the Ciel. Each one of us had a different take on which Cadillac concept was the best design to come from the studio, to which one was a complete head scratcher.
With that said, the bar has been set extremely high here. Each Art & Science Cadillac concept is undeniably memorable, and even the oldest ones on this list continue to be brought up in conversation. From where we stand, if Cadillac in some way put into production every concept car from the past 15 years, the brand would be untouchable. Alas.
For the sake of Art & Science, our tarnished relationships as co-workers is but a small price to pay for (attempting) to put this debate to bed. And without further ado, amid much controversy, here goes:
4. (tie) Cadillac Cien, Cadillac Sixteen
On the Cadillac Cien:
"Hey, guys, let's put the back end of the STS on a cheese wedge." Everyone else: 'OKAY!" – Aaron (personally ranked it No. 5)
"The Cadillac Cien is a great early design study, and who wouldn't want to see a mid-engine supercar from Cadillac? Hopefully soon we actually get exactly that (20 years later?), but something like that has never really been a full representation of 'what a Cadillac is' compared to the flagship concepts, so it's hard to rank it higher." – Manoli (personally ranked it No. 4)
"Cool A&S 1.0 design study" – Alex (personally ranked it No. 4)
"Classic representation of luxurious optimism from Cadillac. Still breathtaking to this day." – Sean (personally ranked it No. 2)
"It's like a Bertone wedge without the 1980's flair." – Sam (personally ranked it No. 4)
 "If the Cadillac Cien is a wedge of cheese, then I'm a fat ass mouse."  – Francisco (personally ranked it No. 2).
 On the Cadillac Sixteen:
"Radical, out-of-this-world design with little production potential, even as styling cues. But hasn't aged that well." – Alex (personally ranked it No. 5)
"Stunning, but too far-fetched for my tastes." – Sean (personally ranked it No. 4)
"

Cadillac Sixteen

was like a real-life Hot Wheels concept when I was younger" – Francisco (personally ranked it No. 3)

"I feel that the Sixteen represents everything a Cadillac deserves to be – luxurious, imposing, and a 1,000 hp V16 to back it up. GM had their chance to make an American Bugatti Galibier, and passed." – Manoli (personally ranked it No. 2)
"Call me crazy, but I've never much cared for the Cadillac Sixteen. It looks comically, absurdly long, and the design reeks of arrogance and old money – more so than the other contenders, that is. I just picture my grandpa climbing out of the drivers seat to hit on a gaggle of twenty-somethings. Ick." – Aaron (personally ranked it No. 4).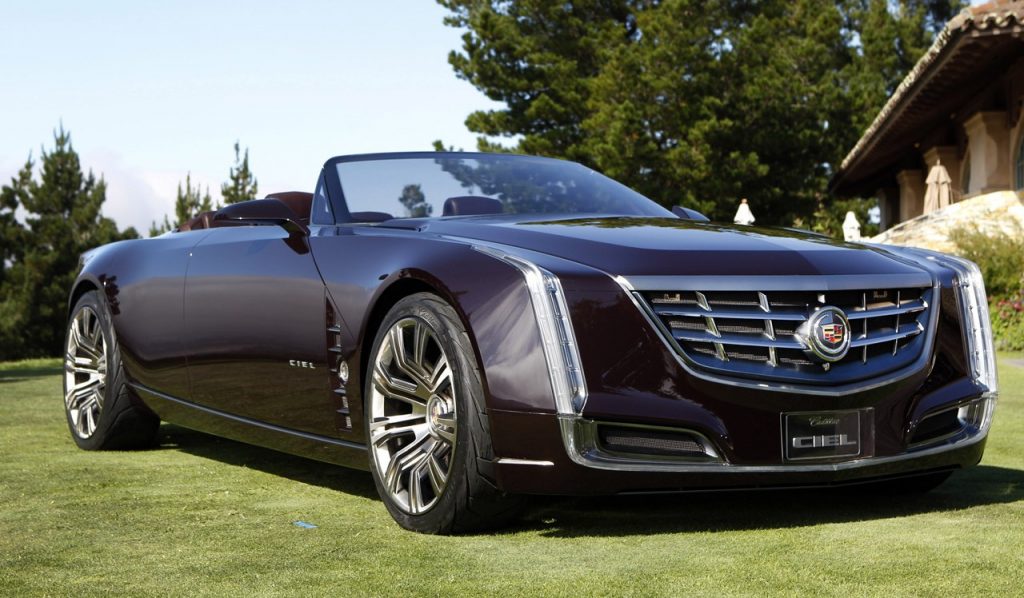 2. (tie): Cadillac Escala, Cadillac Ciel
On the Cadillac Ciel:
"I think the Cadillac Ciel is incredibly pretty, especially in person, but when it comes to other recent design studies, it just doesn't turn my head like the others do these days. This is only because team at the Cadillac design studio continued to outdo themselves. Yet at the same time, not quite as legendary as the mid-engined Cien or the outlandish Sixteen." – Manoli (personally ranked it No. 5)
"Incredible design with little production potential." – Alex (personally ranked it No. 2)
"One of the loveliest land-going yachts ever materialized, with good presence and posture, although its jaw is too square for my taste. But then, why yacht on the road when you could be yachting at sea?" – Aaron (personally ranked it No. 3)
"I only rank it third because of the more dated Cadillac fascia up front." – Sean (personally ranked it No. 3).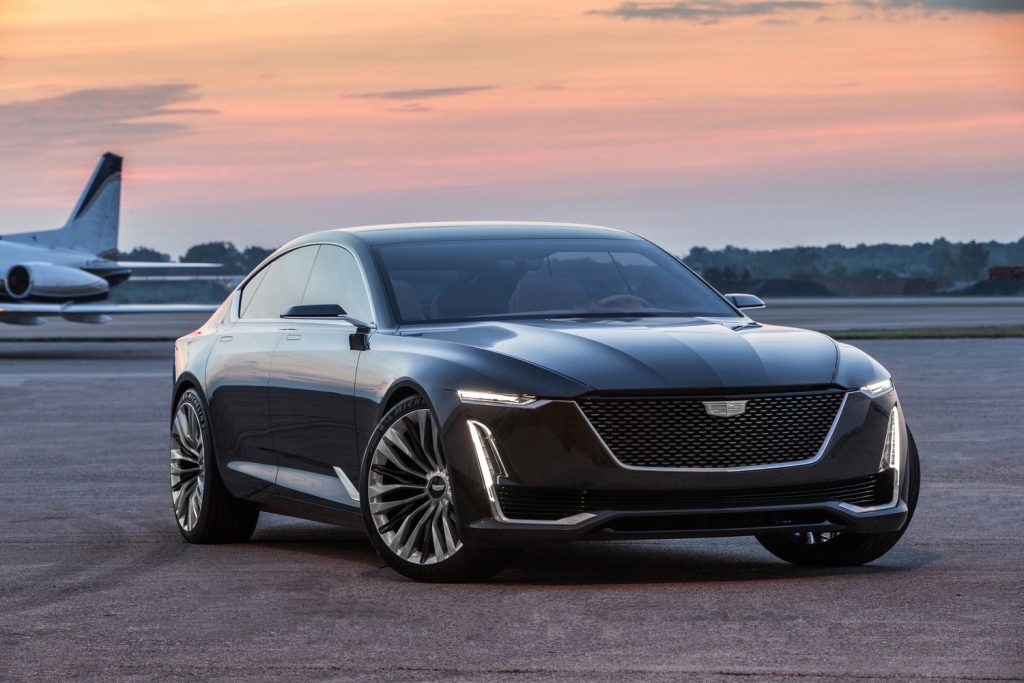 On the Cadillac Escala:
"It brings forth the brand's new design language that takes A&S to the next level." – Alex (personally ranked it No. 1)
"Gorgeous upon first glance, but unoriginal when looking for that special something to be a Cadillac. A step back from the Elmiraj in my opinion. Cadillac says it's distinctly American, but this seems more like a "me too" move. Especially from a brand that I think has its greatest competitive advantage in exterior design." – Sean (personally ranked it No. 5)
"A curvaceous and muscular sculpture, and a pleasing side profile provided by the sloped rear glass. I don't entirely care for the front fascia; were the grille smaller and the eyes less squinty, I might have liked it better." – Aaron (personally ranked it No. 2)
"The Escala looks like a Cadillac concept watered down by Lincoln cues." – Francisco (personally ranked it No. 4)
"I find the Cadillac Escala to be well proportioned and striking. Just not as original as either the Elmiraj or Sixteen concepts. And it looks as if they ran out of time/energy on the interior beyond the OLED screens, so that cabin won't age well. The 4.2L DOHC V8 powertrain may also be production intent, but predictable. It would have been more cutting-edge as a plug-in or full electric to me." – Manoli (personally ranked it No. 3).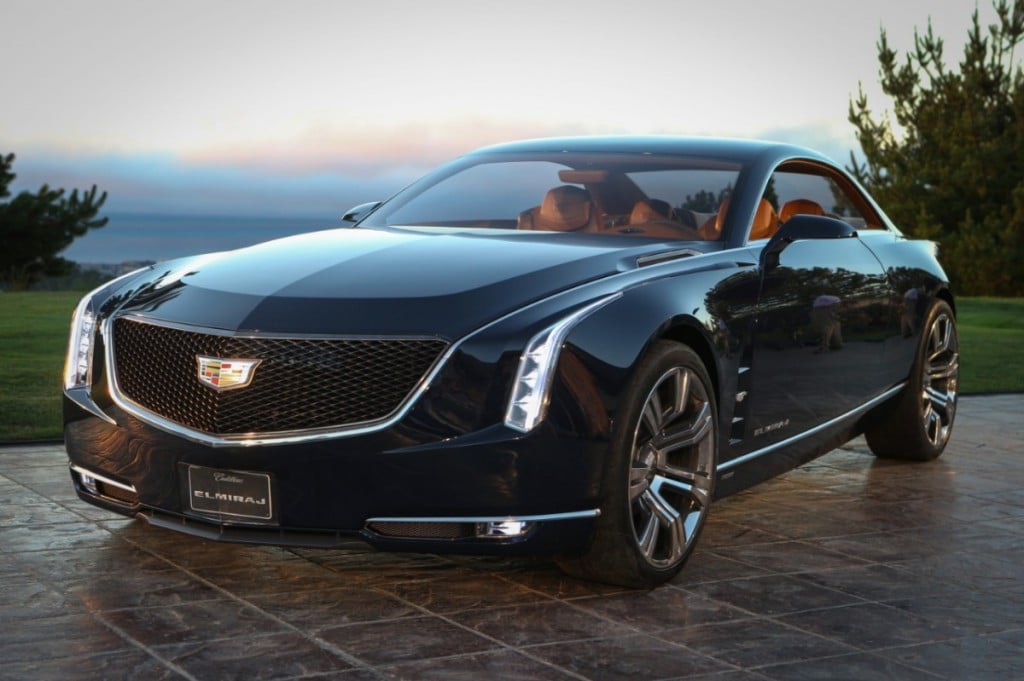 1. Cadillac Elmiraj
Aside from one third-place vote, everybody unanimously agreed that the Elmiraj is the best looking concept car to come from Cadillac, ever.
"Elmiraj absolutely embodies Cadillac design. It's bold, sleek, stunning. It's unmistakably a Cadillac through and through." – Sean
"Elmiraj is a last-gen Cadillac design application at this point, albeit with an awkward front end." – Alex (personally ranked it No. 3)
"Cadillac Elmiraj is far and away the prettiest thing on four wheels to ever come out of the design studio. The flagship coupe concept is simply incredible and embodies distintive traits that are uniquely Cadillac, inside and out. The only downside is that it never left the show floor." – Manoli
"Pillarless windows, subtle sculpture, yet a size and presence without bordering on the absurd. Cars these days tend to have so many hard angles. The Elmiraj has a few, but only in the essential Cadillac places." – Aaron
"There's a reason why nearly all of us voted for the Elmiraj as number one. It doesn't just look good from certain angles, it's a marvel to look at regardless of where you stand. (That's true in more ways than one) It's like the Meghan Fox from Transformers 2 – everyone thought she was hot.  I guess that makes the Escala the modern day Megan Fox… still hot, just not as hot."  – Francisco
Of course, this list wouldn't be complete without your input. Let us know in the poll blow which Cadillac concept you think the most eye-catching, and then discuss it in the comment section as you all so often do.
Sweepstakes Of The Month: Win a Corvette Z06 and 2024 Silverado. Details here.
We are currently looking for experienced automotive journalists and editors to join our team. Make $60k-$80k per year doing what you love. We are also looking for an experienced web developer.
See details here
.