First Drive: 2016 Chevrolet Cruze
14
The 2016 Chevrolet Cruze has one mission: introduce new car buyers to the brand, conquest and keep them with Chevy for life. It's present in the car's dimensions, its performance, and most importantly, its connectivity.
It's also an interesting time for the Cruze nameplate. The Chevrolet Cruze doesn't carry much baggage with it, unlike the Malibu name which needed a lot of gusto to change perceptions. Chevrolet explained this as we began spending our time with the 2016 Cruze, and it wants to hammer home that Chevrolet does more than build great trucks, crossovers and SUVs. It knows how to build a compact car, too.
But does it? Yes. And no.
We descended upon the music city, Nashville, Tennessee to find out what the second-generation Cruze was all about. Nashville was picked on purpose to host the Cruze. It's a city being reborn, yet full of heritage; the same story running parallel with Chevrolet passenger cars.
We hopped into a 2016 Cruze Premier with the RS package, which includes 18-inch wheels and tires. Our first go at the second-generation Cruze took us around the ins and outs of Nashville itself. Here, we weren't treated to rolling hills or greenery, but instead, we got a taste of what the 2016 Cruze will be doing most of its life: sitting in traffic and commuting from point A, to point B.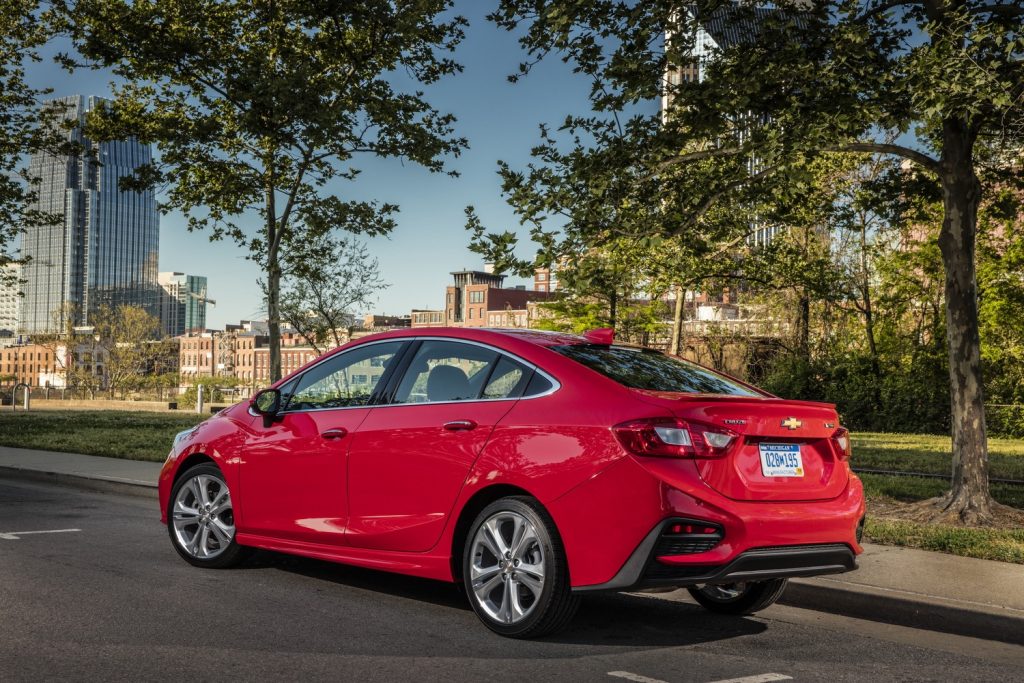 What's noticeable from the beginning is the weight loss. Coming from the first-generation Cruze, it feels more nimble and willing. There's also a timid "wooshing" noise coming from the hood now. That's the 1.4-liter turbocharged four-cylinder sending power to a six-speed automatic gearbox. Together, they play well, with tall gearing and timid throttle input to receive 42 mpg on the highway. That number is 40 mpg should you select the Premier trim.
Only a few times did the gearbox seem confused with what we were attempting, kicking down at inappropriate times with a strange clunk once or twice. We're sure an all-new nine-speed auto is coming to push things even further, though.
One other feature was well on display here, too: the stop/start system. Chevrolet made a bold move by not allowing the driver to shut the system off. It's always on. Always. The good? It's one of the better systems out there, and it's doing great things for fuel economy. The bad? It's still pretty rigid occasionally, shaking the car to life from time to time. Chevrolet has struck a good balance when it's activated, though. For example, when sitting at a stoplight, the engine will be off. If the driver creeps forward, the car comes to life again and stays that way. It does not shut off again. It helps the system feel less intrusive, and frankly, less annoying.
Then, Chevrolet beckoned us to take the compact car to the hills of Franklin, Tennessee to experience the Cruze's fun-to-drive character. Fun to drive? In a Cruze?
Something strange happened as we tossed the Cruze around the bends and curves: it kind of was fun. No, it's not a sports car, but it wasn't boring either. The chassis rolls, but it felt planted. That's thanks to the Z-link suspension in our Premiere model. Lower spec models receive a rather old torsion beam in the rear, which should be fine for the average consumer, but a weak spot considering the Honda Civic arrives with independent rear-suspension.
The acceleration of 153 hp won't bury you in your seat, but it's plenty. The engine delivers peak torque of 173 lb-ft at 2,200 RPM, and it pulls best around 3,000 RPM. At higher speeds, though, slamming the accelerator reveals an engine scrambling for breath.
Even more impressive was how we managed 40.3 mpg while not intending to be frugal with the accelerator through the winding hills. Sure, the number is on par with the segment, but it goes to show the engine won't secretly guzzle gas should you push the Cruze harder.
Ah, but the steering feel. Typical of any modern vehicle, it's lifeless and vague. It's precise, though, we'll give Chevrolet that, but it provides no real feedback. A shame, because the chassis and suspension really keeps the driver connected.
Once we reached some calmer stretches of road, we began to take in our surroundings more regarding the interior materials. Between those present, it seems the materials really split people individually. Personally, I felt my "Dark Atmosphere" interior combo, fancy-speak for light gray and tan, looked rather cheap. However, the "Jet Black Kalahari" trimmings looked fantastic, and it is a no-cost option for Premier models. But, by that time, you're spending close to $25,000 for a compact car.
It's a shame because the interior design is actually quite pleasant, but the plastics give themselves away so easily. The strategy was certainly to place soft touch materials where the hand will be, but move your hand slightly up, down, left or right, and there will be rock-hard plastic.
Now, let's talk tech. This is where the 2016 Cruze shines. In fact, Chevrolet literally made a comparison between the car and its technology as "hardware" and "software." The lines between automobile and computer continue to blur.
Apple CarPlay and Android Auto were front and center, and the system works flawlessly. I hate country music, so booting up CarPlay to pick my choice of music was much appreciated. And, I charged my phone simultaneously thanks to wireless charging in the center console.
There's also OnStar, 4G LTE WiFi, lane departure warning, back-up assist and so much more. Where competitors shine in better usage of materials, the Cruze provides a swift kick with content. Seriously, this is what will move the Cruze from dealer to driveway. It all works incredibly seamlessly.
The first-generation Cruze was never a bad car. It never did anything poorly besides cramming its backseat passengers and squishing them. This second-generation carries that mantra forward. Chevrolet has clearly listened to its consumer base, fixed the previous issues and delivered a solid car. Evolution, not revolution.
The problem is, the competition has created excellent cars, too.
However, the 2016 Cruze isn't going to be a battle won by specs and comparisons, it will be one fought through disruptive and non-traditional marketing efforts. If Chevrolet can convince buyers to rethink what the brand is capable of, the Cruze will be an even greater success than the first-generation car.
The 2016 Cruze is such a solid package. It knows more than a few basic chords, but it's missing that something, the "star quality" many music city brass likely tell aspiring artists. Everyone in Nashville plays an instrument, but only the best rise to the top.
Sweepstakes Of The Month: Win a Corvette Z06 and 2024 Silverado. Details here.
We are currently looking for experienced automotive journalists and editors to join our team. Make $60k-$80k per year doing what you love. We are also looking for an experienced web developer.
See details here
.