2016 Chevrolet Camaro 2.0T: First Drive
We are currently looking for experienced automotive journalists and editors to join our team. Make $60k-$80k per year doing what you love. We are also looking for an experienced web developer.
See details here
.
11
There's a dip and a crest through turn 1 of Spring Mountain's 1.5 mile track, one of 30-plus configurations offered by the motorsports resort. The natural reaction is to slow down when approaching this asphalt undulation, so as to not upset the vehicle one may be driving. Against natural instinct, I kept the throttle pinned as I darted into the wave, keeping focus on the apex and straightaway just ahead of it. Through the acceleration down and up the disrupting pavement, the 2016 Chevrolet Camaro 2.0T remained composed, and happily whistled all 24 psi through its 2.0L turbocharged LTG inline-four through the apex and to the straight. I dropped the clutch, and entered another gear.
It's perfectly normal to feel skeptical about a Camaro with a four cylinder engine. We don't have to look too far to reference the Iron Duke four-cylinder engine put in the third-generation Chevrolet Camaros of the early 1980s. Not the best time for muscle cars. But 275 horsepower and 295 lb-ft of torque on tap in the 2016 Camaro 2.0T does command respect. One of the reasons is because of the weight savings of nearly 400 pounds when compared to the outgoing base Camaro, and with more torque on top of that. At roughly 3,340 pounds of curb weight (or a bit more depending on the options), it's great to finally see the iconic Chevy nameplate go on a significant diet. Yay, Alpha platform.
A 2016 Chevrolet Camaro 2.0T also gives something to RWD coupe buyers that Subaru and Toyota never did, and that's a turbocharger. The after market should swoon over this entry level model just as much as they're currently swooning over the 455 hp 2016 Camaro SS. And while there will always be the factions that prefer small four cylinder import cars to high-displacement American cars and vise-versa, this particular Camaro could have open-minded customers bridging the gap between the two. Because to just categorize a Camaro as a simple "muscle car" these days is rather dismissive. The sixth-generation Camaro has even caught standard-bearing German brands off guard. Let alone brands from Japan or Detroit. It's more than the traditional sense of a muscle car. So we have to think of it as more than just a muscle car.
Shaking down the 2016 Camaro turbo around Spring Mountain's track and the deserted roads leading into Death Valley both validated assumptions and revealed some surprises. The 2.0L turbo does provide a surprising amount of punch, with a 5.4 second 0-60 acceleration time — mirroring a 390 hp, 500 lb-ft 1970 Chevrolet Chevelle 454 SS. In Sport mode, the pedal mapping keeps things sharp, and like other LTG applications, there's minimal turbo lag. Just the same, the engine does wear out after the 5,200 rpm mark or so. Though on short, winding courses, this characteristic is unnoticeable, as the driver would be too busy navigating the constant switch-backs and braking zones. A 2016 Camaro 2.0T would be great for autocross, if the SCCA places it in the D-Stock category, with cars like the BMW 228i and Ford Mustang EcoBoost. And with 245-wide Goodyear Eagle Sport A/S asymmetrical all seasons on Camaro turbos with the LT trim level, the tire selection and size appears generous, and definitely aids in the handling department. And while the suspension is also well adjusted, there's no magnetic ride control to be found here. At least, not yet.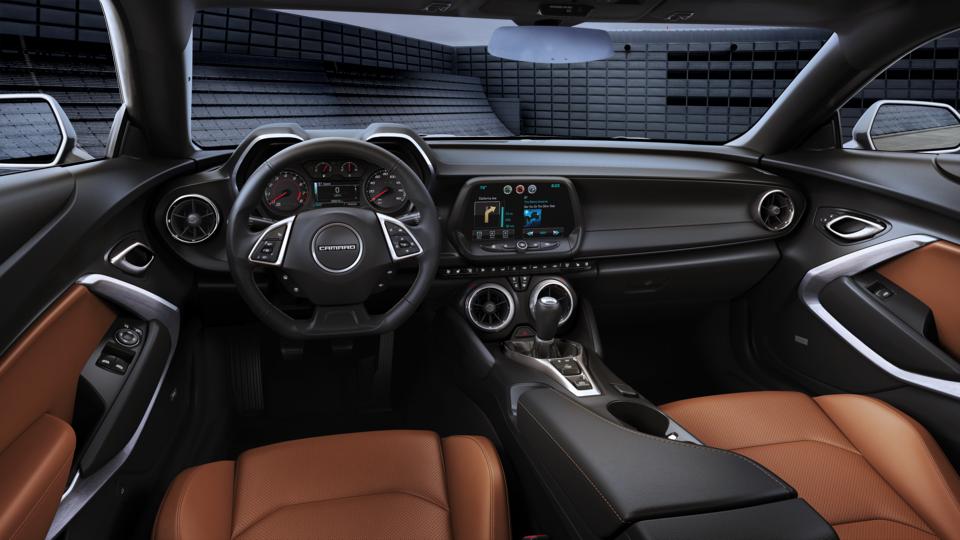 Did I mention the sound of the 2016 Camaro 2.0T? It sounds great. A GM four cylinder exhaust with some personality, you wonder? Yes, finally. I'd go as far to say as the Camaro with an LTG is the best sounding four cylinder from General Motors since the Chevrolet Cobalt SS. A healthy portion of angry little noises with the combination of turbo spool is definitely going to cater to a certain demographic in a way that the European-sounding rasp of the 2016 Camaro V6 or the increasingly unreachable V8 option cannot.
The top speed on the 2016 Chevrolet Camaro 2.0T is just under 150 miles per hour, which is plenty for an entry-level model. And with empty roads reaching forward as far as the eyes can see, it's very easy to channel the inner Hunter S. Thompson as he rockets out of Bat Country. Another reminder that the Camaro 2.0T is an entry level model is the amount of lift felt at high speeds, but we're sure that there's some eventual aero accessories coming. At normal speeds, it's a complete non-issue.
The cabin is modern, quiet and even comfortable. You've probably already read somewhere that visibility is about the same as the fifth-generation Camaro, so it takes some time to get adjusted when it comes to routines like parking. The seats in the 2016 Camaro 2.0T tester driven were not the Recaros that can be acquired in the 2016 Camaro SS, though they sufficed for our long cruise into Death Valley, where something called the Super Bloom is happening. The desert floor bordering the road was filled with flowers, which is astonishing to think about, given the extreme environment.
At a starting baseline MSRP of $25,700, the 2016 Chevrolet Camaro 2.0T slots just above a (less athletic) 2016 Ford Mustang V6, and a stone's throw away from a Subaru BRZ. Which is far less car for the money. It may be a different Camaro from what the world has gotten used to, but that's the exciting part. So the next time you visit a Chevrolet dealer that has a Camaro turbo on the lot, don't scoff at it. Give it a whirl.
Sweepstakes Of The Month: Win a 2022 Corvette C8.R IMSA GTLM Championship Edition. Details here.
We are currently looking for experienced automotive journalists and editors to join our team. Make $60k-$80k per year doing what you love. We are also looking for an experienced web developer.
See details here
.