Interview: Talking Sixth-Generation Camaro With Al Oppenheiser
23
If there's one gentleman any Camaro fan would like to sit down with and pick his brain, it would be Al Oppenheiser. Oppenheiser has been the man when it comes to the Camaro, and the sixth-generation of the historic car has his finger prints all over it.
We sat down with Oppenheiser during the 2016 Chicago Auto Show, where the 2017 Chevrolet Camaro 1LE made its debut in both V6 and V8 powered variants, and we covered a wide range of topics. Continue on to see what Oppenheiser has to say about the most capable Camaro in history.
GM Authority: What has the initial reaction from sixth-generation Camaro buyers been?
Al Oppenheiser:  The first thing is, the ones that own a fifth-generation are telling us, "thanks a lot, now I have to make room in my garage for a sixth-gen." The people that own both have said they immediately noticed the 200- to 400-pound weight difference depending on which engine they got. They immediately notice the light-weightedness, they immediately notice how much technology, and the biggest thing is they love the personalization. The technology has now allowed us to key up in tour mode or in sport mode.
We can separate the steering feel and the suspension feel more unlike before, in the fifth-gen, you were always in tour mode and always pushing buttons if you were a sport guy. Now, you can pick your interior color, exhaust note, suspension and it's personalized for you every time you get in the car. And your spouse can get in the car with memory seats and settings, too. So, the customer has really appreciated the fact we have listened to them, and they love that we've given them the opportunity. That's probably the biggest comment we've heard.
GMA: Is there any reason for the staggered launch of the turbo-four Camaro?
O:  Actually, the only reason is because the LTG is used for GM cars around the world, so it's like a merry-go-round. When you want to step in, you have to do capacity planning. So, our turn is now. We actually started production of it a couple weeks ago. If you consider the launch of the Camaro with the coupe, and we actually start production of the convertible in the next week or so, it's about a four-month launch to get us up to line-speed with the sixth-generation. It purely was just getting our turn at the capacity.
GMA: Why the decision to only offer a six-speed manual in both the V6 and V8 variants of the 1LE? Why not offer the eight-speed automatic as well?
O: Well, we're trying to stay with the original theme of the third-generation 1LE. At that time, it was all about improving the brakes, so it could beat Mustangs and Dodge Coronets in the Player's Challenge. Then, once you improved the brakes, you improved the fuel pump, then you had to improve your fifth-gear performance, then the suspension bits. And then it was all about removing content, so, in trying to stay true to the heritage, the manual transmission stays true to that.
What I also don't want to see is offering so many options that you end up having sunroof, automatic 1LEs sitting on dealer lots because nobody wants to buy them. I pride myself, and my team, on knowing our customer, and I think we have a winner with the manual.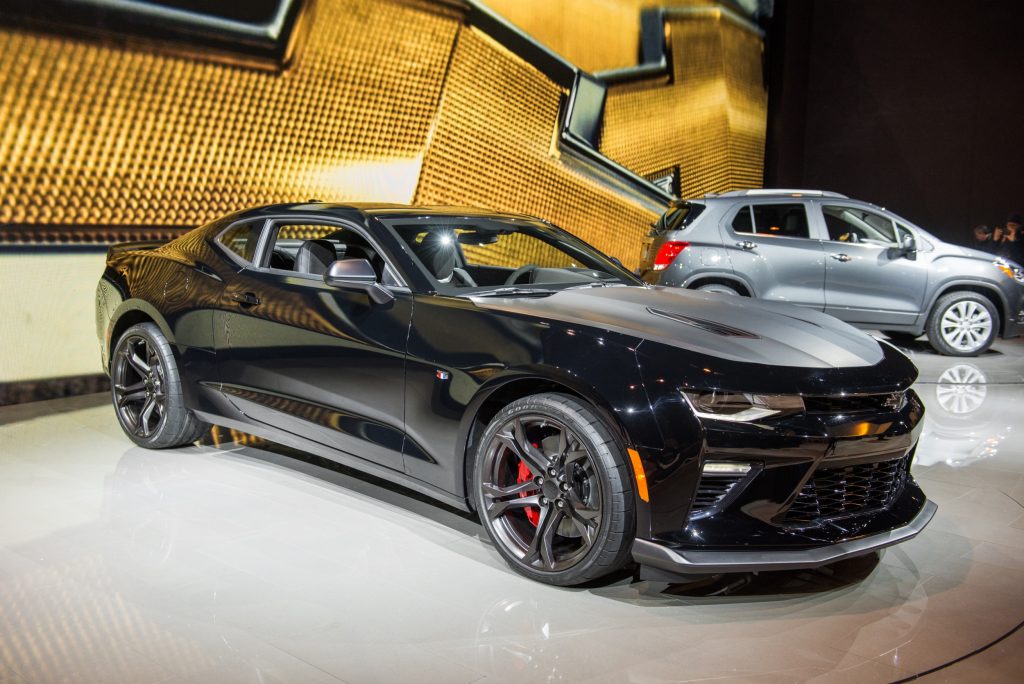 GMA: Does it surprise you to see dyno videos of the 2016 Camaro SS laying down more rear-wheel horsepower than the C7 Corvette Stingray?
O: Yeah, it's all good. I take it with a grain of salt. Chassis dynos vary all over the place. I have to stand behind the numbers we put through SAE, and our own dynos. It kind of reminds me of back in the day when the Z/28 was actually pushing 400 hp and we didn't advertise that. We're not hiding anything from anybody, it's just kind of funny. Maybe it's not funny to my Corvette partners (laughs) but it's still funny. I guess it's all positive. I think it's just chassis dyno variation.
GMA: Will the Chevrolet Camaro always have a V8 engine?
O: As long as I'm in this role, and everybody on my team is too, I want to see V8s last forever. My hope is we sell lots of Chevrolet Bolts and Volts and other cars so our overall CAFE average will always allow Tadge Juechter, my other friend Jeff Luke on Chevrolet trucks and myself to offer V8s, because that's kind of in my veins. I understand life changes, but there's nothing like coming home from a long day at work and firing up a small-block V8.
Sweepstakes Of The Month: Win a Corvette Z06 and 2024 Silverado. Details here.
We are currently looking for experienced automotive journalists and editors to join our team. Make $60k-$80k per year doing what you love. We are also looking for an experienced web developer.
See details here
.