2016 Buick Cascada: First Drive
6
When Buick invited me to drive the 2016 Buick Cascada in southern Florida, it made a lot of sense. It's a market where 90 percent of all convertibles are sold in the United States, and for obvious reasons. In the Sunshine State, it seems like every dozen vehicles or so is a drop-top of some type or another, rental car or not. Though when I got behind the wheel of a Deep Sky Metallic 2016 Cascada on an early Key West morning en route to Miami Beach, I was anticipating that there would be some sort of engaging stretch of road to really get a feel on the dynamics of this drop-top — the first Buick-branded convertible since the dissolution of the Warsaw Pact. That's the 1991 Reatta, for you sad souls with no sense of history.
There weren't any roads that could provide a major shakedown of the Cascada. Instead, I was met with a slow, linear parade of US Highway 1 traffic, followed by even heavier traffic as my 170-mile journey inched closer to Miami Beach. About three hours into driving, an epiphany happened. Every stoplight, every crossroad, and in standstill traffic, there were curious passers-by pointing and staring at the 2016 Cascada.
"What is that?" Asked a man two lanes over, driving a worn-out Nissan pickup truck.
"It's a Buick Cascada," I replied politely.
"Damn! That's a Buick?!"
I had to check around to see if there were any inconspicuous cameras recording  in an effort to film a new commercial, and there weren't any, as far as I could tell.
If a pack of us Cascada drivers parked alongside the road, we drew a crowd. When I stopped for an energy shot at the gas station, there was somebody looking at it when I walked back outside. Somebody even launched a camera drone and hovered over our row of similarly colored Cascadas during one of our stops. We might as well have been driving Ferraris.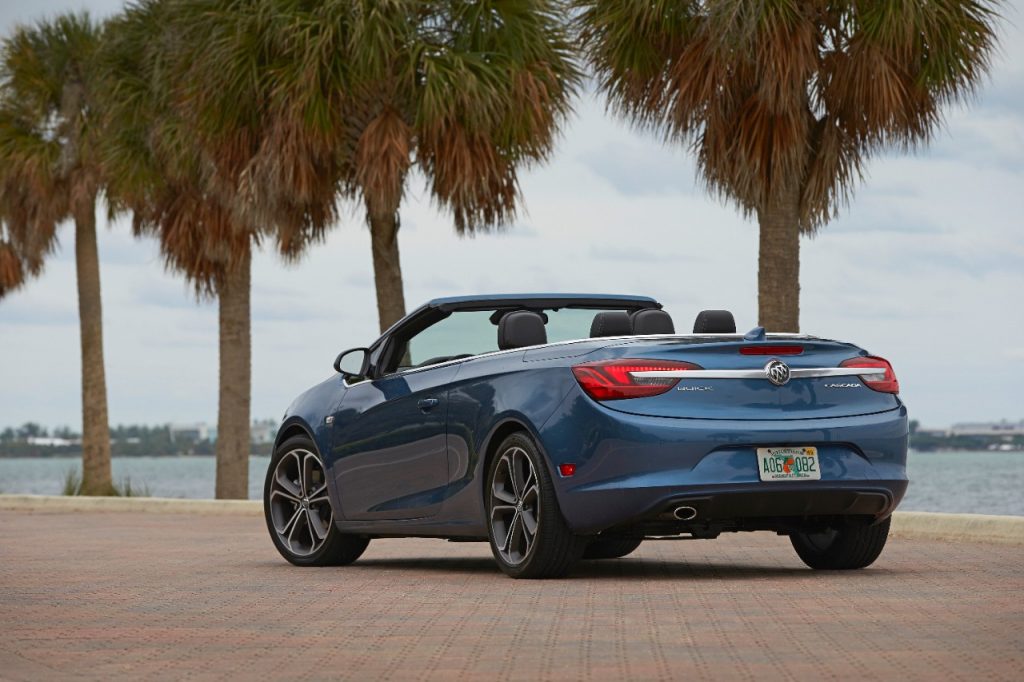 In Florida, where 90 percent of all US convertibles are sold, easy drives like this are going to be a day in the life of a Buick Cascada. It's not going to be exercised to its performance limits. Driving a Cascada with the top-down is more of a savoring experience than just wanting to hustle from one end of the Florida Keys to the other, though its (recently federalized) 200 hp 1.6L engine gives just enough gusto to keep things from feeling like a glorified motor scooter. It rides leisurely – but not loosely. It rides comfortably – but not buoyantly. And frankly, if you wanted a performance-oriented convertible, you're not looking at a Cascada. Perhaps a 2016 Chevrolet Camaro convertible, or elsewhere.
Bringing up other options in the market is also a peculiar topic. Because, like the Buick Verano and Encore before it, the 2016 Cascada operates in a degree of open space in the market. Many competitors have left the segment, such as the Volkswagen Eos or Chrysler 200 Convertible. The $36,600 Audi A3 Cabriolet is of similar power and price, but the $33,990 Buick Cascada is far roomier and features more standard content. The $47,900 Audi A5 Cabriolet is of similar size, but the Buick isn't as comparably expensive nor as powerful. Somebody might categorize it as a "tweener" car — a vehicle that straddles segments — but even that's hard to figure when there isn't really anything to effectively place the Cascada in between. Yet in laid-back Florida, the Cascada made sense.
At 3,979 earth pounds, the 2016 Buick Cascada weighs in just under the 220 hp Audi A5 Cabriolet, which is rated at 4,045 lbs. Neither of which are on the feathery side. But such is the nature of convertibles. Yet the Cascada does handle lighter than its punching weight suggests. While I didn't have much to work with, I got a little creative to get a feel on the car's handling. Moves such as quick lane changes while the road is turning, back and forth when appropriate. Moves like this can really upset a chassis, but the Buick didn't seem to mind that much. A Watts Z-Link in the rear suspension and HiPer Strut springs in the front suspension systems are a few of the heroes here. The rack-mounted electric steering system provided refined feedback through a rather meaty steering wheel, and the brakes had an admirable amount of bite to them at full stop. Fuel economy is rated at 20 mpg city and 27 mpg highway, and that seems to be really where the physical truth of the Cascada's weight, in relation to a little engine, exposes itself the most. Luckily gas is cheap these days.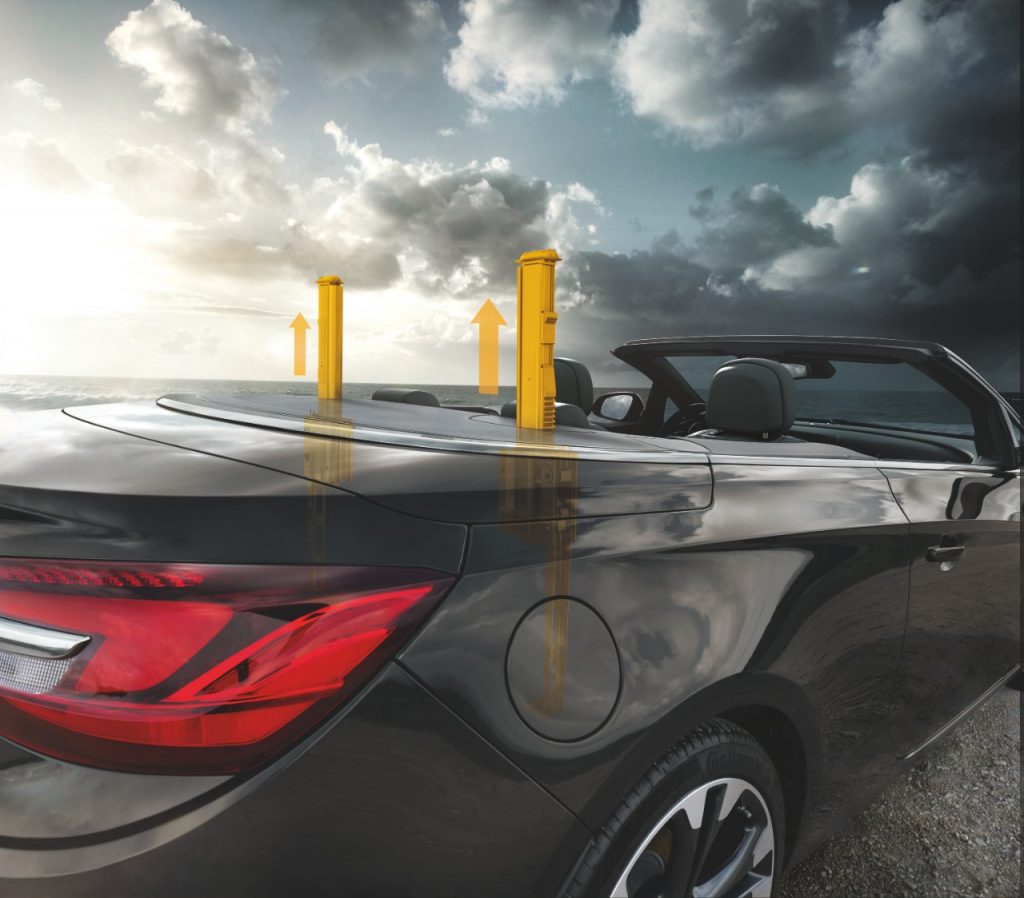 What's perhaps most interesting about the 2016 Cascada specifications is that it was engineered from the start to be a convertible, and not a platform that was retrofitted and submitted into one. As a result, cowl shake is as minimized and the vehicle's structural integrity is said to be good enough to where GM has even petitioned the NHTSA to crash-test the Cascada, anticipating it will achieve a five-star crash safety rating (pyrotechnically activated roll bars, pictured above). This is highly significant, because the feds don't test convertibles, nor is there a set criteria for them. Should the IIHS or NHTSA agree to crash test the Cascada, it would be a significant leap forward in convertible safety.
It would be effortless to criticize the Buick Cascada as a badge-engineering job courtesy of Opel. But merely at the surface. Between the two visually identical twins, the Buick Cascada features 600 unique parts from its European sibling scattered throughout the vehicle. The Buick also features a higher horsepower output, and much of its calibrations — suspension, steering, etc. — were all honed for the North American market. We haven't driven the 169 hp Opel Cascada, but we imagine it to be a marginally different engagement than what is launching in America, via Poland, this week.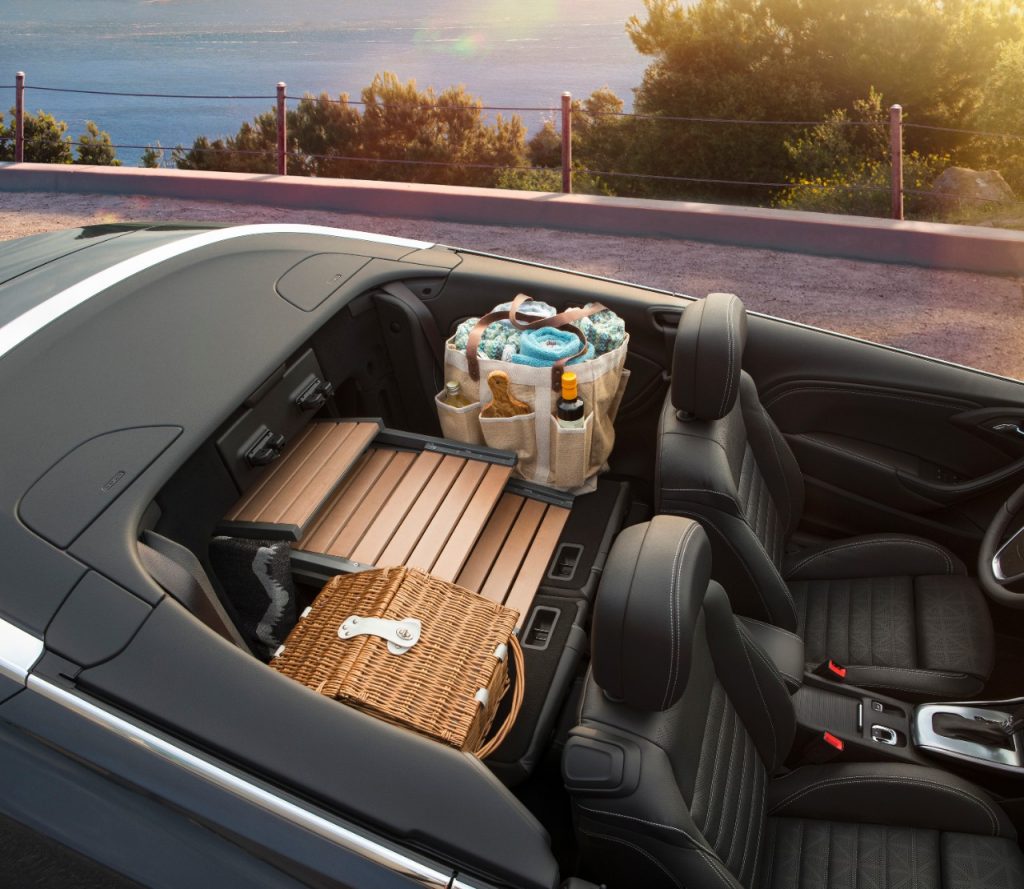 On the inside is where the Cascada shows a bit of its global age. The seven-inch touchscreen utilizes a previous-generation Intellilink system that can be traced back to 2011, coupled by a mash of black buttons in an unfamiliar layout. In a time where other Buicks feature Apple CarPlay and a bevy of other leading tech features, the Cascada falls behind on the times. Though OnStar 4G LTE WiFi is present and accounted for. And yes, there's still BlueTooth and you can still plug in your smart phone to play music. The rear seats can legally fit two adults, but really should be reserved for cargo or children. With the top up, the Cascada is Buick quiet, and well insulated. In the event of one of these ever being a four-season car, the Cascada comes with heated front seats, and a heated steering wheel. With the top down, the 13.4 cubic-foot trunk space shrinks to 9.8 cubic-feet. But the rear seats fold 50/50 with a trunk pass-through for more effective cargo management.
I asked the fair question as to why the Buick Cascada doesn't offer a more modern infotainment system, and the simplified answer is that it all came down to a business case: Should Buick have waited on some sort of (unconfirmed) refresh or even an all-new model? Or should Buick expedite the launch to bring the halo car stateside and capitalize on a market space where there are limited options? Of course, the decision chosen was the latter. Moreover, getting the 2016 Cascada federalized for the US market ate up a significant (though unspecified) amount of time, effort and money as it stands. It's also for this very reason that Buick isn't getting its own version of the current-generation Opel Adam. And so the story continues of governments helping and getting in the way at the same time. But mostly getting in the way.
For all that work, Buick Vice President of marketing Duncan Aldred is projecting as many as 10,000 annual sales for the drop-top halo car at full tilt. Over 5,000 orders for the Cascada have already been placed by dealers. That might not seem like a lot on a grand scale, but there will be no fleet, nor rental vehicle availability. At least for now. And of course with a halo vehicle comes the halo effect. Which is to say, that somebody might come into a Buick showroom to examine a Cascada, but may ultimately end up driving off with something more practical, like a Verano or an Encore. For those who stay awake at night worrying about the 2016 Buick Envision being imported from China, you may find some solace in learning that China will not get to enjoy the Cascada. Look for the first shipments of the 2016 Buick Cascada to begin selling in sunny states like Florida and Texas, and eventually expanding to the entire US market as the launch picks up.
Sweepstakes Of The Month: Win a Corvette Z06 and 2024 Silverado. Details here.
We are currently looking for experienced automotive journalists and editors to join our team. Make $60k-$80k per year doing what you love. We are also looking for an experienced web developer.
See details here
.