Cadillac ATS Wish List Item No. 3: Make HID Headlamps With LED Accents Standard
14
This article is part of the GM Authority Wish List series for the Cadillac ATS — a collection of changes, updates, and modifications we'd like to see made to the family of compact luxury vehicles. The purpose of the Wish List is very simple: to create awareness of the issues we have found with the vehicles so that Cadillac can address them in the future, whether via a refresh or a next-generation model, all in an effort to make the best luxury cars on the market, bar none.
The GM Authority staff has collectively spent a significant amount of time with the ATS, both as drivers and as passengers, in both Sedan and Coupe body styles, with all four engines, all five trim levels, and with various degrees of features and equipment. In other words, this wish list is not the result of a knee-jerk reaction after a day or two with the car. It's the result of living with the cars, sometimes for several months. In fact, one of our founders happens to own a an ATS (2015 2.0T Premium, six-speed manual).
We should note that at times, the Wish List series might appear like nitpicking, as it will point out the smallest features, characteristics, or components. If it seems that way, it's for a reason, since we believe that the devil is in the details, especially when it comes to prestige luxury vehicles. As such, we honestly believe that addressing these issues will improve the product, grow the brand, and — ultimately — lead to an uptick in Cadillac sales. And as journalists who also happen to be GM and Cadillac enthusiasts, few things would make us happier. If nothing else, it would result in a Cadillac we'd be proud to buy, to own, and to show off to anyone willing to look and listen.
Keeping in mind that this wish list is by no means in order, here goes our the third item: the need to make the HID headlamps with LED accents a standard feature, regardless of trim level.
Anyone who has seen the ATS with the High Intensity Discharge (HID) headlamps with vertical LED Light Signatures knows how incredible they look. The lights take the car from "good looking" status, and raise it to entirely different levels during the day and night. The adjectives "awesome" and "incredible" come to mind, since the lights give the car some major presence on the road, making the vehicle nearly impossible to miss. Problem is, they are optional on both the ATS Sedan (standard on the 2.0L Turbo in Performance trim and higher) and on the ATS Coupe (standard on the Luxury trim and higher). But they should be standard.
Looking At The Competition
At this point, we're sure quite a few of you are about to stop reading and are already half-way to the comments section to present your counterpoint. And the counterpoint will probably will have something to do with the fact that HIDs (or Xenon lights) are also optional on the ATS' primary rivals — the Mercedes-Benz C-Class and BMW 3 and 4 Series. And to some extend, you would be correct.
Without going too much into strategy as it relates to options, the fact that competitors offer HIDs as an option rather than as standard equipment should not concern Cadillac because it is the challenger brand, and would therefore benefit from offering more features for the same amount of money as its rivals. If that isn't enough to convince you, consider the fact that Audi has its signature Xenons as standard equipment on the A4.
Letting The Lights Build The Brand
More importantly, equipping every single ATS — as well as all other Cadillacs — with these great-looking HID lights and vertical LED signatures would not only give drivers better visibility at night, but it would also furnish the ATS with some major presence, recognition, and awareness from other drivers. By comparison, an ATS with the standard non-HID lights and LED accents makes the car — at first glance — indistinguishable from a Chevy Cruze, a Honda Civic, Subaru Impreza… or a Geo Metro, for that matter. Clearly, that's not a good thing.
Moreover, Cadillac's unique design gives it an additional advantage, in that no other automaker has a design philosophy that can be mistook or confused with Cadillac's edgy Art and Science language. This uniqueness carries over to the lights: when one sees an ATS equipped with the HIDs and LED accents running on the opposite side of the highway or coming up in the rear-view, one instantly recognizes the vehicle as an ATS. The same holds true for the CTS, XTS, and Escalade. Identifying a specific Cadillac model thanks to the distinctive lights also translates to recognizing the Cadillac brand as a whole.
After a few years of seeing vehicles with these lights on the road, fellow drivers will be able to recognize a Cadillac on the road, something that very few can do at this point. That right there is power that — in the long run — can do wonders for the Cadillac brand. As it stands, Cadillac's primary mission right now — outside of the obvious goal of selling cars — is building and improving the brand, its image, and its perception among luxury car buyers.
Coincidentally, both Audi and BMW have used signature lighting to build their brands; Audi has its trademark LED lighting pattern, while BMW has the world-famous "angel eyes" design. Products of both German firms have reached aspirational status in the luxury automotive space, and this is one area in which Cadillac would do well to follow.
But wouldn't including the HID-LED lights as standard equipment make the cars less profitable? Perhaps it will, but the slight increase in cost (per unit sold) as a result of doing so will be very much worth it in the long run from a brand image standpoint. Besides, standardizing on these lights across the lineup will also decrease complexity in parts procurement, reduce manufacturing and logistics complexity at the Lansing Grand River plant where the ATS is build, as well as simplify things for GM-Cadillac parts and aftersales operations. That's a hat trick, by our calculations.
In Summary
What we wish for: that Cadillac make the HID headlamps with signature LED light pipes standard on every single ATS it sells going forward.
Why we wish for it: making the lights standard create value for the customer while building strong brand identification and awareness for the ATS model and for the Cadillac brand as a whole.
Who to look to for examples: Audi and BMW, both of which have used attractive signature lighting to build their brands. Audi's HID-equivalent Xenon lights are standard on the A4 range, the direct rival to the ATS.
Implementation: make HID lights with LED accents standard on all ATS (and other Cadillac) models, while equipping models in the topmost trims with the Adaptive Forward Lighting (AFL) functionality. Another option would be to equip high-end trim levels with full-LED or Matrix LED lights.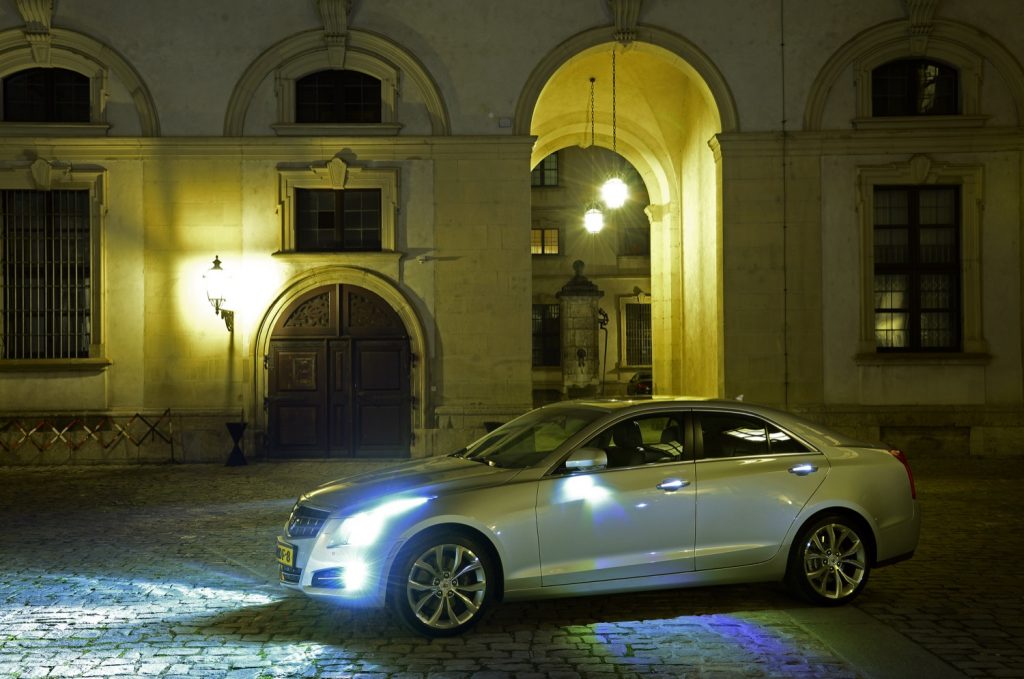 Sweepstakes Of The Month: Win a Corvette Z06 and 2024 Silverado. Details here.
We are currently looking for experienced automotive journalists and editors to join our team. Make $60k-$80k per year doing what you love. We are also looking for an experienced web developer.
See details here
.