Cadillac ATS Wish List Item No. 1: The Exhaust Note
We are currently looking for experienced automotive journalists and editors to join our team. Make $60k-$80k per year doing what you love. We are also looking for an experienced web developer.
See details here
.
27
This article is part of the GM Authority Wish List series for the Cadillac ATS — a collection of changes, updates, and modifications we'd like to see made to the family of compact luxury vehicles. The purpose of the Wish List is very simple: to create awareness of the issues we have found with the vehicles so that Cadillac can address them in the future, whether via a refresh or a next-generation model, all in an effort to make the best luxury cars on the market, bar none.
The GM Authority staff has collectively spent a significant amount of time with the ATS, both as drivers and as passengers, in both Sedan and Coupe body styles, with all four engines, all five trim levels, and with various degrees of features and equipment. In other words, this wish list is not the result of a knee-jerk reaction after a day or two with the car. It's the result of living with the cars, sometimes for several months. In fact, one of our founders happens to own a 2015 ATS 2.0T Premium with the six-speed stick.
We should note that at times, the Wish List series might appear like nitpicking, as it will point out the smallest features, characteristics, or components. If it seems that way, it's for a reason, since we believe that the devil is in the details, especially when it comes to prestige luxury vehicles. As such, we honestly believe that addressing these issues will improve the product, grow the brand, and — ultimately — lead to an uptick in Cadillac sales. And as journalists who also happen to be GM and Cadillac enthusiasts, few things would make us happier. If nothing else, it would result in a Cadillac we'd be proud to buy, to own, and to show off to anyone willing to look and listen.
Keeping in mind that this wish list is by no means in order, here goes our first item: the exhaust note.
We've said it before and we'll say it again: the exhaust note of the Cadillac ATS leaves a lot to be desired.
This is true for any engine offered in the ATS, be it the "base" naturally-aspirated 2.5L LCV, the 2.0L Turbo LTG or the up-level 3.6L LFX that was recently replaced by the new 3.6L LGX. It also applies to the range-topping 3.6L Twin-Turbo V6 LF4 in the ATS-V. All four engines have a lackluster exhaust note, which is an integral part of the driving experience that's vital to the type of luxury cars Cadillac is creating. After all, Cadillac is not making land yachts anymore, but rather precisely-engineered sport-luxury vehicles that are as luxurious as they are fun-to-drive. As such, a playful, communicative, and confidence-inspiring exhaust note is a must.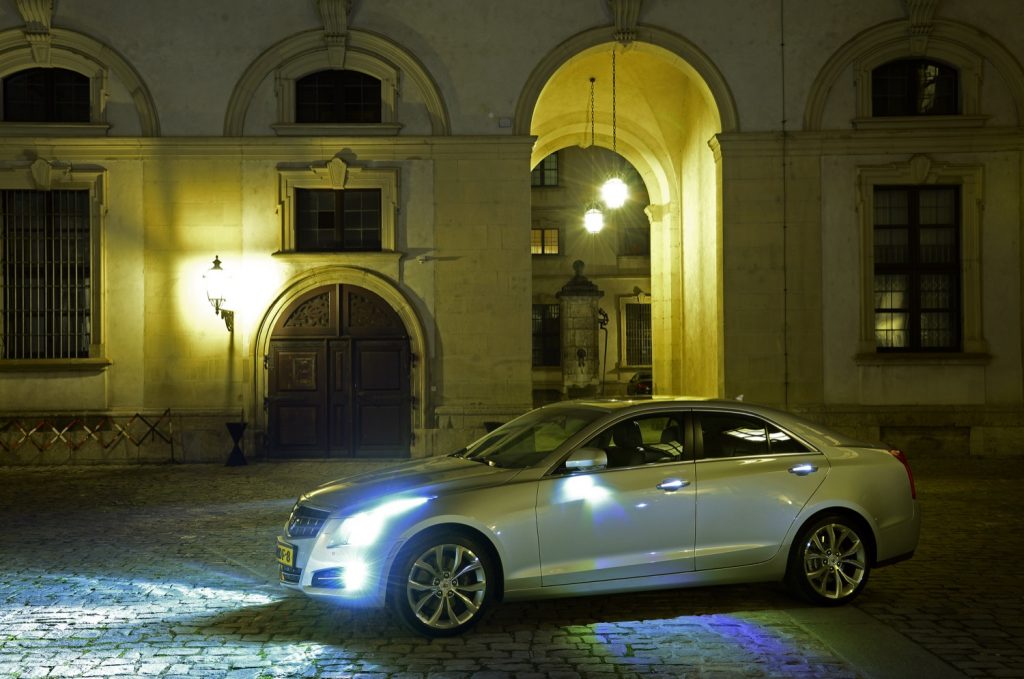 Now, notice we have not used the word "loud" or describe the exhaust note. That is on purpose; we are not advocating a loud, obnoxious, intrusive, or otherwise irritating exhaust note that sounds like a freight train. Not at all. Instead, what we'd like to see is a sound that's just right: it lets you know what the engine is doing at all times, while putting a smile on your face. Why a smile? Because you feel — by hearing — that you are driving a precisely- and carefully-engineered sport luxury machine, allowing you to appreciate the experience, the engine under the hood, and all that went into its development and into its production. It's a big part of that smile-inducing intangible feeling that comes with one of the ATS' German rivals that we can only described as "nice".
Speaking of which, this balanced exhaust note we are discussing here has been achieved by other luxury automakers, including BMW, Audi, Mercedes-Benz, and even Infiniti in their compact entries. Of course, the ATS-V should have the meanest-sounding exhaust of the lineup, but even it lacks the kind of deliciousness heard from the pipes of the Mercedes-Benz/AMG C63, BMW M3/M4, and Audi RS4/RS5.
One final thought on this is about how Cadillac could improve the exhaust. One way is to do it mechanically by engineering the exhaust system, while another is to do so digitally by piping engine/exhaust sounds into the cabin using speakers. We're fans of the former, but the industry appears to be (quickly) moving in the direction of the latter.
In Summary
What we wish for: a pleasant, communicative, and sporty exhaust note, not matter the engine or trim level.
Why we wish for it: because the exhaust note of the current Cadillac ATS range has a lot of room for improvement in putting a smile on the driver's face, while also not being very effective at communicating to the driver what the engine is doing.
Who to look to for examples: BMW, Mercedes-Benz, Audi, and Infiniti.
BMW, in particular the 328i/428i, 340i/440i, and M3/M4
Mercedes-Benz, in particular the CLA250 AMG, C300, C450 AMG, and AMG C63
Audi, pretty much any engine available in a new Audi on sale today
Infiniti, in particular vehicles with the 3.7L V6 VQ engine
Stay tuned to subsequent parts of our Cadillac ATS wish list.
Sweepstakes Of The Month: Win a 2023 Corvette Z06 Convertible. Details here.
We are currently looking for experienced automotive journalists and editors to join our team. Make $60k-$80k per year doing what you love. We are also looking for an experienced web developer.
See details here
.