2016 Chevrolet Malibu Hybrid: First Drive
We are currently looking for experienced automotive journalists and editors to join our team. Make $60k-$80k per year doing what you love. We are also looking for an experienced web developer.
See details here
.
17
Finally. A proper midsize Chevrolet hybrid. Enough with the "e-Assist" mild hybrid stuff. It wasn't working. It didn't work. It simply wasn't enough. From the ashes comes the 2016 Chevrolet Malibu Hybrid. A true hybrid to jump in the eco-sedan battle royale consisting of the Hyundai Elantra Sonata Hybrid, Ford Fusion Hybrid, Toyota Camry Hybrid, and Honda Accord Hybrid. All of which return stellar fuel economy and value.
Chevrolet is well aware that it has a lot of hearts and minds to win back, from a fickle consumer base that benefits from strong product options. In an effort to make a much needed splash, Chevrolet priced the 2016 Malibu Hybrid rather aggressively, at $28,645 including destination. That's nearly $700 less than the Honda Accord hybrid, which also ties the new Malibu hybrid in estimated fuel economy. Not nearly as aggressive as the $25,675 MSRP of the Ford Fusion Hybrid, but the estimated fuel economy numbers are significantly higher, at 47 combined mpg versus the Ford's 42 combined mpg. However, the 2016 Malibu Hybrid still awaits an official EPA rating.
We'll keep it short as possible here. For a more extensive take on the 2016 Chevrolet Malibu, check out our review from just over a week ago. Here we'll talk solely of the Malibu Hybrid, where the big difference is in the driving details.
You might assume that the 2016 Chevrolet Malibu Hybrid drives like a bigger 2016 Chevrolet Volt. In a lot of ways, you'd assume correctly, and that's by no accident. The 2016 Malibu Hybrid does indeed borrow 2016 Volt systems. These features include the two-motor drive unit, accessory power unit, drive unit power electronics, and its regenerative braking system. But the 2016 Malibu can't be plugged in, and it's not an extended range electric vehicle — where a second source of energy (in the Volt's case, a gas engine generator) powers the batteries. Instead, the 80 lithium-ion cells, making 1.5 kWh of power, work in tandem with a 122 hp, 129 lb-ft 1.8L Ecotec gasoline engine, to provide a total of 182 horsepower and 221 lb-ft of torque. The 2016 Malibu Hybrid is capable of traveling at speeds of just over 50 mph on electricity alone. The 2016 Malibu Hybrid also introduces an exhaust gas heat recovery system, which helps warm the car up faster in cold weather. Considering the drive was in balmy Palo Alto, California, the opportunity to see how this feature worked eluded us.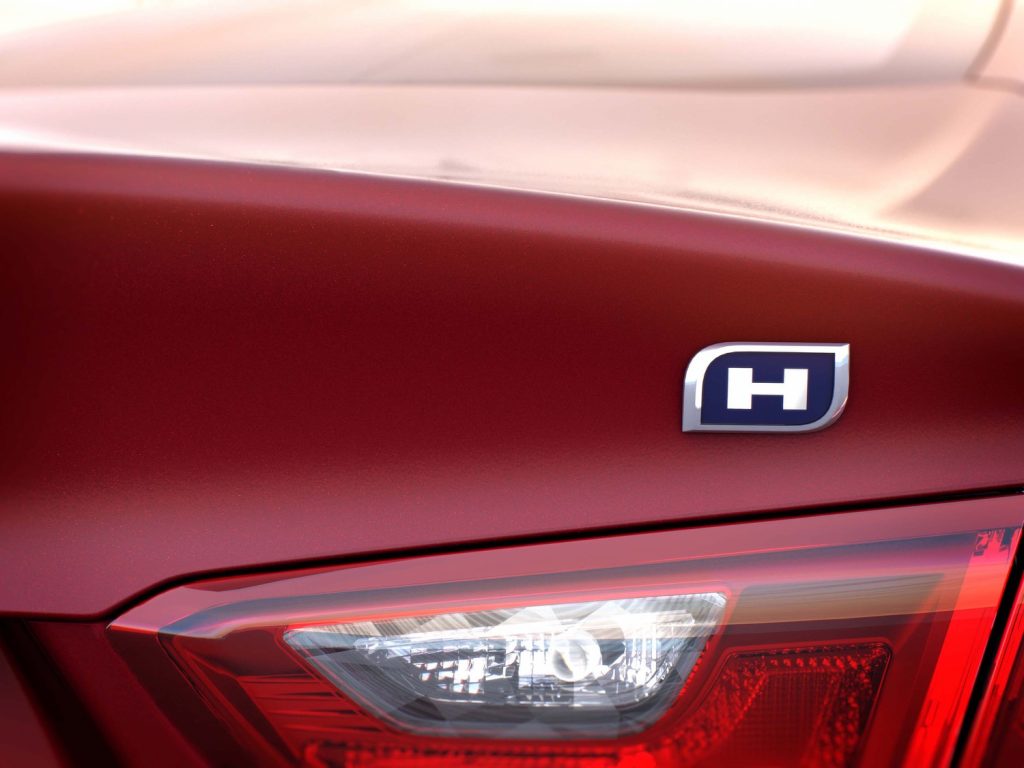 Being that it was in Palo Alto, we'd figure it'd be good to take this technologically-forward family sedan on a tour of this technologically forward city. In an impromptu drive, the 2016 Malibu Hybrid visited the campus of Stanford, the Apple offices in nearby Cupertino, and the headquarters of Facebook in Menlo Park. And… yeah, there were more Teslas and other EVs in the parking lots than you've ever seen in a single location (unless you work at an EV assembly plant, in which case you're exempt). There were also equal amounts of high end performance and luxury cars, as well. Those damn techies and their money.
Driving from the starting point of Palo Alto Airport to 1 Infinite Loop involved several traffic lights, a few minutes on US-101 and CA-85, and a brief stint on I-280. The ride and handling characteristics were nearly identical to the standard Malibu, save for some added battery weight and a slightly spongier feeling on the brakes (though still very natural). The powertrain of the 2016 Malibu Hybrid would continue to alternate between gasoline and electric through the drive, but there was never a gap in the power. No pause in the action, to put it another way.
After a quick circle around the thankfully sarcastically-named Infinite Loop, I headed back in the direction from where I came from to 1 Hacker Way in Menlo Park. Taking Willow Park Road off the US-101 and University Avenue, as well as Embarcadero Road to head back to my starting point really gave a feel for how the 2016 Malibu Hybrid felt in stop-go traffic. While I found the thrust of the powertrain ample, I was a bit surprised by the amount of drone the little Ecotec put out when under foot-to-floor stress. This also reminded me of the Volt, but not in the best way. And while the 2016 Chevrolet Malibu Hybrid does feature an active noise cancellation system to help quell the noise, I do remember my time with the 2016 Volt being a few decibels quieter — far quieter than the outgoing Volt. Maybe it's just me, but the 2016 Malibu Hybrid engine drone seemed to lean more towards the noise levels of the old Volt (which is still my daily driver) than the new Volt.
We can't go without talking observed fuel economy of the 2016 Malibu Hybrid. Through the 38.4 miles of mixed driving conditions, I averaged 42.9 miles per gallon, according to the trip computer. Short of the claimed 47 combined mpg mark, which again, still awaits finalization from the EPA. The shortage of mileage was likely attributed to the frivolous amounts of hard accelerations and highway passing maneuvers conducted through the drive. Should I have given it another go, I would have liked to see what numbers could be achieved with some basic hypermiling. But that will have to be reserved for another day.
We are currently looking for experienced automotive journalists and editors to join our team. Make $60k-$80k per year doing what you love. We are also looking for an experienced web developer.
See details here
.