2017 Buick LaCrosse: First Impressions
We are currently looking for experienced automotive journalists and editors to join our team. Make $60k-$80k per year doing what you love. We are also looking for an experienced web developer.
See details here
.
29
All was quiet on the General Motors front at the 2015 Los Angeles Auto Show, save for the Buick brand. Sure, Cadillac had brought the 2017 XT5 to LA, but that had already made its splash in Dubai a week prior. All eyes were on Buick in LA.
Before the 2017 Buick LaCrosse debut, we were invited to take a closer look at the car and, after spending some quality time with all-new LaCrosse, we've compiled our first impression notes. Let us know how you're feeling about the 2017 LaCrosse and, should a question arise in the comment section, we'll be back to try and answer it to the fullest extent.
Exterior
The 2017 Buick LaCrosse is a looker. From a full front angle, to the front quarter view, the design is an absolute knockout to look at in person. Shifting the wheels forward has really helped with filling out the E2XX platform here and provides a potent sense of elongating the car. The new grille is also a win, sitting recessed, and not bulging out like the current LaCrosse grille does. It's darker, sleeker and, quite frankly, sexy up front.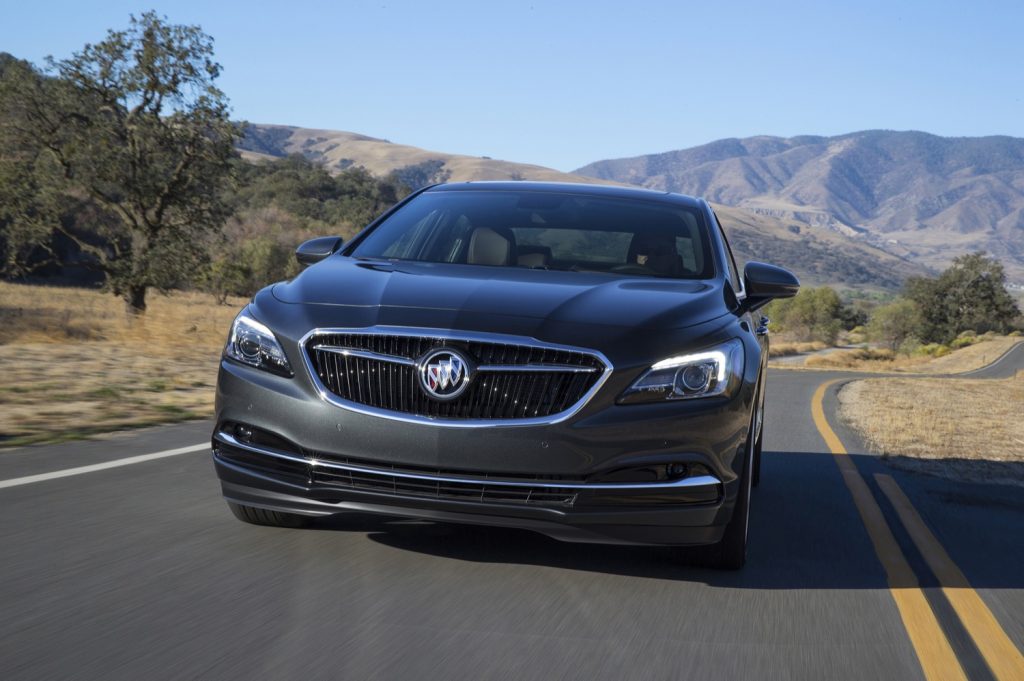 But, we start to get lost towards the rear. The design lines used try so hard to mimic the Buick Avenir shoulder hunch, something done with the flexibility of the Omega platform for the show car. On a front-wheel drive application, it's not as successful. There are some angles where the 2017 LaCrosse shoulder looks quite good, but other times it sits as a tad awkward.
Then, there's the rear itself. For all the good stuff going on up front, there's half of the magic in the rear. To be blunt, it's pretty boring from behind. The new winged LED taillamps are nice, but it's all too subtle, and really seems to be lost in translation from all the stylistic love up front. We do love the sloping roofline, which spills into the integrated lip spoiler, however.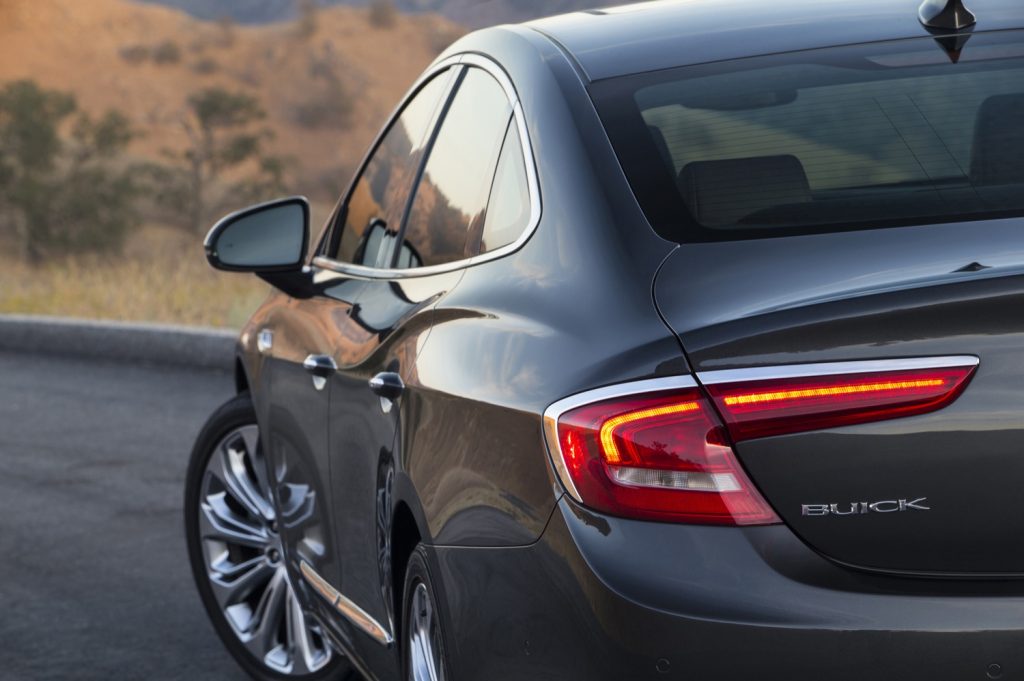 We're curious to see the 2017 LaCrosse outside of the pedestal and show lights, and actually take its shape on the road.
Interior
If there's one thing everyone will, no should, love about the 2017 Buick LaCrosse, it's the interior. Buick promised soft touch materials at every touch point, and it has delivered on that promise. Are there still some hard plastics? Yes, no doubt. But, they're not places where your hand will be encountering them.
Looking at the cockpit as a whole, we simply want to start a slow clap for the designers involved. It's an utter eye pleaser to sit inside the 2017 LaCrosse. The flowing lines hit in all the right places, buttons were placed in the most ergonomic location and the new Electronic Precision Shift felt premium and had a nice heft when selecting a gear. Not to mention, the floating center console looks great, and provides newfound storage space. Oh, and the integrated phone charging slot. That's a major win from a design and engineering standpoint.
As for actual roominess? It's good. We sat in the backseat with the driver's seat pushed all the way back and there was plenty of wiggle room to be had. This may be the first sedan you would feel absolutely comfortable with road tripping in since Ford's Panther-platform trio (Crown Victoria, Grand Marquis and Town Car).
Seats felt well bolstered and comfy up front, too, and the actual cockpit wraparound made for a pleasant surrounding for the driver.
Ah, but this can't be a perfect interior, right? Right.
Rear seat headroom is definitely going to be an issue with passengers. To move to a first-person perspective, I'm 5'9″ on a good hair day, and I could just feel the roof grazing my head in the rear. But, overall, this interior is one of the nicest design executions we've seen from GM in a long time. Yes, it trumps even some Cadillac designs.
Takeaways
The 2017 LaCrosse looks good, feels good and does a lot of things right from a first impression. Our biggest gripes reside in the marginal rear headroom, and a rather boring rear end design, but we digress.
Obviously, we don't have driving impressions (but we do have full specs right here). Only what you see above is what we were able to gather from the 2017 LaCrosse before the car is whisked away to the next venue on the auto show circuit. But, we seriously think Buick has a winning combination on its hands, and maybe an even more compelling reason why we continue to think Buick has an excellent shot at becoming an American Saab in design, luxury, amenities and maybe some quirkiness found in all of that "white space."
Sweepstakes Of The Month: Win a 2023 Corvette Z06 Convertible. Details here.
We are currently looking for experienced automotive journalists and editors to join our team. Make $60k-$80k per year doing what you love. We are also looking for an experienced web developer.
See details here
.