2016 Chevrolet Volt: First Drive
We are currently looking for experienced automotive journalists and editors to join our team. Make $60k-$80k per year doing what you love. We are also looking for an experienced web developer.
See details here
.
8
I've been driving a 2013 Chevrolet Volt for the past two years. I'm not ashamed to say that I am the most impractical Volt driver that I know. My apartment parking garage doesn't have a charging station, nor does it allow me to use my 110-volt charger that came with my humble hybrid hatchback. When I can get a charge, it's probably from one of the many level 2 charging stations found around the city of Detroit. Statistically, a Volt driver would be using their 110-volt charging cord in their garage, and efficiently commuting 15-20 miles to work and back each day, in California, using its electric range to save the environment from several hundred kilograms of CO2 emissions.
I live in the three-season state of Michigan, where winter goes from November to April (which batteries hate), I work from home, and I'm largely familiar with the drone of my Volt's gasoline range-extending generator. On top of it all, I autocross my poor Volt against Ford Fiesta STs and other athletic machines during the warm months. Though you may be surprised how well a 3,781 lb EREV built around driving efficiently can do against the stereotypical favorites that are both lighter and more powerful when fitted with a proper set of Bridgestone Potenza RE71-R high-performance tires.
You may be wondering why I even bothered to go with a Chevrolet Volt if I'm just going to bastardize its intended functions. But as any other, more traditional, Volt owner will tell you, the focus of the vehicle is endearing. Rarely do vehicles these days present such a honed mission statement, especially as the market evolves toward a demand for mish-mashy crossovers that try and be everything for everyone at all times. While never truly excelling at one particular thing. The outgoing Chevrolet Volt was unapologetically future-forward, offering the world a taste of electric mobility, without the range anxiety. It will go down in history as one of the most significant vehicles General Motors has ever built. In that sense, the first-generation Volt left some pretty big shoes to fill for the all-new, 2016 Chevrolet Volt.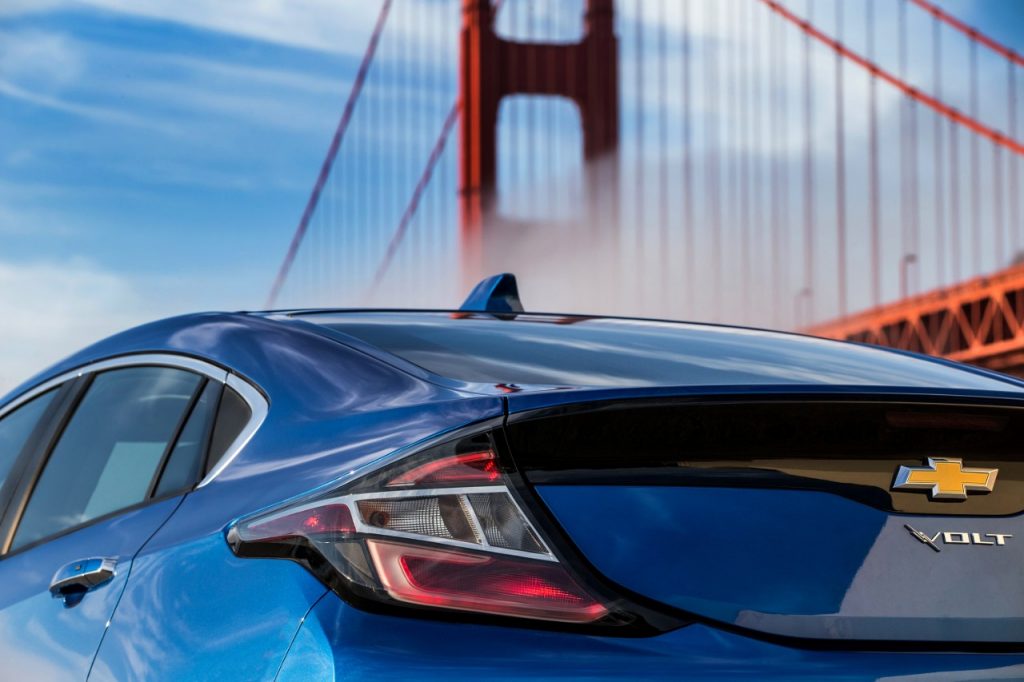 Immediately noticeable when sitting in the driver's seat of the 2016 Chevrolet Volt is that the interior is fantastically better than the outgoing model. It's more ergonomic, the displays are clean and crisp, and the material usage, colors and textures of the cabin are all significantly improved. Connectivity features such as OnStar 4G LTE and Apple CarPlay help add to the Volt's modernist street cred. Aside from the lack of a "friendly horn" blind pedestrian alert button (which has been replaced by a sort of white-noise sound that projects from the front of the car to alert the visually impaired), there was nothing missed from the old Volt. And while some buyers will miss the spaceship-like center console from the old Volt, the more approachable and mainstream setup may help draw new interest to the car. As will the addition of a fifth "seat," which is more of a spot to strap in a baby's car seat rather than a fully grown passenger.
Chevrolet mapped us a pretty rigorous driving loop outside of Sausalito, California, across the Golden Gate Bridge from San Francisco. The drive followed the Pacific Coast Highway for several miles, yielding epic ocean vistas, considerable elevation changes, and racetrack-worthy hairpin turns. More a road for a Ducati motorcycle than a plug-in hatchback. Yet this route yielded some rather improved driving dynamics. Right away, the weight loss is noticeable, as the 2016 Chevrolet Volt is a full 238 pounds lighter than the old one, with compliance and steering both feeling much improved. Chevrolet switching from Goodyear to Michelin rubber also helped improve the Volt's grip, while still maintaining a focus of low rolling resistance.
The 2016 Chevy Volt also felt more balanced than before, with less tip-in at the nose upon braking. Acceleration times are also improved, especially from 0-30 mph, which Chevy estimates at 2.6 seconds, or 19 percent quicker than before. 0-60 is estimated at 8.4 seconds — a seven percent improvement. To note, the Normal, Sport (more aggressive pedal mapping, good for launches), Mountain (charges the battery with increased generator effort) and Hold (maintains battery energy levels via engaging the generator) modes are all still present and accounted for. As a bonus, the Regen on Demand feature from the Cadillac ELR also makes its way onto the 2016 Volt, which engages the regenerative braking system via a paddle mounted behind the steering wheel. Regen on Demand decelerates the new Volt without having to push on the brake pedal, but isn't progressive like the actual brakes so the feature is more of a supplement than a replacement to the braking system.
Of course, this all got me thinking what sort of hell I could raise in an autocross with the new Volt. But 99 percent of Volt customers will likely care less. They don't know what they're missing.
Volt buyers and the like probably care about EV mileage more than anything. Which is a fun part of owning a Volt; efficient driving feels like a game with all of the numbers channeling through the two LCD displays. Through that same PCH driving route, I managed 59 electric miles, beating the EPA estimate of 53 miles, on a road that would make the average hypermiler quiver with anxiety. The takeaway here, I suppose, is that real world electric driving miles are more attainable than before.
That said, I was surprised that the drive didn't involve a more EV-friendly route, to really see what the possibilities were with the electric mileage. 2016 Volt engineers at hand during the drive event told me that some of the cars they tested have recorded 70 electric miles. Considering the outgoing Volt has an estimated electric range of 38 miles and I once achieved 50 EV miles with mine, I believe it. Chevrolet also estimates that plenty of drivers could go 1,000 miles between gas tank fill-ups. Though some could go as far as 1,500 miles before replenishing the gas tank.
As with major improvements in every category for the Volt, so is with the gasoline generator operation. The all-new 1.5L inline-four engine is more efficient, lighter and works less than the outgoing 1.4L unit. This translates to a more seamless operation between EV mode and range-extending mode. The buzz of the engine as it autonomously fluctuates to feed power to the batteries is so. much. quieter. So much better than before. An annoying sound I'm all too familiar with, hushed to levels of a conventional car.
For those of you lucky enough to live in those 11 states the 2016 Chevrolet Volt is launching in, keep an eye on your local Chevrolet dealer to have one soon, as shipments have already begun out of the Detroit-Hamtramck assembly plant. For the rest of us, including those living in Michigan where the Volt is built, we'll have to wait until at least the spring for the 2017 Volt to be available. For me, that means a new HS-class ringer is just another year away.
Sweepstakes Of The Month: Win a 2023 Corvette Z06 Convertible. Details here.
We are currently looking for experienced automotive journalists and editors to join our team. Make $60k-$80k per year doing what you love. We are also looking for an experienced web developer.
See details here
.