Meet The World's Fastest Chevrolet SS Performance Sedan: Interview
We are currently looking for experienced automotive journalists and editors to join our team. Make $60k-$80k per year doing what you love. We are also looking for an experienced web developer.
See details here
.
11
The Chevrolet SS is a special car, we've detailed that many times before but, it makes for an even more unique drag build. Ryan Angellotti is the owner of this Heron White 2014 Chevrolet SS performance sedan, and we decided to sit down with him to get the story on how he created the world's fastest example.
GM Authority: To begin, tell us about how you got started with this absolutely incredible build you have on your hands here.
Angellotti:  I own an automatic 2014 Chevrolet SS, rated at 415 hp and 415 lb-ft of torque from the factory with the 6.2-liter LS3 V8. I took it to the track shortly after I bought the car and ran a 12.9 at 108 mph in stock format. Immediately I knew I needed more! So, we did some modding to the car. It is currently the quickest, and fastest, Chevy SS in the world. The car, as it sits on a very hot and humid day, ran a best time of 10.99 in the quarter mile with a best trap speed of 129.11 mph. We have since added more power to the car, with those times to be determined.
GMA: Give us some specifics on what has gone into your SS to crack that time.
A: This all started off as a basic supercharger swap, maybe we'd add an LS9 cam, maybe keep the stock pulley on the blower and so on. Then things got out of control. I wanted more … then more … then more. I talked to my tuner, Shane Hinds, of Tuning by Shane Hinds based out of St. Louis. My builder, Greg Connoyer from STG Motorsports, and myself decided to go with the LSA supercharger setup out of the second-generation CTS-V since it literally bolts right on.
The blower has a 2.38-inch pulley on the snout good for 11.5 PSI, with a stock lower pulley on the crank. It has a custom grind blower camshaft from Tick Performance (219/235 .619 .610 116+5), ZL1 lid with intercooler, LS7 card style MAF, 2013+ GT500 heat exchanger, Injector Dynamics ID850 injectors, Camaro ZL1 dual disc torque converter, Yank LS1 Flexplate, Kooks 1-7/8 Headers with cat-less x-pipe, Hoosier 28-inch slicks out back with 4.5-inch wide skinnies up front and, of course, custom tuning from Tuning by Shane Hinds.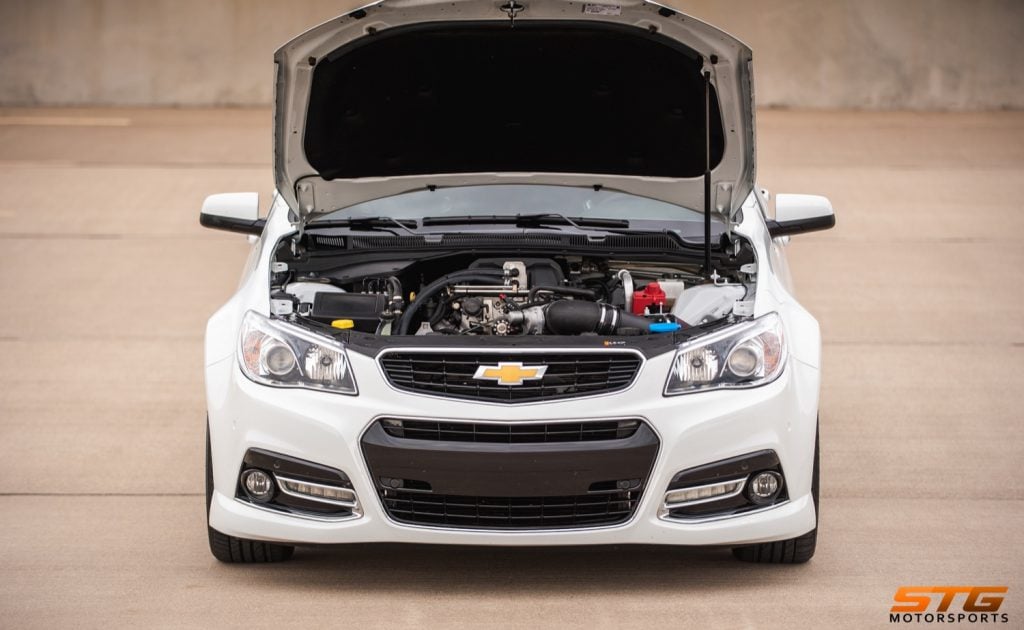 GMA: Wow. There's a lot of love in this car, that's apparent. What kind of reactions do you get from the car? The SS is a rarity, but then you see one built like this.
A: "Is that a Malibu?" is the most common thing I hear. Or, "What type of SS? Impala SS?" I knew that was going to happen. It doesn't bother me. I find it kind of funny, actually. It's easier to ask people if they know what the Pontiac G8 is, because they usually say yes. I tell them it's a newer version of the Pontiac G8 with a Corvette engine, though, it depends on how much they know about cars in general.
As far as the build is concerned, people are blown away by how quickly, and how inexpensive it was, for this 4,000 pound sedan to hit 10s in the quarter mile. People constantly ask me "Are you afraid the transmission is going to go?" or, "How can a stock transmission handle that power?" I am a firm believer, especially with these newer six-speed auto transmissions, that it solely comes down to the tuner. There are so many parameters that need to be tweaked to protect the longevity of the transmission, even at my power level. I believe that my tuner is the best in the business when it comes to tuning the 6L80E and 6L90E transmissions. His old G8 has been making north of 750whp on the stock transmission, and bottom end, for over three years now.
GMA: You sound ambitious yet. What are your future plans for the car?
A: Future plans for the car include hitting nines in the quarter mile. I think that would be a pretty neat goal to accomplish. I am in no rush for that, though, I just want to enjoy the car as it is and have some fun on the weekends with it.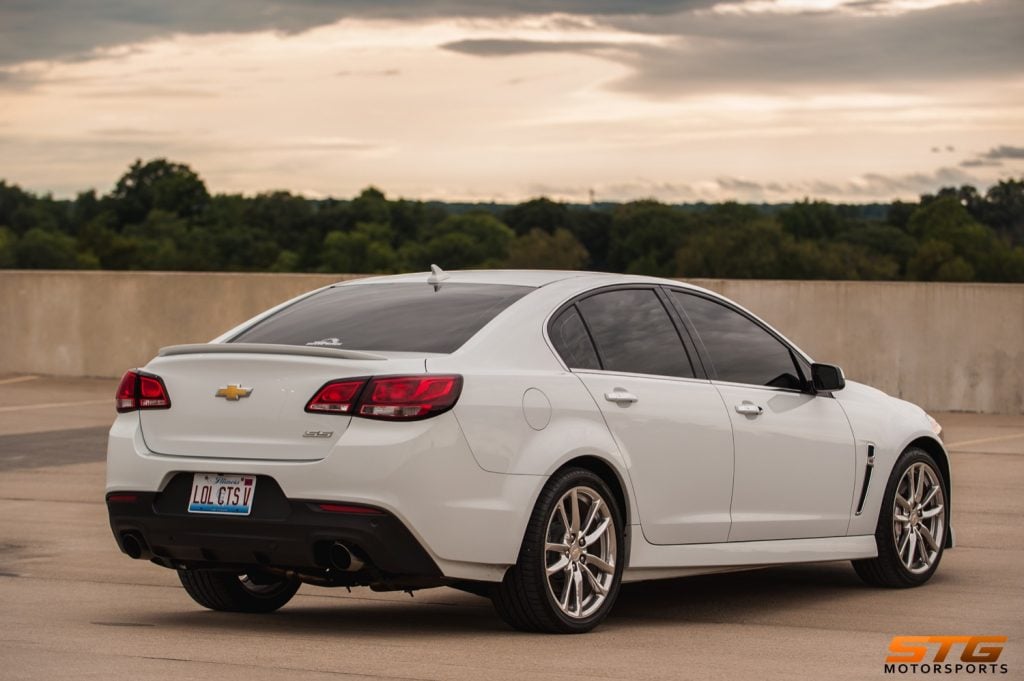 GMA: Fair enough. But are there any other toys in the garage?
A: No other neat toys in the garage besides my daily-driver Stryker Blue Pontiac G8 GT. I did just get rid of my 600 whp 2004 SVT Cobra after hitting 10s in that as well last month. I'm undecided on what I will buy next.
GMA: We could think of a few things … Anyway, what's one of your favorite things about the Chevrolet SS?
A: Well, besides the obvious performance under the hood, I think my favorite things about the SS are the heads up display (HUD), and the exclusivity of owning a rare car. I love explaining what kind of car this is, and where it's from. They are usually shocked and are very interested because they have never heard of it.
GMA: And, to follow that question up, what's one thing you would change about the Chevrolet SS?
A: The name, plain and simple. Why on Earth would GM just call it the SS? I say make up a new name for the car, or at least call it the Super Sport.
GMA: Holden will cease manufacturing of the rear-wheel drive V8-powered Commodore in 2017 . What advice could you give to GM/Holden to ensure a successful future going forward after this car exits production.
A: Advertisement. I truly think, as an all-around package, this is the greatest four-door Chevrolet ever made to date, thanks to Holden. The performance, handling, braking, technology, and creature comforts the car has are comparable to a BMW or Mercedes at almost half the cost. It's well worth it.
Sweepstakes Of The Month: Win a 2023 Corvette Z06 Convertible. Details here.
We are currently looking for experienced automotive journalists and editors to join our team. Make $60k-$80k per year doing what you love. We are also looking for an experienced web developer.
See details here
.