2016 Cadillac CTS-V: First Drive
9
Earlier this week I played a game called "let's-manage-heavy-crosswinds-at-145-miles-per-hour" at Wisconsin's amazing Road America racetrack with a 2016 Cadillac CTS-V. I won.
There are few vehicles out there that can remain so composed and confidence-inspiring during such high rates of speed, peppered with some gusty adversity for good palm-sweating measure. Fewer still are luxury vehicles. And even fewer have four passenger doors to their design. The 2016 Cadillac CTS-V is one of those vehicles.
At this point, the all-new, 2016 CTS-V needs little-to-no introduction. But just in case you haven't read anything since NAIAS 2015, here's the skinny on this new Detroit lion: 640 supercharged horsepower and 630 foot-pounds of torque from a 6.2L LT4 V8 engine, tailored to be slightly different from the LT4 found in the seat-staining C7 Corvette Z06. There's also the latest, third-generation Magnetic Ride Control present, offering a plethora of driving modes and ride/handling settings. Things wouldn't be complete without the mandatory (steel) Brembo brake set on front and back, the former being the largest of any vehicle of this type. They are then covered by 19-inch wheels, wrapped in bespoke Michelin Pilot Super Sport tires. The 2016 CTS-V can then be garnished with an optional carbon fiber downforce aerodynamics kit, and top-shelf Recaro front seats.
However, nowhere on the option box is there the choice of an on-call legal team to keep the courts from suspending your license after too many speeding tickets.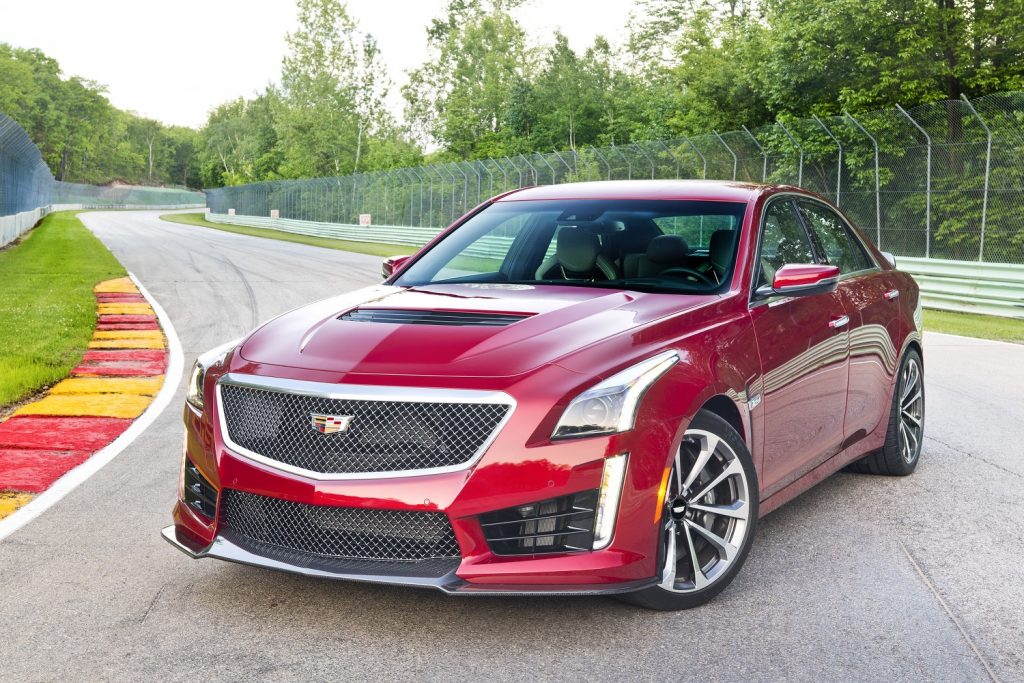 Then again, if you can afford a $83,995 super sedan, legal fees are likely of no issue to you. Yes, that is a significant jump in MSRP over the second-generation CTS-V, which was a tweener vehicle of sorts with near M5 size, power and heft for M3 pricing. Now, with the ATS-V, Cadillac no longer needs to straddle segments here, leaving the CTS-V become a more focused vehicle than before to compete with the BMW M5 and Mercedes-Benz E63 AMG more effectively in size, features, performance and what have you. And even though $83,995 is a lot to take in for those used to the old model's pricing, the third-generation CTS-V still manages to slightly undercut its German rivals. While offering significantly more horsepower, and a superior power:weight ratio.
As a result, German brand snobs will eventually have to come to this cold realization: the Cadillac CTS-V drives better. And it has superior tools to make the driver more effective behind the wheel. This is thanks to both GM's Performance Traction Management (PTM) modes, and the Performance Data Recording (PDR) system that collects all the necessary information for drivers to study their moves and hone their skills. Like a pro athlete watching their game film from a week prior in an effort to be a better player for the next one. Or they can just shamelessly post their recordings on whatever social internet channel they so choose.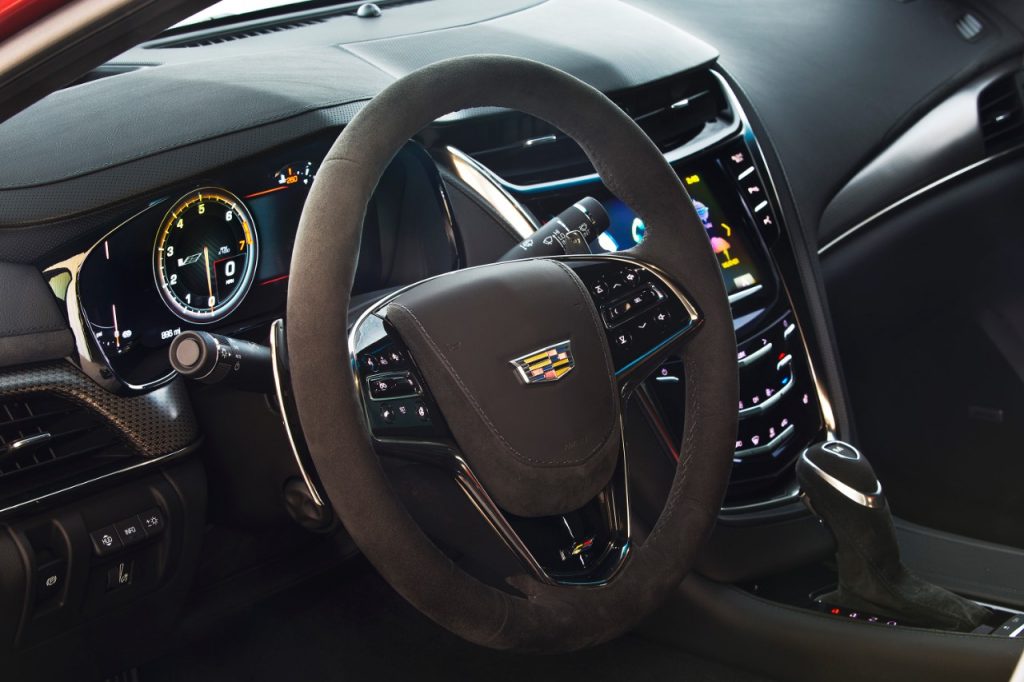 Onto the laps. Cadillac rationed automotive journalists, video hosts and bloggers with three full laps on Road America each time we harnessed ourselves into the driver's seat. Feeling the embracing sensation of adjusting the fantastic Recaro seats, toggling through the drive mode selector to the Track setting, activating PTM by turning off both the Stabilitrack and traction control systems, and thereby opening up driving modes within modes. From there, I selected the Race mode. With a raised thumb towards the staging crew, the press of the floor-mounted gas pedal, and the rewarding acknowledgement of the 1.7L supercharger, I surged out of pit lane and up the hill onto the home straightaway. The heads up display teasing me to go faster as it reads 140 miles per hour. Then 143. Then 145. Then halting down to 70 miles per hour as the Brembos acknowledge my stomping of the brake pedal, as they decelerate the 4,145 lb 2016 CTS-V to be thrown into turns 1 and 2, so as to again get the supercharged V8 to tractor beam the car back to triple-digit speeds. And so it went again and again. My face beading with sweat from the heat of my enclosed racing helmet, my hands and feet attempting to mimic the precise inputs of the professional drivers that grace this four-mile track in the warm months.
I don't remember the E63 or M5 I've driven on this track feeling as sharp, as strong, as engaging, or as nimble. Road America did nothing but highlight the attributes of the 200 mph-capable CTS-V. Its power, its braking, and its ability to hold a line like the actual race cars that take to the track on weekends. But there are some blemishes to be found when scrutinized closely enough. Most of them personal ones. My own preference would be to have both the option of a manual transmission and a louder exhaust note. The counterpoint is that the stick shift wouldn't sell in significant numbers (but they never do, and that's hardly the point of them in the first place, though manual transmission performance cars do tend to hold their value of longer periods of time because of their scarcity). As for the eight-speed 8L90 automatic transmission, which has faster WOT shifts than a more expensive, complex and heavier German dual-clutch transmission, has wonderful-to-the-touch magnesium paddle shifters to use if one so chooses, but the shifting algorithm is actually faster if the gear selection is left up to the car, and not the human. While this does allow its driver to focus on just the throttle, brake and steering inputs, it can also feel less engaging this way.
The other counterpoint is that Cadillac was deliberate in hushing the CTS-V to more "tasteful" levels of noise. For those on my side, Cadillac hasn't announced a factory-backed exhaust kit for the new CTS-V just yet, but considering that there was one offered on the old one, there remains hope. Meanwhile, the sedan, as razor sharp as it looks and in my opinion the best-looking car in its class, is the only body style Cadillac has confirmed. Perhaps with enough demand, there could be a coupe, but the wagon version celebrated by so many enthusiasts will likely never come back. At the same time, Mercedes offers a E63 AMG wagon and sedan in this generation, and the option of all-wheel-drive; something else missing from Cadillac's spec sheet. Will it all ultimately matter? Probably not.
Last but not least, the LT4 engine of the 2016 Cadillac CTS-V was exhibiting some pretty extreme oil temperatures after a session of hard laps. When I re-entered the pits, I was able to observe the digital instrument panel, which communicated that the current oil temp was 298 degrees Fahrenheit. That's very, very hot. And this was after lunch, where the cars got to do nothing but sit for an hour. While things got hot, I was still routinely in the 140+ mph range on the home straight. Power loss, shmower loss. Yet this too, will likely not matter, as 95 percent of all CTS-V sedans sold will probably never see the track. For those that do, it's possible that they also tracked their old CTS-V, which don't forget, was also supercharged.
Off the track, the 2016 Cadillac CTS-V exhibits some pretty impressive duality, thanks to its multiple ride mode selections. Toggle into Touring mode, and the big V retracts a few of its claws, softening throttle progression, hushing the exhaust, and relaxing the taut suspension. The magnetic dampers, 19-inch wheels and low-profile Michelins do absorb bumps pretty well, but don't kid yourself into thinking it's somehow reminiscent of the big and fluffy Broughams and DeVilles of yore. The 2016 Cadillac CTS-V is still a sport sedan no matter what setting it happens to be in. Yet the coddling cabin with saffron accents and carbon fiber trim is sexy and clean and reminds one that the CTS-V is more than just a performance car. The updated digital instrument panel with the tachometer front and center, which turns a contrasting white when in track mode, is a wonderful step in the right direction. As is the faster-operating CUE system.
The biggest takeaway from the 2016 Cadillac CTS-V is that buyers can be both the calm, and the storm. Take it to the track. Take it to the opera. Take your grandmother to the farmer's market. Race BMWs between traffic lights. Enjoy the fact that there's speed and power, everywhere. That it's the best performing sport sedan you can buy right now. And that it's uniquely Detroit, New York, and American.
Sweepstakes Of The Month: Win a Corvette Z06 and 2024 Silverado. Details here.
We are currently looking for experienced automotive journalists and editors to join our team. Make $60k-$80k per year doing what you love. We are also looking for an experienced web developer.
See details here
.