2015 Chevrolet SS VS Pontiac G8 GT: We Drove Two Holden Commodores Across Michigan
We are currently looking for experienced automotive journalists and editors to join our team. Make $60k-$80k per year doing what you love. We are also looking for an experienced web developer.
See details here
.
20
What is the proper thing to do when Chevrolet loans us a 2015 SS performance sedan? Round up our resident VE Holden Commodore (once a Pontiac G8, for those not in the know) for a cross-state road trip, of course.
Our journeys began in Detroit, in the hustle of Motor City, took us through Interstate 94 into Kalamazoo, and finally to the small, coastal town of South Haven, home of Gingerman Raceway. We felt it would the perfect time to grab impressions of the short-lived Zeta offerings in the U.S.: the Pontiac G8 GT and Chevrolet SS.
The biggest difference from jumping behind the wheel of the VE Commodore to VF is the interior. When the Pontiac G8 went on sale in the United States, it was a performance-bargain powerhouse, offering a stepping stone into V8 power under $30,000. But, it's apparent the interior is where cost cutting prevailed. Yet, if four-door practicality and driving performance is what was desired above all else, there were very few choices for that price, and the G8 was one of them.
A sea of gray and black is abundant, offset by minor red details in the gauge cluster. The dash is covered in a semi-soft mesh material, mixed in with leather and plastics. It's not the prettiest, but pretty doesn't mean fast.
Sitting down inside the VF Commodore tells a different tale. Flash-forward years later, and the Zeta positioning is different this time around. The Chevrolet SS is aimed to be the range-topping, halo Chevrolet performance car. To accomplish that, the SS has been imported with no restraints in the features department. Fully loaded. In fact, other than choosing a manual or automatic gearbox, there are two options for the SS: a power sunroof and a full-size spare tire. Our tester even had OnStar 4G LTE, allowing for work on the go, as pictured below.
The dash is covered with suede-like material with SS embroidering on the seats and passenger glovebox, making it feel like a much more special vehicle over the VE Commodore/Pontiac G8. Seats are better bolstered, and the technology included far surpasses what was offered on a top-spec G8 six years ago.
First and foremost, these cars were designed as family sedans. And they accomplish the task in strides, both offering bountiful legroom. Aside from not being the one driving, there is no penalty box for sitting in the backseat of either car.
But, Holden has had a long tradition of dropping in powerful V8 engines under the hood of these family sedans, transforming them from mere grocery getters, to super saloons. And neither disappoint in this regard either.
The Chevrolet SS brings with it tried-and-true 6.2-liter V8 LS3 power, pumping out 415 hp and 415 lb-ft of torque. No slouch in the slightest, that's for sure. With each rev and downshift, the LS3 seems to clear its throat in a fiery burble for the next climb up the rev limiter. But there's more to the charm of the 2015 Chevrolet SS that enchants its driver. There is no other car in the U.S. market that offers the combination of V8 RWD power, Brembo brakes, and a do-it-yourself gearbox in the package of a full-size family sedan. None. Yes, Dodge has the SRT8 Charger, but that SRT8 Charger doesn't have a stick shift. It also doesn't drive as sharply. More people need to test drive these cars to really understand how fun they are. On the same end, we wish more basic models were accessible, as the $40,000-plus MSRP has proven to be a hard truth that most buyers don't want to accept.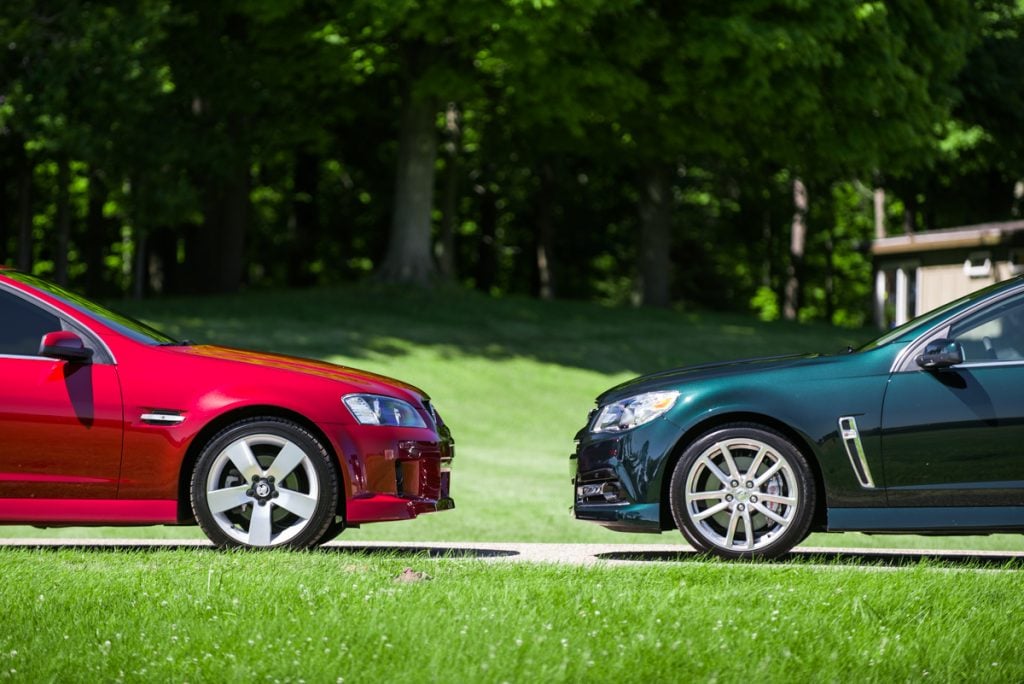 The VE Holden Commodore — slightly shorter than the Chevrolet — we have on hand came equipped with the L76 6.0-liter V8 engine, cranking out 361 hp and 385 lb-ft of torque. Stock, the exhaust is nearly whisper quiet compared to the big Chevy. Good thing the Solo Performance Axlebacks installed earlier this year do the 6.0-liter plenty of favors should you run into a revving contest with a Chevrolet SS.
The SS is no doubt quicker than its predecessor, but the 6.0 won't leave you wanting more when passing slow moving traffic on State Route 43.
Moving past the technicals of both cars, there's no denying both of these cars offer a distinct charm unseen on anything sold in the United States. They have four doors, big V8 engines sit under the hood and they're both strictly rear-wheel drive. The U.S. may have fallen out of love with the RWD sedan for some insignificant reason, but these two candles in the wind keep the flame bright in a dying segment. Not to mention the perplexed looks, and questions to answer, when those who don't know any better ask what kind of cars these are. And, if you're anything like us, you have no problem opening their minds to Aussie car culture.
This is a story of the Zeta journal. The platform that kept the rear-wheel drive performance vehicle kicking when things looked bleak inside of GM. The performance credentials found in both cars will leave German counterparts from both car's eras shaking.
We didn't have to take two cars across the state, but as we chased the sunset, it just felt right. One Chevrolet, another Pontiac, but both Holden at heart.
Sweepstakes Of The Month: Win a 2023 Corvette Z06 Convertible. Details here.
We are currently looking for experienced automotive journalists and editors to join our team. Make $60k-$80k per year doing what you love. We are also looking for an experienced web developer.
See details here
.