Mother Nature Tried To Ruin My Super Bowl Weekend, A 2015 GMC Sierra HD Saved It
We are currently looking for experienced automotive journalists and editors to join our team. Make $60k-$80k per year doing what you love. We are also looking for an experienced web developer.
See details here
.
0
One has to ponder the possibilities of what they could do with a 2015 GMC Sierra 2500 HD. Despite my best efforts of asking people if they needed stumps pulled, needed 2,800 lbs of whatever hauled across the state, needed 17,000 lbs of cattle pulled to the new farm, or if their power was out and needed access to a 110V outlet and wifi internet courtesy of OnStar 4G LTE. Alas, nothing.
So, I collaborated with a few friends to go up north for the annual Rally America Sno Drift rally last weekend, which also happened to be Super Bowl XLIX weekend. We packed all the essentials: winter gear, a grille, meat, coolers, toiletries, backpacks full of clothes, GoPro cameras… and an Escort Redline radar detector.
The 2015 GMC Sierra HD 2500 HD was a 4×4 crew cab, with the proven 6.6L Duramax diesel V8 in SLT trim and a standard bed. In some sort of funky configuration, it didn't have side steps to get into the cabin. Watching my 5'8″ frame getting in and out must have been hilarious to watch, with a lot jumping and pulling on handles in an effort to climb into the drivers seat. Like how a child attempts to fit in their dad's shoes.
Once inside, and once on the road, the massive 2015 Sierra HD could be mistaken for a jet. Except far more comfortable. Accelerating gives way to a wonderful spooling song from the turbocharger, like a miniature version of the turbine on a Boeing. And streaming internet radio via our smartphones via either USB port or Bluetooth for five hours would have done major damage to any data plan, we had wifi, and the data was spared while we blared djent and prog metal the whole way up. Only when we ended up in vicinity of the remote cabin on unplowed winding roads did the wifi cut out. As did our cell phone service. But the drive was done so it was hard to care. I parked the big black beast outside in the 4 degree weather and we went inside. In the morning, we would attend Sno Drift.
Nobody bothered the check the weather for the journey home.
The Sno Drift rally was fun, but due to some miscommunication with another group of friends, we only watched one leg of the rally. Of which only half the cars were racing. No matter. We parked near the course, busted out the grille, the patties that I hand-made that morning (90% lean grass fed beef seasoned my way with a dash of maple syrup. Don't shortcut on your food, kids), the pretzel buns, the camping chairs, etc. And we just hung out around the tailgate enjoying our efforts until the first car powered by in a plume of white powder and boxer engine finesse. But just as soon as the cars came by, they went. And we were left to do with nothing. We didn't drive 250 miles to watch 30 minutes of amateur rally racing.
Go to the official post-race party? Eh. Go back to the cabin and do literally nothing? Eh.
Travel another hour and a half to Traverse City? Yep.
So, we did that.
The next morning, we received word from our families in SE Michigan that the snow was really starting to accumulate. So we packed the truck, and headed south. We had no trouble until south of Houghton Lake, where the road began to fade to white. We stopped in East Lansing for lunch, and contemplated our next move, as the roads became blankets of snow.
Do we stay in the town and hunker down, and abandon our Super Bowl party plans with our families? Of course not. Not with the $63,000 specimen of capability outside willing to take us anywhere.
And, slowly, we managed to make it to Rochester. I dropped my friend off, and proceeded to back-road to my parents' house that was yet another 45 miles away. At this point, there were no roads anywhere, and mailboxes were the only indicator between a flat surface and the top of a ditch. The truck was emptied out, my comrades were safe and sound, and all I had to do was drive to mom and dad's for the Big Game, where I managed to show up, 9 hours after leaving the cabin up north, just as Missy Elliot was performing during the halftime show. Which I must say, was far less occult than usual. At the end of the game I could have driven home.
I decided to stay in that night.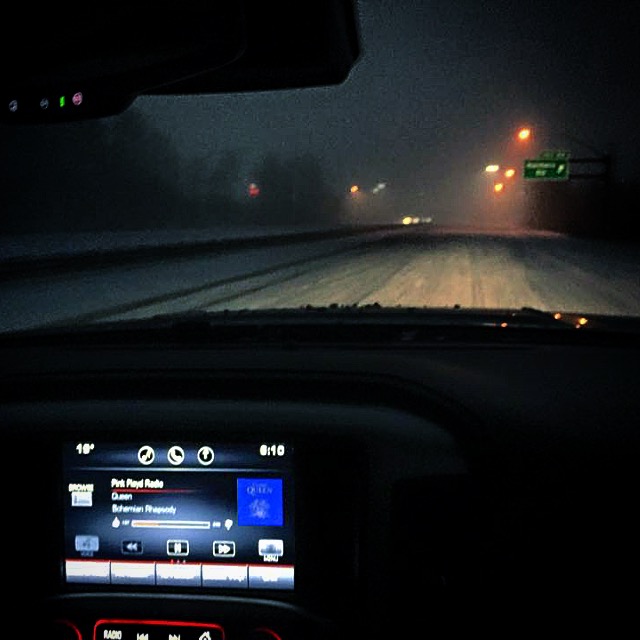 Sweepstakes Of The Month: Win a 2022 Corvette C8.R IMSA GTLM Championship Edition. Details here.
We are currently looking for experienced automotive journalists and editors to join our team. Make $60k-$80k per year doing what you love. We are also looking for an experienced web developer.
See details here
.