GM Will Do More Than Revitalize Mid-Size Truck Segment With 2015 Colorado And Canyon: First Drive
19
Under the warm California sun, the vehicle scene is a little different compared to what's observed in the Motor City. To start, there are far fewer domestic cars, Porsches are in place of Corvettes, and full-sized trucks are overrun by Toyota and Nissan mid-sized trucks.
9-year-old mid-sized trucks.
How did this happen? How did an entire segment dry up and become so barren? We're not talking about product choices, but also the technology, features and refinement? The entire industry seems to have left this segment behind. Buyers looking for the utility of a mid-sized truck are left with one option: to buy a crossover, because of CUVs' modern amenities like touch screens and better fuel economy. There isn't even a choice for a domestic model. And die-hard mid-size truck owners don't bother with a new model because, well, there hasn't been anything very new about them. Yet there are 12.5 million registered mid-sized trucks on the road. That's 5 percent of the entire U.S. automotive market, and a market segment where customers are the most dissatisfied.
Enter the 2015 Chevrolet Colorado and 2015 GMC Canyon, the alarm clocks for this sleeping segment.
Compared to the Nissan Frontier and Toyota Tacoma, the 2015 Colorado and 2015 Canyon are far superior on the spec sheet. The two GM trucks have emerged as segment leaders in payload, in towing, in technology, in horsepower, and in fuel economy. Whether this fiercely-loyal market will bite or not remains to be seen, but with over 30,000 pre-orders (well above GM's expectations), buyers do seem thirsty for trucks like these up front.
A 2015 Colorado with the 2.5L Ecotec inline four engine is capable in its own right. Performance came off as adequate, delivering enough finesse to not feel under-powered or anemic at any time. If you're the type to use your truck as a commuter and occasionally throw your wake board or dirt bike in the bed, while wanting to keep things under $25,000, you may consider a 2015 Colorado with the 2.5L Ecotec LCV. And compared to the spartan interiors of Toyota and Nissan, the 2015 Colorado looks and feels like a luxury vehicle, with some trickle-down refinement coming for the Silverado family. This means it's also exponentially quieter, drives far less harshly, and packs in far more technology content than the previous Colorado, let alone the Taco and Frontier. A downsized full-sized truck, or a crossover with the utility of a pickup bed? Customers from both markets may find themselves test driving GM's new mid-sizers soon (when the the stop-sale lifts).
Upon entering the cabin of the 2015 Canyon, one thing that's immediately noticeable are the materials. It's more premium than its Bowtie brother, with the SLT model using actual brushed aluminum in the center console, like its larger siblings, the GMC Sierra and Yukon. In short, things aren't as plastic in here as they are in the Chevrolet, and for those who desire a nicer cabin in their mid-size truck, a 2015 Canyon seems to be the only option at launch, as there is no LTZ-trim 2015 Colorado yet. Rather, the Colorado Z71 is the range-topper for now. Yet both have OnStar 4G LTE standard, both have touchscreen infotainment with Bluetooth, and both are as quiet as any modern crossover with which they may be cross-shopped.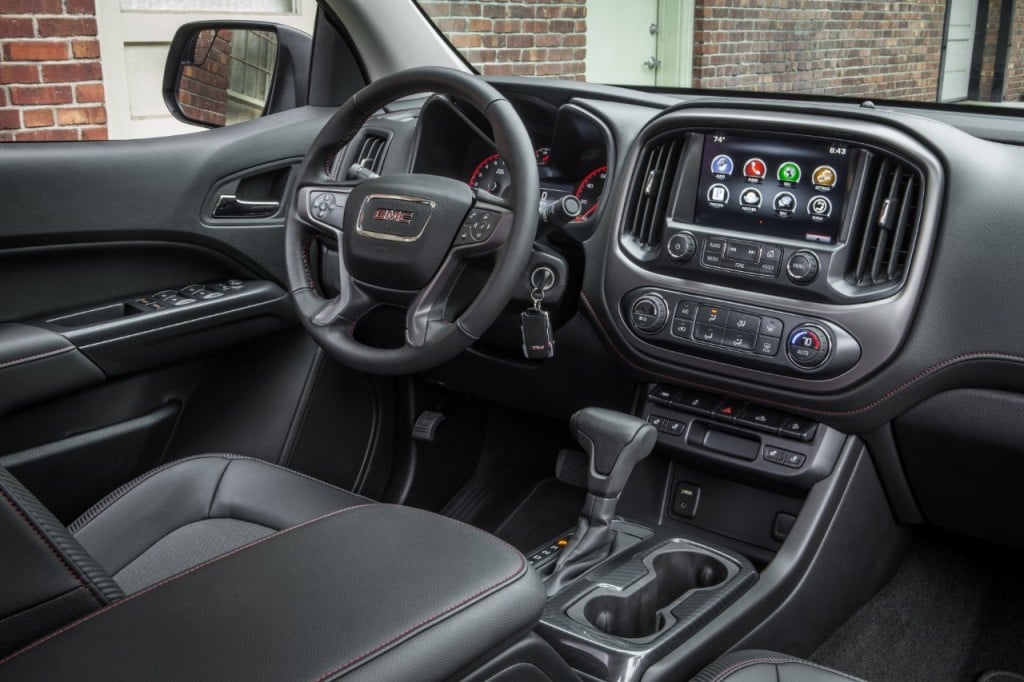 How useful is OnStar 4G LTE? Well, this write-up was partly written in the cabin of a 2015 GMC Canyon (though the laptop couldn't be plugged in). And unlike the insufferable excuse of Wi-Fi that is GoGo InFlight Internet in the plane back home, it works. It works very well. It is of course, a segment-first, as are an automatic locking rear differential, an automatic transfer case, a refined EZ Lift & Lower tailgate, intuitive CornerStep rear bumpers and long-lasting Duralife brake rotors. Those are just a few notable edges over the old Toyota Tacoma and Nissan Frontier.
Then there's the combination of power and fuel economy. A 2015 GMC Canyon or 2015 Chevrolet Colorado with a V6 not only deliver unparalleled payload and towing ratings for the segment, but even match or beat the fuel economy of the four-cylinder engines from the competition that it greatly overpowers.
The 3.6L V6 LFX is also the standalone motor for all crew cab configurations, which is expected to be the big taker. It provides plenty of push and pull, and works surprisingly well in these trucks, with a max tow rating of 7,000 pounds (with the trailering package option). That's way more than anybody needs to pull their lake fishing boat, their jet skis, or even their weekend racing car. At 7,000 pounds of towing capability, a 2015 Colorado could tow a 2015 Silverado HD, for some perspective. But we're left wondering where the optional gearing is for either engine, even with a trailering package. No towing mirrors, either. Though the Tow/Haul mode felt great when shifting gears with a boat in back.
Additionally, choosing the crew cab configuration puts the price range of the 2015 Colorado and 2015 Canyon well into the $30,000+ range, well beyond the base MSRPs, with just a few options such as the GearOn cargo management system and a bedliner. Sticker shock may push some buyers to stay with the base extended cab or skip right to the full-size segment. But considering the early ATP of the 2015 Canyon is closer to $40,000 than $30,000, maybe I'm the fool, though this observation could just be a byproduct of early adopters or even the limited availability of early supply.
If there's anything missing in these trucks, it's the 8-speed transmission or 4.3L V6 at launch, which would bring even more power and capabilities to the lineup. The 8-speed is expected eventually, maybe for the 2016 or 2017 model years. But the 4.3L EcoTec3 was shrugged off by engineers, saying "it's a packaging issue." I doubt it, and on the same end, there's talk of an eventual GMC Canyon Denali, which promises not to be a simple chromed body kit of a Canyon SLT, but a powertrain upgrade as well. But for those who really want that big-truck capability, there's a 2.8L Duramax diesel inbound for the 2016 model year.
One last powertrain concern is that there's not enough of a fuel economy gap between the 2.5L I4 and 3.6L V6. The four-pot gives back just 1 combined mile per gallon over the V6, while the bigger engine delivers over 100 more horsepower at the sacrifice of 1 mpg. The option of which is $1,235, though that's just in range of what mid-size truck buyers aim to spend on significant options such as a powertrain. On average, a mid-size truck buyer is more frugal than a full-size customer, so it makes sense to keep the options in a sensible range. A lot of which will be spent on cargo accessories and the trademarked GearOn system.
If you're 6-feet-tall or even taller, the backseat of the 2015 Chevrolet Colorado and GMC Canyon is a bit of a squeeze, even in the crew cab model. The leg room and headroom of a crew cab example feels a bit like that of a compact car (there needs to be more space under the front seats so that rear passengers actually have room for their feet), while the standard cab rear seats should be reserved for children and people you hate. Plus, the extended cab doors swing open to just 90 degrees, which in some situations could make things awkward when getting in and out of the truck.
The hidden gem of a configuration — which will most definitely see the fewest orders — is the stripped-out 2.5L 2015 Colorado or 2015 Canyon equipped with a manual transmission. It's no Camaro Z/28 in terms of how sharp or how short the throws are, but it did a great job reminding me of driving a late-model C/K truck from 15-20 years ago, when the proportions of the full-size Silverados and Sierras were more than what we could consider mid-sized today. Moreover, the steering and overall feel of the manual truck just felt better, with credit going to the lightest weight configuration, and smaller wheels that returned a better steering experience. This configuration struck me as to-the-point, capable and rugged. A truck that's simply a truck, what more do you want?
Considering the capabilities, fuel economy and refinement of the 2015 Colorado and 2015 Canyon, these welterweight trucks may not only conquest buyers from other mid-size trucks and crossovers of all sizes, but attract plenty of full-size buyers, as well. Perhaps even from the 2015 Ford F-150, where fuel economy is expected to top its segment, but also come at a premium. A 2015 Colorado or 2015 Canyon could offer similar or even better numbers at a fraction of the price, which has yet to be announced for the Ford, while maintaining the utility of a truck bed. It will be interesting to see how GM plays this one from a marketing and PR standpoint in the not-too-distant future. Meanwhile, early orders have already shown a pent-up demand for GM's mid-size trucks. And as they will undoubtedly be upgraded through their life cycles, the Chevrolet Colorado and GMC Canyon lineup will remain in the minds of buyers.
Sweepstakes Of The Month: Win a Corvette Z06 and 2024 Silverado. Details here.
We are currently looking for experienced automotive journalists and editors to join our team. Make $60k-$80k per year doing what you love. We are also looking for an experienced web developer.
See details here
.