How To Properly Prepare Your Ride For The Woodward Dream Cruise, Using A 2014 Corvette Z51 Convertible
We are currently looking for experienced automotive journalists and editors to join our team. Make $60k-$80k per year doing what you love. We are also looking for an experienced web developer.
See details here
.
0
By Alex Sizeland, shared to GM Authority
There are few things more sacred in life than the bond between a man and his machine. One of the best ways to renew that bond is by giving the trusty vehicle a well-deserved bath before a weekend of cruising. And this weekend isn't just going to be any cruise. It's the Cruise. The Woodward Dream Cruise. The mecca of car meets. So, needless to say, it's important to make sure your vehicle is in pristine condition for all eyes to draw on your mechanical pride and joy.
Because you might love your car more than breathing, we thought we'd give you some sound advice on how to properly shine things up. Take a seat and pop a top for a quick DIY on how to give your vehicle a pampering that'll make your significant other jealous. Our subject? A 2014 Corvette Z51 Convertible.
Step 1: Organize
Line up all of your materials. We use certain brands/product lines due to the factors of availability, eco-friendliness, overall value, and smell (sort of). For this particular session, we wanted to give the 'Vette an overall quick cleanup, with a light polishing to remove most imperfections in the paint, in case the snoopy neighbors weren't already jealous.
We used Menzerna SF4000 for our polish, Chemical Guys Mr. Pink for shampoo, Chemical Guys Heavy Duty Degreaser, Chemical Guys Signature Series Glass Cleaner, Chemical Guys VRT for trim/tires, Sonax Full-Effect Wheel Cleaner, Car-Pro Iron-Cut de-ironizer, Chemical Guys Glossworkz Glaze, a Gilmour Foam Gun, 303 Fabric Sealant, Vesco Carnuba Wax, Flex 3401XC Dual-Action polisher, and assorted buckets and brushes, lined with "grit guards," and an Autoscrub. If you'd like more detail on our products, feel free to scour the internets for more info, or drop us a line.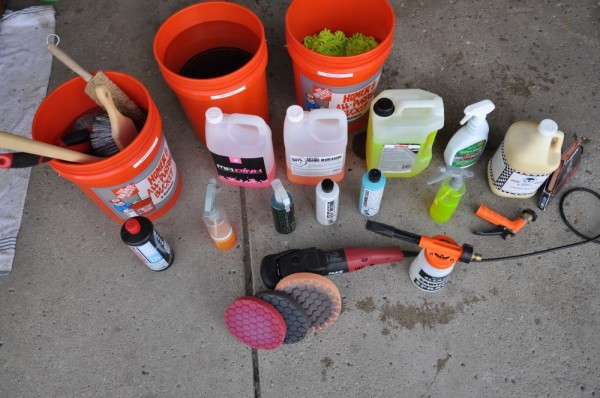 Step 2: Add Water
To start, we rinsed off the car with our pressure washer, working from top to bottom, and spending a fair amount of time near the wheels and rocker panels, where low slung coupes and verts love to sling dirt, tar, road grime, and animal parts.
Once we had all of the loose muck and sludge removed, the wheels, tires, and wheel wells were our next area of concern. Naturally, they pick up the most crud, so they require a fair amount of work. For the tires and wheel wells, we used the degreaser to clean them. The wheels themselves got a healthy treatment of Sonax wheel cleaner. It's safe for all finishes (including wheel wax), comes out lime green, and later purple, once the iron particles are neutralized (science!). The following light brushing and a quality rinse left the gloss black wheels in showroom shape.
Step 3: Foam Party
Then it became time to fill our foam gun with a degreaser and soap combo solution. Why degreaser? In order to remove existing layers of wax, etc, it helps to mix degreaser with soap (avoiding direct sunlight). However, for your weekly wash/wax, we don't recommend using degreaser, due to the extra work that it creates.
Pro tip: use a soap with a touch of wax built in for maintenance washing.
Once our mix was made (about 4oz of each), we sprayed the car with our deironizer, loosening all iron particles that had slung up on the paint, via the spirited braking this car had experienced. What do these particle look like? little orange spots all over the car, concentrated on the rocker panels. The deironizer neutralizes these particles, and turns your paint purple (more science!) in the process (don't let it dry).Give the car another quick rinse, and it's time for a real bath.
We then covered the car in suds, via the foam gun, again working from top to bottom, covering all angles. Use a relatively heavy setting on the gun (A through E), if you have some serious issues to work out, but B worked great for our low-miles loaner.
Once the car is covered in suds, open up a beer (or water) and take a sip – staying hydrated in warm weather detailing is a must. After you've enjoyed your sip of swill, rinse the car again with the pressure washer. Take note of the water "puddling" on the paint's surface. If the paint doesn't bead very well, the degreaser has done its job.
Assuming your wash bucket has clean mitts in it (and a capful or two of soap), it's time to wash. Have a rinse bucket as well, in order to keep any remaining particles from re-transferring onto your paint. As with the other prep steps, work from top to bottom, a panel at a time. By using this relatively tedious (but effective) two-bucket method, you can extend the longevity of paint being swirl-free. Think about it – every time you touch the paint with dirty water, it increases the likelihood of swirls/scratches popping up. Once the car has been properly lathered up, it's time for another rinse.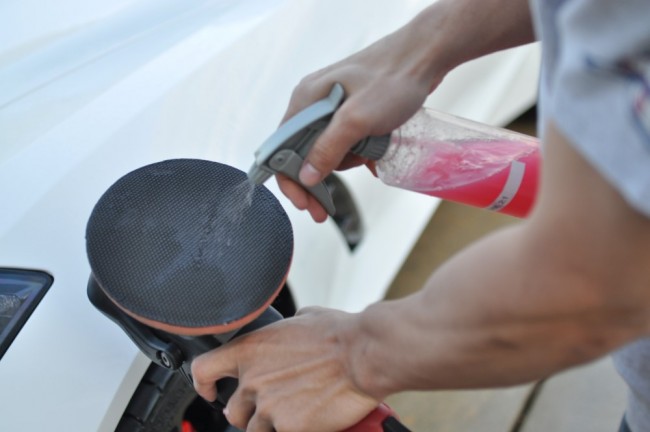 Step 4: Scrub-A-Dub-Dub
The next step in our prep process is known to many as the "clay bar" process. The use of a clay bar (with proper lubricant) is effective, but rather time consuming. We recommend one for nooks and crannies, but there are better options for flat panels. The Autoscrub is the latest and greatest clay bar alternative. Use it on a dual-action polisher on a low to medium setting, and lubricate the panels very well as you go along the car. Insufficient lubrication can lead to chafing and excess friction – not what we're looking for. The Autoscrub can be used on any smooth surface. If you've used it properly, the paint should feel almost better than new. Once you've made your way around the car, wipe off the excess residue, and take another sip – it's time for polishing.
There are as many compound/polish/pad combinations available as there are color combinations on the C7 Corvette. Finding the right ones is not easy, and there is no true one-fits-all approach. However, we have found that Menzerna SF4000 is an ideal polish because it cuts hard if needed, and finishes as fine as can be. After trying a few different combinations (not pictured), we chose an orange medium cutting pad with the SF4000 on speed 4 of 6, with medium pressure. This combination worked very well to eliminate some of the medium-depth scuffs that were on the fenders, but required no second step, leaving the white paint glowing underneath. Many people choose to tape off different parts of the car (logos, trim, etc), but we just kept the polisher away from them, and had to work quickly as the sun was going down.
Fortunately, we had a couple people working on the car, so man #2 could focus on spraying the wheel wells with undercarriage spray, using VRT on the tires and trim, remove water spots from the wheels, and wiping off polish as man #1 worked panel by panel. After the polishing was complete, a red wax pad was used (speed setting 2 of 6), so spread the carnuba wax over the panels. Once it cured for about 5 minutes (every product is different), the wax was lightly buffed in, and spot treated with Optimum Spray Wax.
Step 5: The Interior
The final step was to give the glass a quick cleaning, along with the leather, plastics carbon fiber, and dashboard of the Z51. We chose 1Z Einszett Cockpit Premium for the interior, as it thoroughly cleans and protects all of the interior surfaces, and is safe for fancy dash-mounted television screens.
At this point, all that needed to be done was to clean up, admire the work, and fire up the Corvette's glorious LT1 V8 engine to drive off into the sunset, with a sheen of rays contouring off the now-gleaming white paint.
Sweepstakes Of The Month: Win a 2023 Corvette Z06 Convertible. Details here.
We are currently looking for experienced automotive journalists and editors to join our team. Make $60k-$80k per year doing what you love. We are also looking for an experienced web developer.
See details here
.