2014 Camaro Z/28 – Track Car For The Street: First Drive
1
Keyboard warriors like to bring up the subject of the 2014 Chevrolet Camaro Z/28's price tag.
"OMFG Y I5 TH3 Z28 SO XPENSIV ITS A CAMARO !!1!!1"
Because it is.
"WHY WOULD i GET A Z28 FOR THAT MONEY WEN i CAN GET A CORVETTE??!"
Honestly, I bet you'll never own either of those things. Your daddy doesn't count.
And of course, there's the "THE ZL1 IS FASTER AND CHEEPER WHATS THE POYNT??"
There are educated answers to each heated question. But, as the adage goes, the best way to prove a point isn't to tell people. It's to show them. And Chevrolet is showing everyone right now that the 2014 Camaro Z/28 is a thoroughbred race horse that reshapes the way we must think about American performance cars. If you would have said, even five years ago, that Chevrolet would launch a Camaro that could hang with the Nissan GT-R, Porsche 911 GT3, Audi R8 and nearly the likes of the Ferrari 458 Italia, you may have been lynched. Probably in some legal way.
The Ford Mustang Shelby GT500 or Boss 302? Left in the dust here.
Here we are today, with a $75,000 Camaro sporting the absolute largest front radials in the industry, mirroring the 305mm-wide Pirelli Trofeo R tires which can range in price from $503 to $800. A piece.  These amazing, barely-street-legal performance tires are supported by minimalist black wheels and Brembo lightweight carbon ceramic rotors (396 x 36 mm) and six-piston, monobloc aluminum calipers in front as well as 4-piston fixed calipers with 390 x 32 mm carbon ceramic rotors for the rear These are around $2,500 out of the box. Compared to similar-size, two-piece steel rotors, the lightweight carbon discs save 28 pounds per car and are capable of 1.5 G in deceleration, lap after lap (I can vouch for this), and 113 feet of 60-0 mph deceleration — 13 feet better than the ZL1. They're also the same brakes that will be clipped onto the 2015 Corvette Z06.
Though unlike the Z06, which will feature carryover magnetic shocks from the Corvette Stingray, the Camaro Z/28 sports Multimatic Dynamic Suspension Spool Valve dampers, which is perhaps the crown jewel of the Z's suspension system. "Hellaciously expensive," to quote a certain chief engineer, these dampers are composed of independent high and low speed valves (not shims) for better control of both bump and rebound, and includes linear indexed adjusters, matched from damper to damper to optimize the symmetry rating across each axle.
Probably lost you there, but I also have to point out that no other road-legal car has a DSSV system outside of the outlandish Aston Martin One-77.  DSSV shocks are specifically tailored from the factory, and are closed units thereafter. So for those looking to tinker with these dampers to adjust them, best of luck. The DSSV system also saves a good deal of weight from the familiar Magnetic Ride Control setup that GM installs on just about every other performance car it builds. However, the trade-off compared to MRC is the duality of ride comfort. MRC does a good job at adjusting its magnetic fluid to either firm or soften the suspension at the push of a button. The DSSV setup on the Z/28 is optimized for the race track, and not the pot-hole infested roads of Michigan. The results of which on the race track are blissful. The road, not so much.
In total, there are 190 unique parts that separate the Camaro Z/28 from a conventional Camaro SS, all of which contribute to faster road course lap times. It sits 33 mm lower than a Camaro SS, with noticeable negative wheel camber and the most aggressive front splitter we've ever seen on a factory GM car to-date.
Compared to the Camaro SS, the 2014 Z/28 features 85 percent stiffer front springs, and 65 percent stiffer rear springs, which are optimized to keep up with the new DSSV dampers. Then there's 25 percent stiffer lower trailing-link bushings on the rear suspension improve lateral stiffness in cornering and reduce wheel deflection during hard braking. To improve steering feel, the lower-arm link bushing is 50 percent stiffer. Smaller stabilizer bars (from 28 to 25 mm in front; 27 to 26 mm in rear) are tuned to match the reduced rebound travel. And finally, the rear upper control arm bushings are a whopping 400 percent more firm to improve lateral stiffness.
All of this and more contributes to 1.08G of lateral acceleration capabilities.
This amazing suspension work is paired with the purist's choice of a motor, a 505 hp 7.0L LS7 V8 with a dry sump oil system, complete with a K&N air filter, Mahle pistons, Pankl titanium connecting rods, titanium valves, and improved cooling compared to the engine cradled in the C6 Z06, where the engine was previously seen. Its power is transferred to the rear wheels via a Tremec TR6000 six-speed manual. The engine is also nearly 64 pounds lighter than the ZL1's 580 hp 6.2L supercharged LSA V8, which helps optimize weight and distribution of said weight. In the most capable hands, the Z/28 achieved a 7:37 Nürburgring time in the wet with the cameras rolling, but a 7:31 when the track was completely dry. When looking at other performers in the GM family, the venerable Cadillac CTS-V ran the 'Ring half a minute slower, and the C6 Corvette ZR1 did it in a ridiculous 7:19.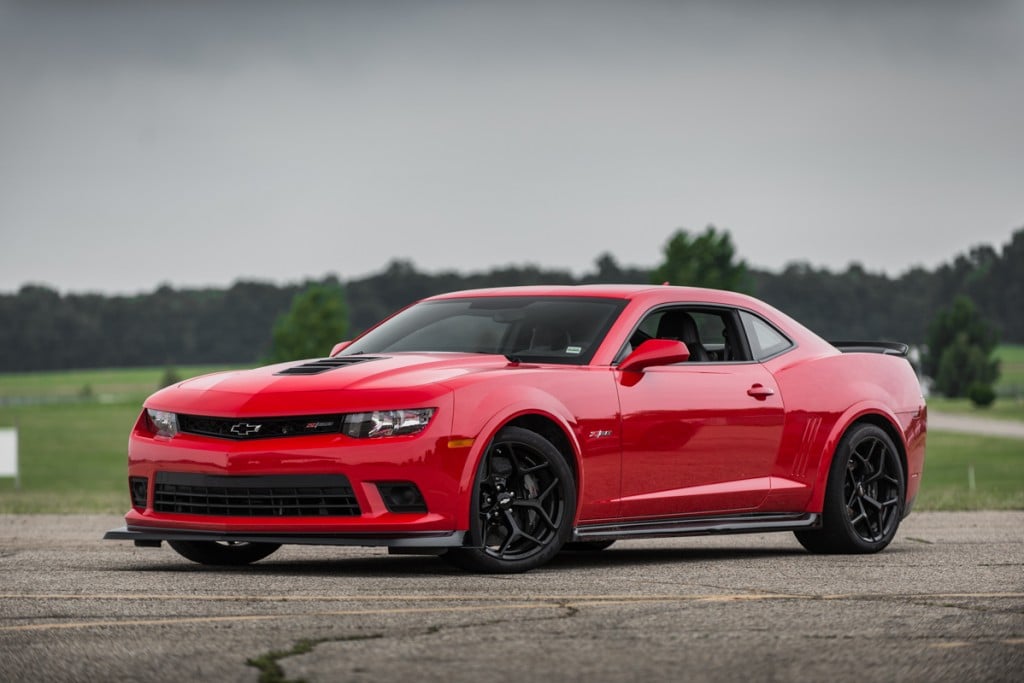 How good is that? That's nearly the pace of recorded times from the likes of the Ferrari 458 Italia and Porsche 911 GT2. In conversation, Camaro Z/28 performance manager Mark Stielow recalled his time with the car on the 'Ring, where it would catch so much air at the track's Flugplatz that he could feel the car kite before it landed to make an immediate right-hander. Just imagine what the team could do with a lighter platform to build from in the future (*hint*hint*).
Now, a big-body vehicle like the Camaro Z/28 is going to be heavy in a relative sense, but the engineering team did everything they could to minimize its weight. Kind of like how a wrestler vomits before stepping on the scale for weigh-ins. Unnecessary wiring, gone. Floor mats, deleted. Sound insulation, removed. Trunk insulation and carpeting, nixed. Sound system? Purged, with only a speaker left for the door chime. Basically, if it was legal to be omitted, it was so.
We could hash out all the weight-saving details, but it's more important to know that the Z/28 still weighs 3,820 lbs,  but that is 30 lbs less than a $101,770 Nissan GT-R, the internet street-racing fanboy favorite.  Despite the girth, it all feels more like active weight than sheer adiposity when driving it around Gingerman Raceway in South Haven, Michigan.
And God damn, did I drive. I drove until the carbon ceramic brakes roasted with smoke and the tires heated into goop. And then I continued to drive some more. The Camaro Z/28s that Chevrolet provided were pushed on Gingerman raceway from mid-morning, well into mid afternoon, and despite the visible wear, the brakes barely amounted to any fade, and the gummy tires held on as best as they could. Their sheer width also eliminated the sense of understeer that can present itself in lesser Camaros, while the six-speed manual's shifts were short and precise. The firmness and downforce are both immediately apparent compared to even the 1LE Camaro, which I feel behaves the closest to the Z/28 compared to the SS or ZL1. Meanwhile, the Torsen limited-slip differential helps keep the rear wheels on the rail when cornering. One cannot even blink when pushing the Z/28 around the track, or you will lose that split-second turn-in, or the tiny braking zone needed for the Brembos, which would make a track day go horribly awry. Concentration is pivotal here.
Impressively, the Camaro Z/28's suspension and tires would help carry enough speed through the bends of the 1.88-mile track to allow for fourth-gear passes well above 100 mph down the 1,378-foot back straight.  That's mostly unfeasible for other performance cars, especially those south of 80 grand like this one (this is also why I wish there was a HUD option for the Z/28, because it's a tad frightening to look down at the instrument panel while at speed, even for a half-second). This is a track star with turn signals that's evolved well beyond the base model sitting around the Hertz rental fleet lot, and promises to push your limits as a driver. Plus, unlike other makes, Chevrolet will stand behind the powertrain warranty, even at the track. Though if you go into the wall, that's on you.
In a sense, what we have here is a turn-key race car that can be driven home after a track day. And considering how expensive it gets to build a modern race car these days, the Z/28 isn't expensive. It's a bargain. But like an aged barley wine, you better know what you're doing before you buy one.
Photos and video by Steven Pham.
Sweepstakes Of The Month: Win a Corvette Z06 and 2024 Silverado. Details here.
We are currently looking for experienced automotive journalists and editors to join our team. Make $60k-$80k per year doing what you love. We are also looking for an experienced web developer.
See details here
.