GM's 2015 Chevrolet And GMC SUV Family Shine In Shrinking Segment: First Drive
We are currently looking for experienced automotive journalists and editors to join our team. Make $60k-$80k per year doing what you love. We are also looking for an experienced web developer.
See details here
.
11
Crocodiles. Since prehistoric ages, Crocodiles have managed to exist on this ever-transforming planet. Seemingly unchanged. Seemingly blasé. Hardy and resilient, these beasts have survived dinosaurs, meteors, an ice age, and so far, humans.
If we had to compare the mighty crocodile to a type of vehicle, it would have to be GM's line of full-size sport utility vehicles, such as the Chevrolet Suburban and Tahoe, and GMC Yukon family. Just as crocs have endured the world's greatest catastrophes, these automotive leviathans have persevered through wars, recessions, fuel crises, and the Green Movement. They stubbornly remain exactly as they always have been; body-on-frame, multi-purposeful, sturdy, and increasingly profitable.
To GM's favor, the company dominates the segment, and many wonder if the competition will endure the beat-down for much longer. That said, the segment has downsized noticeably in the past decade, and it seems to be squeezing out the less-than-dominant players. Which — considering GM has roughly 60% of this market — is everyone else. Despite this, GM's efforts in the full-size SUV segment seem to be full-steam, and they show this with the new 2015 Chevrolet Tahoe and Suburban, along with the 2015 GMC Yukon family.
I'm not going to bore you with design talk. You see that they're visually different inside and out from the outgoing models, and you can opine on their looks all your own. Though it's true that these 2015 SUVs do not share a single body panel with their Chevrolet Silverado and GMC Sierra pickup cousins. Same with the center console, as the design is also unique to the SUV models. We're told that the interior design was a favorite among focus groups when the vehicle was still in development. In the driver's seat, it's easy to understand how this particular layout stood out among other applications.
This is the best the inside of a Chevrolet or GMC SUV has ever looked and felt by far, if you ask us. Perhaps the one drawback is that the metallic paneling bordering the infotainment system is simply plastic on the Tahoe, Suburban and non-Denali Yukons. It should have been a brushed metal, especially for the price of these things. More on that in a moment.
Nobody expects these big bodies to move like Miatas, but for their part, this new crop of SUV models do quite well, especially when comparing them to the long-in-tooth outgoing models. The electric steering replaces the hydraulic setup, and makes these vehicles feel lighter as a whole, while the optional magnetic ride suspension system came in handy when negotiating tricky mountain back-roads. The new ladder frame chassis is also reworked to be stiffer. Inherently, there's less floatiness than before, but at the same time, more power. I'd go as far as to characterize them as "car-like;" just a very tall, wide, spacious car.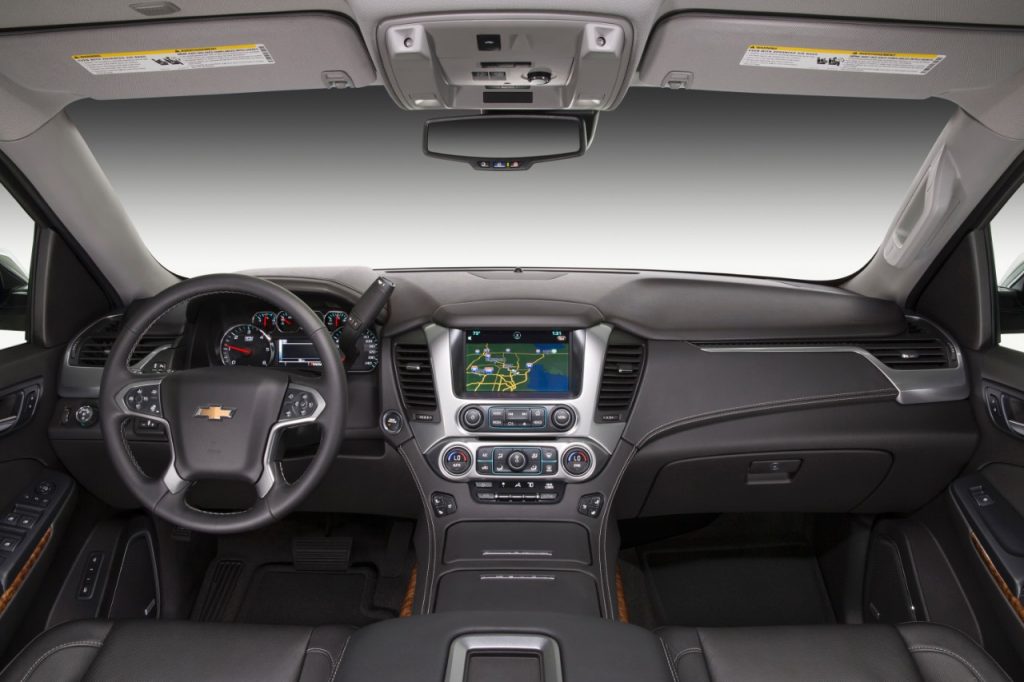 There's also a multitude of active safety features to assist the ever-worsening American driver, which these vehicles seem to draw attention to. Don't worry, buddy. Finish that last text, Lane Departure Warning will let you know if you start to stray outside of your corridor. Hey, finish checking your Facebook, because Forward Collision Alert will turn your attention to the road once more when it's the absolute last chance to react. Can't be bothered to adjust your speed to traffic as you admire your latest selfie? Adaptive Cruise Control has got you covered. And thank God for those front and rear parking sensors. If only drivers could be bothered to actually drive.
Cynicism aside, former GM SUV owners may recall the set of third-row seats that had to be collapsed manually and removed through a sometimes-confusing three-step process. They were more of a bitch to deal with when you factor in how heavy they were individually. But for the 2015 Tahoe, Suburban and Yukon, dealing with the third row doesn't have to double as arm day at the gym. By the push of a button, the third row will collapse and fold flat with the trunk space. It's just as easy to reset them upwards. Third-row legroom in the Tahoe and Yukon, however, still should be reserved for small children, and legless adults. The Suburban and Yukon XL third rows have enough room for most others. The second row seats feel more supportive than before, too. But of course, the place to be is the driver's seat.
Go ahead, indulge in some wide-open-throttle V8 roars. Opening up these machines on a clear straight or in the front line of a traffic light stop is sure to put a grin on the many that will at the very least test drive either the 2015 Tahoe, Suburban or Yukon. the Gen. V Small Block engines powering these four-wheeled-blocks are more than sufficient, but take note, the 6.2L V8 option with 420 hp and 460 lb-ft of torque is not available on any Chevrolet models. That engine is reserved only for the GMC Yukon Denali at this point.
Why? Chevrolet points that when a 6.2L was actually offered at one point in time in its SUV line, the take rate was dismal. Besides, the 355 hp, 385 lb-ft 5.3L V8 is plenty robust, while returning an EPA-rated 16 mpg city and 23 mpg on the highway. That's just one mile per gallon less than the V6-powered large crossovers such as the Chevrolet Traverse and GMC Acadia. Pretty impressive, considering the bumps in girth and power here. The 6.2L V8, with its added power, is also thirstier than the 5.3, but improves moderately from the outgoing engine.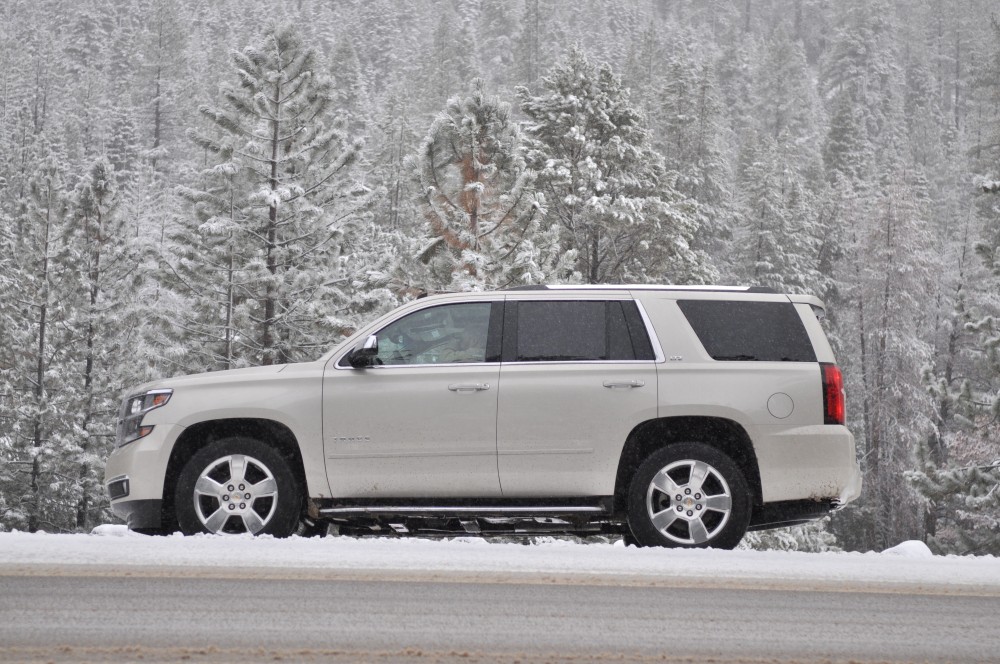 Yet for all these bells, whistles, active safety, and so forth, price inflation rears its ugly head once again. You will not find a 2015 Tahoe for lower than $44,600. Nor will you find a 2015 Suburban priced under $47,300. Want a 2015 Yukon? $47,330. 2015 Yukon XL? $53,030. Think that's expensive? The 2015 Tahoe LTZ I tested was stickered at $66,000. For a Chevrolet(!?). To see a full pricing breakdown, see our chart.
A bit of sticker shock, to be sure. I asked if there was a danger of pricing these vehicles out of the market, and both Chevrolet and GMC reps assured that customers for these vehicles have no problem with the sticker price, and often load these machines to the brim. Case in point, the take-rate on the previous-gen GMC Yukon was a combined 85 percent of SLT and Denali trim levels. So, more power to them. And for their money, they're treating themselves with the most powerful, most capable, most efficient, most technological and most refined line of GM SUV models the market has so-far seen.
Photos: General Motors, Manoli Katakis
Sweepstakes Of The Month: Win a 2022 Corvette C8.R IMSA GTLM Championship Edition. Details here.
We are currently looking for experienced automotive journalists and editors to join our team. Make $60k-$80k per year doing what you love. We are also looking for an experienced web developer.
See details here
.