2014 Corvette Stingray And Corvette Stingray Z51: First Drive (Updated)
24
Let's just get this out of the way: they fixed the seat problem.
Now, to examine the 2014 Corvette Stingray properly, one must dismiss just about everything they've come to know about Corvettes. That owning a Corvette meant owning a coarse road car that was conservative in styling, which it compensated for with impressive track prowess, especially for the money. Because with the C7, we see gargantuan gains in overall refinement, far more aggressive styling, and even higher marks in racing abilities.
I was able to attend a media-only launch drive in Monterey, California last week to sample the 2014 Corvette first-hand over some very exceptional, very empty mountain back roads.
New Corvette, New Looks
Living in Southeast Michigan, where I see 2014 Corvette Stingrays driven by GM engineers and mileage testers seemingly every day, I've been able to really settle into the revamped looks of the all-new Corvette. From my vantage point, the chromed divider in the lower fascia makes the C7 look like a snake wearing a retainer. And the much-talked-about tail-lights have somewhat of bat-wing visual effect to them by way of the darkened air extractors that seem to flick downward from the lights themselves. Despite these goofy analogies, the 2014 Corvette's body language comes off as downright fierce, and grabs the attention of onlookers in ways the C6 could never, ever do.
Don't like the looks? Too damn bad. Because frankly, this Corvette is probably not meant for you. It's meant for the trendsetter driving a BMW M3, Porsche Cayman R, or 911, or perhaps even something more exotic. Solely from a performance numbers standpoint, the 2014 Corvette Stingray — especially the Z51 model — tramples the performance (and fuel economy) specs of comparative Porsche models, while this time around providing a world-class interior and significantly improved road manners — things that European exotic customers expect.
With that in mind, everything inside the C7 is genuine. Napa leather, authentic carbon fiber, a colored Heads Up Display, a floor-mounted gas pedal, the latest iteration of Chevy MyLink, and a very driver-oriented cabin layout. There's even a grab-handle just left of the passenger's side seat that acts as a visual divider between the occupants. When sitting to the right of the driver's seat, there's a sensation of detachment from the rest of the cabin, though there's a little climate control cluster on the far right of the dash — far away from the driver's center console — that basically furthers the point that there's little else the passenger needs to do besides hold onto something.
Back on the more interesting side of the cabin, where there's a never-before-seen amount of information available from the half-analog, half-digital instrument panel. Three different center readouts appear depending on what mode the driver desires, ranging from Weather, Eco, Tour, Sport, and the serious Track designation. The first three modes all share the same "Tour" readout, while Sport and Track get their own respective settings. From there, users can also cycle through things like temperature readouts, navigation, fuel economy, music info, lateral G-forces, and even tire temperature.
In sport mode, drivers are greeted with a digital round tachometer with a rim that begins to glow from yellow to red as the revs climb. By the way, the redline of the Stingray's all-new LT1 V8 fluctuates depending on temperature. Meanwhile, in Track mode, the traditional tach goes away for a "hockey stick" setup — similar to the Corvette race car.
If there's anything to even lightly gripe about in regards to the cabin, it's that scrolling through the IP readouts feel just a tick delayed, and the real carbon fiber somehow looks less than legitimate. The competition seats will also not be offered until next quarter. Now, I'd rather keep your dwindling attention spans for the driving experience.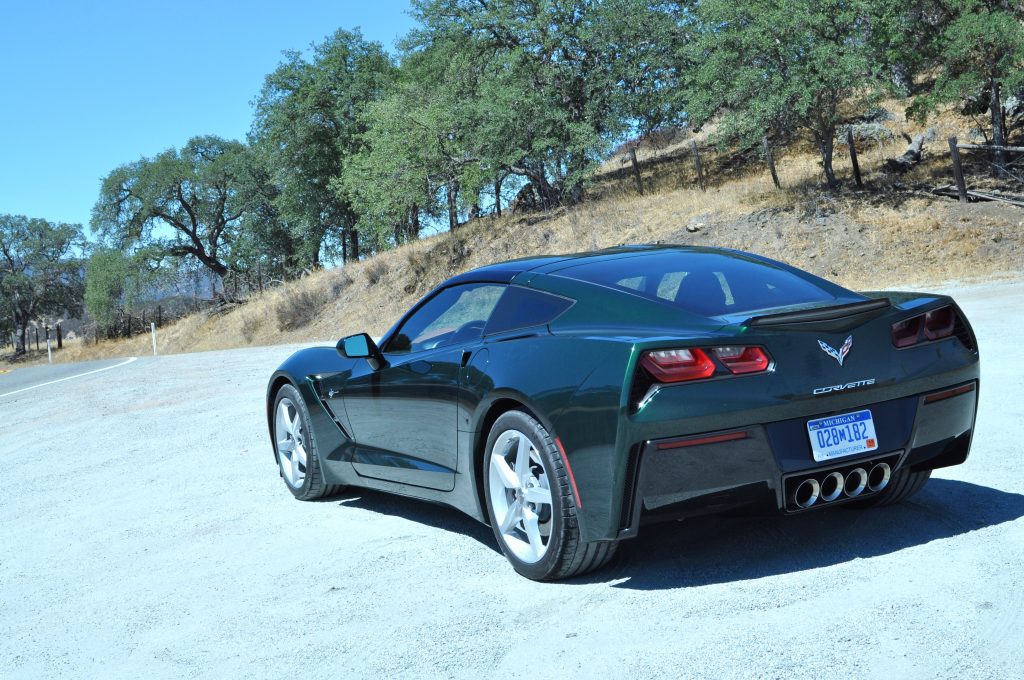 The Standard Stingray Road Test
We'll start with the standard Corvette Stingray — without the Z51 package. This one in particular had a tinted, transparent removable roof, and "Kalahari" brown leather, which matched perfectly with the Lime Rock Green sheetmetal. I drove it out of principle. This particular Stingray also didn't feature sport exhaust, so it featured 455 horsepower rather than 460, and came with a six-speed automatic transmission.
Therefore (and pay attention because this changes later), the standard 2014 Corvette Stingray comes with a mechanical limited slip differential, 35 mm mono-tube shocks, one-piece, 12.6-inch brake rotors up front, cast-aluminum 18 inch wheels in front and 19-inch wheels in back, and finally, P245/40R18-sized rubber up front, and P285/35R19 in the rear. The tires are all-new Michelin Pilot Super Sport tires, featuring a new compound and a 300-tread wear rating.
Mash on the floor-mounted throttle, and two things become immediately apparent. One: throttle response has noticeably improved over the C6. Two: the 6.2L LT1 is distinctly different from the outgoing 6.2L LS3 V8. It honestly feels more like the LS7, which will go down as a legendary motor. This is because the torque band is more closely related to the stalwart 7.0L V8 engine, meaning there's power everywhere. It's so broad, that according to the dyno sheet at the presentation, the torque fluctuates only 110 lb-ft from 1,000 RPM to the 6,500 RPM redline, with over 300 lb-ft of tap from the get go, and a max of 465 lb-ft at 4,600 RPM, holding above 400 lb-ft before fuel cut-off. And this is why Small Blocks are great, boys and girls. What's more, the LT1 sounds noticeably different from any LS motor. It's less bass-heavy, with less burble. It manages to deliver a crisper, cleaner note that's all its own, while still remaining distinctively Small Block. And thanks to a well-done dual-mode exhaust system, the exhaust note intensifies with the driving modes, with Eco being the quietest and Track being the most vocal. This is also the same for ride and handling, with everything tightening up significantly in the more intense driving modes.
What comes apparent after the powertrain is the 2014 Stingray's road manners. Its cabin is by far the quietest of any Corvette I've either driven or rode in, with wind noise only becoming noticeable above legal highway speeds. There were at times a bit of road noise, but that was more from the road surfacing than the tires themselves. What followed afterward was the display of some impressive cornering abilities from the Stingray. Its steering, despite being electric, was bang-on, with effort increasing as the driving modes became more intense. The mechanical diff also helped hold the line, but at the same time, the limitations of this standard Stingray were able to be found when pushed, with noticeable brake fade through very spirited driving under the California sun.
As far as fuel economy went, the 30 mpg figure was achieved as advertised at 65 mph on a flat highway, when the 6.2L V8 shut half of its cylinders off to become a 3.1L V4, maintaining 125 horsepower. In the right conditions, this mode can be held all the way to 90 miles per hour. Interestingly, however, Corvette's equipped with manual transmissions will only activate Active Fuel Management in Eco mode.
So, with the standard 2014 Corvette Stingray, here's what to take away: it's refined and well-behaved, powerful, but not for somebody who is going to treat the mountains like they're Virginia International Raceway. For the more hardcore, there's the Z51. And it feels completely different from the default version.
Z51 Is American For Guided Missile
While the starting C7 does feature and share an aluminum frame that's 100 lbs lighter and 57% more rigid than the outgoing base C6 Corvette, and the LT1 V8 with the Z51 Stingray, the Z51 adds a list of upgrades that transform the car from an edgy grad touring car to a serious track machine, without compromising any of these newly-found road manners. That being the case, there's some extreme duality here, and it's all thanks to performance gear ratios with the seven-speed manual (a rear-axle performance ratio for the auto), a standard transmission cooler, forged aluminum wheels (beefed up to 19-inches in front, 20 in back and tires to match), meatier 45 mm monotube shocks with available gen-3 magnetic ride control, a dry-sump oil system, 13.6-inch dual-cast brake rotors in front with cooling, and perhaps most importantly: an electronic limited slip differential with cooling. This is where the 2014 Corvette really begins to show its true nature as a new standard.
The Torch Red Z51 Stingray tester equipped with performance exhaust and a seven-speed manual transmission was a red, white and blue middle finger to European sports cars. Two middle fingers when comparing to Japanese sports cars. The eLSD reacts 83 times per second, balancing power distribution to achieve the fastest corner entry and exit speed possible, opening up on the turn-in, and locking up on corner-exit, allowing for even torque distribution to both wheels. There's less understeer, and less oversteer than both the outgoing Corvette, and the standard C7. And it's not like the computers are working around the driver. I could feel the diff working with me, just as the Active Rev Matching (ARM) system worked with me on my downshifts when engaged. It would take a certain elite level of driving ability to heel-toe-shift as well as ARM worked. Thankfully, the Corvette engineers still encourage us all to try, as ARM is always off whenever the car fires to life.
Rowing through the seven-speed gate was as smooth as the sueded headliner, and the illuminating dots from the HUD helped anticipate the perfect shift point. If you want to know, the weirdest part about shifting through seven gears when you're used to six isn't shifting into that final gear, but rather downshifting into sixth. The brakes, meanwhile, felt like a huge improvement over the standard units, and the third-gen MRC now reacts 40-percent quicker over what seemed to be the already instantaneous gen-two system first experienced on the Camaro ZL1, thanks to a double-coil setup over a single-coil method. And let's not forget about the ever-so-slight rear weight bias, just like the Corvette Racing cars.
Yes, the 2014 Corvette Stingray is slightly heavier than the outgoing C6. But if the C7 was as crude as its predecessors, things might be a little different. However, this slight rear bias (49.4 percent up front, 50.6 percent in back) allows for improved authority to the rear axle, aiding with power delivery around the turns. Couple that with the sharper steering, significantly improved aerodynamics, along with a steering wheel that's just 360 mm in diameter, and the C7 feels and acts lighter than the C6. As rated by GM, the 2014 Corvette Z51 can accelerate from a standstill to 60 mph in 3.8 seconds, with a quarter-mile coming in at 12.0 seconds dead at 119 mph, and a 60-0 braking distance of just 107 feet. Oh, and 1.03 G forces in max lateral acceleration — with thinner tires than the C6, mind you. And somehow, all of this is attainable for less than $60,000.
Greater Than The Sum Of Its Parts, Yet Still Affordable
The 2014 Stingray is priced from $51,995, though a fully loaded 3LT Z51 model hovers around the $70,000 range, and that will be the highest price point a new Corvette will command. For now. Still, the pricing is nearly incomprehensible, which compared to its rivals, like the Porsche 911, is a steal. Previous Corvettes always had something that made you understand why they featured an MSRP that undercut the competition. But with the C7… there is no such compromise. GM could have gotten away with starting the 2014 Corvette at $65,000, or even $70,000, just to attract the attention of types used to paying for overpriced German sports cars.
But here in lays the rub: the 2014 Stingray is designed to attract a different buyer than those that would go for the older models, yet it's priced in favor of those who would go for the older models. Additionally, this cutting-edge performance car is sold in the same showrooms as vehicles like the Chevrolet Equinox and Cruze. Not that they're bad vehicles or something — they're not — but you do not and will never see that sort of thing at a Porsche dealer, or a Jaguar dealer, etc. This is perhaps the 2014 Corvette's biggest flaw, and it has nothing to do with the car. Regardless, Chevrolet expects as much as roughly 20,000 sales in vehicle's initial year.
It Can All Be Boiled Down To The Following
Put it this way, if a performance car enthusiast is in the market for the latest hardware, and doesn't give the 2014 Corvette Stingray a test drive before making a decision, they're cheating themselves. They're cheating themselves out of a benchmark product. But this is a free thinker's performance car, and it will be up to the marketing department to let everyone know that the C7 Corvette is an enemy of the same.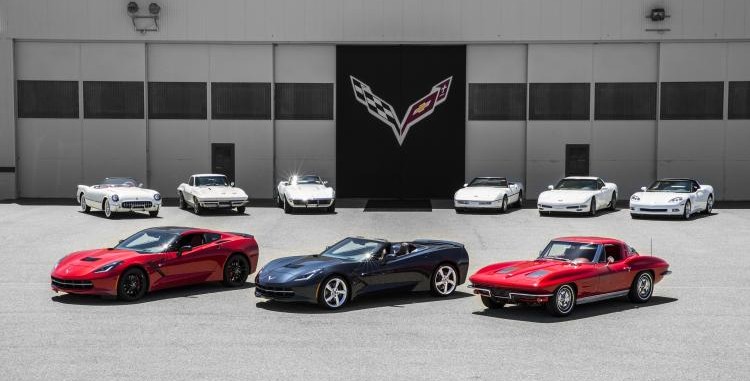 Sweepstakes Of The Month: Win a Corvette Z06 and 2024 Silverado. Details here.
We are currently looking for experienced automotive journalists and editors to join our team. Make $60k-$80k per year doing what you love. We are also looking for an experienced web developer.
See details here
.