Welcome To The New GM Authority
We are currently looking for experienced automotive journalists and editors to join our team.  Make $60k-$80k per year doing what you love.  We are also looking for an experienced forum moderator to join our team. 
See details here
.
23
When I founded GM Authority back in 2009, I built it with the web equivalents of cardboard, crayons, and glue. But as you may have already noticed, GM Authority has undergone a significant change-up over the past 24 hours — a change that delivers the web equivalents of swapping out the flimsy and easily-to-fail bits with real aluminum and state-of-the-art paint and welding processes. And I'd love to present some of these changes to you here.
What's New
Cleaner & More Polished
For starters, the New GM Authority features a cleaner, more polished, and more streamlined design than the outgoing version. What this means to you is a better reading experience (your eyes will thank you on those long-form articles), and better navigability — allowing you to go where you want to go, faster and easier than ever before.
A Unified (Responsive) Experience
Perhaps the biggest change is that the New GM Authority is now the same website across all devices, so whether you are using a widescreen monitor (we utilize that extra space when we can), a tablet (you can open and close the sidebar), or a smartphone (check it out in portrait or landscape), you will be using the same awesome new site — only optimized for the particular device you're using at that particular moment in time. Hello 21st century!
Sign Up, Log In, Discuss
Now, for the first time ever, you can now register and stay signed in to GM Authority on any device.
Check out the login and register box on the right hand side (on the desktop and tablet) or below this post (on a smartphone).
So whether you're reading the latest GM news on the blog and want to leave a comment, or want to start a discussion in our GM Forum (all-new, by the way), you can do both with the one single account.
Even better is the fact that account holders (accounts are 100% free) have gained the ability to edit their comments, and can now even ask us to delete them — both features that many of you have been asking for, for months.
Nested Comments
Speaking of discussions: one of the many benefits of a unified website is the ability to reply to specific comments on any device. Before, this was only possible on the full desktop experience — and led to some confusion when it came to heated debates. No more.
Fresh Off The Press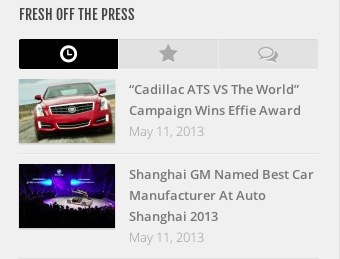 We also brought back the ability to browse recent articles, recent comments, and most popular articles with our Fresh Off The Press section.
Check out Fresh Off The Press section either to the right of this text (on desktops and tablets) or below this article (on smartphones).
Faster
Something else you've asked for is speed: GM Authority took way too long to load (most of the time).
The New GM Authority loads nearly four times faster than the outgoing version, and we have more speed-related improvements in the works.
Just The Beginning
So, The New GM Authority is more user-friendly, easier to read, and faster — among other improvements. I hope you enjoy discovering the various new features as you use the new design across all of your devices.
But not to miss the forest for the trees, The New GM Authority is only the beginning. It provides a much-needed solid foundation on which we will build going forward, while allowing us to be significantly more flexible than ever before.
Perhaps most of the improvements and changes that represent The New GMA are things that aren't immediately noticeable to the naked eye… in fact, you may never notice some of them. But it's these inconspicuous items that will allow us to continue delivering unparalleled General Motors coverage you've come to know and love from GM Authority — today, and well into the future.
So just as the 2014 Chevy Impala has retired certain features (front bench seat, or flip-and-fold rear seats) in favor of a significantly-better, more modern, and more competitive vehicle that Chevrolet and the vehicle's owners can be proud of, so has The New GM Authority polished its act for a product that is significantly better in the grand scheme of things… a product that allows us to deliver a better experience now, and upon which we can build, later.
Thank You
I'd like to thank everyone on the GM Authority Team for putting in the countless hours planning, designing, programming, converting, and testing to make The New GM Authority possible, and I want to extend a huge and sincere Thank You to all of our readers for making GM Authority your GM community.
With reverence and love for all that we do,
Alex Luft
Founder, GM Authority
PS: we don't let user feedback go by the wayside, so if you have suggestions about how we can improve The New GM Authority, please don't hesitate to email me directly: alex [at] gmauthority [dot] com.
Want to see your GM ride featured on GM Authority? We welcome your submissions. See
here
for details.