Standalone 1992 Chevrolet S-10 Wins 24 Hours of LeMons Judges Choice Award
We are currently looking for experienced automotive journalists and editors to join our team.  Make $60k-$80k per year doing what you love.  We are also looking for an experienced forum moderator to join our team. 
See details here
.
7
Every April since 2010, the tranquil hills of South Haven, Michigan are disturbed with the racket of flying pigs, runaway school buses, and even miniature tanks. Or rather, it's the sound of a bunch of junked-up old cars racing around the track, all of them dressed as something that's far, far away from being an automobile. Think Halloween, but for cars. Ratchet, gritty, grimy cars.
It's the 24 Hours of LeMons, an endurance race series that takes place all over the United States, for cars valued at the maximum of $500 (not counting the necessary racing modifications such as a roll cage), hence the name, LeMons.
There were the usual E30 BMW 3 Series models, Fox-Body Ford Mustangs, first-generation F-Body Camaros and Trans Ams, Mk III Golf GTIs, and first-generation Dodge Neons. Then there were the oddball cars such as a Lexus LS400, Volvo 245 wagon, Chevrolet Monza, and even an unfamiliar Alfa Romeo. But out of a total of 71 vehicles on the grid, there was only one pickup truck. A 1992 Chevrolet S-10 from Loose Lugs Racing, a team of young twenty-something engineers (three from General Motors), with the automotive skill, young-blooded will and financial ability to compete in their first-ever LeMons racing event.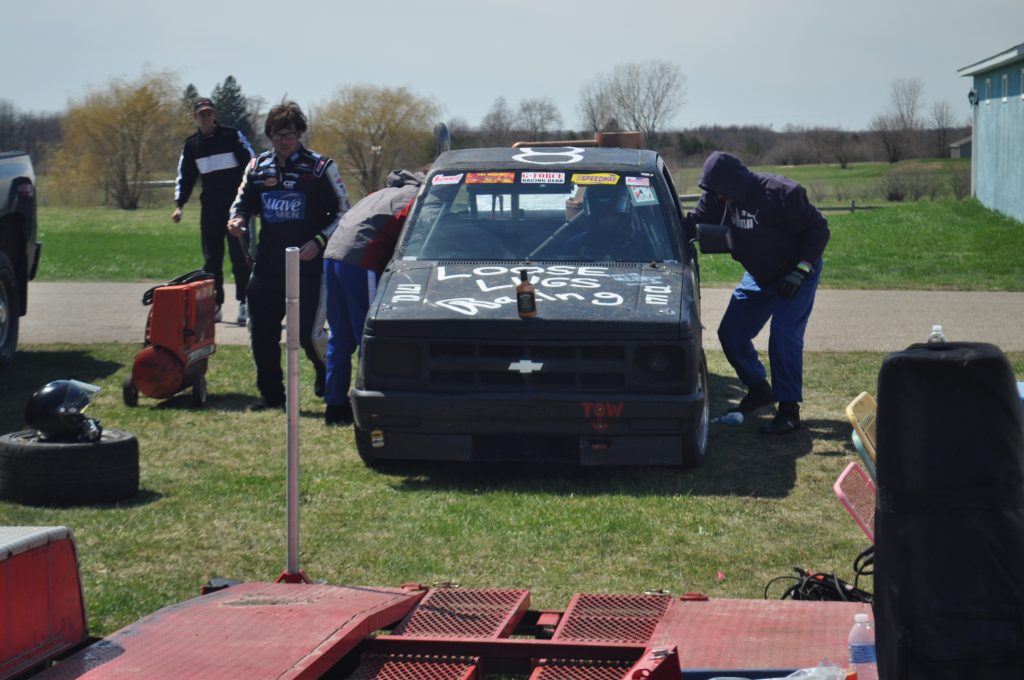 At first glance, the blackened truck looks so derelict that it would lead one to believe that the vehicle runs on little more than prayers, hopes, and compression leaks in half the cylinders. But out of 14-and-a-half hours of racing, the only maintenance the machine had to undergo was a tire rotation. That speaks volumes as the worn-down Honda CRX and Toyota Supra race cars in the neighboring pits had to undergo complete engine swaps — in 30 degree weather.
This might have something to do with the team working on the truck since November 2012. It's been months since they collectively had a weekend off from working on the machine, preparing it for the race of its tired life. Mechanically, the S-10 was very much stock, and every bit of $500, save for the mandatory safety equipment and such. The 2.8L V6 featured all stock internals, but was up to the test of 14.5 hours of racing. The interior cabin was stripped down to the bone, with all unnecessary items taken out, and others — such as the driver's seat, instrument panel and steering wheel — completely replaced. The center stack was also replaced with a panel of switches, labeled "MAIN," "RADFAN," "LIGHTS," "START," and perhaps most importantly, "SWAG."
To help balance weight, the battery was mounted in the truck bed, tucked within the bootlegger theme, consisting of a plastic barrel and PVC pipes spray painted bronze to replicate a still, and a dressed mannequin  probably resembling some drunk uncle, who probably didn't care much that the vertical exhaust pipe was bellowing fumes in his general direction. There was also a rigged rear spoiler in place of a tail gate, that once had a past life as an airplane wing flap. But beneath the black and boozy theme, the team had themselves a solid truck, and a set of sticky Direzza tires mounted around C4 Corvette wheels to provide impressive grip around the corners — grip that would allow the six different drivers to pass in the corners, even vehicles racing above their class.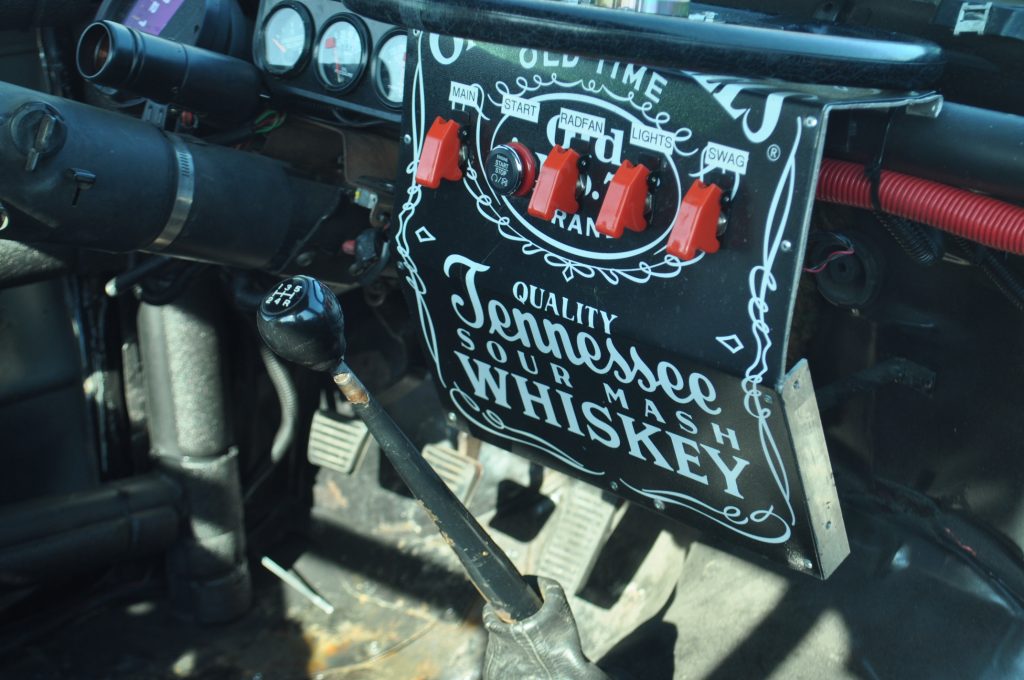 By midday of the first race, Loose Lugs Racing opened up a significant lead over the rest of the competition in Class C with their little S-10 that could, but two spin-outs off the track, and a black flag that penalized them in the pit lane for the last hour of day one gave way to a team of Canadians with a slower Nissan Pulsar Sportback (yes, a Pulsar was there, too) to rack up a huge lead of laps. One that would ultimately turn out to be insurmountable.
Despite the setbacks, the team finished 31st of 71 total cars, with a best lap time of 1:51.6 — roughly five seconds faster than any other vehicle in their class (again, in a 21-year-old S-10 with a stock motor), and made thier mark in the LeMons series by winning the Judge's Choice Award for a great first time showing. Not bad for a rookie team where the oldest member is 25 years-old, with what was considered to be "just a GM product," a phrase they took in stride, and rattle-canned on the side of their vehicle.
For those looking to follow in the footsteps of the loose screws of Loose Lugs, the guys let us in on some advice:
1.  Be ready to three times the amount of man hours you expected in prepping the car if you do it right and make it reliable. Expect tons of little things to come up that you'd never think about to come up, which will take up weekends, and pile onto the grocery list of necessary car parts.
2. Get a good team of friends. Be ready for tempers to flare up in the garage, which threaten to break the camaraderie of the entire team.
We wish Loose Lugs Racing all the best in their future LeMons races, as well as perhaps a Chumpcar event or two.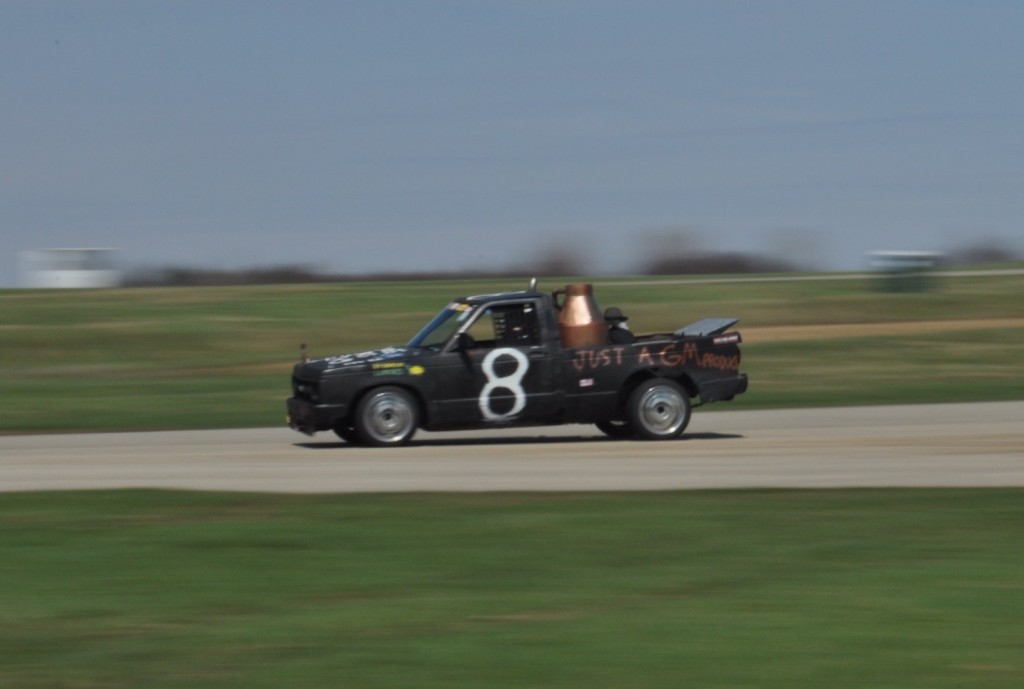 Want to see your GM ride featured on GM Authority? We welcome your submissions. See
here
for details.