The GM Authority Review Of Cadillac CUE
22
Plop yourself in the cabin of certain 2013 Cadillac ATS sport sedans, SRX crossovers, or XTS large sedan models, and you will find varying degrees of the Cadillac User Experience infotainment system. CUE aims to take a very sleek approach to how occupants use the radio, navigation, and climate control functions, ditching knobs entirely in favor of an eight-inch capacitive touchscreen with haptic feedback. That's right, the center stack is made up of a capacitive touch panel — a membrane with virtual buttons that logs your touch and has haptic feedback, or the ability to slightly vibrate to let you know your input registered. Then there's the CUE system found in the XTS, which utilizes two large screens, replacing an analog instrument panel with a reconfigurable digital one. And after spending three combined weeks using CUE with navigation, we've got a pretty good handle about how we feel about the system. In short, it needs work. In long, well, just help yourself to the following…
As a hand approaches the main screen, the display awakens to show more commands. It's quite charming, and the cool factor never ceases to impress occupants who have never seen CUE in action before. The same goes for the clever storage space behind the unit, opened by tapping the bottom lip of the center stack. And while we have no complaints about the background, the icons look like they fell out of 1998. Touching one yields an acknowledging vibration, and a dull thud, followed by the processing of the command. Every action, from using the navigation, to XM Satellite Radio, features this feedback from the system. Pressing and holding one of the icons activates a drag-and-drop function, similar to how one can rearrange the icons on their smart phone or tablet. All of it is very familiar, and CUE is also capable of receiving software updates. Unfortunately, the biggest issues currently plaguing the system all have to do with the speed with which the system responds to inputs, as every action feels slow or delayed compared to competitive units, such as BMW iDrive or Audi's MMI. In-vehicle WiFi is also currently missing in action.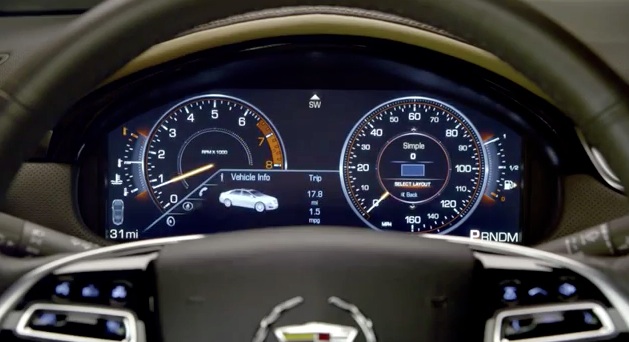 Probably CUE's best feature is the new navigation system. Unlike GM navigation systems of the past, users no longer have to input the city, state, or province before getting to the street and street number. Now, it's simply type in the address (or whatever information you might have), and go. The navigation information can also be relayed to the instrument panel, and navigation commands can be voice-activated if desired. Even more intuitive is the ability to add addresses to the list of favorite presets, the same way you would otherwise set up a favorite radio station. And with space for sixty presets, it's difficult to run out of room. The presets are stored at the bottom of the screen, and can sometimes go into hiding. If this happens, simply place a finger at the bottom of the screen, and swipe upwards.
Adjusting the volume is pretty cool, at first. Instead of using a conventional knob, I simply placed my finger on the indicator, and dragged it horizontally until I found the preferred level. Unfortunately, this takes a few tries, as the feature tends to over-adjust constantly. Thankfully there's an easier-to-use steering wheel control button for this. The same can be said for the tuning function, which also requires a dragging action, and also over-shoots. The HD radio system was also mildly confusing, having as much as three different frequencies of the same FM radio station on display. And while the setup doesn't relay static, the sound tends uncontrollably hush itself in the event of a weak frequency, and comes in delayed for a split second, giving a brief echo effect.
Thankfully, Bluetooth usage is easy from step one. I paired my phone (iPhone 4S with iOS6) to each Cadillac in a matter of seconds by using the "pair" voice command, and then syncing the systems up with a single touch on my phone. Gravy. And like radio and navigation presets, contacts can also be inserted into the tab of favorites. But it was with our Cadillac ATS tester that I discovered something puzzling and frustrating. The car wouldn't dial the phone numbers I commanded it to. CUE would say it was calling my friend, we'll call him Johnny, but nothing would dial. And I tried cancelling the call, both on my phone and on the center stack, and the car seemingly refused to obey, continuing to tell me it was calling Johnny via the driver information center display below the speedometer. Considering this happened only once, we'll give it a pass, but we won't be surprised if we experience this again in another Cadillac.
Similar bugs presented themselves when attempting to stream Pandora radio from the phone via a USB cable. On a side note, Bluetooth audio would also work, but I like to charge my phone while I drive. Now, a good handful of times I was left to troubleshoot the "Pandora Error" readout on the screen, which was usually the result of a bad synchronization between my iPhone and CUE. I would sometimes have to unplug my phone from its cord (inserted into one of the USB ports) and then plug it back in again. Vexing, to be sure.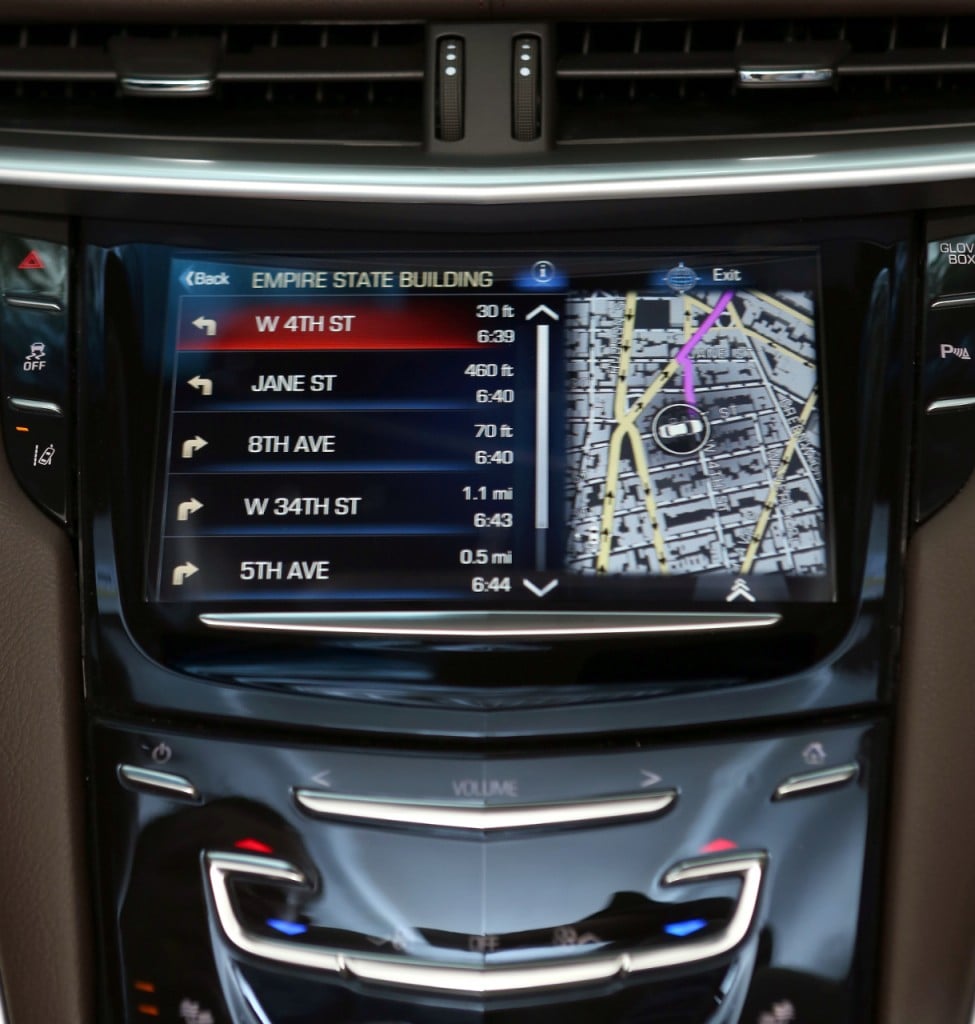 Judging by the CUE's female (?) voice, you'd think that it was Siri from Apple, and therefore, the operating system must be Apple's. It's not. Nor is it Windows, or Android. It is, instead, based on Linux.
We haven't seen the immediate benefits or detriments of using Linux as the foundation, but if you've been paying attention, you know that CUE will soon offer app functionality. As far as hardware goes, CUE runs on a 3-core ARM 11 processor unit, which is not fully utilized just yet in order to leave room for growth, and the eventual addition of more functionality.
Aside from the response times and connectivity bugs, how does it feel to operate the tablet-esque CUE infotainment system currently found in either the Cadillac ATS, SRX or XTS? Well, even after a combined three weeks with the system, it was difficult to get used to. I believe that's due to the touchscreen's lack of tactile controls, making it nearly impossible to remember the layout, compared to one that features a set of buttons and knobs. Perhaps there is a scientific study on this. If not, there definitely should be.
An easy comparison that may help describe things is when I upgraded from a conventional "dumb" phone, to an iPhone. With an easy-to-memorize keyboard with buttons, I could send text messages and such without even looking at the phone. There quickly became a sense of muscle memory there. With the iPhone, I have to look, even after a year of owning one. Because — like CUE — everything is conducted on the same, flat surface, and it's difficult to know what's being pressed or displayed without glancing at the little screen.
Or how about when we all first learned how to slowly type on a keyboard, eventually proceeding to be able to type essays without so much as glancing at the letters we were pressing? Can you imagine if your computer's keyboard suddenly became a giant touch pad right now? It sure would look awesome, but would you be able to produce a sentence as efficiently without a tactile set of "home row" keys? Most of you will probably go with "no".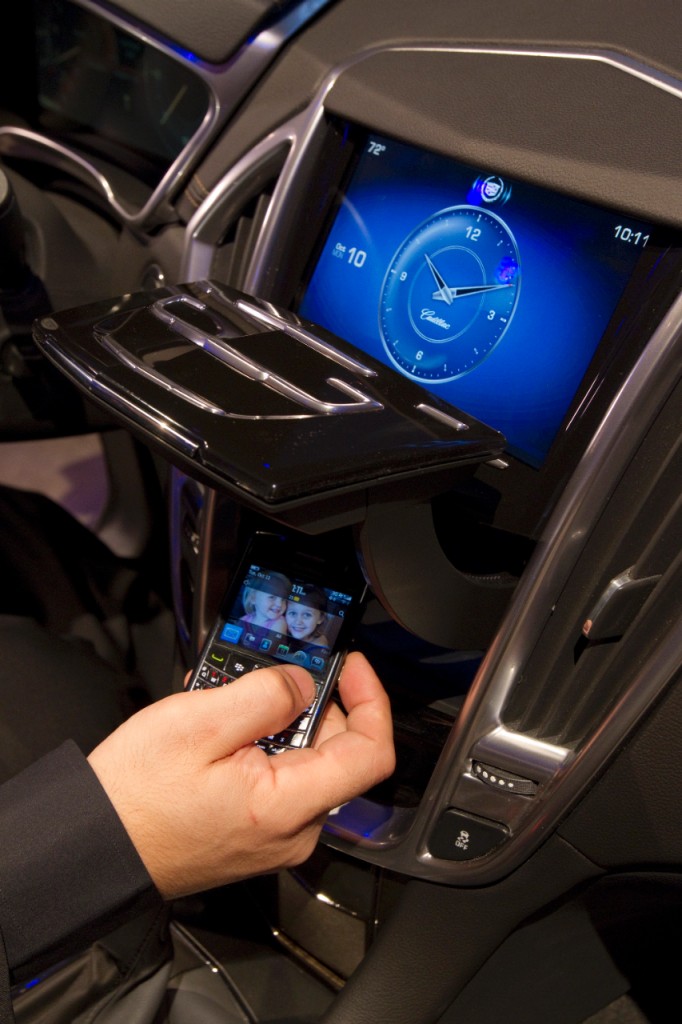 All things aside, there is a major philosophical issue with CUE's design: we all know that smart phones and tablets shouldn't be used when driving (unless they're being operated via voice commands), so why on earth would anybody want to model a center stack layout after such devices? It's not something we really think about in a stationary position, curled up on a couch, fiddling with apps on an iPad, while it fully commands our attention. But try doing the same act, while operating a vehicle at speed. Sure there are voice commands, but they don't always comprehend what the user is saying. A proper cadence must be voiced out for certain commands, and the process is more time-consuming than using analog adjustment, which is undesirable. It's almost like we're being punished for avoiding the touch screen.
And if this freshly-turned 24-year-old — squarely in an age demographic that's been categorized as adept to technology — is frustrated with the system, how in tarnation does Cadillac expect retirees in Florida to change the radio station in their Cadillac XTS without obliviously hopping onto a curb? But it's not just Cadillac… it's the industry as a whole, that's introducing these fangled systems.
Advocates of elaborate infotainment systems like CUE like to claim that it's simply the learning curve of new technology. To a point they might be right, but it may just as likely be that automakers still haven't found the optimal user interface that pairs well with driving.
One young man's suggestion: integrate most of CUE's center console functions into an intricate Heads Up Display, controlled by an ergonomically friendly set of buttons and knobs located where the hand rests by the shift knob (not unlike iDrive). In my twisted mind, I envision greater ease of use, while eyes remain upward, glancing at the road as well as the information. If HUD works for fighter pilots going mach 2, it should work for drivers going 55 mph.
Despite the shortcomings of CUE, it hasn't slowed down Cadillac one bit, with sales skyrocketing nearly 47 percent from a year ago in January. At the time of this writing, there are some significant upgrades on the way for CUE. As we reported, Cadillac dealers will administer the update to compatible vehicles, consisting of the 2013 ATS, SRX and XTS models, with the update said to improve processing time, adding Siri Eyes-Free functionality, a greater contacts/address book synchronization threshold, and expanded USB media device compatibility. These enhancements are expected to lead to better ease of use, but we will still miss our knobs. Though we give kudos to Caddy for trying something different.
Photo credit: Steven Pham, GM
Sweepstakes Of The Month: Win a Corvette Z06 and 2024 Silverado. Details here.
We are currently looking for experienced automotive journalists and editors to join our team. Make $60k-$80k per year doing what you love. We are also looking for an experienced web developer.
See details here
.