Quick Spin: 2013 Buick Encore
14
Upon watching a local Detroit news program covering the ritzy 2013 North American International Auto Show Charity Preview, I almost spit out my soup when they interviewed Jaclyn Schultz — Miss Michigan U.S.A. 2013 — and she stated that her favorite vehicle on the showroom floor this year was the 2013 Buick Encore.
Yes. The Buick Encore. Not the 2014 Corvette Stingray. Not the Cadillac ELR. Not the new Audi RS7. Nor the M6 Grand Coupe, or anything from Mercedes, or Porsche, or Lexus. But the little Buick Encore.
I was puzzled. Perhaps she hates sports cars. That's alright, as to each their own. But I had to at least examine the Encore more closely, and drive it, to see if the subcompact crossover could really be the NAIAS Best in Show. So I attended a local media event hosted by Buick to investigate.
The media event also happened to fall on the coldest morning in two years, at 0 degrees Fahrenheit. And hopping into a warmed-up Encore — with its heated steering wheel — was refuge from the arctic air. Thanks to active noise cancellation — a first for Buick — the Encore was refuge from unwanted noise as well.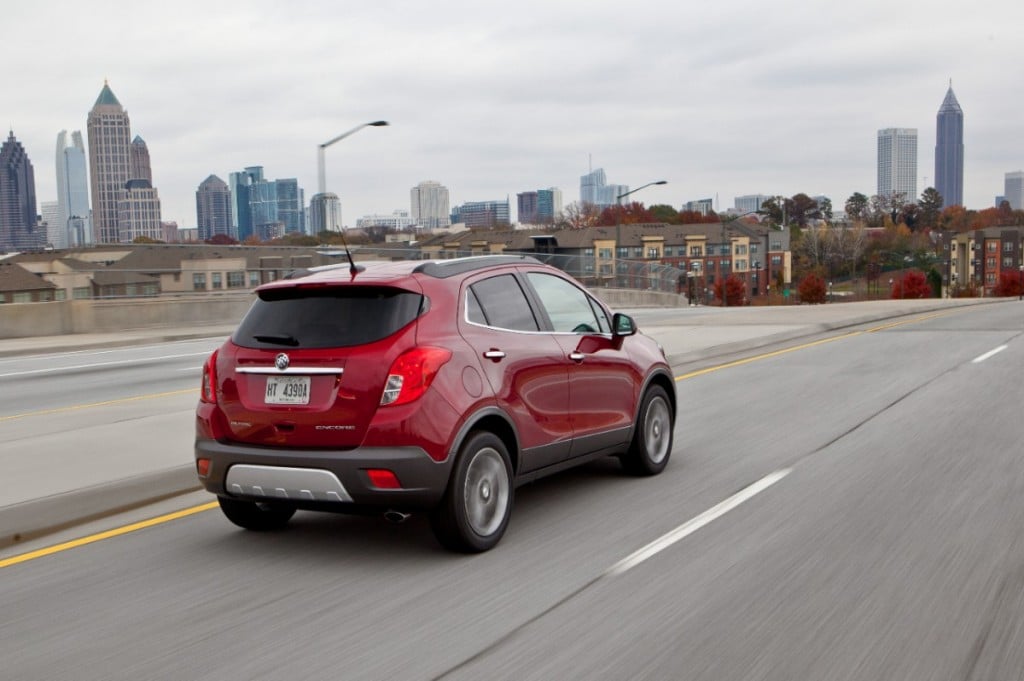 But give it the beans, and the little 1.4L turbocharged engine begins to wail — seemingly not out of excitement — and disrupts the quiet a bit more than expected. It's only noticeable at wide-open-throttle, though. And with the Encore weighing in at 3,190 pounds, the powertrain — which is accustomed to pushing a 2,690-pound Chevrolet Sonic — dips a bit from the 40 mpg fuel economy mark, coming in at 25 mpg city, 33 mpg highway and 28 mpg combined for the front-wheel-drive variant. Opt for the all-wheel-drive model and mileage comes in at 26 mpg combined with a 30 mpg highway number. In a world where the ideal number is now 40 mpg — especially in B-Segment vehicles — the Encore's fuel economy numbers don't really stand out, though they are the best of any GM crossover.
And while acceleration isn't underwhelming, we would still like to see the 3,190-pound Encore equipped with something a bit more substantial. We can envision the all-new 1.6L turbo mill with 200 horsepower and 221 pound-feet of torque under the hood powering the little Encore someday, and perhaps an 8-speed automatic transmission, which could make a world of difference in terms of gas mileage and driving characteristics. For those asking if a 2.0L turbo will ever find its way into the Encore, the answer is no. The engine simply won't fit in the engine bay of the Gamma-based crossover.
During the media briefing, I heard officials categorize Buick firmly as a luxury brand at least five times. While it's agreeable that Buicks are nice, the base models with their lack of standard leather seats, electronic adjustments, and higher-quality materials (fake wood and plastichrome materials are not known as luxurious, nor will they ever be) in any trim level continue to keep the brand in a second-tier, quasi-luxury status. Even with Buick having its best sales year since 2006, we still have yet to see Buick achieve Cadillac-like levels of luxury and appointments. And, yes, we firmly believe that Buick and Cadillac can occupy the same plane of the luxury market, but on opposite ends. Though that's a long-winded conversation for another time.
Back to the Encore. Specifically, the way it looks. As an Opel Mokka, the little CUV works visually. As a Buick, the grey colored skirts around the Encore's body look too much like plastic — the same problem that was present in the Buick Enclave before its 2013 model year refresh — and not very refined. We're not sure how we feel about the plastic slits just below the headlamps, either. Still, the Encore is able to strike us as cute, but in an awkward way of sorts. But hey, design is subjective, right?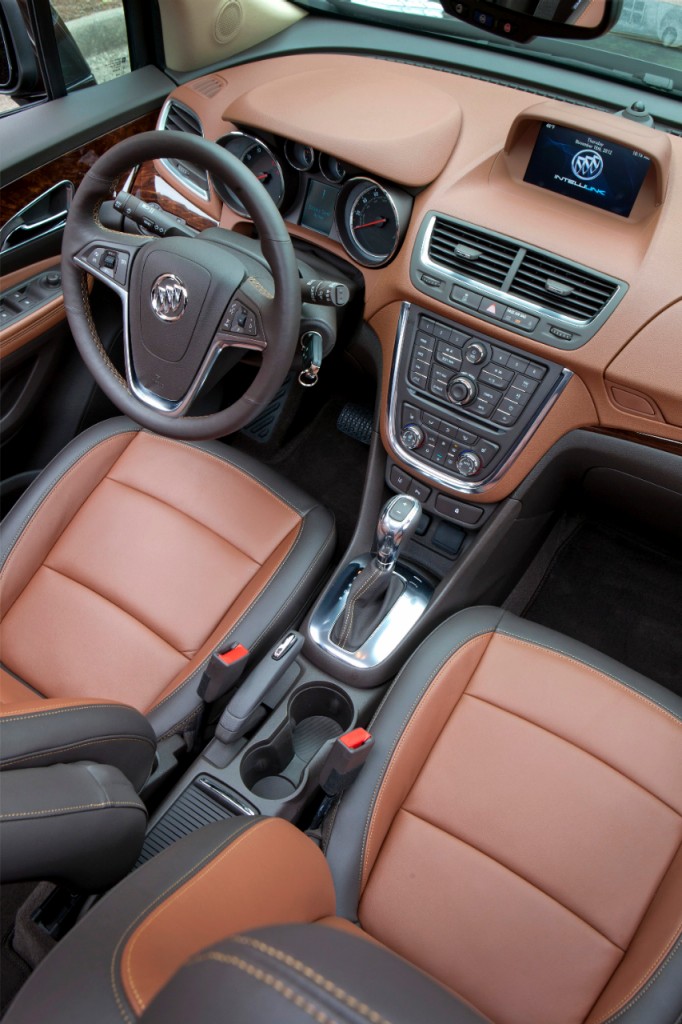 Does it at least drive good?  Yes. Absolutely, for what it is. It's no Corvette, but despite the Encore's stance, maneuvering never felt top-heavy, as it cornered and braked flatly through cluttered and bumpy urban streets. Though as what seems to have become a typical GM custom, the brakes feel a bit too spongy up top, but a deeper press into the brake pedal makes everything respond as it should.
Another highly redeeming quality of the Encore is the way it rides. It's serene when simply cruising, and with a wheelbase of just over 100 inches, it defies physics with the ability to deliver a surprisingly smooth and quiet ride. Even with 18-inch base wheels, which are an attractive and welcome standard feature. Easy to park, too. Obviously.
Not so easy is manually checking your surroundings, as I found the Encore's swollen B and C pillars to obstruct vision with sets of blind spots. Thankfully, Buick counters this with front and rear active parking assist sensors, a rear backup camera, forward collision alert, lane departure warning, and blind-zone mirror inserts. Blind spot alert isn't currently found on the Encore, but it may find itself present in the future. And should the worst happen, 10 standard airbags will deploy throughout the cabin in a manner of what I can only envision as being something akin to a corn kernel exploding into popcorn. Poof.
For the sake of practicality, the rear seats fold completely flat, yielding 48.4 cubic feet of cargo space. With the seats up, it's 18.8 cubic feet. That's plenty for most people who don't have to grocery shop for a small army. There's also an optional  120V power outlet that's easy to access from the second row. Occupants sit very upright in the Encore, just as they would in a larger crossover. And headroom is amazing, at 39.6 inches in the front and 38.8 inches in the rear. Both numbers are less than an inch away from what is found in the much larger Enclave crossover SUV, which is also Buick's best-selling vehicle. And while the width of the Encore comes in at just 5 feet, 9 inches, the cabin still manages to feel open, and never claustrophobic. Rear leg room, at 35.7 inches, is also just an inch under what's seen in the 14-foot-long Enclave.
It's important to draw this line of connection. Because when we first caught wind of the Encore's development, sources described it as a "baby Enclave," and in many ways, it very much is. From the airy cabin, to the supple ride, to similar 0-60 acceleration times of the mid-eight-second range, the Encore is a miniature Enclave. A handbag Enclave. It's a handbag crossover. And if you believe Buick, it's the first of its kind.
Buick officials predict that handbag crossovers (what we've spontaneously nicknamed the B-Segment SUV market) will account for 360,000 total sales by 2015 in the U.S. alone. Though today, the Encore will be busy carving its own little niche in the growing segment, with models shipping in from Bupyeong, South Korea. The Encore is also sold in China. And as for GM's plans to domesticate production of the little Buick, we were told that there's currently nothing to announce; but if the Encore does well initially, we could see production moving stateside. Most likely to Orion Assembly, if previous reports remain accurate. Considering the initial response for the little CUV, that could very well become reality.
The only vehicles that Buick mentioned as to what could be considered direct competition were the more powerful, more expensive, and more premium BMW X1, the larger Volkswagen Tiguan (a.k.a. Tiger Iguana) and Mazda CX-5. We would throw in the quirky and more outspoken Mini Countryman and Nissan Juke as well. But as you can envision in your head, none of those models really line up directly with the Encore — a situation in which the Buick Verano found itself when it launched in late 2011, which is now emerging as the brand's conquest sales leader. Considering that, consumers may warm up to the Encore in the same fashion, if they like the way it looks, and they're willing to pay at least $24,200 for it. We predict most Encores will move with a sticker of closer to $30,000 out the door, since Buick customers tend to option-out their vehicles. But with fully loaded Encores breaking the $30,000 mark, it would be nice to see a power upgrade.
Who will buy one, you ask? Buick is aiming at the same demographics as the Verano: younger professionals who are single or just starting a family, and older empty-nesters who seek a premium vehicle but are also looking to downsize, with the majority of buyers being women. Miss Michigan will probably get one.

Sweepstakes Of The Month: Win a Corvette Z06 and 2024 Silverado. Details here.
We are currently looking for experienced automotive journalists and editors to join our team. Make $60k-$80k per year doing what you love. We are also looking for an experienced web developer.
See details here
.