Five Things We Love About The Cadillac ATS
4
As our time with the Cadillac ATS4 2.0T tester comes to an end, we're left reflecting on what made us smile, what made us scratch our heads, and what makes it more than just some BMW 3 Series copycat. Firstly, we figured that we should point out our five favorite elements that make the ATS special.
1. Chassis Balance
You have to drive one to really understand just how composed the Cadillac ATS is. It's not only agile and compact, but it's wonderfully forgiving, should you exceed either the car's or your own limit of control, even with all the nannies off. The all-wheel-drive version was no less than a joy to drive in the snow, and will surely be on the radar for those considering Audi's Quattro-equipped vehicles or even upgrading from a Subaru Impreza WRX. And of course, we have to give praise the ATS' elaborate and taut suspension, which in our version didn't even feature magnetic ride control yet still performed like a champ. What's more, the steering– while electric — is one of the best-feeling setups we've ever encountered. Without a doubt, it was the intangible road performance of the Cadillac ATS4 2.0T that will leave the greatest impression on us.
2. Interior Fit & Finish
Take what you know of past Cadillac interior quality and burn it. There is absolutely zero fake wood or plastichrome here. For instance, the steering-wheel-mounted paddle shifters found in the automatic models are made of magnesium, while voluptuous red leather and real carbon fiber inserts are offered as an interior decor. The glossy black center console looks great at night or in the dark, and even the aesthetics of the door panels are pleasing, with a contoured dip shaped to perfectly fit a resting arm. Say what you want about the cabin's overall space, but the compact ATS does a great job in coddling its master.
3. The LED Lighting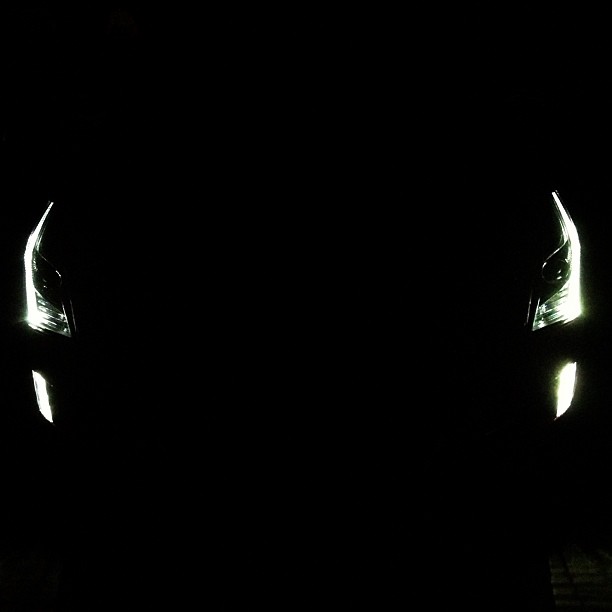 Take a seat, Audi. No, really, sit down. You may have started the LED lighting fad that every automaker seems to be copying nowadays, but Cadillac raised the bar with the ATS. Notice how the lower fog lamps align perfectly with the horned headlamps, which look sharp to the touch. But what really makes the light show is how the four door handles illuminate at night with the unlocking the car. These door handle lights — first featured on the Cadillac XTS Platinum Concept — are one of those features that nobody was really sure would make it into production, but we're certainly happy it did.

4. Performance-Oriented Setup
The thickness and optimal circumference of the Cadillac ATS' steering wheel feels fantastic when gripped. The gas pedal — despite the outcry from the accounting department– is mounted from the floor, rather than protruding downwards from the footwell. The colored heads-up-display (HUD) is easy to read, and keeps eyes on the road (while CUE keeps them off, but that's for another time). Even the paddle shifters, forged from magnesium, both look and feel beautiful to the touch. These might be little things, but they add up and play a huge role in the overall driving experience. Did we mention it's delightful?
5. Color Options
Sure, you've got your standard premium beige and grey leather options coupled with real wood inserts. But those color combinations are for boring people, who shouldn't be driving a car as arousing as the ATS can be. For those who aren't messing around, there's jet-black leather with real aluminum inserts, and the even sexier red leather/carbon fiber combination. We hope Caddy doesn't stop there. How about some blue, saffron or a shade of purple leather? Perhaps a suede headliner, or chrome exterior black-outs? How about colored seat belts? We hope these ideas are all at least on the drawing board. Be bold, Cadillac. Be bold.
Look for the full review and top-notch Steven Pham photos soon.
Sweepstakes Of The Month: Win a Corvette Z06 and 2024 Silverado. Details here.
We are currently looking for experienced automotive journalists and editors to join our team. Make $60k-$80k per year doing what you love. We are also looking for an experienced web developer.
See details here
.